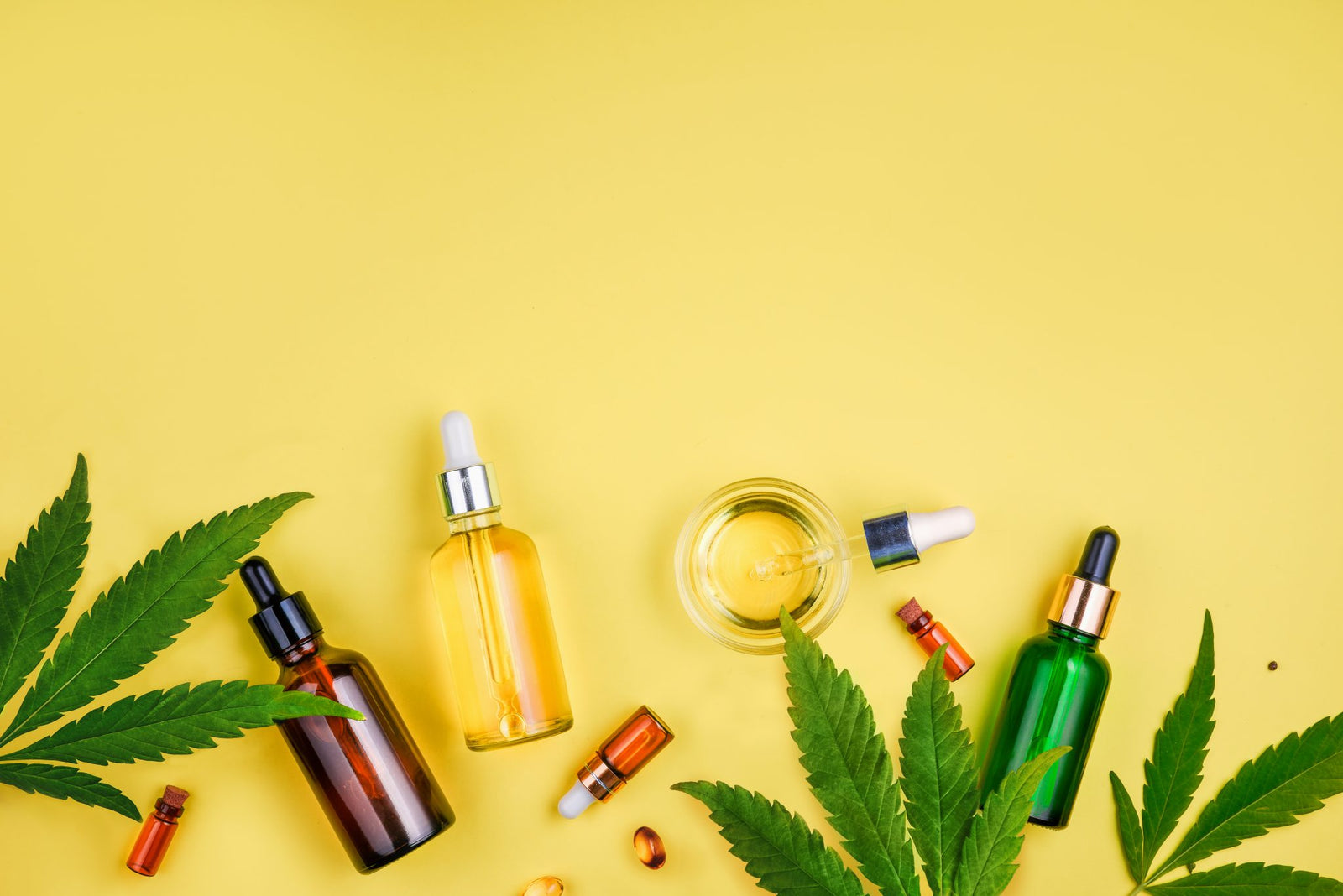 Our ancestors have used tinctures to improve their wellness for centuries. While these highly-concentrated plant extracts fell out of the spotlight over the last few decades, the use of tinctures has re-emerged with the rise of CBD products. CBD oil tinctures are one of the most common ways people use hemp to maintain a healthy lifestyle. What are tinctures and how do you use them? Here's everything you need to know about this age-old, wellness-promoting formula.
What Are Tinctures?
Tinctures are extracts that are rich in plant-based nutrients. Plants are composed of many different compounds, and tinctures are made by extracting the compounds from various parts of plants, including:
Bark
Berries
Herbs
Leaves
Flowers
Roots
Imagine a lavender plant. The stems of the plant are green because of the presence of chlorophyll. Meanwhile, its floral scent is due to the many aromatic molecules in its terpene profile, including linalool. Lavender flowers get their purple hue from antioxidants known as anthocyanins. 
There are a wide range of compounds throughout various plants that serve specific purposes. Some of these compounds may also be beneficial to humankind. This is one of the reasons why so many people swear by aromatherapy. It's also why people are falling in love with broad spectrum hemp extract.
A History Of Making Tinctures
Recorded use of tinctures dates as far back as the ancient Egyptian empire. Early practitioners used to submerge herbs in distilled alcohol and vinegar. As our ancestors traveled around the world, they brought their knowledge of tinctures with them. The medical application of tinctures was documented in Al-Qanoon fi al Tibb (The Canon of Medicine, published in 1025). This encyclopedia of medicine discussed using tinctures for a myriad of wellness benefits.
Tinctures are traditionally made by placing plant matter into a solvent to soak for multiple weeks. Anyone who has taken a swig of whiskey or apple cider vinegar can attest that solvents are quite caustic. Soaking plants in these solvents causes the plant matter to break down. 
When this happens, the nutrients that are within the hard bark, silky flower petal or vibrant berry start to separate from the plant material. The infused solvent is then filtered to remove the remaining plant matter. In the end, you have a very potent (and not-always-tasty) tincture. 
How Are CBD Tinctures Made?
If a tincture doesn't taste great, you may be wondering why people would bother using it. Thankfully, we've come a long way since our ancestors first created tinctures and have made many technological advances. 
Some brands have found a way to make tastier products while cutting corners and diluting the overall quality. Other companies have used advanced techniques to make some of the purest, most potent CBD tinctures in the world. Let's discuss what to look for in high-quality CBD tinctures.
What To Look Out For In CBD Tinctures
Many companies incorporate cost-cutting measures that inevitably weaken the overall potency of the formula when making CBD products. In some cases, these extraction methods can even be potentially dangerous. One of the most common solvents besides alcohol and vinegar is butane, also used as lighter fluid. Less reputable brands will soak hemp in the same substance used to spark up a pipe of CBD flower. In small quantities, butane has low toxicity, but do you really want to ingest lighter fluid?
Once the soaking period is over and the plant matter is filtered, manufacturers will heat the mixture. Butane has a very low boiling point of 30.2°F. This makes it easier for CBD oil producers to easily preserve the cannabinoids in the formula. Boiling off the butane happens long after the CBD has already reacted with this chemical solvent, however, so the CBD in this final step is not found in its purest form. Additionally, there are beneficial plant compounds that might become damaged from interacting with butane or from being heated as the butane dissipates. 
Even more dangerous than butane, some companies may use synthetic solvents, such as hexane. Manufacturers love hexane because it speeds up the extraction process, but we don't know the long-term ramifications of using this synthetic extracting agent. At the very least, it's not the most natural choice for creating CBD tinctures.
Best Way To Make CBD Tinctures 
When it comes to your wellness, you deserve the best. Your body shouldn't pay the consequences for a company looking to cut corners. With advancements in technology, these practices are unnecessary and potentially dangerous. 
That's why Joy Organics creates CBD tinctures mostly using carbon dioxide (CO2) extraction. Instead of using solvents, our cannabinoids are extracted by the use of pressurized carbon dioxide in a temperature-controlled atmosphere. Think about when you get stressed out. Does a little sweat bead up around your hairline? The same thing happens when hemp is under pressure. 
If you look closely at a hemp flower, you'll notice that it's coated in tiny hairs. These are known as trichomes. The supercritical CO2 causes the trichomes rupture. In turn, they release a wide range of aromatic molecules (terpenes) and phytocannabinoids into the controlled environment. The molecules bind to the carbon in the CO2.
From there, we slowly raise the temperature in the control chamber. This slow rise allows the terpenes and phytocannabinoids to loosen up. We remove the CO2 and recycle it for future use. What's left is a broad spectrum of cannabinoids, terpenes and other beneficial compounds. Once the extraction is over, we follow the same process as many other brands. We make the tincture tastier and easy to consume.
Adding Oils to Tinctures 
Highly-concentrated plant extracts can be too intense to use in their raw form. This applies whether you're talking about phytocannabinoids or essential oils. That's why we incorporate our hemp extract with carrier oils that are high in fat. Fat absorbs the nutrients in a tincture. When we ingest the fat, these lipids will hit our stomach acids first. Once the fat breaks down, it will release the cannabinoids into our system. 
Furthermore, our bodies store fat for future energy use. If the fat doesn't get burned off, it gets added to your adipose tissue. Once your body turns to the fat for energy, the stored cannabinoids will become available.
At Joy Organics, we use two of the most efficient carrier oils to make our tinctures. Joy Organics Natural CBD Tinctures and Tranquil Mint CBD Tinctures are made with extra virgin olive oil. Joy Organics Summer Lemon CBD Tinctures and Orange Bliss CBD Tinctures, on the other hand, are crafted with medium-chain triglycerides (MCT) oil. 
Benefits Of CBD Tinctures 
In the ever-growing catalog of CBD products readily available, perhaps none act faster than CBD tinctures. When you consume a CBD edible or take Joy Organics CBD Softgels with Curcumin, your body must digest the food or capsule, whereas CBD tinctures are absorbed immediately.
They're the perfect ally when you need it the most throughout the day. These CBD products are a favorite for people who want to feel less closed-off at social gatherings, who want to get their head in the game before a big test or event, even those who are dealing with road rage during a long commute. 
How To Use CBD Tinctures 
CBD tinctures are some of the easiest CBD products to use. You just place a dropperful in your mouth for a minute or two and then swallow. Some people like to use tinctures at the start of their day. Others will use CBD tinctures as their CBD go-to throughout the day. They may opt to take CBD Softgels with their breakfast for extended benefits, then use tinctures for an extra wellness boost.
The delicious flavors and versatility of CBD tinctures also make these products a lot of fun to use. You can add CBD tinctures to a wide range of recipes. For instance, Joy Organics Tranquil Mint CBD Tincture brings a cool wave of flavor to a mint-buttercream filling in our Cool Mint Cream Brownie.
They're also perfect for adding to your beverages. Cool off with a tangy lemonade by using a Joy Organics Summer Lemon CBD Tincture to make our Calm, Cool, CBDllected recipe. For a warm CBD beverage, CBD and coffee are the perfect pair. The nutty flavor of Joy Organics Natural CBD Tincture is ideal for making a fresh cup of Log Cabin Brew.
Your skin can also benefit from CBD tinctures. After all, our skin has an endocannabinoid system of its own. Just add a few drops of Joy Organics Orange Bliss CBD Tincture to a carrier oil, like jojoba oil or sweet almond oil, for an easy DIY moisturizer!
What are some of your favorite ways to use CBD tinctures? Share with us in the comments below!
Thanks for reading! To show how much we appreciate you, we're going to give you 16% off your next order. Just use code READER16 at checkout!
Joy Smith is Joy Organics Co-founder and visionary. After her own life-changing experience with CBD, Joy started Joy Organics to create a line of sustainable and premium CBD products consumers could trust. Before founding Joy Organics, Joy worked as an itinerant speaker, traveling to over four continents to empower women across the globe.