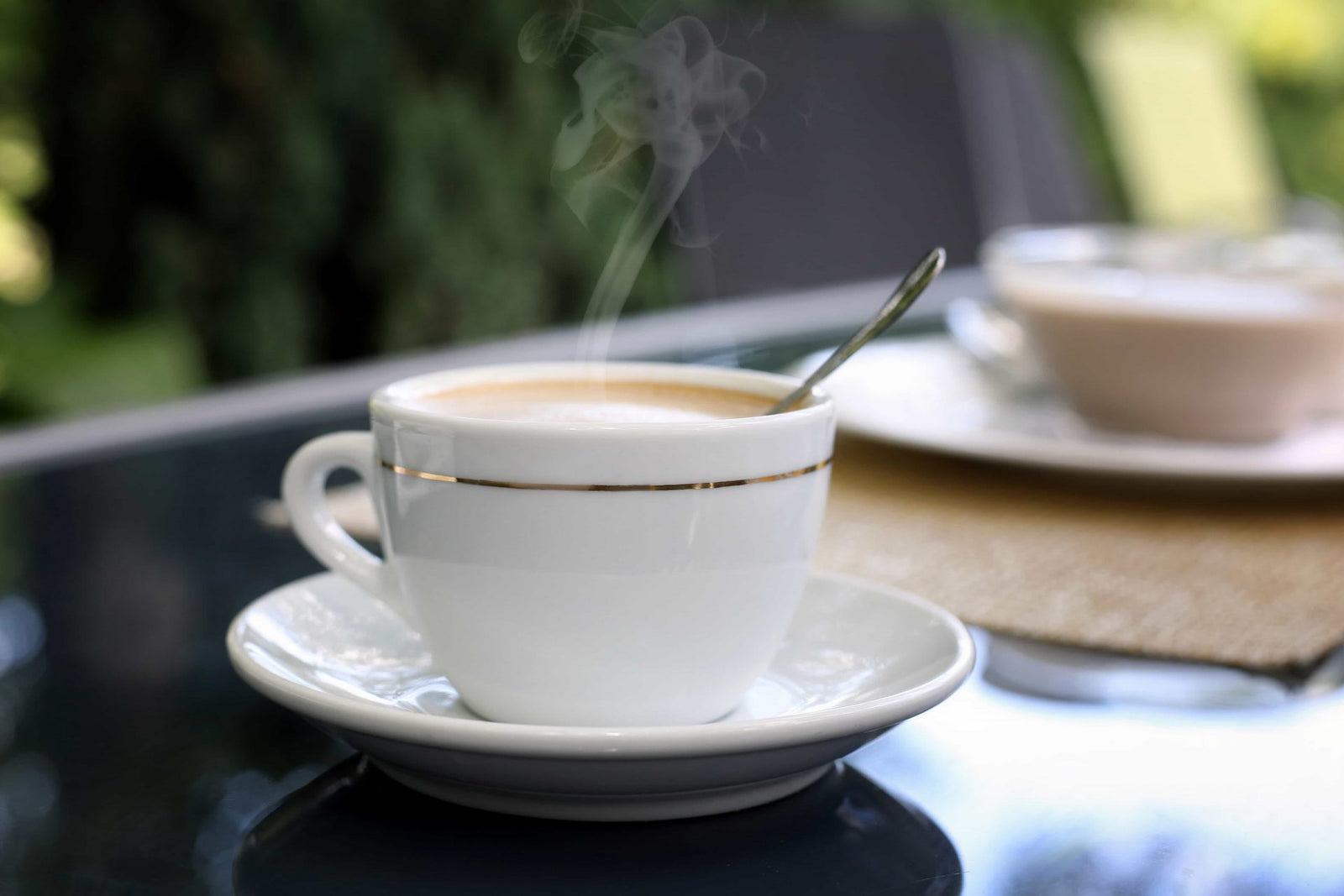 Summer is coming to an end, the leaves are changing colors, and everything is becoming pumpkin-spiced. We'll admit it — this time of year gets us excited and nostalgic, and we're always looking for new ways to celebrate it. That's why we've crafted these five delicious CBD coffee recipes for fall to get you in the fall spirit!
Benefits of CBD Coffee
CBD coffee is a great addition to any morning routine. By nature, not many of us are morning people. However, once the coffee hits the bloodstream, suddenly we're invincible — at least for a few hours, that is. Then the buzz wears off.
Even still, our love affair with coffee runs deep. When the crash hits us, we drink a second cup. This might be far too much stimulation for many people.
This may lead to feelings of: restlessness, jitters, irritability, racing thoughts, sweaty palms, and trouble sleeping. There can be too much of a good thing when it comes to coffee. That's where CBD comes into play. By adding CBD to your coffee, you can support your system as the caffeine wears off. Furthermore, for sleep issues created by excessive caffeine intake, CBD can help support a good night of rest.
CBD Coffee for Seasonal Stress
If the changing of seasons can get you down, you're not alone. As beautiful as fall can be, it also marks the end of the warm days and sunny skies. The imminent months of being stuck inside and away from the cold can turn our jovial summer bliss into a somber wintery dread.
One way to take back the season is to embrace it. Get involved with the changing of the season by celebrating it all! Every season is another reminder that we're still here making a difference in the world. Instead of letting the upcoming winter gloom overwhelm you, find things about the changing seasons that bring you joy.
Many people enjoy using CBD as a method for promoting calm. If the busy fall season has you feeling stressed, you may want to try adding CBD to your routine. One of the easiest ways to achieve this is by making edibles inspired by the season. Why do you think so many people line up at Starbucks the day the pumpkin spice latte becomes available? Embrace your fall spirit with these CBD coffees. And if coffee isn't your thing, then learn more about CBD tea. There are endless ways for you to get excited for fall with CBD!
How Do You Make CBD Coffee?
Having a cup of CBD coffee is an awesome way to jumpstart your day. Best of all, it's easy to make. There are several ways to infuse your morning brew with CBD.
First, you can buy beans that are infused with hemp extract. When you use hemp-infused beans, the best ratio is to add one tablespoon of ground CBD coffee to two tablespoons of your regular preferred brand. From there, adjust your serving size to meet your particular needs and desires.
While this method is an easy way to make CBD coffee, it doesn't lend itself to much variety. You're pretty much stuck with whatever flavor of beans you have. From there, you could always dress it up with refined sugars, fatty creams and artificially sweetened syrups. While all of these are delicious, they unfortunately wreak havoc on our health.
CBD tinctures are a wonderful way to spruce up your cup of coffee. Naturally flavored tinctures can help cut the bitter taste of coffee, plus our recipes use healthier options to add flavor to your brews.
You can also use CBD to make bulletproof coffee. This is a health-conscious way of drinking coffee that includes fats that help with the absorption of nutrients. Keep reading to learn about 5 CBD coffee recipes that will get you ready for fall.
CBD Coffee Recipes for Fall
All of the following recipes use a combination of CBD tinctures and your favorite coffee brand. You can use hemp-infused coffee, but remember to cut the potency with regular coffee grounds. We also suggest cutting the CBD tincture serving in half if you do go for the hemp-infused coffee beans. That way, you can ease into using CBD and adjust your recipe accordingly. Overall, the CBD tinctures are what give these recipes their distinct flavor.
Remember to have fun with this experience! These recipes are not an exact science. Everyone has their own preferences when it comes to flavor profiles, and you can adjust any recipe accordingly. Look at these recipes as merely an introduction and use them as a launching point  for creating your own barista art. Now, it's time to make the coffee!
1. Log Cabin Brew
While the pumpkin spice latte is the seemingly official mascot of fall, maple syrup is a timeless tradition. Unplug and unwind with a hike this fall and be sure to bring this CBD coffee with you for a little energy boost that's filled with the warm, aromatic flavors of maple, almond, nutmeg and cinnamon.
We chose to pair these fall flavors with the Joy Organics Natural CBD Tincture. The natural flavor of hemp extract complements the acorns and multi-colored leaves falling from trees above splendidly.
Ingredients:
Directions:
Brew your coffee as usual.
Put maple syrup into a cup and pour the hot coffee over it. Stir until well blended.
Add in the CBD tincture and stir.
If you have a milk frother, steam your milk. Otherwise, put the milk into an airtight container and give it a vigorous shake.
Place the milk into a microwave, uncovered. Heat for 30 seconds. The froth will rise to the top.
Use the spoon to hold back the froth as you pour the milk into your coffee. Then scoop the froth on top.
Sprinkle a dash of nutmeg on top and serve with a cinnamon stick.
2. Caramel Apple CBD Coffee
Fall also calls for apple picking. Apple picking means caramel apples, which reconnects us with our inner child. While caramel apple flavoring might seem a bit too childish for some, it's the coffee in this recipe that makes it adult approved. Get in the fall spirit by combining a coffee buzz with a favorite childhood treat. Try Caramel Apple CBD Coffee.
We used the Joy Organics Orange CBD Tincture when coming up with this brew. Orange spice is an underrated delight. Adding orange hemp extract to the mix brings out the robust flavors of apple, caramel and, of course, coffee.
Ingredients:
1/4 cup ground coffee
1/2 teaspoon ground cinnamon
1/4 cup caramel topping (recipe below)
1/2 cup organic apple cider
1 1/2 cups cold water
Dropper of Joy Organics Orange CBD Tincture
Ingredients for Caramel Topping:
Makes 1/2 cup of topping
1/4 cup organic coconut oil
1/4 cup raw organic maple syrup
2 tablespoons almond butter
1/4 teaspoon vanilla bean
1/4 teaspoon pink Himalayan sea salt
Directions:
If you are making your own caramel syrup, start here. Otherwise, jump to step 7.
Melt the organic coconut oil over medium-low heat.
When the coconut oil starts to melt, stir in the maple syrup.
Whisk in the almond butter for about thirty seconds, until the mixture is smooth.
Take off the heat and allow to cool.
As it cools, add in the vanilla bean and salt.
Mix your coffee with ground cinnamon (optional) and brew.
While coffee is brewing, add apple cider and caramel topping to a mug. Mix so they are well integrated.
Pour your cinnamon coffee over the apple cider-caramel mixture.
Drizzle with leftover caramel topping.
3. Kentucky Hemp Coffee
This CBD coffee treat is actually a cocktail, so this recipe is exclusively for those above the legal drinking age. What we love about this flavor combination is that it takes two products Kentucky is known for — bourbon and hemp — and marries them in this fall-friendly coffee.
We paired the Joy Organics Lemon CBD Tincture with this recipe. The zing from the lemon compliments the whiskey while the blend's citrus notes shine against the bite of coffee. This recipe is perfect for one of those last nights of summer that has the perfect fall chill in the air. It's also a great cocktail to help ease the transition from one season to the next.
Ingredients:
Directions:
Warm up a coffee mug and pour in the whiskey.
Mix in the honey.
Fill the mug with fresh brewed coffee and stir so everything is well integrated.
Add in the Joy Organics Lemon CBD Tincture.
Top with whipped cream and enjoy.
4. Matcha Latte
Few things feel quite as nice as a walk in the park on a fall afternoon; imagine the leaves crunching under your feet, the tingling feeling of the crisp air on the tip of your nose, and a warm beverage in your hands. Let this matcha latte be the fuel for your journey.
We chose Joy Organics Mint CBD Tincture to add to this latte. The woodsy flavors in the coffee complement the botanical notes in the mint CBD tincture. This treat is also the perfect fall drink for those of us in need of antioxidants as we head into the flu season!
Ingredients:
2 tablespoons of matcha powder
1 cup distilled water, room temperature
1/2 cup cold coconut milk
1 1/2 tablespoons organic raw maple syrup
1/4 teaspoon vanilla bean
1 cup distilled water, hot
Dropper of Joy Organics Mint CBD Tincture
Dash of ground cloves
Directions:
Put the matcha powder into a blender and add the room-temperature distilled water. Stir them so they are well integrated.
Stir in the cold coconut milk, raw maple syrup and vanilla bean.
Pour in the hot water and blend until smooth, about 30 seconds.
Once blended, add in the dropper of CBD tinctures and stir until well incorporated.
Fill a glass with ice and pour the blended coffee drink over the cubes.
Sprinkle the ground cloves on top and enjoy!
5. Pumpkin Proof Latte
Fall simply wouldn't be the same without the pumpkin spice latte. Unlike Starbucks, this recipe has real pumpkin. It also has the added benefits of bulletproof coffee — enjoy!
For this CBD coffee recipe, we opted for the Joy Organics Unflavored CBD Tincture to really let that pumpkin taste shine. If you wanted to zest things up, you could enjoy this recipe with our orange flavor instead!
Ingredients:
8 ounces of coffee
1 tablespoon ghee (or grass-fed butter)
1/4 teaspoon cinnamon
1/4 teaspoon nutmeg
1/4 teaspoon vanilla bean
Pinch of ground cloves
2 tablespoons organic pumpkin puree
2 tablespoons almond milk, unsweetened
Dropper of Joy Organics Unflavored CBD Tincture
Directions:
Brew your coffee.
While the coffee brews, place all of the ingredients except the CBD tincture into a blender.
Pour the coffee over your ingredients in the blender and blend until smooth.
Empty the contents of the blender into a mug and stir in the CBD Tincture to enjoy.
And there you have it! We hope you try one of these fall-inspired recipes and enjoy all that the season has to offer. Drop your favorite cold-weather coffee recipes in the comments below! If you have any questions about our CBD tinctures, please reach out.
Thanks for reading! To show how much we appreciate you, we're going to give you 16% off your next order. Just use code READER16 at checkout!
Hannah Smith is Joy Organics Director of Communications. She is driven by her passion for providing clear and accessible wellness and CBD education. In 2015, she received her BA in Media, Culture and the Arts from The King's College in New York City and before Joy Organics, worked as writer and photographer in the Middle East and North Africa. Her work has been featured on Forbes, Vice, Vox, Denver Post, and the Coloradoan.