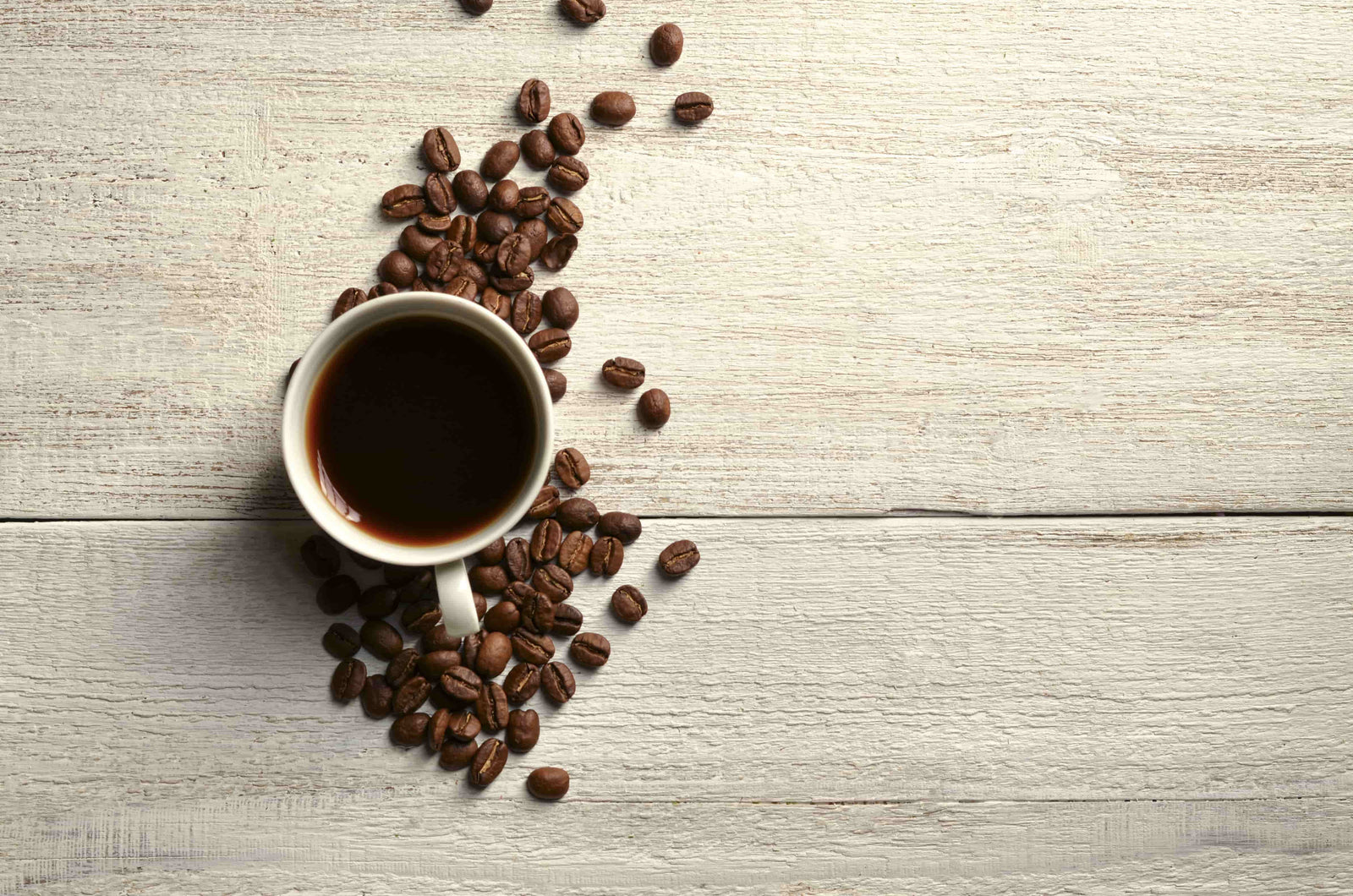 CBD and coffee. Chalkboards on cafe sidewalks across the nation keep popping up with these two words written on them: CBD coffee. CBD coffee is an excellent way to kickstart your day. Ever tried washing down your daily wellness support with a stimulating cup of joe? From CBD americanos to spicy chai to frothy cappuccinos, we have the tea on all things CBD coffee.
What is CBD Coffee?
Approximately 83% of adults drink coffee every day. It's no wonder there has been a steady rise in coffee shops over the last few decades. In such a competitive market, the evolution of coffee has seen this popular beverage become infinitely customizable. Cafe owners are constantly trying to find new ways to attract customers. Enter CBD.
So many coffees are drowned in high-calorie creamers and sweetened with high-fructose corn syrup shots. It's about time coffee is infused with something that has potential benefits like CBD.
Some CBD companies, such as Flower Power, infuse whole coffee beans with CBD. They grind the coffee beans and package them for sale. That way, baristas can brew them in a coffee shop or you can make a cup in the privacy of your home. However, a more common way to drink CBD coffee is by adding CBD tinctures.
CBD tinctures are formulated by combining hemp extract with a carrier oil such as coconut oil or extra-virgin olive oil. CBD users typically take this oil by itself. However, you can also use this format to infuse CBD into your coffee.
Why Should You Drink CBD Coffee?
Sure, we enjoy the taste of a good cup of coffee. However, the primary reason we drink caffeine is that it makes us alert. When we consume coffee, caffeine enters the bloodstream. On a molecular level, caffeine resembles adenosine.
Adenosine is a compound that binds onto adenosine receptors. This interaction causes a chemical reaction between adenosine and nerves in the receptors. As a result, we start to feel tired.
Since caffeine resembles adenosine, it also can bind to adenosine receptors. However, caffeine doesn't cause sleepy side effects. Rather than waking us up, caffeine actually just prohibits adenosine from making us fall asleep.
While caffeine is an excellent way to get a boost of energy, it might also cause a harsh afternoon slump. From mood swings to jitters, the comedown from caffeine can be extreme for some. Since CBD is often used to support a calm mood, some people enjoy adding CBD to their coffee.
What Are the Servings for CBD Coffee?
Serving sizes may vary between coffee shops. If you enter a cafe that is selling CBD coffee, ask them how much CBD is in a serving. Typically, it will be in the 5mg to 10mg range. First-time drinkers of CBD coffee should start with a lower serving to see how their body reacts.
Anyone brewing at home can customize how much CBD they consume. For instance, a package of Flower Power contains 30mg of CBD. Their suggested serving size is 6 ounces for 5mg of CBD. Flower Power recommends mixing 1 tablespoon of CBD coffee with 2 tablespoons of regular ground coffee. However, to get more CBD in your serving, you must brew a little more of their blend and a little less of the latter.
While it's hard to measure how much CBD is in your drink with coffee grinds, you can have better judgment with CBD tinctures. You control the number of drops going into the beverage, making hemp extract tinctures a great tool for creating CBD coffee.
Tips for Brewing CBD Coffee
We all like our coffee nice and hot, but don't boil it! Not only will you burn the flavor of the coffee, but you may also damage some of the cannabinoids in the drink.
For best results, allow your coffee to cool for a moment. Then add in the CBD tincture. Stir until the tincture is completely integrated. Since CBD tinctures are in a carrier oil, some may rise to the top. Don't be nervous, that's where the deliciousness lies!
What Does CBD Coffee Taste Like?
For the most part, CBD coffee tastes like coffee. In its natural state, CBD tinctures have an earthy flavor. That makes plain CBD tinctures very complimentary to a fresh brew, especially for hazelnut fans.
However, CBD tinctures come in many flavors. If the pumpkin spice craze that hits every fall is any indication, the sky will be the limit when it comes to CBD coffee flavors. You can mix and match with Joy Organics CBD tinctures to recreate some of your favorite brews. Here are a few recipes.
CBD Coffee Recipes
The best part about CBD coffee is that there are no rules. You can play around with flavors and different types of milk and spices to find what best suits your tastes. With that being said, we believe that variety is the spice of life. We're going to offer some specific combinations of CBD tinctures and types of milk because each has a unique flavor profile, but don't be afraid to switch it up!
Pumpkin Spice and Everything Nice
While we are guilty of splurging at Starbucks a time or two, there's nothing like making your own pumpkin spice latte. What's even better is adding some CBD to the mix to make it extra nice!
Ingredients:
Directions:
Brew two shots of espresso and pour into a mug.
Place pumpkin puree in a small saucepan over medium-high heat.
Every 30 seconds, add one of the next four ingredients, combining with a spatula.
Slowly pour in the milk, whisking the mixture as you go.
In 2-3 minutes, the mixture should be smooth and bubbly. Take off burner and allow to cool for 1-2 minutes.
Strain pumpkin mixture into the mug and stir.
Add drops of CBD tincture and stir.
Top with whipped cream and cinnamon (optional).
Terrific Turmeric CBD Latte
Turmeric is growing in popularity in wellness circles. Like CBD, this Indian root has found its way onto many cafe menus across the globe. Turmeric pairs well with lemon, making this morning beverage bold and bright.
Ingredients:
Directions:
Place all of the ingredients except the CBD tincture into a blender, blending until smooth.
Pour into a mug and add the lemon tincture; stir.
Top with more cinnamon (optional).
Nuts Over This Smoothie
Athletes have been using CBD to help achieve peak performance. Why not throw some CBD coffee into your pre-workout smoothie? Our recipe calls for almond milk because it compliments the flavor typical of hemp extract. This plant-powered beverage is especially effective for those who like to get their early morning rise and grind on!
Ingredients:
Directions:
Place all ingredients except CBD tincture into a blender and blend until smooth.
Pour into a mug and add the tincture.
Top with chocolate flakes (optional).
CBDjito Iced Coffee
When you think of mint coffee, your mind must go directly to a peppermint mocha. While that's a solid go-to, part of the fun of CBD coffee is thinking outside of the box. That is why you have to try the CBDjito Iced Coffee. Kick morning breath (and coffee breath) to the curb with this refreshing morning beverage.
Ingredients:
Directions:
Brew the coffee.
Slap the mint in between your hands and sniff the essence. This activates all the molecules that give mint its distinct flavor.
Place the mint into a shaker and pour the sugar over the leaves.
Muddle the mint and sugar mixture gently.
Fill the shaker with ice.
Pour hot coffee over the ice and top with a splash of cream.
Shake vigorously for 15 seconds until the whole shaker is cold to touch.
Pour into a glass and stir in mint CBD tincture.
Garnish with mint sprigs (optional).
While all of these drinks are delicious, there's no need to stop there. There's a version of CBD coffee out there for everyone. Let us know your favorites!
Joy Smith is Joy Organics Co-founder and visionary. After her own life-changing experience with CBD, Joy started Joy Organics to create a line of sustainable and premium CBD products consumers could trust. Before founding Joy Organics, Joy worked as an itinerant speaker, traveling to over four continents to empower women across the globe.