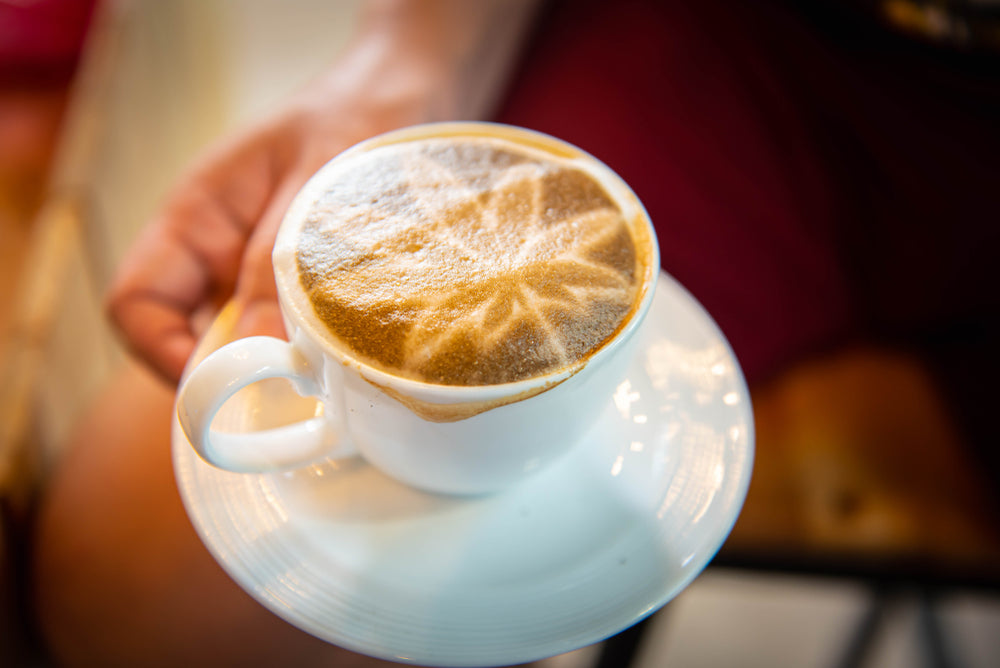 There's nothing much better than the perfect cup of coffee. Unless, of course, that cup of coffee is infused with CBD. We personally think cannabis and coffee are a match made in heaven. As it turns out, others feel the same. 
CBD coffee products are becoming one of the most popular infused items in the legal hemp space. People love their CBD coffee, with many insisting that it gives them more energy with potentially less jitters than the standard cup of coffee. But more research needs to be done to best determine how exactly the two compounds interact. 
CBD coffee manufacturers claim their customers are getting the benefits of CBD and the benefits of coffee. Both are considered to contain antioxidant properties. 
CBD combined with coffee is super trendy for a reason. Many folks maintain CBD makes great coffee even better. Interested in checking out what the hype is all about? 
The Top 10 CBD Coffee Products
Java junkies, take note. 
Following are some of the best CBD coffee products you can find: 
Green Roads is one of the most popular CBD brands in the industry. With an unwavering commitment to quality, they've earned the respect they undoubtedly deserve in the saturated CBD market. 
Green Roads Founders' Blend Hemp Flower Coffee is consistently rated one of the top CBD coffee products. Created with estate-grown Colombian coffee and hemp cultivated in U.S. soil, each small batch roast is full of rich, bold flavor. Because it's made in small batches, cannabinoid content varies with each batch. You'll find each batch contains its own unique cannabinoid profile that's printed on each bag. 
If flavored coffee is more your thing, Green Roads also offers their CBD coffee in French Vanilla and Hazelnut. Each 12-ounce bag of ground beans is $19.99. 
Yes, Willie Nelson has his own line of cannabis products. Willie's Remedy is the CBD side of the musician's cannabis brand. All Willie's Reserve products are crafted using cGMP standards and organic cultivation practices, which continues to "support the Nelson family's commitment to American farmers and environmental stewardship." 
Willie's Remedy Dark Roast Blend Coffee is one of the highest rated CBD coffee products on the market. This bold blend is described as sweet and smooth, containing flavors of dark chocolate with notes of black cherry. 
The coffee itself is fair-trade-certified Nicaraguan coffee from the woman-focused SOPPEXCCA Co-Op and Colombian coffee from mission-driven Colombian Risaralda Co-Op. The full spectrum CBD added to this premium coffee is organically grown on small to mid-sized U.S. farms. 
Each 8-ounce bag of whole or ground beans contains 250mg of CBD for $25.50. There is also the option to subscribe and save 10%. 
Hakuna Supply has created a CBD infused coffee with full spectrum, water-soluble CBD. Their Hakuna Hemp Roast Awaken Blend combines Guatemalan-grown coffee with Colorado-grown hemp to create one of the most popular CBD-infused coffees you can find. 
Because it's made with water-soluble CBD, which is clinically proven to increase absorption, a cup of Hakuna Supply's CBD coffee with 5mg of CBD is like consuming much larger servings of standard CBD oil. 
Each 8-ounce bag of ground coffee is $24.95. According to Hakuna Supply, each bag will make between 16 and 24 eight-ounce cups of coffee that each contain almost 5.5mg of CBD. 
Strava CBD Coffee is one of the top-selling CBD coffee brands on the market. Their Medium Roast CBD Coffee, made with premium Colombian coffee beans and U.S.-grown, broad spectrum CBD, contains 20mg of CBD per serving. Available ground or whole bean, each 12-ounce bag makes 25 servings of coffee. 
This smooth, balanced blend is bursting with notes of milk chocolate and black cherries. Roasted in small batches, the quality of Strava CBD Coffee is outstanding. And because it's lab-tested, you can rest assured knowing what you're consuming is safe. 
A one-time purchase of each 12-ounce bag is $54.95. You can also subscribe and save 30%, which reduces the cost of each bag to $38.47.
Buddha Beans is a small lot artisan coffee company that offers several micro-roasted CBD coffee options. They offer premium roast coffee from several different regions, including Burundi, Colombia, Ethiopia and Mexico. Buddha Beans coffee is infused with CBD extracted from organically grown U.S. hemp. 
All their blends are roasted and infused in house, making this brand truly unique with their specialty offerings. Their Burundi CBD Artisan Roast Coffee was voted "Best CBD Coffee" and is described as full-bodied with notes of cinnamon, honey, watermelon and caramel.  
Available ground or whole bean, there are options for 12 ounces (300mg CBD) for $35.50, 6 ounces (150mg CBD) for $20.00 and 2 ounces (50mg CBD) for $9.00. You can also subscribe and save 15% off each order. 
Bonus: Although currently sold out, Buddha Beans also carries 100% compostable Colombian CBD K-cups. 
Yes, this is the second appearance of Strava CBD Coffee on this list. Their Special Edition Decaf Blend is a must-try for people who love coffee and CBD but can't do caffeine. With tasting notes of brown sugar and orange, this blend is incredibly smooth and absolutely delicious. 
Each 12-ounce bag of ground or whole beans contains 20mg of broad spectrum CBD per serving, with 25 servings per bag. Each bag is $54.95, or you can subscribe and save 30%, reducing the price of each bag to $38.47. 
7. Naked CBD Nano CBD Coffee Pods
Naked CBD Nano CBD Coffee Pods are designed for Keurig coffee machines. Their Nano CBD Coffee Pods are made with full spectrum nano CBD extract, which Naked maintains is 10x more bioavailable than other CBD extracts. 
Because of the variation in nanotechnology, the company claims they can't list the CBD serving size per pod. The coffee itself is freshly blind roasted 100% Arabica beans sourced from Honduras, while the CBD is grown in the U.S. 
All Naked products are third-party lab-tested. The Nano CBD Coffee Pods sell for around $4.16 per pod, making a 12-pack around $49.95. 
For the people who prefer pods to traditional coffee, Bearded Man Yeti CBD Coffee Pods are another excellent option. 
Yeti CBD Coffee Pods are a full-bodied blend of U.S.-grown CBD and Brazilian coffee beans. Flavor notes feature dark cocoa and cayenne, with what's described as a smooth transition to pink peppercorn undertones. 
At $28 for a 12-pack of pods, Bearded Man offers a more affordable option than most other CBD coffee pods.
9. Infinite CBD Nano CBD Non-Dairy Creamer
Not all CBD coffee products are actually coffee. If you're a fan of non-dairy creamer, Infinite CBD Nano CBD Non-Dairy Creamer could be the perfect CBD coffee product for you. 
Made with nano CBD, each 8-ounce bottle contains 100mg of CBD isolate. While not a huge serving of CBD, it should go far—nano CBD is considered more bioavailable than traditional CBD extracts. 
Made with CBD sourced from hemp grown on Colorado farms, each bottle is third-party-tested for quality assurance. At just about $16 per bottle, this is one of the only CBD coffee creamers on the market. Infinite CBD Nano CBD Non-Dairy Creamer is available in two flavors: hazelnut or vanilla. 
At Joy Organics, we've been doing CBD coffee way before CBD coffee went mainstream. When we discovered that adding a few drops of our CBD oil tincture to our morning coffee not only increased our energy but also didn't make us experience a crazy crash mid-afternoon, we were hooked. 
We love CBD coffee so much that we created five delicious CBD coffee recipes, each with their own unique flavor profile. We've found one of the easiest (and most effective) ways to enjoy CBD coffee is by using a CBD tincture. 
We personally love our Unflavored Organic Full Spectrum Tincture added to our coffee, but any tincture will do. Adding our mint flavored CBD oil tincture to your coffee can offer a holiday twist, especially when combined with a dash of cinnamon. 
If you're on the fence about buying the beans, simply add your own CBD tincture to your coffee to gauge if CBD coffee is really all it's cracked up to be. 
Last Thoughts on the Top CBD Coffee Products
We really do think coffee and CBD are the perfect pair. Each just complements the other so well. You get the energy boost from the caffeine, while the CBD creates a sense of calm—for enhanced focus.
Whether you purchase CBD-infused coffee beans or make your own CBD coffee with a CBD tincture, you could just find that CBD coffee becomes your new go-to. 
Will CBD coffee get me high?
No. Unlike THC, CBD does not cause any intoxicating effects. CBD products, including CBD coffee, must contain 0.3% THC or less to be legally sold in the U.S. While CBD coffee might increase a sense of calm, centered focus, it won't be likely to make you feel high in the slightest. 
How much CBD is in each cup of coffee? 
The amount of CBD per cup of coffee depends on how many milligrams of CBD your coffee contains, as well as the amount your coffee cup holds. If you like strong coffee, each cup of CBD coffee will contain more CBD than if you prefer your coffee medium or weak. 
Ultimately, it's up to you how many milligrams of CBD are in each cup of coffee you brew. Most CBD coffee manufacturers recommend 10-15mg CBD per cup. 
How do you brew CBD coffee? 
CBD coffee is brewed exactly the same way as regular coffee. Whether you prefer your coffee brewed in a drip machine, percolator, French press, or Keurig, CBD coffee can also be brewed in your favorite coffee maker. CBD coffee is also available in whole bean and ground options. 
Can I just make my own CBD coffee? 
You sure can. While CBD coffee products contain coffee beans infused with CBD, you can make your own CBD coffee at home by adding a few drops of your favorite CBD oil tincture to your standard cup of coffee. Keep in mind that this will make your coffee a bit "oily." When drinking coffee that's already been infused with CBD, however, you'll find it's just like drinking regular coffee.  
What are the benefits of CBD coffee?
While the benefits of CBD coffee haven't been studied, CBD coffee brands promote the combined benefits of coffee and CBD. 
CBD and coffee are both considered powerful antioxidants, with coffee being one of the major sources of antioxidants in people's daily diets. The combination of coffee and CBD is a powerful source of antioxidants that is suggested to work together to protect the body from free radical damage and increase overall wellness. 
Without any research into the benefits of CBD coffee, it's impossible to reliably define the benefits of CBD coffee. The caffeine in coffee contains several proven health benefits when consumed in moderate amounts. While clinical evidence is still scarce, research shows CBD contains potential benefits for supporting sleep, muscle and joint health, and mood. 
Are there decaf CBD coffee products? 
If you don't consume caffeine but love coffee and CBD, you'll find a few CBD coffee brands offer decaf options. Decaf CBD coffee is the same as regular CBD coffee, minus the caffeine. 
How do I choose the best CBD coffee products? 
Because the FDA doesn't regulate CBD products (including CBD coffee), it's essential to do your diligent research before purchasing CBD coffee products. We recommend shopping for CBD coffee the same way you'd shop for other CBD products. 
Following are a few things to look for when choosing the best CBD coffee:
Choose a company with a good reputation. Explore a brand's website before you buy anything. Is it professional? Does it offer information about the company? From where does the brand source the CBD used in their coffee? What do customer reviews say about the brand's CBD coffee and other products? 

Only purchase CBD coffee that's been third-party tested for purity and potency. Because the CBD industry is still unregulated, third-party lab results are the only way to determine if you're getting a quality product. Lab test results should be available on the company's website. If a brand doesn't provide lab reports for their products, it's best to find another brand that does. 

Only buy CBD coffee with minimal ingredients from brands that list all the ingredients in their coffee. CBD coffee shouldn't contain much more than CBD and coffee beans unless you're purchasing flavored CBD coffee. Make sure the amount of CBD per bag is listed on the label. 
The best CBD coffee products will be made by reputable brands and have positive customer reviews, third-party lab reports, and minimal ingredients. 
Will CBD coffee make me fail a drug test? 
While there isn't enough THC in CBD coffee to make you feel high, CBD products can legally contain 0.3% THC or less. Although this is a very small amount of THC, full spectrum CBD coffee products could trigger a positive result on a drug test that screens for THC metabolites. 
If you are subject to regular drug screens, a broad spectrum CBD coffee product is your best bet, but there is still no guarantee. Broad spectrum CBD products don't contain any detectable THC. 
Hannah Smith is Joy Organics Director of Communications. She is driven by her passion for providing clear and accessible wellness and CBD education. In 2015, she received her BA in Media, Culture and the Arts from The King's College in New York City and before Joy Organics, worked as writer and photographer in the Middle East and North Africa. Her work has been featured on Forbes, Vice, Vox, Denver Post, and the Coloradoan.