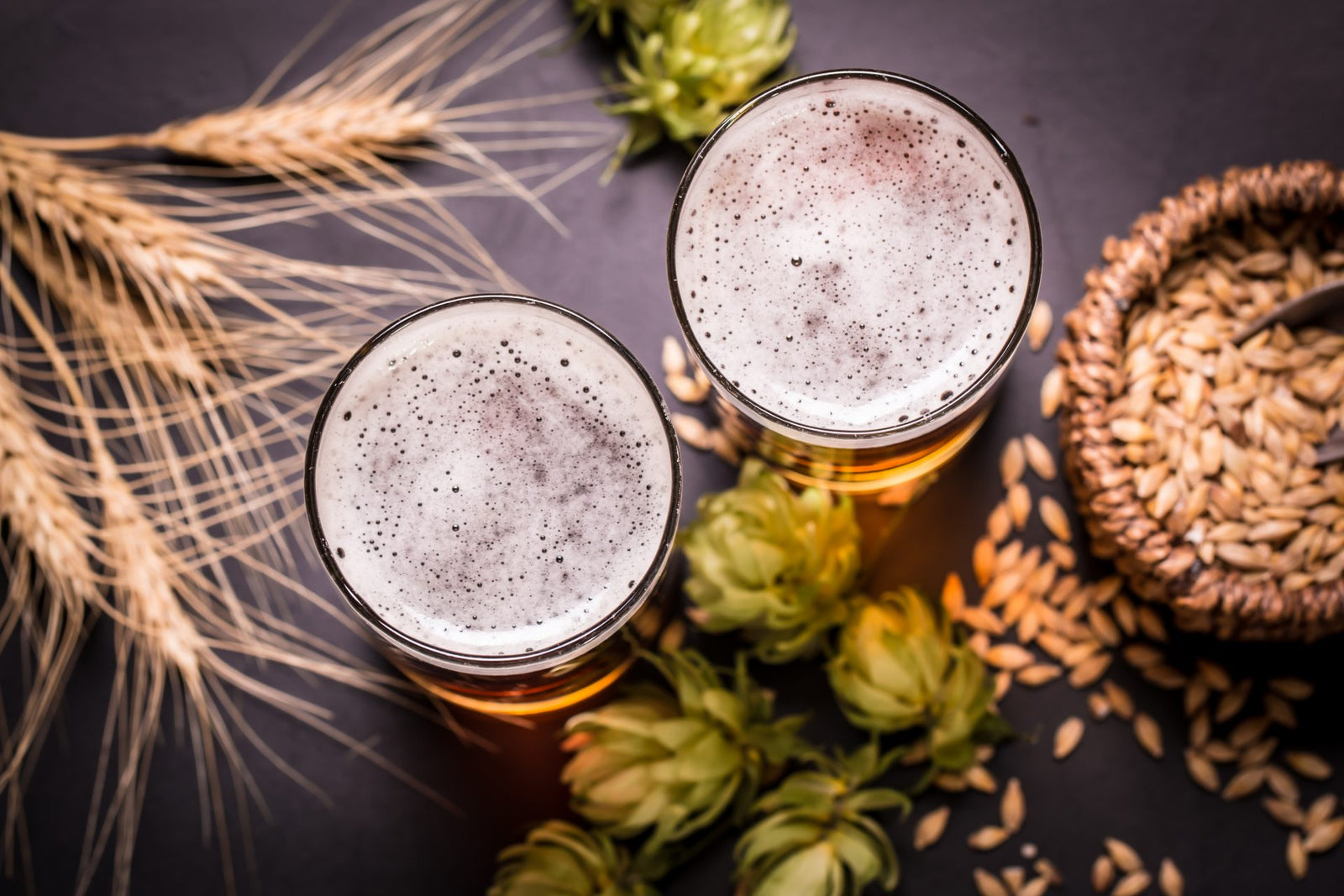 CBD and hemp beer is transforming what it means to relax with a cold one. What does CBD beer taste like, and where can you get it? Here are six CBD beer brands you have to try!
What Is CBD Beer?
CBD beer is simply beer infused with CBD. The way it's made varies between brewers. For some brands, they use CBD isolate powder. Others use hemp extract. The world of CBD is new, and the industry is still experimenting and expanding. One thing we do know is that CBD and beer are the perfect match.
CBD cocktails and mocktails have grown in popularity, much in thanks to CBD tinctures. Hemp flowers and hops make a lot of sense together, as well. Both cannabis and Humulus (hops) are species of the genera known as Cannabaceae. They share many similar terpenes and flavonoids that give both plants their earthy scent with citrusy bites.
While they integrate with one another, both hops and hemp can give CBD beer a strong grassy or peppery taste. This challenge means that brewmasters had to get really creative. In turn, they've formulated some of the most delicious, refreshing and relaxing CBD beers.
The Best CBD Beers
For the longest time, craft breweries in certain cannabis-friendly states were the only ones making CBD beer. With the Farm Bill decriminalizing hemp, some of the biggest names in beer are now jumping on the hemp wagon as well.
First, Lagunitas released Hi-Fi CBD sparkling water. Now, the owners of Corona and Modelo are looking to get into the game. Here are some of the best CBD beers out there that you have to try!
Easy Times IPA
Longing for a hefty serving of CBD after a long day? Look no further than Hop & Hemp's Easy Times IPA. This brew has a low alcohol content and amps up the CBD, with 8mg of CBD per bottle.
In addition to this serving of CBD, the Easy Times IPA boasts even more flavor. The brewmasters in Newtown, Connecticut, mastered the art of pairing fruit essence with hop and hemp essence. You will find many bright and fruity notes in their CBD beer, including grapefruit, pineapple and lemon.
To make things even more complex, the IPA has a malty finish so the zesty aromas from the CBD beer linger on. You'll experience an enjoyable feeling of calm that comes along with CBD, but with a focused mind for an engaging conversation. It's the perfect way to end a stressful workday while chatting with the ones you care about!
Two Flowers IPA
Unlike Easy Times, Oregon-based Coalition Brewing goes all-in on embracing the earthy tones of hemp and hops. In fact, they add even more hemp juice to the mix. This addition makes Two Flowers IPA a completely different experience.
The term "flowers" may suggest otherwise, but Two Flowers offers a very bitter bite. That may sound unappealing for some, but for IPA fans, the bitterness actually complements the exuberance that comes with hops.
This CBD beer is perfect when sitting down for a hearty dinner. Two Flowers has 5mg of CBD per bottle and each pint contains 6% alcohol. You might feel ready for a cozy night on the couch after dinner commences!
Hemp Ale
South Carolina's Humboldt Brewing Company offers the first non-IPA on this list. It's a brown ale with a nutty flavor that will warm your insides. With the slogan, "totally toasted," Humboldt actually toasts the hemp seeds that they use in crafting their Hemp Ale. This touch gives the brew slightly smoky undertones that make you long for a campfire.
Humboldt Brewing Company knows what they're doing with this brown beer. They've won many awards for their brews in the past, including a bronze medal at the Los Angeles County Fair in 2012 and the silver in American brown ale at the 2014 Great International Beer & Cider Competition.
High Flyer
With a brand name like Green Times, you know High Flyer will bring the hemp in a major way. Speaking of a high flyer, you might have to be one to enjoy this beer. This company is based out of England. Not that you needed another reason to visit there, but now you have a CBD beer to try!
This light-alcohol session IPA has an amazing balance of lime, mango and other tropical flavors. It helps cut the bitterness of the 10mg CBD present in the can. They do note that their products are made with full spectrum hemp. That means there is some THC in the formula, however Green Times ensures their High Flyer has 0.3% THC or less.
Full spectrum hemp extract is a more potent serving of CBD because it contains other naturally occurring terpenes and cannabinoids found in hemp. You can get those same benefits, minus the THC, with broad spectrum hemp extract. Check out our extensive catalog of 0.0% THC Joy Organics CBD products.
Outbound Brewing
CBD beer is in its infancy, and San Diego, California-based Outbound Brewing is having a blast experimenting. They've already tried numerous small batches of CBD beer that were all met with tremendous fanfare. This rising SoCal brand has three staple beer profiles that they divide into three different types of beverages. 
Outbound Brewing flavors include:
Pale Haze – Crisp and smooth.
Blood Orange Haze – Bold citrus flavor.
Grapefruit Haze – Tart and bright.
From there, they tailor each beverage to fit into one of three categories:
Non-alcoholic beer.
Beer infused with CBD.
Beer infused with THC.
There really is something for everyone at Outbound Brewing. What we like about this brand is that everyone can try the same beverage, whether they drink alcohol, use marijuana or do neither. Everyone can be in on the same experience and discuss the flavors together.
The Hemperor HPA
Colorado-based New Belgium Brewing Company masters the art of toasted hemp seeds with citrus kisses. They present this dream come true in a bottle with the label of Hemperor HPA.
New Belgium Brewing professes that this is the "dankest ale." They mix and match several malts and hops with hemp terpenes to create a medium-bodied beer that's slightly sweet with a dry finish.
While hemp terpenes and seeds are used to make this beer, it contains no CBD. It does, however, contain 7% alcohol, so be sure to enjoy Hemperor HPA responsibly.
How To Make CBD Beer At Home         
DIY brewmasters already put a lot of work into making their beer, and adding CBD isn't difficult at all. For the most part, you'll brew the beer as usual.
After the beer ferments for three weeks to a month, remove any fruit that you have in the brew. From there, add in about a gram of CBD isolate powder. Allow the beverage to lager for three to four more weeks. Once the month is up, you are free to keg, carbonate and enjoy!
How To Make CBD Beer With CBD Tinctures
Making CBD beer with tinctures is far easier than becoming a brewmaster. It simply means finding a beer you like and adding a few drops of CBD oil into the cup.
Try mixing and matching Joy Organics CBD Tinctures with the following beers:
Orange Bliss: Hefeweizens, pilsners, amber ales, fruit beers, vanilla porters.
Summer Lemon: Sours, shandies, blondes, lagers.
Tranquil Mint – Stouts, fruit beers, Scotch ale.
Unflavored – Brown ales, Bocks, IPAs.
There is no rulebook. Half the fun of using CBD is experimenting with different flavor profiles. Who knows? You might impress everyone with your fancy beer talk at the next get-together.
Where to Get CBD Beer?
CBD beer is still a new frontier. It's merging the highly-regulated alcohol industry with the unchartered waters that are cannabis. In fact, some states have cracked down on CBD beer. Last year, Vermont put an end to Long Trail Brewing Company making CBD beer.
Currently, not many companies mass-produce CBD beer. If you're going to try it at a local brewery, they're probably only making small batches. Be sure to check local brewers' websites and social media to see what's on tap.
Have you ever tried CBD beer? Which is your favorite? Share your thoughts with us in the comments below!
Thanks for reading! To show how much we appreciate you, we're going to give you 16% off your next order. Just use code READER16 at checkout!
Joy Smith is Joy Organics Co-founder and visionary. After her own life-changing experience with CBD, Joy started Joy Organics to create a line of sustainable and premium CBD products consumers could trust. Before founding Joy Organics, Joy worked as an itinerant speaker, traveling to over four continents to empower women across the globe.