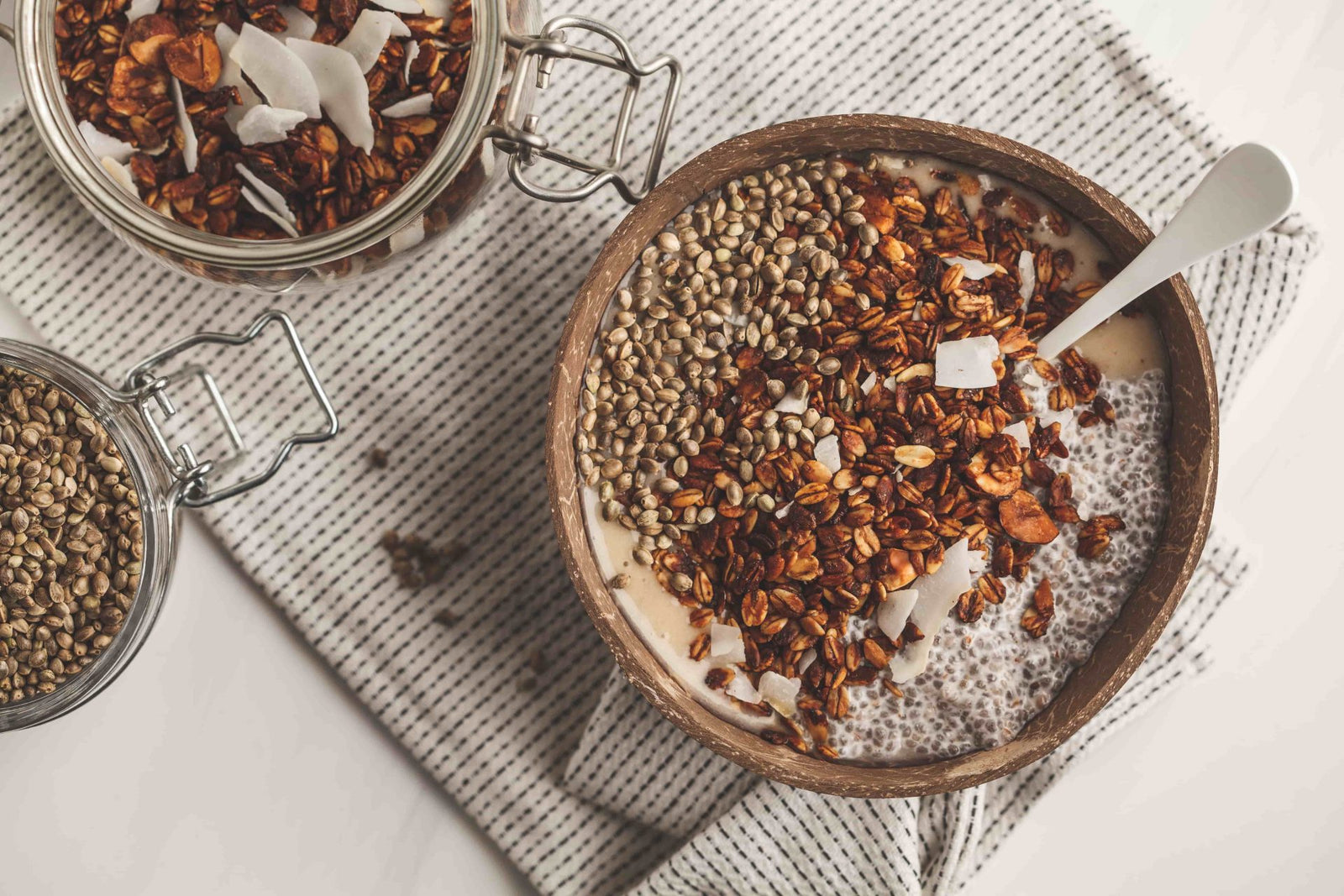 Hemp seeds are packed with essential nutrients your body needs and can make an excellent addition to a well-balanced diet. There's a reason hemp seeds have been eaten for thousands of years. They contain almost every essential nutrient you need for your health to absolutely thrive.
Hemp seeds aren't just amazing for your health—they're also easy to eat and cook with. Their nutty taste is mild and falls somewhere between pine nuts and sunflower seeds. Before we explore how to eat hemp seeds and the ways you can make hemp seeds a part of your healthy diet, let's take a look at just how beneficial they are for health and well-being.
The Nutritional Profile of Hemp Seeds
Hemp seeds are one of the healthiest foods nature has to offer. In fact, some consider hemp to be the most nutritious food that exists. What makes hemp such a nutrient-dense powerhouse?
According to the USDA, a 30 gram serving of hemp seeds (approximately 3 tablespoons) contains the following nutritional profile:
166 calories
2.6 grams carbohydrates (1.2 grams fiber/.45 grams sugar)
14.62 grams fat
9.47 grams protein
21 milligrams calcium
33 micrograms folate
2.38 milligrams iron
210 milligrams magnesium
495 milligrams phosphorus
360 milligrams potassium
2.97 milligrams zinc
 As you can see, the number of nutrients hemp seeds contain is quite impressive. Let's take an even deeper look and find out what the hemp seeds are good for.
They Are Rich in Essential Fatty Acids
Although this is certainly impressive, it's the unique essential fatty acid profile hemp seeds contain that make them even more extraordinary. Hemp seeds contain the highest level of plant-based essential fatty acids (EFAs), with a perfectly balanced 3:1 ratio of omega-6 and omega-3 fatty acids, which is considered optimal for human health.
Hemp seeds also contain phytosterols, which some experts say are a great way to keep the brain and body young and manage high cholesterol levels.
They Are an Awesome Plant-Based Protein
Hemp seeds are one of the best options when it comes to plant-based proteins. They're considered a complete protein, meaning they contain all nine essential amino acids. Over 25% of their calories come from their high-quality protein profile. Three tablespoons of hemp seeds contain 9.46g of protein, which can be a beneficial addition for vegans or vegetarians looking for plant-based proteins.
They Contain a Wide Range of Vitamins and Minerals
Hemp seeds are full of many vitamins and minerals that your body needs. They are especially abundant in vitamin E, potassium, phosphorus and magnesium. Hemp seeds are also a good source of niacin, thiamine, riboflavin,  folate and vitamin B6. Although hemp seeds also contain fiber, you'll only find ample amounts in whole hemp seeds. Hemp seeds that have been shelled or de-hulled actually contain very little fiber.
Hemp Seeds and Health Benefits
So why are hemp seeds so good? The answer will satisfy every enthusiast and sceptic. The complete nutritional profile of hemp seeds packs some pretty impressive health benefits.
Hemp Seeds and Heart Health
Hemp seeds contain ample amounts of arginine, an amino acid that helps produce nitric acid in the body. This is important for heart health because nitric acid helps blood vessels expand and relax, which helps lower blood pressure and helps reduce the risk of heart disease.
One study found that people who stick to a diet high in foods that contain arginine may be able to reduce their risk of heart disease. This is because increased levels of arginine intake are associated with lower levels of C-reactive protein (CRP). High levels of CRP are directly associated with heart disease.
Hemp Seeds and Healthy Skin
Hemp seed oil, which is made from hemp seeds, is known for its ability to moisturize and calm the skin without clogging pores. In fact, Hemp oil is often recommended as a component of a regular skincare routine. Adding a few tablespoons to your everyday diet could also benefit skin health.
Hemp Seeds and Hormone Health
Hemp seeds are abundant in omega-6 fatty acid gamma-linolenic acid (GLA), which is known to help balance hormones. GLA produces prostaglandin E1, which can reduce the effects of prolactin. It's said that prolactin sensitivity is directly related to symptoms of PMS. One study found that women who took one gram of essential fatty acids daily, including 210mg of GLA, experienced a significant reduction in premenstrual syndrome symptoms of PMS. It's also believed that GLA could be beneficial for regulating hormone imbalances associated with menopause.
Hemp Seeds Won't Get You High
One of the most common concerns people have when it comes to eating hemp seeds is that they believe the seeds will get them high. Although hemp and marijuana are derived from the same plant family (Cannabis sativa), the two plants are very different.
Hemp doesn't contain substantial levels of THC, the cannabinoid abundantly found in marijuana that's responsible for mind-altering side effects. As a matter of fact, the industrial hemp from which hemp seeds are derived contains less than 0.03% THC. It's marijuana that's bred for medicinal and recreational use that contains high amounts of psychoactive THC.
Not only does industrial hemp lack THC, but hemp seeds themselves don't contain any active cannabinoids. Take it from Drug Policy Alliance staff attorney, Jolene Formene, who says, "Hemp seeds are non-psychoactive, meaning that consumers cannot get high by eating them."
Hemp Seeds: How to Eat
Now that you know why you might want to eat hemp seeds, we'll show you how to eat hemp seeds and a few different ways to add these beneficial seeds to your everyday diet.
Add Them to Smoothies
There's nothing quite like a smoothie. It's a simple drink with tons of good-for-you ingredients that makes a great snack or standalone meal in itself. Adding hemp seeds to an already healthy smoothie is an awesome way to get a bonus boost of the beneficial nutrients your body needs.
Toss Them into a Salad
Salads are a key part of a healthy lifestyle. Tossing some hemp seeds to your salad is one great way to make it even healthier! Whether you prefer spinach, kale or baby greens, hemp seeds can pack some extra protein, fiber and other essentials into your salad.
Eat Them Raw
The easiest way to eat hemp seeds is straight out of the package. Eating hemp seeds raw isn't for everyone, but it is one convenient way to consume a quick serving of nutrients whenever you feel like you're running on empty. Hemp seeds can also be added to other nuts and dried berries for a supercharged snack mix.
Add Them to Baked Goods
If you love to bake, you might want to consider adding hemp seeds into the mix. Whether baking bread, cookies, muffins, or quinoa breakfast bars, hemp seeds will add a bit of a nutty, healthy twist.
Sprinkle Them on Your Avocado Toast
Want to take your morning avocado toast to the next level? Consider sprinkling some hemp seeds on top. They'll offer a bit of extra nutritional value to help you get your day started, as well as a nutty crunch that could make hemp seed avocado toast your new go-to. You can also try sprinkling hemp seeds on almond butter and banana toast instead for a sweeter, nuttier bite.
Stir Them into Your Cereal
Whether you eat cereal in the mornings or save it for a midnight snack, stirring a tablespoon of hemp seeds in is a great way to incorporate them into your diet. Simply pour cereal into a bowl, top with hemp seeds and add your favorite type of milk. It's a super simple solution to getting the many of the nutrients you need to fuel your day. Or, add hemp seeds into your yogurt for a quick snack.
Sauté Them in a Stir-Fry or Stir into Sauces and Soups
Hemp seeds can uplevel any meal. Consider lightly sautéing hemp seeds into a stir fry a few minutes before removing from heat. Hemp seeds can also be stirred into your favorite sauces or soups. This is an excellent way to meet the nutritional needs of picky eaters in your household (who won't even know the difference).
How to Store Hemp Seeds
Hemp seeds should be purchased as fresh as possible, so be sure to check the sell by date before you buy them. When you get hemp seeds home, they should be stored in a cool, dark place, as they keep best when they are away from bright light.
Hemp seeds should stay fresh for 3-4 months when stored in a pantry, and if you choose to refrigerate or freeze these beneficial seeds they'll stay good for up to a year.
What are some of the ways you incorporate hemp seeds into your diet? We'd love to hear your ideas for how to eat hemp seeds in the comments below!
Thanks for reading! To show how much we appreciate you, we're going to give you 16% off your next order. Just use code READER16 at checkout!
Todd Smith is Joy Organics Chief Operations Officer and Co-founder. Before Joy Organics, he worked in the wellness and nutritional industry for over three decades and helped generate over 1 billion dollars in supplement sales. He has applied that knowledge and experience to empower over 1000 businesses through Joy Organics' partnership programs. Todd is also the author of a book, podcast, and blog titled Little Things Matter.