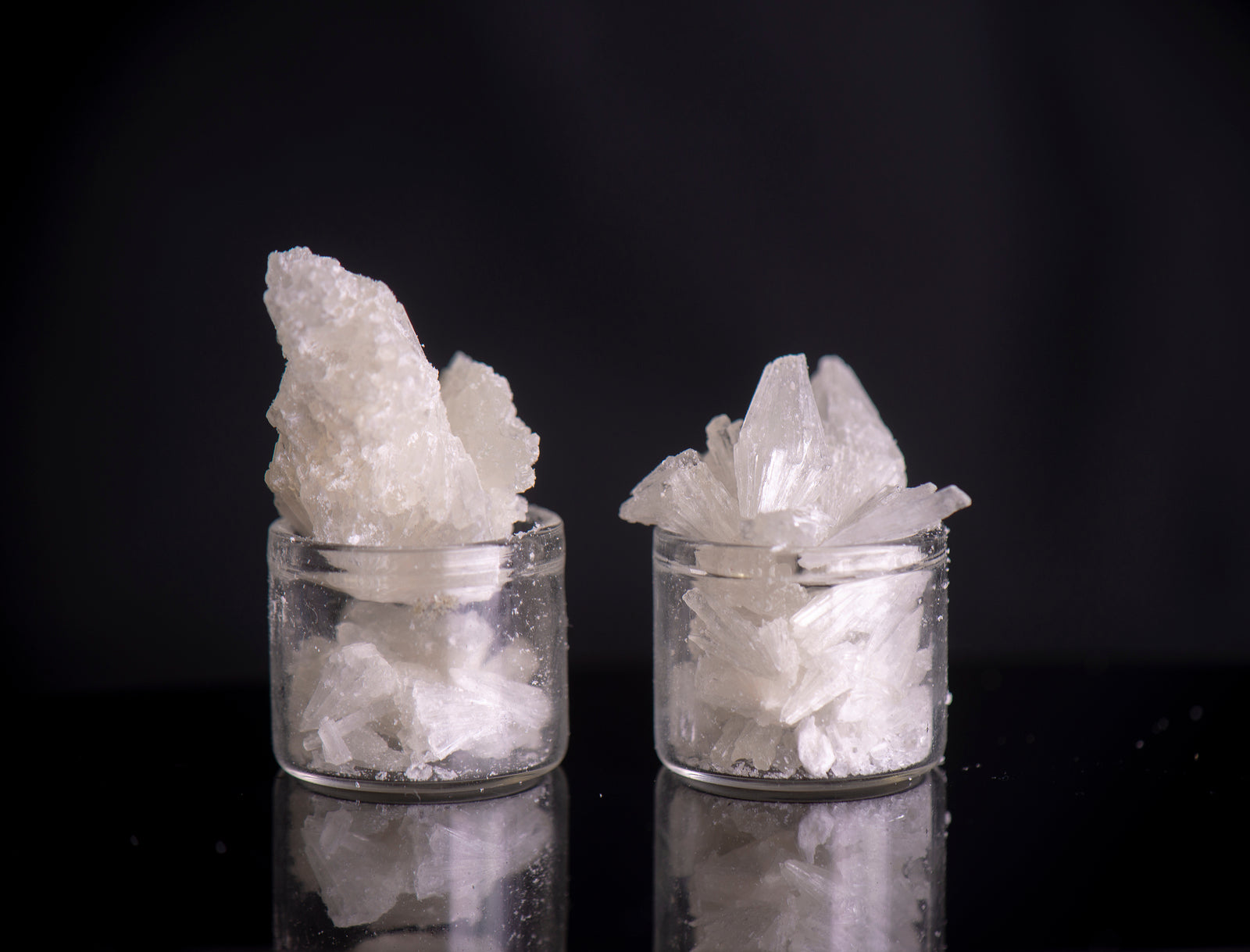 With the rising popularity of CBD everything, CBD isolates are something you might have heard about. If you want a guide to using CBD isolate, we've got you covered.
We're well aware that CBD isolate looks nothing like other CBD products you might be used to. Here's the thing, though — this crystalline, powder form of CBD is the purest form of CBD available. Some of the highest quality CBD isolates are 99+% pure CBD.
So, what is CBD isolate exactly? How does it differ from other CBD products? Why should you care? And how exactly do you use CBD isolate? Let's take a look.
What Is CBD Isolate?
Isolate is defined as: "a person or thing that has been or becomes isolated."
CBD isolate is just what it sounds like — CBD that has been isolated from all other compounds in the cannabis plant. Put simply, CBD isolate is the purest form of CBD you can get.
CBD isolate is a crystalline powder that is 99% pure CBD. It is sourced from hemp, but all matter from the hemp plant is removed. This includes waxes, oils, other phytocannabinoids (such as THC), chlorophyll and more. What's left is a crystalline powder.
How Is Cannabidiol Isolate Made?
To get CBD out of hemp, it must go through an extraction process. CBD extraction methods have come a long way in the past few years, with state-of-the-art extraction methods now mainstream in a market that's become one of the most popular in existence.
In order to make CBD isolate, it must go through a more complex extraction process once initial extraction has taken place. After regular extraction, several compounds of the hemp plant remain in the extracted oil, with the final product typically referred to as "broad spectrum" or "full spectrum" CBD oil. At this point, it contains the other cannabinoids, terpenes and flavonoids found in the hemp plant.
To produce CBD isolate, additional processing that removes any residual plant material and unwanted compounds must take place. After the initial extraction process, the extracted oil goes through a second purification process where any remaining plant material is filtered out.
Following this filtration process, the extracted oil goes through a process known as "winterization." Basically, winterization is an alcohol wash that involves soaking the CBD extract in alcohol and freezing it. This process helps to separate pure CBD from all the other residual products that remain in the oil.
Following winterization, several rounds of rotary evaporation ensue to remove any remaining residual material still present in the extracted, winterized oil. This extract is then decarboxylated and converted into a crystalline powder form using a propriety processing technique.
The result? Pure, crystalized CBD.
This Isolate Contains NO THC
One of the major reasons CBD isolate has become so popular is that it contains ZERO THC.
While many people are under the assumption that CBD doesn't contain any THC, there are still some trace amounts in many full spectrum CBD products, which can be sold as long as there is less than 0.3% THC. While this small amount of THC isn't enough to cause a psychoactive effect, it has a slight potential to show up in a person's system.
CBD isolate is a great choice for anyone sensitive to even trace amounts of THC, as well as anyone who could benefit from CBD but otherwise can't ingest THC for any reason.
Everything You Need to Know About Using CBD Isolate
Now that you know just what CBD isolate is and how it's made, you can decide if this particular form of CBD might be right for your personal needs.
Don't let its powder form fool you! Even though CBD isolate looks nothing like other forms of CBD, it can work just as well.
CBD isolate is easy to use and one of the most versatile forms of CBD you can find. Interested in how to use it? Look no further. Following are 7 easy (and fun) ways to use CBD isolate and benefit from cannabidiol in its purest form.
7 Ways to Use CBD Isolate
Place it Right in Your Mouth — 

Looking for the absolute easiest way possible to use CBD isolate? Simply place it in your mouth to dissolve. This method works just like taking a regular CBD tincture. One of the best things is that CBD isolate is both tasteless and odorless. Easy breezy.

Add it to Juice or a Smoothie — 

If you want a little more excitement, add your CBD isolate to juice or a

 

smoothie. Just measure out the exact serving you desire and stir or shake into your juice or blend it right in with other ingredients in your blender. Adding CBD isolate to your juice or smoothie simply adds to an already healthy option.

Put it in Coffee or Tea — 

By far one of our favorite ways to use CBD isolate is by putting it in our coffee.

 

Yes, like many of you, we're java junkies. Our

 

bulletproof coffee recipe

 

is one of our faves and can easily be made with CBD isolate. You can also stir it into your regular cup of morning (or afternoon) joe, where it will mix so well you won't even know it's in there. For all you tea drinkers, you can also add your desired amount of CBD isolate to your cup of hot tea, stir well and enjoy the extra benefits it brings.

Create CBD-Infused Meals — 

If you're someone who likes to consume CBD in the edible form (or just get crafty in the kitchen), CBD isolate can be added to pretty much anything you eat. Stir it into sauces, soups, stir-fries and dressings, blend it into brownie batter, or sprinkle some on your salad. Just measure out your desired amount and add it to whatever culinary masterpiece you choose to create. Be careful not to heat it up too much, though, or it could lose its potency.

Create Your Own CBD Sweetener — 

Speaking of creating culinary masterpieces, CBD isolate can also be used to make your own CBD sweetener. Our favorite way is to blend it in with some local, organic honey or stir it into stevia. You could also add CBD isolate to your syrup to drizzle over pancakes, waffles and French toast.

DIY CBD Topicals — 

A really fun way to use CBD isolate is to make your own CBD topicals. Known to

 

provide localized effects, topicals

 

are a great way to support healthy joints and muscles. There are plenty of resources online that can teach you how to make your own CBD-infused topicals. So whether you prefer a

 

CBD salve, lotion or cream and you like to get down on some DIY recipes, CBD isolate is an awesome addition for anything you decide to create.

Make Your Own CBD Pet Treats — 

CBD isn't just beneficial for humans;

 

our pets can also be impacted by CBD.

 

In fact, using CBD for pets is becoming increasingly common. Why not give your furry friend a treat homemade by you with love? CBD isolate can be added to any pet treat recipe and can help to boost your furry friend's quality of life.
As you can see, there are huge benefits to CBD isolate use. It's CBD in its purest form. While you won't get the entourage effect of a broad spectrum CBD product, CBD isolate does contain all the benefits of CBD without trace amounts of THC.
One of the best things about CBD isolate is that you get more bang for your buck. A little CBD isolate goes a long way and, in the long run, can help save you some money, especially if you're someone who regularly uses CBD. Think of it like this. One gram of CBD isolate typically contains about 990mg of CBD. For everyone one milligram of powder you consume, you're getting right around one milligram of CBD.
This odorless, tasteless, pure form of CBD can be enjoyed by anyone and is just about as versatile as it comes. Still have questions about CBD isolate? We're always here to help.
Thanks for reading! To show how much we appreciate you, we're going to give you 16% off your next order. Just use code READER16 at checkout!
Hannah Smith is Joy Organics Director of Communications. She is driven by her passion for providing clear and accessible wellness and CBD education. In 2015, she received her BA in Media, Culture and the Arts from The King's College in New York City and before Joy Organics, worked as writer and photographer in the Middle East and North Africa. Her work has been featured on Forbes, Vice, Vox, Denver Post, and the Coloradoan.