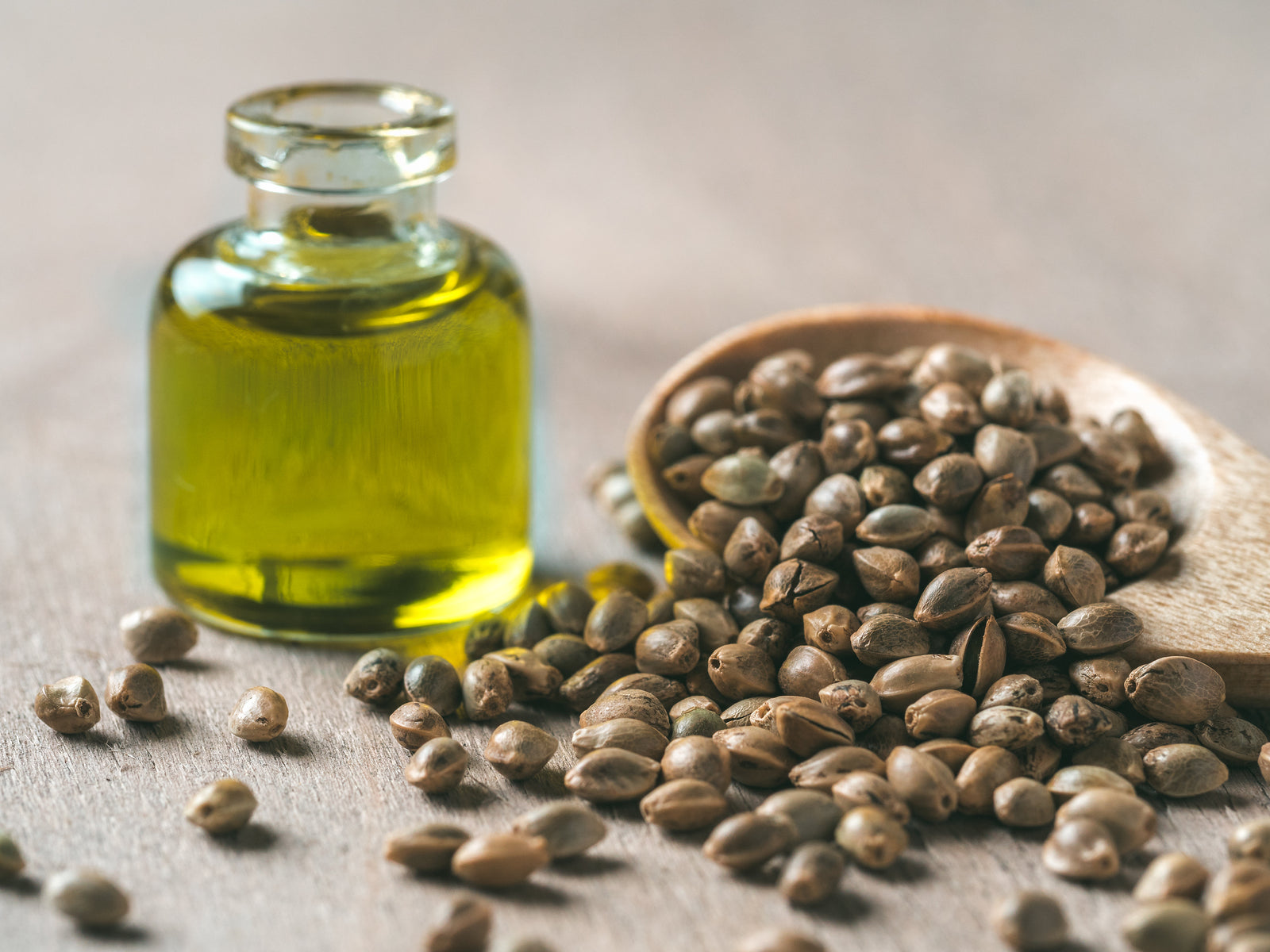 In a still new market, the cannabis niche already seems a bit…overcrowded. After all, there are hemp seeds, hemp seed oil, broad spectrum hemp oil — it's enough to make anyone's head spin! Well, swivel your dome back the way you found it. We're here to set your head right!
Don't let hemp products overwhelm you. They are all beneficial (and delicious). However, each type of hemp product does react with the body in its own unique way. Therefore, some products like hemp seeds and hemp seed oil may not have all the nutrients you are looking for. Let's take a look at the differences between the major hemp products and get to the bottom of the question, "Do hemp seeds have CBD?"
Getting to Know the Hemp Plant
Before getting into the nuances of hemp products, let's get to know the plant in the first place. Hemp is a member of the Cannabis sativa genus and comes with a hoard of unique properties. One of those is that it doesn't contain the psychoactive molecules that its cousin, marijuana, does.
Hemp plants are chock full of terpenes. These are the aromatic chemical compounds that give Cannabis sativa plants their distinct smell. All plants scents' have evolved from genetic structures known as terpenes. Terpenes are not only responsible for the scent of a plant, but they include wellness-promoting benefits as well.
What sets Cannabis sativa apart from other plants is that this genus contains at least 120 unique phytocannabinoids. Of all of these distinct phytochemicals, there are two that are most prominent in cannabis plants. Those chemical compounds are tetrahydrocannabinol (THC) and cannabidiol (CBD).
THC is most common in marijuana. It's the psychoactive element of the plant and is the number one reason why cannabis was outlawed. However, hemp contains only small traces of THC. The hemp version of Cannabis sativa is often cultivated to produce an abundance of CBD instead. This is the component that has sparked the healing cannabis movement.
To be legally sold in the United States, hemp products must contain less than 0.3% THC. With such low amounts of THC, it is unlikely that hemp can't get you high.
Where Does Hemp Come From?
Hemp comes from central Asia, which still remains one of the main cultivation places. It quickly spread across the world, starting with Europe and then moving to the Americas and Australia. It's a plant that grows very fast and has many different uses and purposes, which makes it easy to produce and very versatile.
When people ask about the products they buy, they often ask about where the hemp comes from and we are proud to say that Joy Organics uses American hemp.
Where Does CBD Grow?
The way CBD comes to fruition is through the miracle of life. When a seed gets planted, it soaks up all the water and nutrition from the soil. From there, light beams down onto the ground. During the germination period, the light excites microorganisms in the soil, including the seed. As moisture is pulled up to the sky through evaporation, it creates pressure on the seed. Thus, the hemp plant begins to blossom.
While the plant grows toward the light, it's drawing up as much moisture and nutrients as it can through its roots. This creates a push-and-pull effect on the plant itself. A tug-of-war is created because the plant's roots are firmly entrenched in its grow medium.
Rays from the light above cause evaporation. Light draws water from the stems and leaves up into the atmosphere. Being anchored by roots while being tugged by light causes stress on the hemp plant. Think of any time we stretch ourselves at the gym. What happens? We sweat.
While our sweat is nothing to write home about, the resin excreting from the tiny hairs on the hemp leaves contain phytocannabinoids. So, to extract CBD oil, you must apply pressure on the leaves and stems of the hemp plant. When this happens, trichomes burst open, exposing oil rich with rare phytochemicals.
Do Hemp Seeds Have CBD?
We can confirm that CBD lives in the leaves and flowers of the hemp plant. Unfortunately, there isn't any CBD in seeds.
If you purchase hemp seeds or hemp seed oil, you will not get any benefits of CBD. To get the full benefits, you want to get CBD products that tout they are "broad or full spectrum hemp oil."
This means most of the plant is used in the process. Seeing as each part of the plant brings a different set of phytochemicals to the table, Joy Organics figured we'd have it all! The only thing we opt out of is THC.
As some hemp may have traces of THC, we remove it from the final formula so that you have all the benefits of unique phytocannabinoids without the worry of THC. In fact, third-party labs have found 0.0% levels of THC in our products.
Benefits of Hemp Seeds
Seeds are the unsung hero in nutrition. Chia seeds are a great energy booster and make a killer pudding. Sunflower seeds are full of protein and awesome to enjoy at ball games. Then there are hemp seeds.
Much like the plant itself, hemp seeds contain a litany of unique phytochemicals that makes this a heart-healthy food choice. For one, over 25% of the calories in a tiny hemp seed comes from high-quality protein sources. In fact, just 30 grams of seeds contains 9.47 grams of protein!
What makes this such a heart-healthy food is the fact that get you so much protein, and it comes with dietary fiber. Main protein sources, such as animal fats, contain a ton of LDL cholesterol and little fiber to flush it out. Not to mention, these animal fats are filling. Therefore, we aren't getting an adequate amount of greens to help push some of these toxins out of the system.
Consuming high-caloric fats makes it harder for your body to digest foods. As a result, they build up in your system, causing a backlog of blood flow. Naturally, your heart gets fewer supplies of oxygenated red blood cells, which may lead to a myriad of heart conditions.
By eating a protein-rich, fiber-dense product like hemp seeds, you are helping clear out the clogged up system. Not to mention, they're easier for your body to break down and as a result, disperse the nutrients into the bloodstream.
Another leg-up hemp seeds have as a source of protein are their abundance of omega-3 fatty acids. Rule of thumb, we should have a ratio of 3:1 when comparing omega-3s to omega-6s. Unfortunately, evolution has seen a 1:1 ratio become the norm. Alarmingly enough, studies say today, many hover at "20:1 or higher."
These statistics correlate with the fact that one-third of the population is considered overweight. It all makes sense. Not eating your phytochemicals because you're full from animals fats will cause your system to clog up. Hemp seeds are a great way to find that balance and help fight off some excess weight gain.
How to Use Hemp Seeds
Seeds are a diverse tool in the kitchen. You can use them in a number of ways. Hemp seeds are no different. The most common way to consume hemp seeds is like any other nut — you can consume them raw by the handful. Personally, we think their nutty flavor can accentuate any salad in need of some crunch!
Otherwise, you can roast hemp seed to sprinkle over a delicious butternut squash soup. Toast them on the stovetop and sprinkle them in with some breadcrumbs to bake over chicken. Or mill the seeds and toss them into a batter for a healthier baked good. To get more creative, you can even soak hemp seeds in water to formulate hemp seed milk.
For those looking to use hemp seed oil, this liquid contains many of the same nutritious benefits as the seeds. Seeing as hemp seed oil is extracted from CBD-free seeds, these oils don't contain any cannabinoids. Don't let this deter you from using the delicious health accessory in your next dish.
Like the seed itself, hemp seed oil has a nutty flavor that works wonderfully in bulletproof coffees. It's like having a hazelnut syrup without all the additives! Being a complete protein, you can actually swap MCT oil for the cheaper alternative in hemp seed oil!
While we wouldn't suggest cooking with hemp seed oil, it does work wonderfully as a dressing. Mix up this earthy flavor with some citrusy nodes like a white orange balsamic vinegar. It will have your taste buds dancing and your micronutrient intake booming!
Storing Hemp Products
Whether you opt for hemp seed, hemp seed oil, or broad or full spectrum hemp oil, store them all the same! You want to keep hemp and CBD products in a cool, dry and dark place. In fact, many hemp seed oils recommend you keep them in the refrigerator.
By keeping the products away from light, it allows their chemical compounds to maintain integrity. Otherwise, rays within the light will excite the phytochemicals and cause them to oxidize. Sounds familiar? It's the circle of life, indeed.
Thanks for reading! To show how much we appreciate you, we're going to give you 16% off your next order. Just use code READER16 at checkout!
Hannah Smith is Joy Organics Director of Communications. She is driven by her passion for providing clear and accessible wellness and CBD education. In 2015, she received her BA in Media, Culture and the Arts from The King's College in New York City and before Joy Organics, worked as writer and photographer in the Middle East and North Africa. Her work has been featured on Forbes, Vice, Vox, Denver Post, and the Coloradoan.