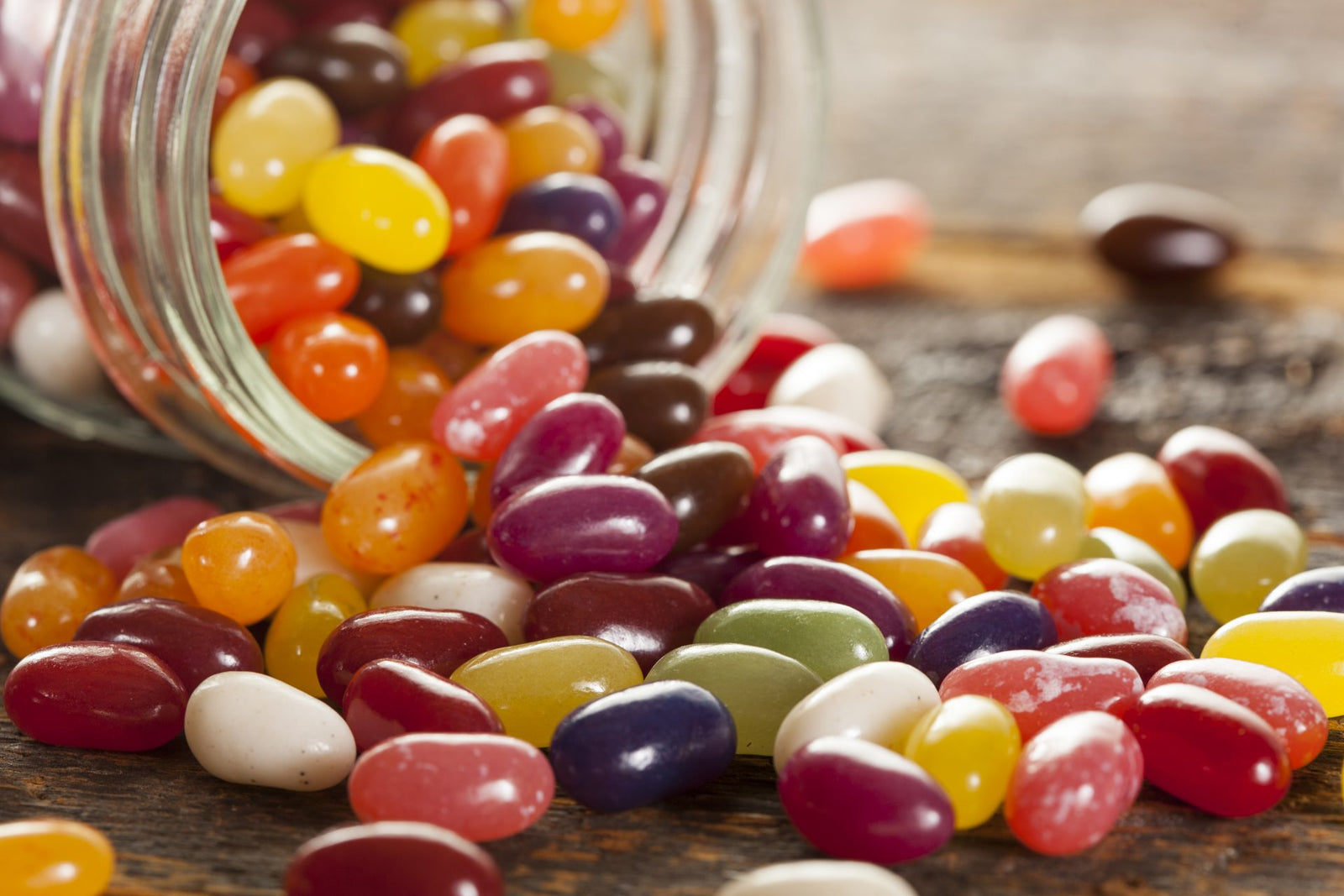 CBD jelly beans and gummies are a fun (and yummy) way to try CBD. Whether you're new to using CBD or looking to switch up your regular CBD routine, CBD jelly beans and gummies are excellent options across the spectrum. Here are some of the top CBD jelly beans and gummies that taste as good as they make you feel. 
Spectrum Confections CBD Jelly Beans
These CBD jelly beans are created by the inventor of Jelly Belly, David Klein. So, you know these have to be delicious. Spectrum Confections provides a mixture of 38 unique flavors in a package of 40. There's bound to be something for everyone.
At the Spectrum Confections online shop, you can choose between:
Sugar-free
Sour
Original assorted
The sugar-free option only has seven flavors; however, there's still enough variety to please everybody's taste buds.
Each CBD jelly bean contains 10mg of CBD. The Spectrum Confections formula is mostly an isolate with trace amounts of other phytocannabinoids. So, while these CBD jelly beans bring the flavor, they might not have the potency you desire.  
Other CBD Jelly Bean Brands 
CBD jelly beans are a growing market. Currently, Spectrum Confections acts as a wholesale and private label marketer for a couple of other brands looking to venture out in the market.
You can get the same flavors and quality of Spectrum Confections with:
While it might seem the same as buying directly from Spectrum Confections, choosing one of these retailers might be the best option for you. 
For instance, Spectrum Confections has 40 jelly beans per package with 38 assorted flavors. You might not get to try each CBD jelly bean flavor in one package. Even worse, you might get stuck with a bunch you don't like!
Companies like Maxton handpick which ten flavors they carry. By creating a brand identity separate from competitors, companies like Maxton make it easier to find the right CBD jelly beans to meet your taste preferences. 
BudderWeeds: THC-Infused CBD Jelly Beans 
If you are looking for CBD jelly beans containing THC, you can check out BudderWeeds. They currently use the Spectrum Confections formula and add THC to their products. 
BudderWeeds CBD jelly bean flavors include:
Mango
Spicy licorice
Strawberry cheesecake
Cinnamon
Toasted marshmallow
Piña colada
Their website also indicates that full spectrum CBD jelly beans will be available soon. If you want 0.0% THC products, your best options for CBD jelly beans are Spectrum Confections and the companies under their umbrella.
Joy Organics' USDA-Certified Organic CBD Gummies 
If none of those CBD jelly bean sources interested you, it might be fun to try a CBD gummy. We might be biased, but we love Joy Organics' USDA-Certified Organic CBD Gummies. They are made with all-natural flavors to create a sweet and sour strawberry lemonade and green apple gummy.
Unlike CBD jelly beans (and jelly beans in general), Joy Organics' USDA-Certified Organic CBD Gummies are made with a minimal ingredient list. We use organic cane sugar to sweeten the edible and spirulina to give it color. 
Best yet, Joy Organics' USDA-Certified Organic CBD Gummies are made of broad spectrum hemp extract. They're 0.0% THC while supporting the entourage effect! With Joy Organics' broad spectrum hemp extract, you won't encounter CBD potency issues you may encounter with CBD jelly beans. 
Charlotte's Web CBD Gummies
While the world of CBD jelly beans is still growing, the CBD gummies business is thriving. One of the leading CBD gummy brands is one that's synonymous with the CBD movement—Charlotte's Web.
We love the variety and targeted care you can get with these CBD edibles. The Charlotte's Web team has developed three distinct flavors that you can use in various scenarios.
They have:
You can also opt for a variety pack to see which of these edibles works best for your lifestyle.
Thanks for reading! To show how much we appreciate you, we're going to give you 16% off your next order. Just use code READER16 at checkout!
Hannah Smith is Joy Organics Director of Communications. She is driven by her passion for providing clear and accessible wellness and CBD education. In 2015, she received her BA in Media, Culture and the Arts from The King's College in New York City and before Joy Organics, worked as writer and photographer in the Middle East and North Africa. Her work has been featured on Forbes, Vice, Vox, Denver Post, and the Coloradoan.