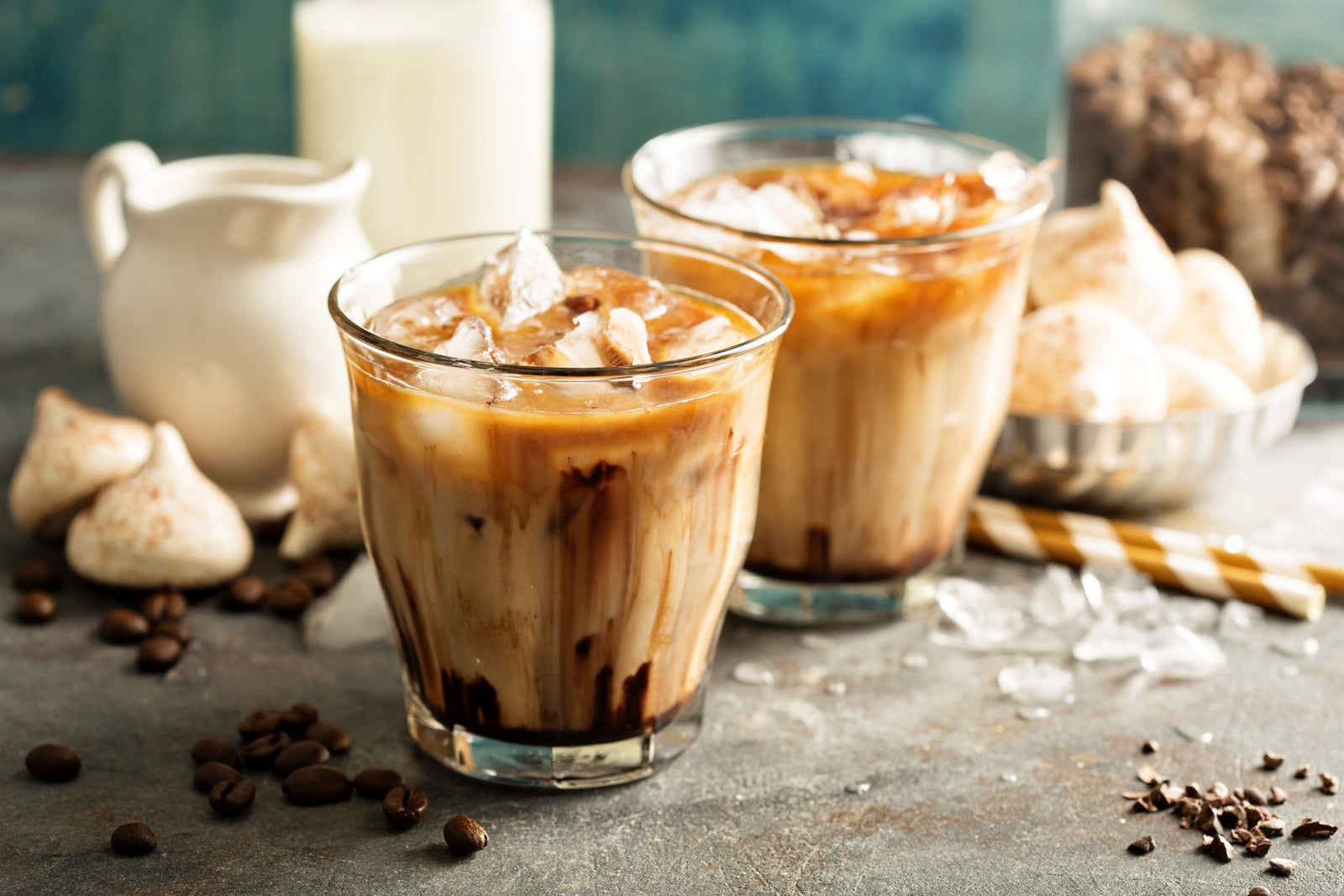 Just when you thought coffee couldn't get any better, someone came up with the genius idea of combining coffee with CBD. 
CBD coffee is a rapidly growing facet of the CBD market. From CBD-infused coffee beans and CBD coffee k-cups to CBD appearing in coffee shops and consumers adding their own CBD oil tinctures to their favorite iced coffee in summer or fall coffee recipes when the weather cools off, CBD coffee is a rapidly growing facet of the CBD market. 
What exactly is CBD coffee, though? 
CBD coffee is exactly what it sounds like: coffee concocted with CBD. And more consumers than ever before are interested in discovering what the buzz is all about. 
Let's take a deeper look. 
Why Drink CBD Coffee? 
What coffee drinker doesn't look forward to their first cup of coffee each day? Many of us aren't morning people by nature. However, once the coffee hits the bloodstream, suddenly we're invincible. But then the caffeine buzz wears off. 
When the crash comes, many of us drink a second cup…or a third. This might be too much stimulation for many people, leading to some or all of the following: 
Restlessness

Jitters

Irritability

Racing thoughts

Sweaty palms

Trouble sleeping
When it comes to coffee, there really can be too much of a good thing. 
Here's where CBD comes in.
Adding CBD to your coffee supports your system as the caffeine wears off. CBD can also help support a good night of rest for any sleep issues that might arise as a result of excessive caffeine intake. 
While there haven't been any studies that look specifically at the combination of coffee and CBD, caffeine has been shown to influence the endocannabinoid system (ECS), which could be exactly why some people might say that CBD and coffee make the perfect pair.  
What Does Science Say About CBD and Caffeine?  
There's no doubt that coffee drinkers love the taste of a good cup of coffee, but the primary reason most people drink coffee is the feeling of alertness—the jump-start to the day. When we consume coffee, caffeine enters the bloodstream, which is when the coveted effects of coffee begin to kick in. 
On a molecular level, caffeine resembles adenosine. Adenosine is a compound that is actually a sedative to the central nervous system and is ultimately beneficial for the regulation of the body's natural sleep/wake cycle. Drinking a cup of coffee in the morning leads to feeling alert because caffeine blocks adenosine receptors. Instead of actually waking us up, caffeine simply prohibits adenosine from making us fall asleep. 
CBD also affects adenosine. Research shows CBD increases brain adenosine levels by reducing adenosine reuptake. 
Here's the thing: While caffeine is an excellent way to get a boost of energy, it can also cause a harsh afternoon slump. From mood swings to jitters, the comedown from caffeine can be extreme for some. Since CBD is often used to support a calm mood, some people enjoy and benefit from adding CBD to their coffee.
How does CBD oil react with coffee, and what are the effects of caffeine combined with CBD? 
While research on CBD oil and caffeine mixed together is lacking, a recently published study in the Journal of Internal Medicine did discover that 115 metabolites were associated with the intake of caffeine. Of these 115 metabolites, there happened to be a significant increase in five of them, including benzoate metabolism, xanthine metabolism, steroid metabolism, fatty acid metabolism, and endocannabinoid metabolism. 
As it turns out, caffeine has quite the influence on the ECS.  
Researchers found that ECS metabolites decreased when coffee was consumed. Here's the thing, though. Caffeine doesn't activate CB1 or CB2 cannabinoid receptors. Why, then, does ECS function decrease when coffee is consumed? 
Some suggest that it might be because caffeine consumption can lead to stress in certain individuals. Since one of the primary functions of the ECS is maintaining the stress response, stress caused by regular coffee consumption might decrease ECS function. 
To date, there aren't any studies that look specifically at how cannabinoids like CBD might influence ECS function when combined with caffeine. 
Anecdotal evidence, however, is a different story. People love CBD and coffee. Some say it helps with a sense of focused calm and alertness without feeling crazy wired. Could adding a dash of CBD oil to your coffee help you from feeling jittery? 
How to Make CBD Coffee
Anyone brewing CBD coffee at home can customize the amount of CBD consumed, while serving sizes may vary at a CBD coffee shop. If you enter a cafe that is selling CBD coffee, ask them how much CBD is in a serving. Typically, it will be in the 5mg to 10mg range. First-time drinkers of CBD coffee should start with a lower serving to see how their body reacts.
While it's hard to measure how much CBD is in CBD-infused coffee beans and CBD ground coffee, you can have more exact judgment with CBD tinctures. You control the number of drops going into the beverage, making CBD tinctures a great tool for creating CBD coffee.
Pro Tip: We all like our coffee nice and hot, but make sure it doesn't boil! Not only will you burn the flavor of the coffee, but you may also damage some of the cannabinoids in the drink.
For best results, allow your coffee to cool for a moment. Then add the CBD tincture. Stir until the tincture is completely integrated. Since CBD tinctures are in a carrier oil, some may rise to the top. 
CBD Coffee Recipes
At Joy Organics, we've become quite accustomed to adding CBD to our coffee and experimented with quite a few recipes over the years. 
CBD Bulletproof Coffee
CBD bulletproof coffee is, by far, one of our favorite ways to enjoy a strong cup of coffee combined with CBD. Bulletproof coffee gets its name from a diet of the same name that was actually formulated to aid in weight loss, and the ingredients in bulletproof coffee were chosen to produce optimal energy levels.
There are three main ingredients you need to make traditional bulletproof coffee:
Organic coffee beans

High-fat oil (Brain octane/MCT/Organic coconut)

Ghee or grass-fed butter
To give your bulletproof coffee additional strength, you can add an orange CBD tincture to the mix. Adding a CBD tincture into the mix gives you the benefits of CBD that compliment the advantages of bulletproof coffee. 
Remember: Allow your coffee to cool a bit before adding the orange CBD tincture. You don't want to scorch it! After about 300 degrees Fahrenheit, cannabinoids start to die. 
Here's one of our favorite CBD bulletproof coffee recipes: 
Prepare two shots of espresso. (Make sure it only fills your cup about halfway. If you fill it too much, you'll make a mess during the blending process.)

Separately add about 1 tablespoon of Irish butter, 2 milliliters of the 

Joy Organics Orange MCT CBD oil

 and a teaspoon of raw honey to a separate mug.

Combine all ingredients and mix with a handheld blender for about 30 seconds. Start blending lower in the cup and move the blender to the top of the liquid at the end for a frothy finish!
CBD Iced Coffee
Iced coffee is the sweet nectar that gets many of us running in the morning, and is delicious and refreshing on hot days. Following is a recipe for CBD simple syrup that can be used in your favorite iced coffee recipes. 
CBD Simple Syrup Recipe
Ingredients:
Directions:
Bring the water to a boil in a saucepan.

Mix in the sugar. Keep stirring until the sugar dissolves completely.

Remove from heat and allow to cool.

Add in a dropperful of Joy Organics Natural CBD Tincture, or desired amount.

Stir well and refrigerate for an hour.
Now that you've got a simple syrup recipe for your iced coffee, check out a couple of our favorite CBD iced coffee recipes, perfect for a hot summer's day. 
CBD Blondie Roast 
You can make this CBD iced coffee with any blend, but we think it's best with a lighter roast. Light roasts have a sweeter flavor that nicely complements our Orange Bliss CBD Tincture. 
Ingredients:
Directions:
Mix the vanilla with the iced coffee and place in the refrigerator. Allow the flavors to meld together for at least 30 minutes.

Pour the vanilla-infused coffee over ice. 

Mix in the Orange Bliss simple syrup with a cinnamon stick and enjoy. 
Tranquil Mint Chocolate Chip 
Frappuccino lovers instinctively understand that coffee is not only a morning necessity; coffee can also be a dessert. It's okay to treat yourself once in a while! Here is an indulgent way of making CBD coffee in the blender or served over ice that will refresh your taste buds and your concentration. 
Ingredients:
2 cups unsweetened coconut milk

¼ cup coconut sugar

¼ cup Andes Mints

2 tablespoons cacao powder

½ teaspoon vanilla extract

Ice

2 cups of iced coffee

Simple syrup with 

Joy Organics Tranquil Mint CBD Tincture
Directions:
Simmer the coconut milk on medium-low heat.

Pour in the coconut sugar and stir until well integrated.

Add in the mints and lower the heat. 

Keep stirring until the mints have melted.

Add in the cacao powder and stir until completely blended.

Remove from the heat and stir in the vanilla. 

Allow the mixture to cool.

Pour iced coffee into two cups of ice.

Add in the mint chocolate mixture and stir well. 

Stir in the simple syrup.

Enjoy!
Fall Coffee Recipes With CBD
When the weather begins to cool off, there's nothing like a good cup of custom-made coffee to welcome the crisp autumn air. Following are a couple of our favorite fall coffee recipes made a bit more special with some added CBD. 
Log Cabin Brew
While a CBD ground coffee pumpkin spice latte might scream fall, maple syrup is an old-time tradition. We chose to pair these fall flavors with the Joy Organics Natural CBD Tincture, as the natural flavor of hemp extract perfectly complements the acorns and multi-colored leaves falling from trees.
Ingredients:
Directions:
Brew your coffee.

Put maple syrup into a cup and pour the hot coffee over it. Stir until well blended.

Add in the CBD tincture and stir.

If you have a milk frother, steam your milk. Otherwise, put the almond milk into an airtight container and give it a vigorous shake.

Place the milk into a microwave, uncovered. Heat for 30 seconds. The froth will rise to the top.

Use the spoon to hold back the froth as you pour the milk into your coffee. Then scoop the froth on top.

Sprinkle a dash of nutmeg on top and serve with a cinnamon stick.
Caramel Apple CBD Coffee
We opted to use the Joy Organics Orange CBD Tincture when coming up with this brew. Adding orange hemp extract to the mix brings out the robust flavors of apple, caramel and, of course, coffee.
Ingredients:
¼ cup ground coffee

½ teaspoon ground cinnamon

¼ cup caramel topping (recipe below)

½ cup organic apple cider

1 ½ cups cold water

Dropper of 

Joy Organics Orange CBD Tincture
Ingredients for Caramel Topping:
Makes ½ cup of topping
¼ cup organic coconut oil

¼ cup raw organic maple syrup

2 tablespoons almond butter

¼ teaspoon vanilla bean

¼ teaspoon pink Himalayan sea salt
Directions:
If you are making your own caramel syrup, start here. Otherwise, move on to step 7.

Melt the organic coconut oil over medium-low heat.

When the coconut oil starts to melt, stir in the maple syrup.

Whisk in the almond butter for about thirty seconds, until the mixture is smooth.

Take off the heat and allow to cool.

As it cools, add in the vanilla bean and salt.

Mix your coffee with ground cinnamon (optional) and brew.

While coffee is brewing, add apple cider and caramel topping to a mug. Mix so they are well integrated.

Pour your cinnamon coffee over the apple cider and caramel mixture.

Drizzle with leftover caramel topping.
The most important thing to remember when creating these recipes is to remember to have fun with them! These recipes are not an exact science. Everyone has their own favorite flavor profiles, and you can adjust any recipe accordingly.
Something else to keep in mind: Your CBD coffee creations will only be as good as the CBD added to them. When it comes to all things CBD—coffee included—quality is paramount. Insist on the best hemp-based products, and you'll brew the best cup of CBD coffee.  Third-party lab test results are the best way to determine if a company has the quality they claim. If a company doesn't have lab tests to prove they carry a quality product, find one that does. 
Once you've found a quality CBD product, get ready to create a cup of coffee like you've never experienced before. While research on CBD oil and caffeine is limited, this is slowly beginning to change. Stay well-versed in your knowledge about CBD and start with a lower serving until you find the sweet spot that works best for you—this will make your CBD coffee experience even better. 
FAQs About CBD Coffee
Can you drink caffeine with CBD? 
Absolutely. 
How does CBD oil react with coffee? 
We'd like to think it's a match made in heaven. While research is scarce, there have been no reported negative reactions of CBD mixed with coffee. 
Does CBD oil have caffeine in it? 
No. 
Is any caffeine in CBD from hemp? 
No. 
Is it bad to mix CBD and caffeine? 
Not at all! In fact, CBD may help decrease some of the negative side effects associated with excessive caffeine intake. 
Where can I find CBD coffee near me? 
A quick Google search will let you know if there's a CBD coffee shop in your area. If not, there are plenty of companies that sell CBD-infused coffee beans, CBD ground coffee, and CBD coffee k-cups. 
Thanks for reading! To show how much we appreciate you, we're going to give you 16% off your next order. Just use code READER16 at checkout!
Hannah Smith is Joy Organics Director of Communications. She is driven by her passion for providing clear and accessible wellness and CBD education. In 2015, she received her BA in Media, Culture and the Arts from The King's College in New York City and before Joy Organics, worked as writer and photographer in the Middle East and North Africa. Her work has been featured on Forbes, Vice, Vox, Denver Post, and the Coloradoan.