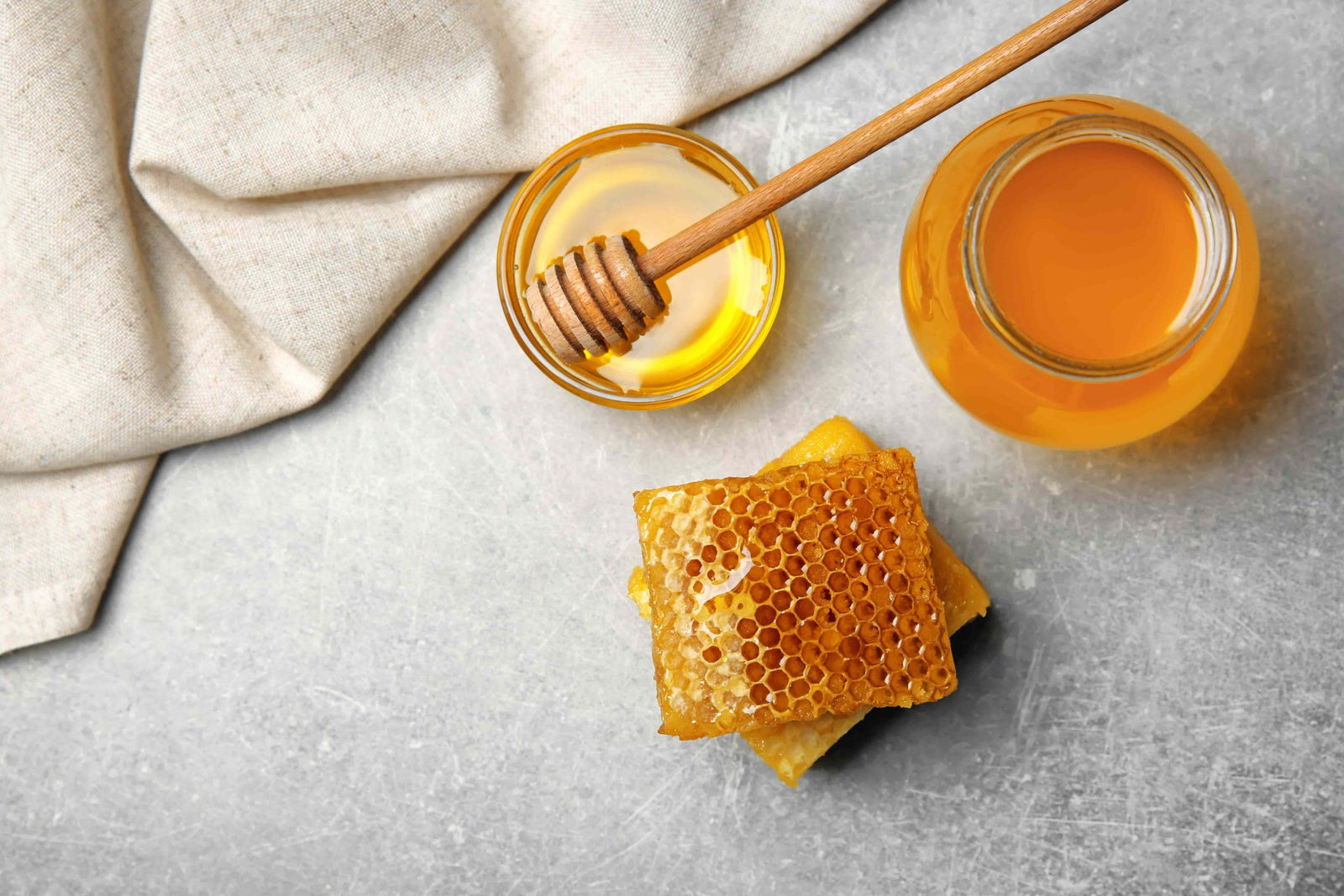 Much like cannabis, honey has been used for thousands of years for its nutritional and healthful benefits. What happens when you infuse the two together? We like to think it's nothing short of magic. If you're sweet on honey and have discovered the benefits of CBD, we'd like to introduce you to one of the more unusual CBD products out there: CBD honey.
The Basics
CBD honey is exactly what it sounds like — honey infused with CBD.
If you haven't yet heard of CBD-infused honey, be prepared to be very excited. It's one of the hottest trending items in the world of CBD, offering yet another way to benefit from this cannabinoid that the world has gone crazy for.
Both honey and CBD contain their own unprecedented wellness-promoting potential. When combined together, they make a pretty powerful mixture that offers a sweet way to meet your wellness needs.
Here we'll take a look at some of the benefits of both.
The Health Benefits of Honey
Honey has been a staple in the natural diet of man for centuries. It contains quite a few health benefits, making it much more than simply a natural alternative to regular table sugar. Some of these benefits include:
The Benefits of CBD
It's no secret that CBD has taken the world by storm. This non-psychoactive cannabinoid that naturally occurs in high amounts in hemp has proven to have substantial potential to bring overall balance to the human body and provide numerous benefits.
It all comes down to the way CBD works with the body's endocannabinoid system. CBD interacts with our natural cannabinoid receptors to bring homeostasis, otherwise known as natural balance, to several physiological functions.
New uses for CBD continue to be discovered. People use it to:
Promote healthy skin
Maintain a balanced mood throughout the day
Sleep better at night
Support healthy joints and muscles
Improve overall wellness
Perfect alone but better together, CBD and honey make quite the pair. Honey enters the bloodstream directly, making it an awesome carrier to quickly deliver CBD where your body can use it most.
Why Try Honey Infused with CBD?
Honey not only tastes amazing and is incredibly beneficial to your health, but combined with CBD it also offers extra benefits that you can't find anywhere else.
Cannabidiol-infused honey is a tasty take on other ways to use CBD such as a tincture or softgel. So, how exactly should you use this honey? We're glad you asked. The possibilities are practically endless. Here are a few of our faves.
6 Sweet Ways to Use CBD Honey
Here are a handful of ways you can use honey infused with CBD in your own life.
1. Sweetener for Tea
Honey and tea go hand in hand. Add a little CBD into the mix and you've got a supercharged sweetener. We're even partial to putting it in our coffee.
Whether as a morning pick-me-up in a cup of Earl Grey or as a soothing sleep support added to a cup of chamomile, Cannabidiol-infused honey is an awesome alternative to regular honey when you want to sweeten up whatever your cup of tea might be.
2. Slathered on a Peanut Butter and Banana Sandwich
Speaking of natural sleep remedies, did you know that peanut butter is full of tryptophan, the same amino acid found in turkey that makes you sleepy after filling up on Thanksgiving dinner?
Bananas also contain tryptophan, as well as potassium and magnesium, which are both natural muscle relaxants. The carbs in the bread are also known to induce sleep.
The relaxing properties that can be found in honey infused with CBD make a honey, peanut butter, and banana sandwich one of the most perfect bedtime snacks.
3. Sweeten a Smoothie
We're all about superfood smoothies. They're one of the best (and quickest) ways to give your body the nutrients it needs to thrive. What better way to sweeten up a smoothie than by adding a touch of honey infused with CBD?
Not only pleasing to the palette, but cannabidiol honey is also packed with extra wellness benefits to make you feel alive and your healthiest self.
4. Hangover Remedy
Here's something. The next time you go out and overdo it on drinks, honey could be what saves you from experiencing a head-splitting hangover the next day. Experts agree that honey is an outstanding way to help with the dreaded effects of a hangover.
You experience a hangover because alcohol breaks down into a compound that is toxic to the body, known as acetaldehyde. This is what causes the headache, body ache, nausea and vomiting that are all part of being hungover.
It's the fructose in honey that helps break down alcohol into less harmful byproducts than acetaldehyde. Combined with the balancing effects of CBD, using this type of honey for your hangover could offer some serious relief … no hair of the dog required.
5. Natural Facial
Honey is a natural antibacterial, with research showing that it could have a benefit for acne-prone skin. While it won't work an all acne, it has shown to dramatically reduce the appearance of pimples by removing excess fluid.
CBD is an excellent product to support a clear complexion as well! Your skin has its own endocannabinoid system, and CBD interacts with it to help bring balance.
CBD-infused honey could contain some serious benefits when it comes to promoting healthy skin. Simply apply this honey to your face every morning or evening after cleansing, let it sit for a few minutes and rinse clean with warm water.
6. For Cuts, Scrapes and Mild Burns
The next time you get a small scrape, cut or mild burn, instead of some over-the-counter ointment, you might want to think about trying cannabidiol-infused honey. Simply apply a small amount of honey onto the affected part of your body and let the natural antibiotic properties go to work.
Since CBD supports skin health, this gives the honey some extra oomph.
Honey infused with CBD is something to keep in the natural medicine cabinet for when the inevitable cut, scrape, or mild burn arises.
How to Make Your Own CBD-infused Honey
Making your own CBD honey at home is easy. All you need is a high quality CBD oil and some honey. Local honey is always preferred, but if you can't find it be sure you're purchasing the best quality you possibly can.
Ingredients:
16oz high-quality honey
CBD oil tincture
What you need:
Glass jar with lid (a mason jar works great)
Saucepan
Spoon
Directions:
Transfer honey to your glass jar using a spoon.
Fill saucepan with enough water so that it matches up with the amount of honey in the glass and bring to a boil.
Remove the saucepan from the stove and when it has stopped boiling, place the jar of honey in the saucepan with the lid screwed on loose. Allow about 5 minutes for the honey to become thinner as it warms up.
Once the honey has begun to thin, remove the lid and slowly begin adding the desired amount of CBD tincture (how much you use is up to you), stirring it well to ensure that it is distributed evenly.
After you've added the desired serving of CBD, let it sit for about 30 minutes to ensure it's properly infused.
Make sure to screw the lid on tightly when you're finished.
Store your honey at room temperature.
CBD Honey: How Sweet It Is
Honey and CBD. Some might consider them the perfect combination.
CBD honey is not only a sweetener, but it's also full of benefits that can support you on your path to wellness. It's also extremely easy to make at home.
If you're looking for another way to get in a regular serving of CBD, incorporating CBD honey into your wellness routine is one of the sweetest solutions you can find.
Thanks for reading! To show how much we appreciate you, we're going to give you 16% off your next order. Just use code READER16 at checkout!
Joy Smith is Joy Organics Co-founder and visionary. After her own life-changing experience with CBD, Joy started Joy Organics to create a line of sustainable and premium CBD products consumers could trust. Before founding Joy Organics, Joy worked as an itinerant speaker, traveling to over four continents to empower women across the globe.