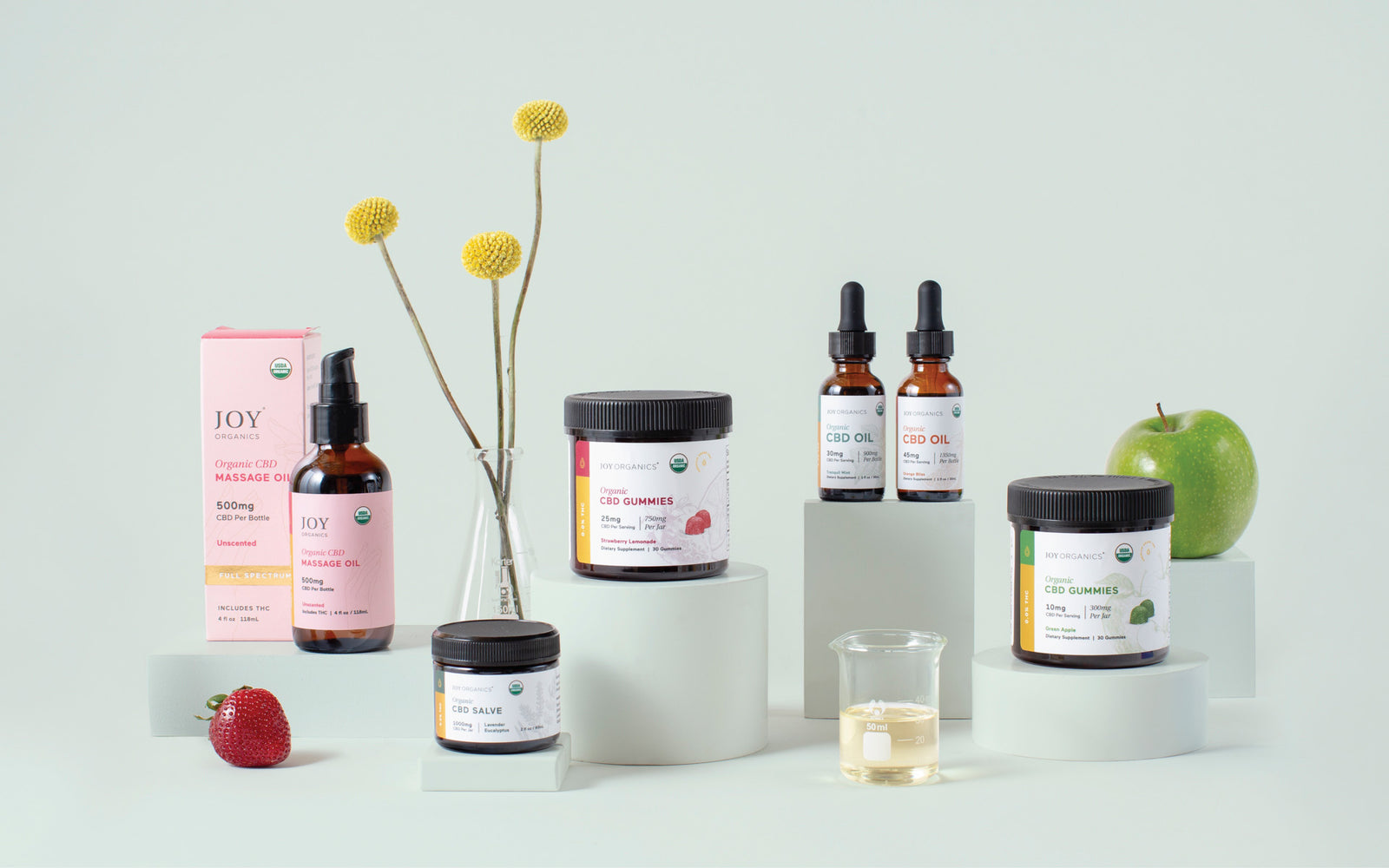 Valentine's Day 2021 is quickly approaching. Think outside the (chocolate) box this year. Show them how much you care by giving the gift of wellness. This Valentine's Day, help your loved ones support a healthy body and mind with premium CBD products from Joy Organics! 
The Best CBD Valentine's Day Gifts 
We celebrate Valentine's Day by letting those we care about most how much we love them. Instead of giving them flowers that die or candies that add on pounds, give them something that supports a healthy lifestyle. Here are the top five CBD products for Valentine's Day gifts. 
Joy Organics' CBD Bath Bombs
Why break the bank sending your loved one on a spa day? Self-care has never felt and smelled as good as Joy Organics' CBD Bath Bombs!
Your partner will love the relaxing effects of lavender essential oils and 25mg of CBD oil. They'll never want to leave the tub. You might need to draw a bath for two!
Joy Organics' USDA-Certified Organic Strawberry Lemonade CBD Gummies
Candies are some of the most popular Valentine's Day gifts. However, most chocolates and candies are packed with sugar and artificial ingredients. Give them something sweet that also provides the benefits of CBD with Joy Organics' USDA-Certified Organic Strawberry Lemonade CBD Gummies. 
These lip-puckeringly sweet gummies contain precisely 10mg of CBD. Our vegan gummies get their juicy bite from a blend of natural ingredients you can feel good giving to someone you love. Get an extra jar, just in case they don't share! 
Joy Organics' CBD Cream 
Nobody wants dry skin on their Valentine's Day date. Help your loved one lock in moisture and radiate with a healthy glow, thanks to Joy Organics' CBD Cream. 
Our one-ounce stick contains 250mg of CBD oil that helps soothe dry skin and maintain moisture all day long. It's fortified with skin-supporting botanicals, like organic aloe vera and olive oil. This cruelty-free formula has nothing but natural products that support your loved one's natural beauty!
Joy Organics' Orange Bliss CBD Tinctures
Infuse this Valentine's Day with a little bliss…Orange bliss that is! Joy Organics' Orange Bliss CBD Tinctures offer fast-acting support to your loved one!
These premium CBD tinctures are made with phytocannabinoid-rich hemp extract, organic MCT oil, and organic orange essential oils. We also have a USDA-certified organic variety of these tinctures. No matter which you choose, be sure to brew a CBD Blondie Roast coffee for breakfast in bed!
Hannah Smith is Joy Organics Director of Communications. She is driven by her passion for providing clear and accessible wellness and CBD education. In 2015, she received her BA in Media, Culture and the Arts from The King's College in New York City and before Joy Organics, worked as writer and photographer in the Middle East and North Africa. Her work has been featured on Forbes, Vice, Vox, Denver Post, and the Coloradoan.