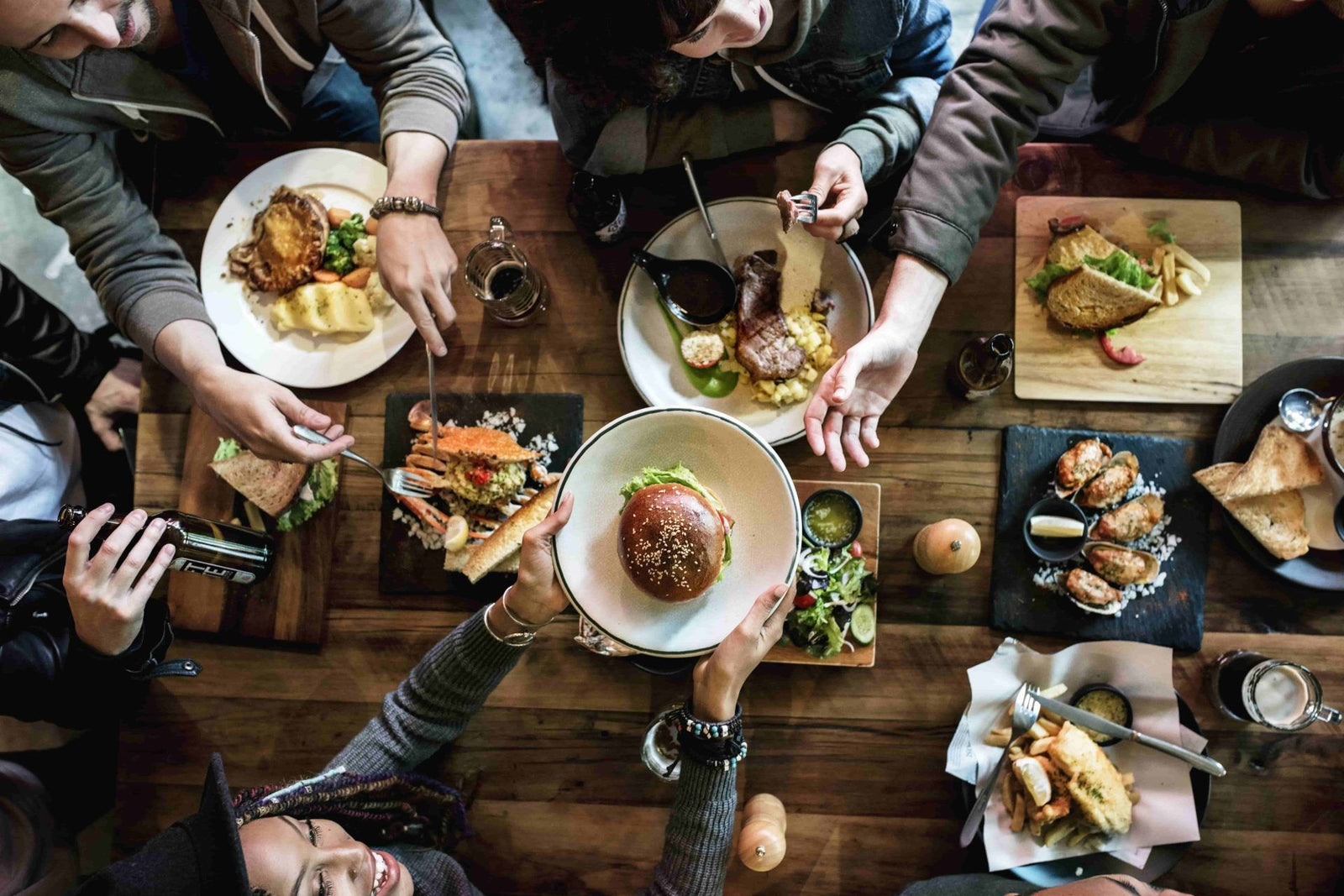 Anyone with an Instagram has gotten lost in the vortex that is #foodie or #foodporn a time or two. Our shareable food pics have made one of the human race's favorite pastimes that much more enjoyable…eating! We all need food to survive. So, you might as well enjoy the food you consume. Thanks to CBD, this pleasure has gotten even more pleasurable!
Until recently, products derived from hemp plants were only allowed in certain states. In areas where CBD has been legal for a while, locals have already started brainstorming different ways to enjoy the benefits of the Cannabis sativa plant. One of these breakthroughs is by adding CBD to your food.
In late 2018, the federal government lifted its long-standing ban on hemp-based products. That means CBD may become a regularly featured item on menus across the nation. While the rest of America catches up, restaurateurs are already crushing it in the CBD realm. With cannabis-based dishes guaranteed to impress the most uppity of foodies, here are the 4 best CBD restaurants in the nation!
Why Eat CBD?
CBD is such a unique ingredient. Not only does it have a distinctive (and delicious) nutty flavor, but it comes with a load of benefits. Broad spectrum hemp-based products are what we call complete proteins. That means CBD contains all of the essential amino acids.
Amino acids are the building blocks of life. There are 21 of these critical fatty acids known to humankind. The human body can naturally generate all but nine of them. These other amino acids are considered "essential," and must be consumed through diet.
Foods that are highest in these essential amino acids are animal fats. This makes it harder for vegans to get all the nutrients that they need. With that being said, vegans may be onto something. After all, an average person should be consuming 50 grams to 60 grams of protein per day. According to the National Diet and Nutrition Survey, the average person eats between 75 grams and 100 grams. That's a lot of animal fat!
Amino acids are great and all, but high levels of animal fat comes with an abundance of omega-6 fatty acids. In order to run optimally, our body should have an omega-3 to omega-6 fatty acid ratio of 3:1. Suffice to say, filling up on animal fats leaves little room for much else. As a result, we get much fewer plant-based omega-3 fatty acids.
Luckily, CBD is rich in omega-3s. It's a plant-based complete protein that helps bring balanced nutrition to carnivores, omnivores, herbivores…and everyone in between!
On top of being a rich protein source, CBD is also the greatest wing-person in the history of food! Studies on CBD show that cannabinoids have an entourage effect on other phytochemicals. That means when plant-based minerals come into contact with CBD, cannabinoids heighten the effect of the phytochemicals. By adding CBD to any meal, it will increase the bioavailability of all the micronutrients in the dish. In a meat-heavy society, we need all the micronutrients we can get!
How CBD in Food Works
Ever hear of the word "edibles?" Yeah…the marriage of CBD and food is a natural union!
Now, what is the main purpose of eating? Sure, grubbin' tastes great. However, humans eat for the nutrients in the food.
Our digestive system breaks down the solid food matter. When this happens, the micronutrients and macronutrients present in the cuisine are dispersed into the bloodstream. This is how we absorb CBD.
As the food particles become waste, CBD dissipates into the microbiome. Here, it travels through your bloodstream, coupling with receptors in the endocannabinoid system and helping bring the body into a state of homeostasis.
Ways Restaurants Incorporate CBD into Their Menu
CBD is a unique ingredient — it must be handled with the utmost care. Anytime you heat a particle, it changes the structure's composition. Every ingredient in this world has its own unique boiling point. This is a sweet spot where the potency of the ingredient will begin to dwindle. For CBD, cannabinoids begin to lose their punch around 320°F to 356°F.
With that being said, a majority of CBD-infused foods are done through the use of CBD tinctures. In this liquid state, CBD can be added to any dish. Typically, drops are used in beverages, frostings or on top of a garnish.
If you want to bake with CBD, the phytochemicals are extracted with a fat. Fat absorbs molecules. This is handy because the CBD won't seep out into the atmosphere and disappear into the ether. Instead, the fat acts like any other edible would. It shields the CBD on its way down the digestive system. Once the fats are broken up by your stomach acids, the CBD is free to make its rounds in your body.
Usually, CBD is infused into an oil (like extra virgin olive oil) or added into a butter. From there, you can bake and cook with CBD as you see fit. Just be sure not to go over the boiling point!
Is that too much to think about? Then forget about it! Let others do the worrying. Just visit one of the top 4 CBD restaurants. What are these culinary oases? Let's take a look!
Monarch & The Milkweed
This is a very farm-to-table-esque name perfect for a Vermont-based eatery. The Burlington staple rolled out a bevy of CBD desserts that will have any foodie uploading to Insta quicker than you can double tap an Ariana Grande post.
While CBD products may be new to the Monarch & The Milkweed menu, they're not new to their chef. Head Chef Andrew LeStourgeon worked in dispensaries for three years honing his craft. Waiting for the moment for CBD to become legal, Chef LeStourgeon was ready to roll out some of the best CBD treats you will ever feast your buds on!
Their list is ever-changing. However, there are some staples that you must try when you're in Burlington, Vermont. Be sure to stop by Monarch & the Milkweed and scope out these CBD options:
Strawberry Blondes
Bon Bons
White Chocolate Truffles
In Vermont, marijuana is legal. While not all of their products have it, some may contain THC. This is the psychoactive component that landed marijuana on the list of schedule 1 controlled substances. Therefore, be sure to ask their friendly staff for CBD-only goodies before consuming!
Grön Cafe
Want to get your sweet tooth on? Head to Oregon and swing by Grön Cafe for some tasty CBD treats. After all, CNN did name them the "Willy Wonka of Cannabidiol!"
The main two CBD ingredients at Grön Cafe are everyone's two favorite vices — chocolate and caramel. These staples are then used to craft some of the most delicious beverages and sweets you will ever taste.
Need help on what to choose? You can't go wrong with any of the following Grön Cafe delicacies:
Chocolate-Filled Croissants
Hot Chocolate w/ Homemade Whipped Cream & Shortbread Cookie
Caramel Latte
Fair Trade Dark Chocolate Bar
At Grön Cafe, you will not only feel good when consuming CBD confections, but you will feel good about eating them as well. All of their chocolates are from fair-trade beans. In addition, many of their products are vegan-friendly, making these treats guilt-free!
Zenbarn
Being named Zenbarn, you'd almost expect CBD to be on the menu! This is another Vermont-based restaurant. CBD aside, the first thing that will captivate you about Zenbarn is its charm.
Zenbarn is a rustic barn that pushes the "farm-to-table" lifestyle. In fact, they want you to feel so at home, there is even an upstairs yoga studio that plays live music at night. Not to be outdone by the whole zen experience, you will be treated quite often to amazing Grateful Dead cover bands.
Now, from the ambiance to what we're all here for — the food! Zenbarn makes every dish CBD friendly based on the dressing and marinades they infused with cannabinoids. You can add the following to any burger or salad:
CBD Aioli
CBD Butter Bun
CBD Honey Vinaigrette
CBD Caramel (For desserts, but we won't judge if it ends up on your salad!)
On top of CBD-infused toppings, there's also a line of CBD beverages. Popular cocktails include:
Gin and Chronic
Le Verde
Up in Smoke
PopCultivate
In the advent of social media, so many of our needs are changing. This continuous evolution has altered the way we do everything. These switch-ups include how we shop, what we eat, and the ingredients we use. >PopCultivate celebrates all three of these evolutionary habit-changes.
This California-based company takes on the growing trend of pop-up shops, renting out space all over Los Angeles. Organic chemist-turned-chef, Chris Yang, took this unique concept and used it to transform how he serves food. He completed this vision by offering a food source not many are familiar with — CBD.
What makes PopCultivate so exciting is that you feel like you are a part of something exclusive. To get invited, you must join their newsletter. From there, they will tip you off on their next event. It's up to you to RSVP! By the time it's said-and-done, you may find yourself feasting in a courtyard or chowing down at the back of a brewery.
Just as the venue is ever-changing, so is the menu. Chef Yang uses his complex palate to pair CBD as well as THC with seasonal and fresh ingredients. In the past, PopCultivate has created CBD infused dishes such as:
Oysters
Strawberry Crumble
Honey Pork
Sesame Tofu Triangles
Curry Cauliflower
BBQ Ribs
For those who don't want THC, you can opt out in the invitation. You must let them know that you intend on eating from the non-infused menu.
When you show up for the event, just be aware that their events are BYOB and smokers-friendly. Therefore, you may be in the presence of those consuming recreational marijuana. That aside, you are in for a once-in-a-lifetime experience that only Los Angeles can provide!
CBD Restaurants and Joy Organics
Do you have a favorite CBD restaurant near your location? Share it in the comments below, or reach out to us today!
Thanks for reading! To show how much we appreciate you, we're going to give you 16% off your next order. Just use code READER16 at checkout!
Hannah Smith is Joy Organics Director of Communications. She is driven by her passion for providing clear and accessible wellness and CBD education. In 2015, she received her BA in Media, Culture and the Arts from The King's College in New York City and before Joy Organics, worked as writer and photographer in the Middle East and North Africa. Her work has been featured on Forbes, Vice, Vox, Denver Post, and the Coloradoan.