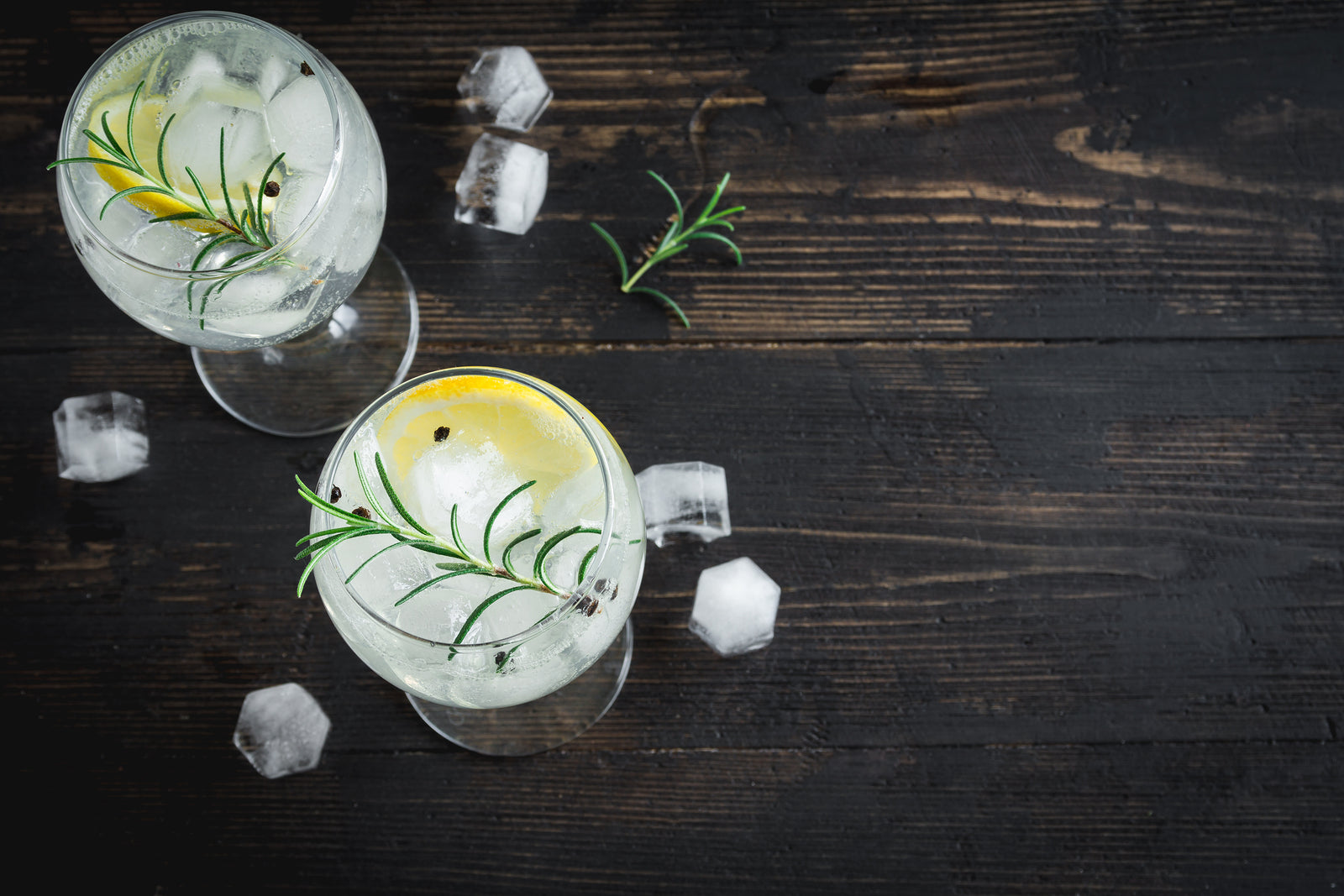 Nothing beats unwinding after a stressful day with a tasty beverage and some CBD oil. CBD cocktails allow you to have the best of both worlds. Mixing CBD and alcohol helps you ride the relaxation train while maintaining your focus on the conversations or activities in which you're participating.
Not sure how to make a CBD drink? We've got you covered. We're going to discuss CBD drink benefits and how different ingredients can impact CBD drink effects. Plus, we'll provide you with 20 of the most delicious CBD-infused drink recipes!
What Is a CBD Drink?
CBD edibles are some of the most popular CBD oil products in the world. Many people imagine scarfing a brownie or popping a gummy when they think of consuming CBD.
However, drinking CBD can be just as tasty. It might even get the job done quicker (which we'll get to in a bit!).
A CBD drink is made by infusing hemp extract with your beverage. Hemp extracts come in many flavors that can complement a wide variety of beverage combinations.
Just add a few drops of CBD tinctures to your mixers and you become a bartender extraordinaire. We're going to teach you how to make a CBD drink in just a bit!
What Happens if You Drink CBD Oil?
Many people mix CBD oil with a beverage to make the CBD oil taste better. However, you can take sublingual drops of CBD with CBD tinctures.
CBD oil has a naturally nutty and earthy flavor. You can also get CBD oil tinctures flavored with essential oils, such as Summer Lemon, Orange Bliss, and Tranquil Mint.
We wouldn't recommend downing CBD tinctures like an energy shot. However, a few dropperfuls throughout the day can support a healthy lifestyle. Plus, some flavors taste absolutely amazing!
CBD Drink Benefits
There are many reasons for mixing CBD and alcohol. For one, CBD tinctures can add nuanced flavor notes to your beverage. Dancing taste buds aside, here are some benefits of CBD cocktails.
Assist Healthy Sleep Patterns
While alcohol can help us nod off in no time, it can also wake us up in the middle of the night. Experts believe alcohol increases adenosine production, causing us to snooze. However, it burns quickly, wears off, and wakes us up. A CBD drink might help maintain your sleep patterns, so you sleep off the alcohol.
Promote Relaxation and Focus
We unwind with cocktails to forget the burdens of our day. When we're exhausted, alcohol adds to the fogginess. Drinks with CBD can help promote focus so that we remain relaxed but present.
Improve CBD Activation Time
What makes CBD drinks the most effective CBD edibles is that they boost your cannabinoid activation time. When you eat a CBD cookie, your body needs to digest the food particles to get the CBD.
When CBD is mixed with liquid, it immediately starts absorbing in your mouth. The CBD doesn't need to come into contact with your stomach acids. Avoiding stomach acids increases the bioavailability of the cannabinoids.
Ingredients in CBD Cocktails
Everything in this world is made of chemical compounds, making chemical reactions. So, some ingredients you add to your hemp oil drink recipes will impact the CBD drink effects. Let's discuss how these items may affect CBD.
Alcohol
There are many studies on how CBD and alcohol affect one another. Some research suggests that the two amplify the effects of one another. That's why one of the CBD drink benefits includes improved sleep.
Experts also suggest CBD might improve blood alcohol concentration. However, that doesn't mean you should drink and drive after mixing CBD oil and alcohol. Also, excessive long-term alcohol consumption can cause a wide range of health-related issues.
Sugar
Many of us enjoy the sweetness of a nice daiquiri, but CBD and sugar don't always mix. Diets high in refined sugar cause several health complications. Namely, sugar can promote inflammation.
Consuming CBD with ingredients that cause an immune response will negate the potential CBD drink benefits. Your CBD will be busy dealing with the discomfort your sugary CBD drink is causing.
Go light on the granulated sugar and try to use natural alternatives like stevia or raw honey when possible.
Toxins and Additives
Sometimes the worst ingredient in a cannabis drink recipe is the CBD oil. A lot of companies cut corners because the CBD industry is unregulated.
You want to make sure you're using the purest oil possible when learning how to make a CBD drink. Be sure to vet all brands before making a purchase.
First things first, see if they have lab reports. That way, you know someone has verified that this oil is actually safe for human consumption.
What Food or Drink Kicks Up the Power of CBD Oil?
With those asterisks out of the way, you can add different foods and ingredients to your CBD drinks that will improve the bioavailability. Some of these will be sprinkled throughout our various CBD drink recipes. Try mixing and matching some of these to boost your CBD drink benefits!
Healthy Fats
Fats are essential for nutrient absorption. That's why we infuse our broad or full spectrum hemp extract into extra virgin olive oil and MCT oil to make Joy Organics' USDA-Certified Organic CBD Tinctures.
Healthy fat sources to include in your cannabis drink recipe include:
Avocado
Olive oil
Egg Yolk
Fruit Oils
Dietary fats shield phytocannabinoids from your stomach acids. These macronutrients take the brunt of the damage, releasing CBD and friends in the bloodstream.
Food-Grade Essential Oils
Essential oils are rich in aromatic molecules known as terpenes. Terpenes interact with our system in many ways, as phytocannabinoids do.
These molecules influence receptors to achieve balance throughout the system. Cannabinoids and essential oils work together to create the entourage effect.
Some of the best essential oils for CBD drinks include:
Lemon
Ginger
Lime
Licorice
Mango
Essential oils are highly concentrated and are toxic in high amounts, which is why it's important you use food-grade essential oil brands. Follow strict adherence to the directions on the package.
Fruits
Fruits are rich in antioxidants. Therefore, they help fight off free radicals that might trigger immune responses.
By adding nature's candy to your hemp oil drink recipes, you can free up CBD to tend to other matters. Plus, fruit can be a great alternative for sugar.
Top 15 Best CBD Drinks Recipes
Mixing CBD and alcohol is a recipe for a good time. We have all the recipes you need to make your next party or nightcap go off without a hitch.
CBD-infused drink recipes don't have to just be alcoholic. We'll include some family-friendly versions that everyone can enjoy, too!
1. Ho! Ho! Ho! CBD Cocoa!
There's something special about hot cocoa that helps soften the harsh chill that comes with winter winds. Now, take the heat up even more with Ho! Ho! Ho! CBD Cocoa! This CBD-infused drink captures the inner child in all of us. It can also be child-friendly without the whiskey.
This recipe takes traditional hot cocoa and turns it up a notch. We add in some spices and orange CBD tincture to the mix. Together, they blend with the hot cocoa to create a CBD drink that makes us feel like we're keeping warm by a cozy fire.
Ingredients:
1 cup milk (or almond milk)
1 cinnamon stick
¼ teaspoon nutmeg
1 star anise (optional)
1 ounce chocolate chips (we suggest dark chocolate, but milk chocolate will work)
1 tablespoon of unsweetened cocoa powder
1 dropper of

 

Joy Organics' Orange Bliss CBD Tincture
1 cinnamon stick
Mini marshmallows
1 shot of cinnamon whiskey
Directions:
Pour the milk into a medium saucepan over medium heat.
Stir in the cinnamon stick, nutmeg, and star anise.
Bring the mixture to a boil and then lower it to a simmer for ten minutes.
Strain the milk into a measuring cup and then pour it back into the saucepan.
Add in the chocolate chips and unsweetened cocoa powder.
Whisk continuously until the ingredients are well integrated.
Bring this mixture to a slow boil, then take it off the heat.
Pour into a mug.
Add a full dropper of Joy Organics CBD Tincture to the mug.
Pour in the whiskey.
Stir with a cinnamon stick and top off with mini marshmallows.
2. CBD Sufganiyahtini
This CBD-infused recipe is inspired by sufganiyah. This popular Jewish dessert is much like a jelly doughnut, but we transformed this treat into a delicious martini.
A little lemon CBD tincture goes a long way in bringing this berry-flavored beverage to life. It offers that light, tart bite you'd expect from freshly baked pastry dough.
We suggest using half of a dropper of CBD tincture to allow the berry notes to shine through. If you're a lemon fanatic, feel free to double up.
Ingredients:
Directions:
Chill a martini glass ten minutes before serving.
Swipe the lemon wedge around the rim of the glass. Give it a light squeeze as you work around the perimeter.
Pour a little confectioner's sugar onto a clean surface, like a small plate.
Place the lemon-dressed glass upside down onto the sugar and turn it clockwise until the rim is covered in sugar.
Put some ice into a shaker and follow up with the vodka and wine.
Gently stir for 30 seconds. Harsh, repetitive shaking will water down your CBD drink.
Strain the contents of the shaker over the martini glass.
Top off with Joy Organics Lemon CBD Tincture. Give a light swirl and enjoy.
3. CBD Ginger Beer
While Kwanzaa is predominantly celebrated in the United States, it was founded with a nod to African roots. Founded by Dr. Maulana Karenga in 1966, this celebration honors African heritage in African-American culture.
To get in the spirit this holiday season, we included a recipe for a West African favorite, ginger beer. Our CBD Ginger Beer pairs well with lemon and orange CBD tinctures. These fruity notes really accent the peppery bite that we love in ginger.
These drinks with CBD can be non-alcoholic. Just leave out the bourbon.
Ingredients:
6 cups water
½ pound ginger, peeled and sliced thin
½ cup lemon juice, freshly squeezed
1 cup honey (or agave nectar for vegan option)
½ dropper Joy Organics Lemon CBD Tincture
½ dropper Joy Organics Orange CBD Tincture
2 cups seltzer
Ice
Shot of bourbon
Directions:
Pour 2 cups of water into a medium saucepan over medium heat.
Add in the ginger.
Bring to a boil and then lower the temperature to a simmer.
Allow the mixture to simmer for 20 minutes.
Take off the heat and stir in lemon juice, honey, and Joy Organics Lemon and Orange CBD Tinctures.
After the mixture cools, pour it into a pitcher.
Add in the rest of the water, seltzer, and bourbon.
Pour in the ice and stir.
4. Out of the Haze-lnut Coffee
This recipe is much like bulletproof coffee, minus the blender. We added a little fat in the form of grass-fed butter to help with the absorption of cannabinoids. Plus, these healthy fats give the coffee a creamier texture.
Drink up and enjoy. After all, this recipe is enough for two cups! If your workday is coming to an end, add some Bailey's!
Ingredients:
2 cups fair-trade coffee, brewed
2 tablespoons grass-fed butter
¼ cup hazelnut oil
1 tablespoon table sugar
⅛ teaspoon ground cinnamon
⅛ teaspoon Cayenne pepper
¼ cup heavy whipping cream
1 teaspoon Nutella
1 ½ ounces Bailey's Irish Cream
1 dropper

 

Joy Organics' Natural CBD Tincture
Directions:
Brew the coffee.
As the coffee brews, melt the butter over medium heat.
Pour butter in the coffee and combine well.
Add in the hazelnut oil, table sugar, ground cinnamon, and cayenne pepper. Allow to heat for about five minutes.
Meanwhile, beat the heavy whipping cream and Nutella in a small bowl.
Pour the coffee mixture into two mugs.
Spoon the Nutella mixture onto your drinks.
Add in the Bailey's and dropper of the Joy Organics' Natural CBD Tincture into each mug and enjoy.
5. Cham-Painless CBD New Year's Cocktail
Want to feel good this New Year's Eve? Get festive with CBD-infused drinks! 2020 is gearing up to be the year of the Prosecco. These CBD drinks take this popular beverage and give it a boost of hemp-based flavor, delicious with either Joy Organics Lemon, Orange or Natural CBD Tinctures. Mix and match until you find the right drink to kiss your lips at midnight.
Take a walk on the sweet and spicy side by throwing some cayenne pepper in with your sugar on the rim. This addition is sure to warm up your insides on a cold New Year's Eve!
Ingredients:
Table sugar
Dash cayenne pepper
Lime wedges
Ice
2 ounces gin
1 ounce elderflower liqueur
Prosecco
½ dropper Joy Organics CBD Tincture
Directions:
Pour table sugar onto a clean surface.
Add in a dash of cayenne pepper and swirl around with a small spatula.
Line the rim of a martini glass with a lime wedge and place upside down into the sugar-pepper mixture.
Add ice, gin, and elderflower liqueur to a shaker.
Shake well to combine.
Strain the contents of the shaker into the martini glass.
Fill the rest with Prosecco.
Add in Joy Organics CBD Tincture and stir.
Garnish with a lime wedge and enjoy responsibly!
6. CBD Tranquil Mint Julep
Nothing takes the tension off everyday problems like having a date night with a CBD Tranquil Mint Julep. By using a mint CBD tincture, you get a delicious alcoholic drink and kissable breath!
Ingredients:
Directions:
Pour mint CBD tincture into a chilled julep cup.
Add the simple syrup and optional organic peppermint essential oil.
Give the mixture a swirl and then throw some mint leaves into the cup.
Muddle the mint leaves in your mix.
Pour the bourbon over everything.
Top off the beverage with some pebble ice.
Add mint leaves for garnish and enjoy!
7. CBD for the Cosmos
Cosmopolitans are about kicking back and celebrating—not to mention, they're delicious. Make happy hour even happier by adding in an orange CBD tincture. Here's a new spin on an old faithful, our CBD for the Cosmos!
Ingredients:
Directions:
In a cocktail shaker, mix the lime juice, cranberry juice, triple sec or Cointreau, and vodka.
Shake up the concoction.
Open up and add the orange CBD tincture to the mix and shake again.
Add ice.
Give the shaker a vigorous shake for around 20 seconds.
Once the shaker feels cold, you're good to go.
Place a strainer over the mouth of your shaker and pour into a chilled martini glass.
Garnish with an orange twist.
8. CBgria
Throwing a party and want to give your alcoholic drink of the night a nice CBD kick? Look no further than sangria!
Sangria is a party favorite because it's easy to make, it's cheap, and everyone likes it. Plus, there's delicious fruit floating in the drink that tastes great and will get you feeling pretty nice, too. Here's how to make our CBgria!
Ingredients:
Directions:
Prep the fruits by slicing the citrus fruits into wheels and the apples into chunks.
Add all the ingredients into a pitcher and serve cold.
9. Gin & Chronic
This is the perfect after-dinner wind-down that will have you feeling hydrated and full of effervescent spirit. This recipe was inspired by a recipe in Goop.
Ingredients:
1 ½ ounces gin
3 ½ ounces tonic water
¼ ounce lemon juice
1 dropper Joy Organics' Summer Lemon CBD Tincture

Aromatics for garnish recommendations:

Edible Flowers
Grapefruit Peel
Herbs
Lime Wheel
Peppercorns
Directions:
Combine gin, lemon juice, and tonic water in a wine glass.
Top the concoction off with ice.
Place the aromatic garnishes on the top.
Pour CBD oil on top so it floats.
10. ChaiBD
Want a little CBD alcoholic beverage to kick-start your day rather than end it? Make yourself a delicious CBD chai.
The earthy tones of natural CBD tinctures will complement this beverage. It can be made either virgin so you can function at work or with alcohol so you can relax in front of the tube.
Ingredients:
1 cup milk of your choice (we prefer hemp milk or unsweetened soy)
1 dropper

 

Joy Organics' CBD Natural Tincture
½ teaspoon vanilla extract
2 tablespoons honey or agave
Dash of nutmeg
Cinnamon stick
Shot of Bailey's (optional)
Directions:
Place a saucepan on the stove over low heat.
Pour in milk, vanilla extract, sweetener, and CBD tincture.
Whisk the mixture together and heat until warmed.
Once cooked, add in a shot of Bailey's if you want alcohol.
Stir with a cinnamon stick and top off with a dusting of nutmeg.
11. Go Night-Night CBD Tea
Alcohol is fun and all, but it also can do a number on your sleep patterns. That's because studies have found "arousal is heightened 2–3 hours after blood alcohol concentrations fall close to zero." So when you sleep it off…it wakes us up!
Sometimes you just want a CBD cocktail that will chill you out—sans the alcohol. Here's a tea for you! If you're insisting on mixing CBD and alcohol, might we suggest some blackberry brandy!
Note: While this recipe suggests a lemon CBD tincture, it tastes great with mint and orange tinctures as well!
Ingredients:
Directions:
Boil distilled water in a pot.
Add the chamomile and allow the leaves to steep for five minutes.
Pour the flower water into a mug.
Add in the blackberry brandy and CBD tincture.
Pour the milk and honey in, mix, and enjoy.
12. Lavender Hot CBDcoa
Who doesn't love curling up with a relaxing cup of delicious hot cocoa? We may have to deal with grown-up issues most of the day, but you can feel like a kid again with this CBD alcoholic beverage. Leave out the Grand Marnier if you're just looking for an alcohol-free CBD drink to help you drift off on the couch.
Ingredients:
1 cup unsweetened soy milk
1 teaspoon dried lavender
2 tablespoons unsweetened cocoa powder
2 tablespoons organic pure maple syrup
1 teaspoon vanilla extract
4 drops organic lavender essential oil
1 dropper

 

Joy Organics' Orange Bliss CBD Tincture
1 ounce Grand Marnier
Directions:
Bring plant milk to a boil in a small pot.
Add in the lavender leaves and cover.
Allow to steep for about ten minutes.
Pour the lavender milk into a tea strainer over a blender.
Blend together with cocoa powder, maple syrup, CBD tincture, Grand Marnier and organic lavender essential oil.
Once smooth, drink warm.
13. I Love CBD Flip
If you love a New York Flip, you're going to flip for an I Love CBD Flip. This creamy beverage is rich in healthy fats that will lead to optimal bioavailability of CBD. Combined with the burn of whiskey, your immune system and taste buds are going to thank you!
Directions:
Add all ingredients except ice into a shaker and shake.
Add ice and shake lightly.
Strain into a chilled champagne flute.
Sprinkle nutmeg on top.
14. New Fashioned
An Old Fashioned is always in fashion, especially with a twist of CBD. We pair Joy Organics' Orange Bliss CBD Tinctures with this classic beverage for a bright drink that will leave your lips puckered and heart burning for more.
Ingredients:
Directions:
Mix whiskey, simple syrup, and bitters in a mixing glass.
Add the CBD tinctures and mix.
Add in the ice and mix for 10 seconds.
Strain CBD drink into a rocks glass with a large ice cube.
Garnish with orange peel and cherry.
Now That You Know How to Make a CBD Drink…
What are you waiting for? CBD-infused drink recipes are an excellent way to unwind and maintain a healthy lifestyle. Just be sure to drink in moderation and always be responsible. Don't drive, operate machinery, or care for children while under the influence.
You can make any of these CBD-infused drink recipes without alcohol. They'll still taste delicious. Just make sure you're using premium broad or full spectrum CBD tinctures to get optimal CBD drink benefits!
Thanks for reading! To show how much we appreciate you, we're going to give you 16% off your next order. Just use code READER16 at checkout!
Joy Smith is Joy Organics Co-founder and visionary. After her own life-changing experience with CBD, Joy started Joy Organics to create a line of sustainable and premium CBD products consumers could trust. Before founding Joy Organics, Joy worked as an itinerant speaker, traveling to over four continents to empower women across the globe.