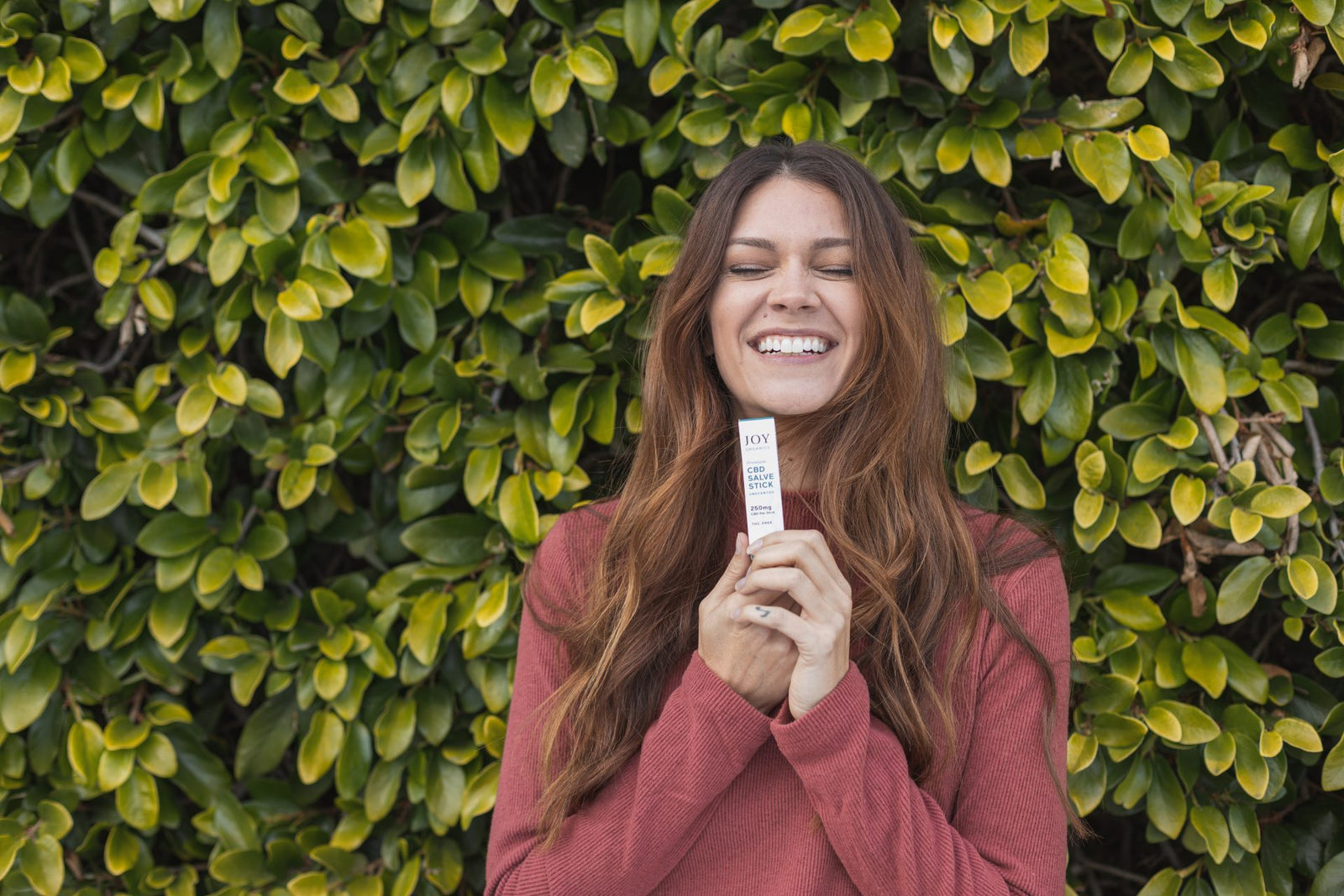 Our lips do a lot for us. They help us communicate, chew, and show affection. Mouths can also get us in a lot of trouble! Regardless, they're a focal point of our face and should be cared for just as you would your skin. Besides, who doesn't want kissably soft lips all year round? That's why so many people are bumping up their skincare game with CBD lip balm.
Antioxidants in CBD oil lip balm support your lips from the free radicals they're exposed to everyday. Healthy fats in the oil also moisturize wind-cracked lips from cold-weather cracking. 
The soothing blend of botanical-based oils and phytocannabinoids in CBD infused lip balm gives your lips the care they need all year round. Here are 10 reasons why Joy Organics' Salve is the best hemp lip balm for your wellness routine!
1. All-Natural and Simple Ingredients
The average man and woman uses 85 to 168 different synthetic chemicals, respectively, in their everyday health and beauty regimen. Some of these chemicals aren't biodegradable, while others are proven to be endocrine disruptors. 
Why would you ever put these ingredients in a CBD oil lip gloss? That's why we don't!
The Joy Organics CBD Salve contains:
Organic MCT Oil

Organic Beeswax

Phytocannabinoid-Rich Hemp Extract

Organic Lavender Essential Oil

Organic Eucalyptus Essential Oil
This creamy topical is made with organic waxes and oils that have a track record in improving skin health, vitality, and appearance. 
These ingredients are safe to ingest; which is vital, since hemp chapstick goes on your lips! Keep this jar in your bathroom or at your bedside to apply as needed! 
You can also use Joy Organics' CBD Salve Stick as a CBD chapstick. This formula is enhanced with all-natural ingredients that allow you to support chapped lips on the go. 
Our premium salve stick contains:
Organic Shea Butter

Organic Beeswax

Organic Hemp Seed Oil

Organic MCT

Organic Sunflower Seed Oil

Phytocannabinoid-Rich Hemp Extract

Tocopherol

Organic Jojoba Seed Oil

Organic Rosemary Leaf Extract
We have the best CBD lip balm because it's made with ingredients you can pronounce. These organic ingredients are as nature intended and formulated into a convenient CBD lip gloss that improves dry skin during every season! 
2. Broad Spectrum, 0.0% THC
Our specialists use cutting-edge technology to isolate phytocannabinoids in our hemp extract. This process allows us to make some of the smallest CBD particles on the market. These minuscule CBD molecules are more accessible for the body to absorb, which should help you experience support faster.
Isolating phytocannabinoids also allows us to remove any traces of THC from our CBD oil lip gloss. We test our products for purity every step of the way. You can find all of these results on the lab reports pages for our CBD Salve and CBD Salve Stick.
3. Third-Party Tested USA Hemp Products
Currently, CBD infused lip balm is unregulated. So, companies must police themselves. Unfortunately, not every hemp chapstick brand takes these precautions. That's why up to 70% of CBD products contain inaccuracies about potency on their labels. 
We lead by example. We believe every company should operate with full transparency. Not only do we batch test every hemp extract used to make our CBD lip balm in-house, but we also hire a third-party laboratory to verify the results. 
We also use American-grown agricultural hemp. Many products sold on Amazon and other online retailers hock CBD chapstick made from hemp grown with pesticides. Our lab reports also test for pesticides, heavy metals, and other impurities. 
4. Soothes Chapped Lips
Both the CBD Salve and CBD Salve Stick are formulated with ingredients such as broad spectrum hemp extract that support skin health. 
Our formula is 0.0% THC, but contains a wide variety of other phytocannabinoids that promote the entourage effect. This synergistic reaction helps balance our endocannabinoid system.
Our endocannabinoid system is regulated by receptors throughout the skin. That includes the skin that comprises our lips. So, applying CBD oil lip balm directly to your chapped lips helps support the receptors that might be causing your discomfort. 
5. Supports Skin Health
There's more to the entourage effect in hemp chapstick than phytocannabinoids. Essential oils also play a role in eliciting the entourage effect. Our CBD Salve contains essential oils synonymous with skincare. 
Beeswax and MCT oil in both products make chapped lips feel moist. They lock in this moisture at the surface. However, these natural ingredients are still breathable for the skin. 
Lavender and eucalyptus oils used in our CBD Salve have a variety of health-promoting benefits. Meanwhile, healthy fats present in the hemp seed, jojoba, and sunflower oil of our CBD Salve Stick provide damaged lips with amino acids necessary for supporting healthy skin cells. 
6. Moisturizes Sun and Wind Burns
Nothing feels better than smudging out sun- or wind-chapped lips. The soothing glide of beeswax and MCT oil in the CBD Salve and the proprietary blend of plant oils in the CBD Salve Stick make both options the best CBD lip balm. 
Lavender oil in Joy Organics' CBD Salve has an abundance of the aromatic molecule (terpene), linalool. Many experts believe linalool is responsible for the calming effect lavender gives aromatherapy enthusiasts. That same relaxation is expressed by moist, chap-free lips!
Rosemary leaf extract in Joy Organics' CBD Salve Stick has strong health-promoting properties. It contains the terpene, α-pinene, which exhibits antioxidative effects to skin cells. 
7. Supports Healthy Sleep Patterns
When you apply CBD chapstick, you also get the added benefits of inhaling its aromas. That's why our CBD Salve and CBD Salve Stick are enhanced with essential oils.
Joy Organics' CBD Salve contains lavender oil, which is widely associated with sleep products across the world. The addition of eucalyptus oil may promote healthy sinuses, which may support a healthy, more restful night's sleep.
8. Improves Appearance
You're looking for the best hemp lip balm because you want your lips to feel good. Who doesn't want their kisser to look good, too? 
Talking naturally draws a lot of attention to our mouths. There's nothing wrong with showing your lips a little TLC.
The best hemp lip balm should leave your lips looking moist and vibrant. That's why both CBD Salve products contain MCT oil. 
MCT oil is one of the easiest and healthiest fats for our body to absorb. Therefore, its presence enhances our CBD intake.
Dry skin on your mouth leaves your lips susceptible to cracking. Fats in MCT oil provide lipids that propel tissue growth to seal the cracks. 
MCT oil also promotes collagen production, which gives your skin cells shape. 
9. Smells and Tastes Delicious
Since you're applying CBD chapstick to your lips, you're probably going to taste it. So, it should taste good! Some lip balms have a waxy flavor. 
All of our products are made with items from nature, so they smell and taste delicious. 
Plus, the carrier oils, waxes and essential oils are organic, so you can feel safe ingesting them. 
10. Useful In Multiple Ways
What makes the CBD Salve and CBD Salve Stick interchangeable for the best hemp lip balm is that they can be used in multiple ways. You get all the benefits of CBD lip balm, with the added benefits of CBD topicals.
Joy Organics' CBD Salve Stick offers targeted support. It's the perfect size to roll onto your wrist after a long day of typing. 
Joy Organics' CBD Salve is excellent for targeted support over larger areas. It's perfect for a post-workout cooldown. 
Also, those dealing with stiff joints can loosen up with a relaxing hand massage. There's something for everyone!
How to Know You Have the Best CBD Lip Balm
CBD lip balm is an all-natural way to soothe your chapped lips. It moisturizes dry skin, leaving them moist for hours on end. However, not every brand offers the same CBD lip balm effects.
Experience the benefits of CBD chapstick at home by using Joy Organics' CBD Salve. This product is third-party tested and made with premium 0.0% THC hemp extract. It's not only good for helping chapped lips but can also be applied over large areas to support skin and muscle health.
Going out into the blistering heat or bone-chilling cold? The best hemp lip balm on-the-go is Joy Organics' CBD Salve Stick. Our proprietary blend of plant-based oils allows for targeted support, anytime, anywhere!
Thanks for reading! To show how much we appreciate you, we're going to give you 16% off your next order. Just use code READER16 at checkout!
Joy Smith is Joy Organics Co-founder and visionary. After her own life-changing experience with CBD, Joy started Joy Organics to create a line of sustainable and premium CBD products consumers could trust. Before founding Joy Organics, Joy worked as an itinerant speaker, traveling to over four continents to empower women across the globe.