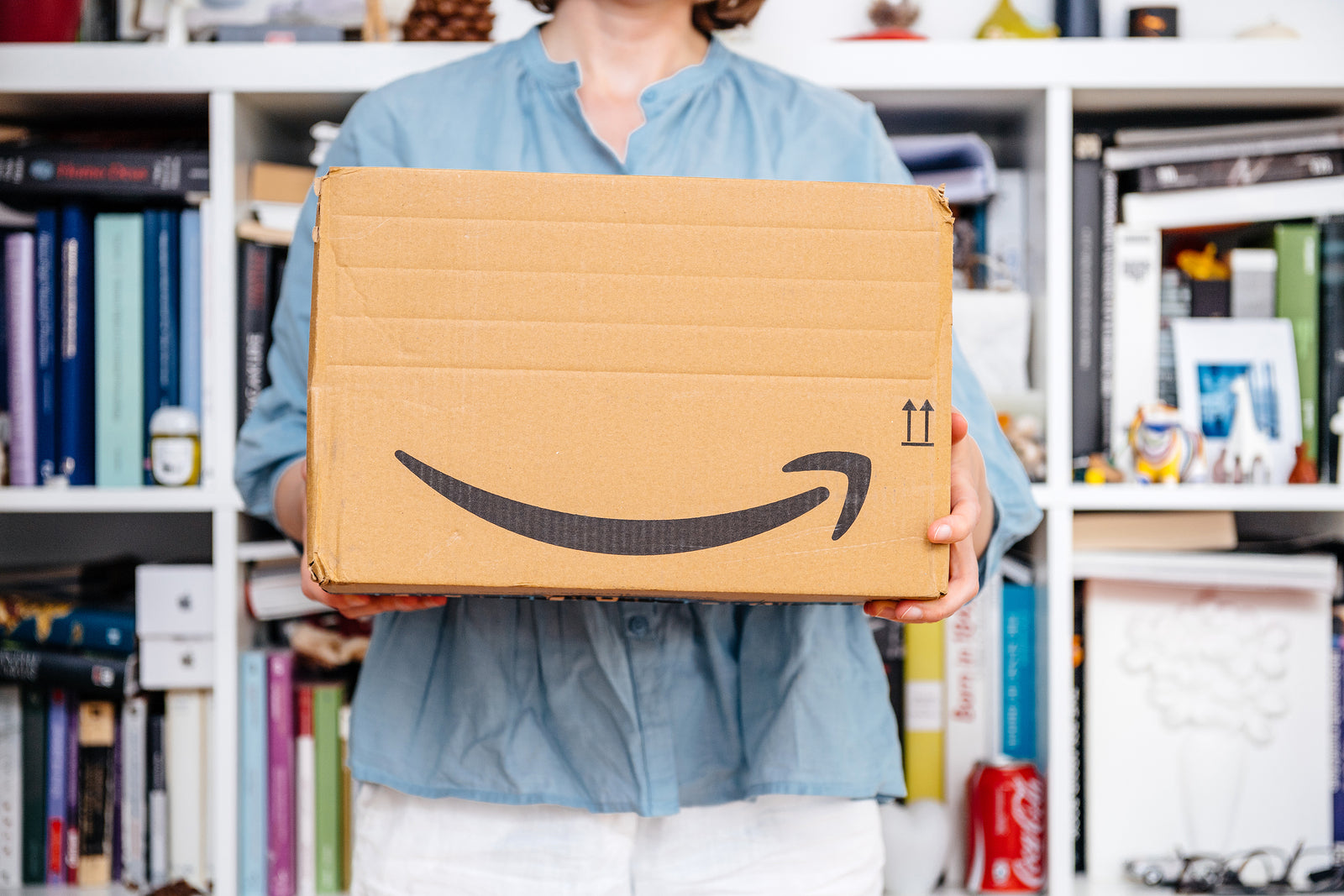 Anyone looking into a new product these days always does one thing — check Amazon. Why's that? Well, you can probably get whatever you want cheaper, they might offer free shipping and you can check out what people are saying in the reviews.
However, it's not so easy to accomplish all these feats when you are looking to buy CBD products. While Amazon boasts an impressive inventory of 562,382,292 items, you will not find CBD oil among the list … at first. Let's talk about why you can't buy CBD oil on Amazon and what to watch out for if you try.
Why Doesn't Amazon Sell CBD Oil?
When you're a company selling $177 billion of stuff each year and shipping these items to all corners of the world, you can bet your sweet bottom that you are being watched. That is why you can't buy CBD oil on Amazon. The company has a lot to lose if potentially illegal substances are being shipped under its watch.
Amazon has a strict policy on what can be sold through its online retail platform. Unfortunately, this information is not privy to the general public. To see the exact list of what's allowed to be sold on Amazon, you must have an approved Seller's Account.
Since the average Jane or Joe doesn't sell items through Amazon, they have a standard Buyer's Account. Those looking to buy CBD products on Amazon may unknowingly be buying products devoid of cannabinoids.
Under Amazon's list of items not allowed on Amazon, the company describes, "Products offered for sale on Amazon must comply with all laws and regulations." They further explain, "Supplements must not contain controlled substances."
Amazon goes into expanded detail, outlining what they mean by controlled substances: "Controlled substances are drugs that are illegal, such as cocaine or heroin. Products used with controlled substances may be considered drug paraphernalia…Drug listings must not be for controlled substances or products containing controlled substances, such as products containing cannabidiol (CBD), a Schedule I Controlled Substance."
Can CBD Oil Get You High?
If we could say it a million times in a row without having you close the page, we would. No. CBD oil will not get you high.
The reason Amazon is so strict on CBD oil is that the product is derived from the cannabis plant. This is the genus of the federally illegal schedule 1 controlled substance known as marijuana. However, it's also the same genus of its non-psychoactive sibling, hemp.
Marijuana is the version that has spearheaded the prohibition of the cannabis plant all the way back with the Marihuana Tax Act of 1937. Much in thanks to its most abundant cannabinoid, THC, consuming marijuana can give you a euphoric high. This definitive characteristic is what led to the government creating decades worth of stigma around the cannabis plant.
Meanwhile, hemp suffered the consequences. Hemp is a different variety of the cannabis plant. This version doesn't get you high because it only has trace amounts of the cannabinoid THC. However, hemp does contain cannabinoids that may promote overall wellness, such as CBD.
If CBD Oil Doesn't Get You High, Why Won't Amazon Sell it?
For a product to legally be considered hemp oil, there must be less than 0.3% THC in the CBD products. That's probably not enough to get you high, and some companies remove even those trace amounts of CBD from their oil.
With that being said, the Food and Drug Administration has only approved one CBD product for mass production. Therefore, the rest of the CBD products on the market aren't well regulated.
With almost 600,000 products being sold under the Amazon umbrella, the Seattle-based company can't run the risk of breaking federal laws. After all, it quotes the Food and Drug Administration in its Seller's Market Regulations. In order to save itself from breaking any federal (or global) laws, Amazon has added cannabis-derived products to its list of banned items.
What About Hemp Oil on Amazon?
If you are chomping at the bit to get this type of oil on Amazon, there is a workaround. However, it's a grab bag of quality because the company can't divulge all of the necessary information in its listing.
If you were to type in the following phrases, you will get a list of products that actually might carry some cannabinoids in them.
These phrases are:
Hemp Extract
Hemp Oil
Hemp Oil Extract
Under the guise of hemp, CBD oil can be bought on Amazon just beneath the radar. That's because CBD oil is extracted from hemp. Companies that produce CBD products are selling them on Amazon under the hemp "oil" and "extract" moniker — technically, they are selling what they are promoting. The problem is that these may not be best CBD products out there.
Problems With Buying CBD Oil on Amazon
While buying hemp oil extract may seem like a brilliant workaround, it also opens the door for fraud. With no one regulating the product, how do you really know you are getting an item rich with cannabinoids? You are taking a gamble — and at the prices some of these oils are being listed at on Amazon, it's a pricey gamble to take.
One thing to keep in mind when buying hemp extracts and hoping for the best on Amazon is that you don't want to purchase "hemp seed oil." Hemp seed oil contains a litany of healthy fatty acids, proteins and micronutrients. However, it doesn't contain CBD.
Hemp oil, CBD oil, hemp extract, hemp oil extract — whatever on earth you call it — is extracted by using additional parts of the plant. When oil is extracted from the seed, there are no cannabinoids.
Curious About How to Purchase CBD if You Can't Buy It on Amazon? Joy Organics!
When you are purchasing CBD products, go through a company that has its own store. Purchasing CBD oil through Amazon leaves too many questions unanswered and might cause you to waste your hard-earned money.
Your best option is to choose a reputable company like Joy Organics. We use only premium hemp to create high-potency CBD oil. Our phytocannabinoid-rich hemp oil is chock full of not only CBD but also other compounds that strengthen the overall potency and bioavailability.
To ensure you are ordering a product that is within the federal limits and won't get you high, make sure it's a broad spectrum hemp oil that's 0.0% THC. At Joy Organics, we have third-party labs test each and every batch to guarantee 0.0% THC in our broad spectrum products.
You can trust Joy Organics!
Thanks for reading! To show how much we appreciate you, we're going to give you 16% off your next order. Just use code READER16 at checkout!
Hannah Smith is Joy Organics Director of Communications. She is driven by her passion for providing clear and accessible wellness and CBD education. In 2015, she received her BA in Media, Culture and the Arts from The King's College in New York City and before Joy Organics, worked as writer and photographer in the Middle East and North Africa. Her work has been featured on Forbes, Vice, Vox, Denver Post, and the Coloradoan.