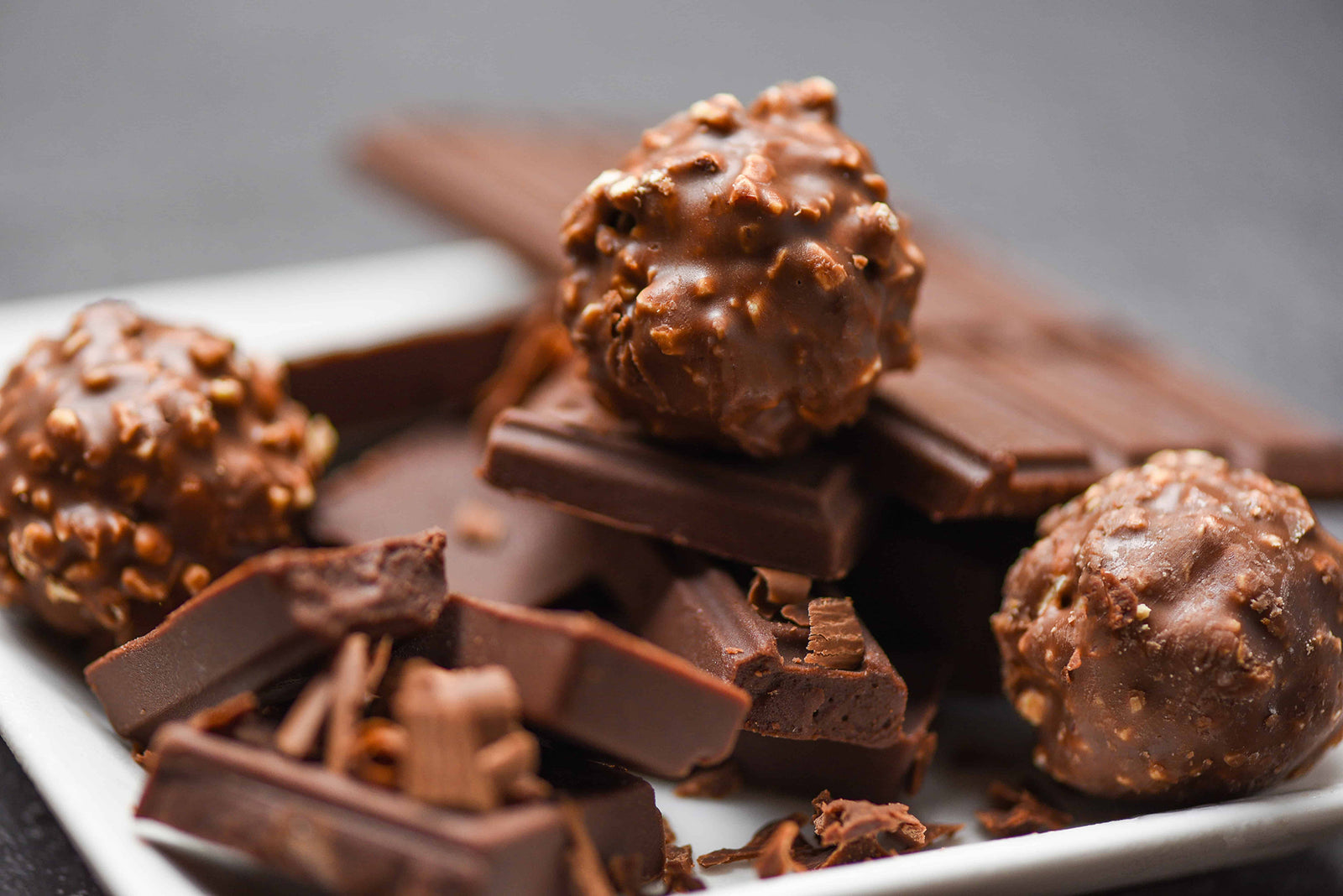 Have you been wondering what the answer is to the "what is CBD chocolate" question? CBD chocolate is a great way to introduce hemp-based products to someone sceptical about adding cannabis to their regimen. This tasty treat doesn't have a negative connotation surrounding it like a capsule, tincture or CBD flower might. Chocolate is seen very positively, as it is a source of guiltless pleasure and has health benefits that other sweets lack. For those, who pay attention to self-care and their well-being, CBD chocolate could be a great and pleasurable addition to the diet.
That's why we'll discuss some of the best CBD chocolates after we give a bit more background on this growing market. If you want to know more about CBD chocolate, what is it, how is it made and what are the best CBD chocolate products, this article is what you're looking for!
CBD chocolate isn't just for newbies to hemp products. Those well-acquainted with CBD deserve a treat every now and then, too! That's why we'll discuss some of the most delicious CBD chocolates after we give a bit more background on this growing market.
Why Eat CBD Chocolate?
Besides wiping out any preconceived stigmas and the taste factor, there are many reasons to eat CBD chocolate. 
CBD chocolate is an inconspicuous way to get a daily serving of CBD. For example, you can easily bring the chocolate with you on a bus ride to support your mood. It's also a great after-dinner snack when you've eaten a bit too much — dark chocolate is an excellent prebiotic food for the bacteria in your gut that's responsible for helping with digestion!
---
How is CBD Chocolate Made?
In its purest form, CBD chocolate is easy to make. It's just a matter of melting down chocolate, stirring in fat and adding in CBD oil. While this sounds simple, it doesn't mean your concoction is going to come out tasty. 
Let's be honest — the chocolate we bake with doesn't exactly taste like Hershey's. Chocolate can be quite bitter, even with the words "semi-sweet" on the packaging. You may want to add flavors or sweeteners to help lighten the intense chocolatey notes. To maintain a healthy system, it's essential that these added ingredients are as natural and organic as possible.
If you're making CBD chocolate at home, an excellent way to add a bit of flavor is choosing flavored CBD oil. At Joy Organics, we use organic essential oils to formulate three flavors (plus a non-flavored version) that complement chocolate wonderfully:
When you make CBD chocolates at home, it's also important to mix some healthy fat into the equation. At Joy Organics, we use either MCT oil or extra-virgin olive oil in our tincture because they help your body break down the oil more efficiently.
In addition, fats help with absorption. Omega fatty acids found in MCT oil and extra-virgin olive oil may support the bioavailability of the cannabinoids in your CBD chocolate.
Now that you understand the convenience and potential benefits of CBD chocolate, let's take a look at how to make these mouth-watering treats. 
How to Make CBD Chocolate 
You don't need to be Gordon Ramsey to whip up some CBD chocolate. It's actually a rather straightforward process, made simpler by using Joy Organics' premium grade CBD oil. Here is a simple recipe that you can use with your choice of Joy Organics CBD Tinctures.
Ingredients:
1 cup organic coconut oil
1 cup dark chocolate morsels (or cocoa powder)
1/2 cup honey (or agave nectar)
1 teaspoon vanilla bean
Desired amount of

 

Joy Organics CBD Tinctures
Directions:
Set up a double boiler by putting a little bit of water into a pot. 
Place a Pyrex dish on top of the pot.
Pour the coconut oil into the Pyrex dish and allow to melt.
When the coconut oil is half melted, add in the chocolate.
Stir continuously, so the two are well blended.
Once melted and combined, take off the heat and allow to cool.
After the chocolate is cooled off, stir in the honey, vanilla bean and CBD tincture.
Line an 8×8 baking pan with parchment paper and pour the chocolate in, smoothing out evenly.
Chill in the freezer for at least one hour.
For those who don't like to get in the kitchen, you can get in on the CBD chocolate craze too. There are plenty of tasty brands out there. Let's take a look at some of the best CBD chocolates on the market.
What Are the Best CBD Chocolates?
The CBD industry is booming, and the edibles sector is growing the fastest.
It's understandable, as the food we eat has a great influence on our health and well-being. Many people use edibles as an extra element of their diet, which has many benefits for the body and the mind, as chocolate has many positive effects on our mood. If you haven't tried CBD chocolate yet, it might be the right time to treat yourself, as we prepared a list of the best CBD chocolates on the market! These not only taste great, but are also great for your health.
Because of its popularity, some inferior CBD chocolates may become increasingly common. Here are some of the best brands of CBD chocolates out there right now.
Grön
Pronounced "grew-n," Grön is Swedish for "green." They pride themselves on living a green life that is in line with the founders' Scandinavian background. Even the ink on their packaging is made from vegetable sources!
What sets Grön apart isn't just their commitment to sustainability — they also make really good chocolates!
Some of their most popular flavors include:
Raspberry White Chocolate
Texas Praline Dark and Milk Chocolate
Bourbon Vanilla Dark and White Chocolate
Dark Chocolate with Raspberries
Pistachio Ginger Dark Chocolate
The Portland-based company uses sustainably-sourced cacao to craft 0.0% THC chocolate bars. As a 0.0% THC company ourselves, we truly appreciate that extra touch.
Kiva
Kiva has been making CBD confections for almost ten years. With a decade's worth of cannabis experience under their belts, this company has changed the game in artisanal CBD chocolate. The company took nine months to work with chocolatiers to perfect their signature treats. Now, they've expanded to several mouth-watering flavors.
Some of their most enticing flavors include:
Mint Chocolate Chip Dark Chocolate
Keep in mind that this product has 5mg of THC per serving. Therefore, this CBD chocolate may not be suitable for all members of the family. 
Casa Luna 
The name sounds like a tropical getaway. Honestly, these edibles are like a vacation for the taste buds! They handcraft their hemp bars in small batches using organic ingredients so you can feel good about snacking on their chocolate!
While Casa Luna's catalog is not as extensive as the others, you shouldn't sleep on these flavors:
On top of infusing their bars with superfoods, Casa Luna also offers a Vegan Dark and Sugar-Free + CBD Bar. 
Leif Goods
When it comes to the most unique flavors, Leif Goods might just take the chocolate! They use certified fair-trade chocolate in their line of products. Please note that their products also contain some THC.
You can get a powerful punch of CBD with these equally powerful flavor profiles:
Whether you want the coolness of mint, the spice of chipotle or smoky Middle Eastern notes, there is something for everyone with Lief Goods. 
Lulu's Chocolate
Lulu's Chocolate is almost synonymous with CBD chocolate. Founder, Lulu, started her dream of making sugar-free chocolate products back in 2006. As the rise of CBD took over the culinary world, Lulu embraced the new ingredient. In turn, she crafted some of the most popular CBD chocolates in the country. 
Fall in love with Lulu's Chocolate flavors:
All of Lulu's products are dark chocolate, organic and vegan. However, what sets her apart from others may be the fact that she sells single servings. Not only does this make buying Lulu's Chocolate more affordable, but this unique offering allows you to pick which flavors you like the best!
To Whom It May
There is no need for concern when it comes to To Whom It May. They infuse their line of edibles with full spectrum CBD oil for maximum absorption. To achieve this, To Whom It May uses organic coconut oil infused with THC. While they have versions with high amounts of THC, they do include a CBD-only option.
Their truffles and bonbons come in four distinct flavors:
Each treat contains up to 10mg of CBD. You can purchase To Whom It May products in boxes of four to twenty-four. For those in need of variety, you can also get a Sampler Pack as well.
---
You now have a better idea about what CBD chocolate is. Before purchasing CBD chocolate from any company, make sure to do your research and check to see if lab reports are available. If a company doesn't seem reliable, you'll want to steer clear of their products!
In our list of the best CBD chocolate brands we chose those that are transparent with their policies and sources – you can take a look at their websites to learn more. It's important that everyone who starts their journey with CBD products – chocolate, cosmetics and other – are keen to get informed and look for sources before the but. Joy Organics is one of the companies that is straightforward about our products and we try to share our knowledge with our friends and customers on every occasion.
If you have any questions, please reach out today. We love talking about CBD AND chocolate!
Thanks for reading! To show how much we appreciate you, we're going to give you 16% off your next order. Just use code READER16 at checkout!
Joy Smith is Joy Organics Co-founder and visionary. After her own life-changing experience with CBD, Joy started Joy Organics to create a line of sustainable and premium CBD products consumers could trust. Before founding Joy Organics, Joy worked as an itinerant speaker, traveling to over four continents to empower women across the globe.