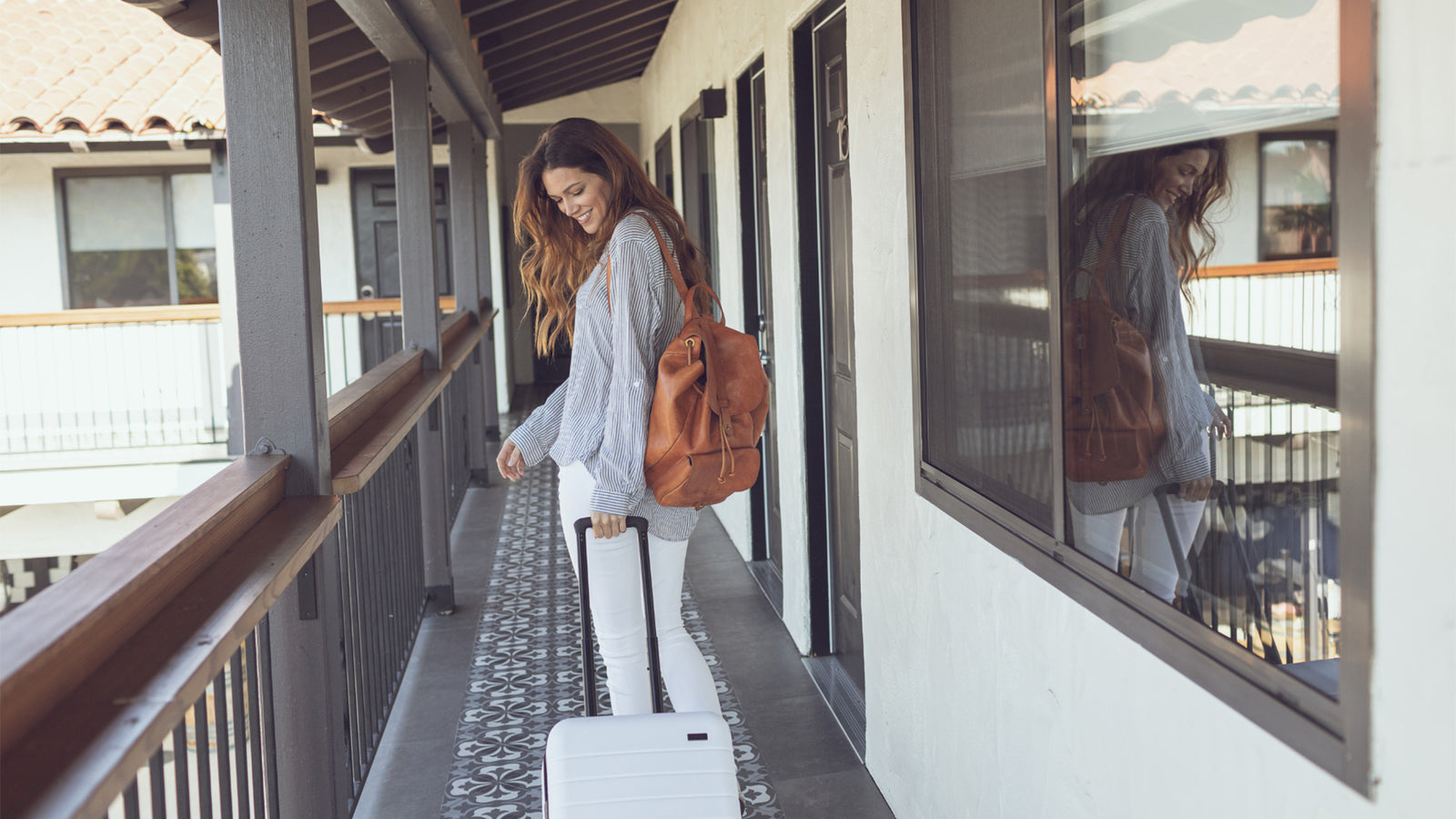 Disclaimer: This information was provided on May 27. It is not a legal opinion.
With the world slowly reopening, traveling is at the forefront of many peoples' minds. Travel days can always be stressful. However, traveling post-pandemic will see surges of crowds. It can also cause mental unrest due to the unknowns of traveling after a pandemic. 
Millions of people use CBD to help manage their stress naturally. While traveling with CBD is legal in the United States, it might not be in other countries. Here is a world guide of CBD policies while traveling abroad.
Can You Travel with CBD Oil?
If you are traveling to and within the United States, you can legally travel with CBD products. These products must have 0.3% THC or less in them. Otherwise, they will be federally illegal. 
You can bring CBD oil in a carry-on, as long as it is fewer than 3.4 ounces. It must be in a quart-sized bag with all other liquid products to go through TSA. 
Traveling internationally with CBD oil might be legal. It depends on the country's restrictions. Let's take a look at some of the top international destinations and their CBD restrictions. 
Can You Travel with CBD Oil in Canada and Mexico?
You can travel anywhere in North America with CBD legally. Like the United States, Canada has a 0.3% THC threshold. 
Mexico wasn't as quick to legalize CBD and still has a 0.2% THC limit. Read your labels before traveling with CBD oil to Mexico.
Can You Travel with CBD Oil to the Caribbean?
There are many stereotypes about cannabis and the Caribbean. These prejudices are misguided because much of Central American prohibits CBD oil. 
All cannabis is legal in Jamaica. Costa Rica allows CBD oil with 0.2% THC or less, while Panama allows CBD with a prescription. 
Can You Travel to Europe with CBD?
Hemp products are legal in many European countries. Unlike America, Europe classifies hemp as containing 0.2% THC or less. In Austria, you are allowed to have up to 0.3% THC. 
Make sure you read the lab reports to verify your phytocannabinoid content before traveling abroad. You don't want to break any international laws unknowingly. 
Countries Where Hemp Is Illegal 
There are some countries where hemp products are illegal. They are classified as a schedule 2 drug in these countries. 
Hemp is illegal in these European countries:
Albania
Andorra
Armenia
Belarus
Bosnia and Herzegovina
Georgia
Iceland
Moldova
Monaco 
Montenegro
Russia
Serbia
Slovakia
Countries Where CBD Is Legal with A Prescription 
Some of the most popular European countries allow CBD with a prescription. 
CBD with a prescription is legal in:
Denmark
Finland
Ireland (Also Must Be Cold-Pressed, No Ethanol or CO2 Extraction)
Italy (But Allows Up to 0.6% THC Per Product)
Liechtenstein (But Allows Up to 1% THC Per Product)
Malta
Portugal 
If you are a medical cannabis patient, make sure to travel with your marijuana card. 
Countries Where CBD Is Legal
CBD is legal in the rest of the countries. Like America, there are some limitations. It's best to be educated on these European cannabis policies. 
CBD with up to 0.2% THC is legal in:
Austria
Belgium
Bulgaria
Croatia
Estonia
Germany
France (Must Be THC-Free Products)
Greece
Hungary
Latvia
Lithuania
Luxembourg (But Allows Up to 0.3% THC Per Product)
Netherlands (Must Be EU Hemp, Allows Up to 0.5% THC)
Poland (Must Never Surpass 0.2% THC During Production)
Romania (Can Be Derived from Marijuana, As Long As Under 0.2% THC)
Slovenia
Spain
Switzerland (No Restrictions on Any Cannabis Products, As Long As THC is Below 1%)
Ukraine (Must Be THC-Free Products)
United Kingdom (No THC, Unless Doctor Prescribed)
While there are some gray areas when it comes to marijuana, you must be aware of your local travel laws. It might be unlawful where you live to have cannabis on a plane. Brush up on the rules before traveling with CBD.
Can You Travel to Australia with CBD Oil?
Hemp seed oil is the only legal cannabis product in Australia. It contains no CBD oil. 
You can have CBD oil with a doctor's prescription. Australia allows travelers with a medical marijuana card to bring up to three months' worth of prescriptions with them. 
Can You Travel to South America with CBD Oil?
South America still has stringent hemp laws. Uruguay, Paraguay, and Colombia are the only three countries with no restrictions on hemp that contains 0.3% THC or less. Argentina, Brazil, and Chile allow CBD products with a prescription. 
CBD is illegal in:
Bolivia
Ecuador
Suriname
Guyana
Venezuela
French Guiana
Hemp is slowly becoming decriminalized in French Guinea. Hopefully, you can travel there with CBD oil soon!
Can You Travel to Asia with CBD Oil?
While cannabis use dates back to ancient times in Asia, it is highly restricted throughout most of the continent. The only two countries in Japan where CBD is completely legal are Japan and Hong Kong.
CBD is legal with a prescription in:
China
Malaysia
Thailand
Israel
South Korea
India
All CBD products are banned in:
Indonesia
Laos
Cambodia
Vietnam
Kazakhstan
Kyrgyzstan
Mongolia
Uzbekistan 
Singapore 
Tajikistan
Turkmenistan
Saudi Arabia
Yemen
Kuwait
Iran
Iraq
Oman
Afghanistan
Myanmar
North Korea
Some areas, such as Singapore, have very strict fines, and you may face prison time. 
Can You Travel with CBD Oil to Africa?
All cannabis products, including CBD oil, are illegal throughout most of Africa. There are some exceptions.
CBD is legal in the following African countries:
South Africa (0.2% THC or less)
Ghana (0.2% THC or less)
Eswatini (with Prescription)
Lesotho (with Prescription)
Best CBD Products to Travel Abroad
Flying can be a stressful experience. We recommend taking Joy Organics' CBD Softgels or having a vegan USDA-certified organic CBD gummy about a half-hour before traveling. These will give you sustained mental support.
If stress builds, consider bringing Joy Organics' Broad Spectrum Tinctures with you. These THC-free formulas are carry-on friendly. Just make sure to keep it in a bag with other liquids to scan when you reach the TSA.
The stagnant cabin air and fans above your head can really dry out your skin in-flight. Consider packing a pocket-sized CBD cream with you to hydrate your skin. Toss this one-ounce moisturizer in the bag with your tincture!
International flights and jumping time zones can mess with your sleep patterns. Help get accustomed to your new sleep schedule with Joy Organics' CBD & CBN Softgels with Melatonin for Sleep. You'll get the rest needed to be active during your daily travel adventures! 
Disclaimer: This information was provided on May 27. It is not a legal opinion.
Hannah Smith is Joy Organics Director of Communications. She is driven by her passion for providing clear and accessible wellness and CBD education. In 2015, she received her BA in Media, Culture and the Arts from The King's College in New York City and before Joy Organics, worked as writer and photographer in the Middle East and North Africa. Her work has been featured on Forbes, Vice, Vox, Denver Post, and the Coloradoan.