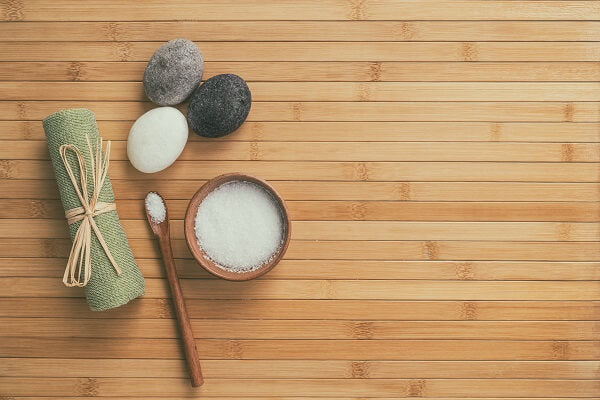 What comes to mind when you think about unwinding after a long day? Some people would say a relaxing hot bath. A glass of wine and some candles could take this scenario to the next level of bliss.
Let's face it — for some of us, bathtime is the only alone time we can get. Want to make the most of it? Infuse your relaxation routine with high-quality CBD bath salts. Draw yourself a warm tub of self-care and soak in these tips to discover how the top CBD bath salts can enhance your wellness regimen.
What Are CBD Bath Salts?
CBD bath salts are crystalline salts that are infused with hemp. Infusing bath salts with other beneficial ingredients is not a new practice–– for decades, many cosmetic companies have infused bath salts with essential oils. You can draw a bath with lavender bath salts to help initiate sleep or opt for bath salts infused with peppermint to support the immune system during a cold.
Over time, the popularity of scented bath salts has grown. Like many other wellness items on the market, this increase in demand saw more brands jump on board. Now, you can find bath salts infused with a variety of  artificial "scents." You may see them on labels that say  "natural" or "fragrance." To make these claims, the ingredients don't have to actually be natural, so you could be soaking in artificial dyes and scents that don't provide any real benefits–– and perhaps even do more harm than good. That's why it's essential to vet brands and look for certified organic ingredients.
What to Look Out for With CBD Bath Salts
While scented bath salts may be pleasant to the senses, many of these products don't have any actual benefits. A growing number of brands make products that smell like a beneficial herb that's not even included in the formula. On the contrary, some are filled with synthetic ingredients that may be more irritating than soothing.
This sort of watering-down effect can trickle down to the CBD industry as well. It's important to be familiar with the ingredients in your CBD bath salts. You want to use as many all-natural ingredients as possible. Here's a general rule of thumb: if you can't pronounce it, don't use it!
Benefits of CBD Bath Salts
There are many high-quality CBD bath salts out there on the market. When you find the right one for you, it's going to transform your bathtime routine.
The benefits of CBD bath salts are the same as taking a bath with any type of bath salt:
Promoting relaxation
Hydrating skin
Smelling better
Soaking joints and muscles
Allowing for alone time
Feeling good
Exfoliating dead skin cells
Even the simple act of sitting in a bath can improve your wellness routine. Adding bath salts enriches the water with trace minerals. These minerals can be used as exfoliants as you bathe. Nutrients from high-quality bath salts seep into the skin and support the health of this important organ.
Adding CBD to your bath salts is an excellent way to support both your beauty- and self-care. That's thanks to our endocannabinoid system.
CBD Bath Salts for Skincare
What makes CBD such a great addition to your bath salts is that our largest organ –the skin– has its very own endocannabinoid system.
You can find cannabinoid receptors in the following places:
Cutaneous nerve fibers
Mast cells
Epidermal keratinocytes
Adnexal tissue cells
CBD is commonly used to support the body's endocannabinoid system.
How Do CBD Baths Work?
When you put the bath salts in warm water, magnesium and sulfate slowly start to break apart. As they do, they release all the minerals that make up the grains of salt. These bath salts also release whatever is infused into their center, such as CBD oil.
Stepping into a bath of CBD bath salts will initiate a relaxing and rejuvenating process. As you soak in the water, you will also soak in cannabinoids, terpenes and trace minerals. Thanks to the warmness of the water, your pores will become more open and relaxed. Drawing a bath allows your body to absorb the nutrients into the skin more efficiently.
Top 5 CBD Bath Salts
Now you have a solid foundation about the potential benefits of CBD bath salts and what to look out for when purchasing these items. At Joy Organics, we pride ourselves on operating with full transparency. All of our products are of the highest quality and we expect nothing less from others in our market.
That's why any of these five CBD bath salts would be a great addition to your wellness routine. It's simply a matter of preference. To us, part of the fun surrounding CBD products is picking out which you like the best. So, enjoy figuring out which works for you with peace of mind! Here are the top five high-quality CBD bath salts that we enthusiastically recommend.
Lanikai Soaking Salts
Take your self-care to the next level. Lanikai Soaking Salts use a special blend of high-grade Epsom salts and sea salts to enrich your bath with a variety of trace minerals for optimal skin health. Their formula contains CBD isolate.
You can purchase Lanikai Soaking Salts in four scents, each created with essential oils rather than synthetic ingredients:
Lavender
Lemongrass
Eucalyptus
Peppermint
If you are looking for sleep and feel a little stuffy, mix in some lavender and eucalyptus. Need to power through your morning? Start your day with a relaxing-yet-refreshing soak in some lemongrass and peppermint. These sorts of fun bathtime experiments are exactly why we love CBD products!
Vertly Hemp CBD Infused Bath Salts
While we like to see ingredients lists kept simple, we are willing to make a few exceptions when everything listed is of high-quality. If you are looking for well-rounded maintenance during your bath, then look no further than Vertly Hemp CBD Infused Bath Salts.
These premium bath salts are crafted with high-quality ingredients. They're the who's-who in wellness and skin health.
Some of the organic ingredients infused in this mixture of salt from the Dead Sea and Epsom salt include:
Ginger root
Clary sage
Rosemary
Lavender
Yarrow leaf
Marjoram
In addition to these nutrient-dense extracts, this formula contains full-spectrum CBD. Therefore, this product has all the benefits of the entourage effect. And that's on top of all the terpenes found in the other active ingredients in this product!
Lord Jones High CBD Formula Bath Salts
Sometimes we need a little extra self-care in the bath. Lord Jones High CBD Formula Bath Salts are crafted with a medley of mineral-rich crystals.
This blend is comprised of:
Pink Himalayan sea salt
Arnica
Epsom salts
In addition, they add calendula petals to the mixture, which help bring soothing elements to this otherwise exfoliating experience.
Like Joy Organics, Lord Jones uses broad-spectrum hemp extract. Their products are still enriched with the entourage effect. However, traces of THC are removed from the formula. After all, children and teens sometimes need to unwind after a hard day, too! Lord Jones makes it so that people of all ages can enjoy some relaxation and the potential benefits of CBD bath salts.
Whoopi & Maya Soak
At Joy Organics, we believe that everyone's preferences should be catered to. That is why we craft broad-spectrum products. It gives everyone the opportunity to partake in the potential benefits of hemp. However, we understand that some adults have different preferences. We would like to acknowledge their wants and needs as well.
Whoopi & Maya Soak is an ultra-relaxing CBD bath salt blend. It has a high level of THC in the formula. This full-spectrum CBD bath salt contains 25 mg of THC per container. Therefore, this product is only available in California and Colorado. With that being said, these are high tourist areas. So, if you are in the area, this product is definitely worth checking out.
What makes Whoopi & Maya Soak so great is how hydrating these bath salts are for the skin. The Epsom salt blend contains several nutrient-rich ingredients that can help your skin to feel silky smooth.
Their formula is enriched with:
Apricot kernel oil
Avocado oil
Jojoba oil
Vitamin E
Aloe vera
Lavender essential oil
This CBD bath salt is relaxing, hydrating, and chic. You will feel like you're on a spa retreat in your own bathroom (in Colorado or California)!
Empower Soaking Salts
Want the best of both worlds in full-spectrum and broad-spectrum care? If you said yes, you're going to want to check out Empower Soaking Salts. There are two versions of Empower products.
One is available nationwide. This line is known as the White Brand. The Oregon-based company removes THC from the final formula, so they can ship the items across the state lines. However, if Oregon residents want THC in their bath salts, they can opt to purchase the Black Label at one of their local shops.
Both labels have a refreshing blend of:
Dead Sea salt
Pink Himalayan salt
Epsom salt
They're further enriched with hydrating oils such as jojoba and grapeseed. From there, their blend is given a unique scent, created by a particular blend of essential oils that include:
Lavender
Bergamot
Wintergreen
What we appreciate about Empower, like many of the other brands on this list, is that they use different blends of essential oils from their competitors. They've been able to give these CBD bath salts their own special twist.
At Joy Organics, we love experimenting with CBD products and we think you will too!
Thanks for reading! To show how much we appreciate you, we're going to give you 16% off your next order. Just use code READER16 at checkout!
Joy Smith is Joy Organics Co-founder and visionary. After her own life-changing experience with CBD, Joy started Joy Organics to create a line of sustainable and premium CBD products consumers could trust. Before founding Joy Organics, Joy worked as an itinerant speaker, traveling to over four continents to empower women across the globe.