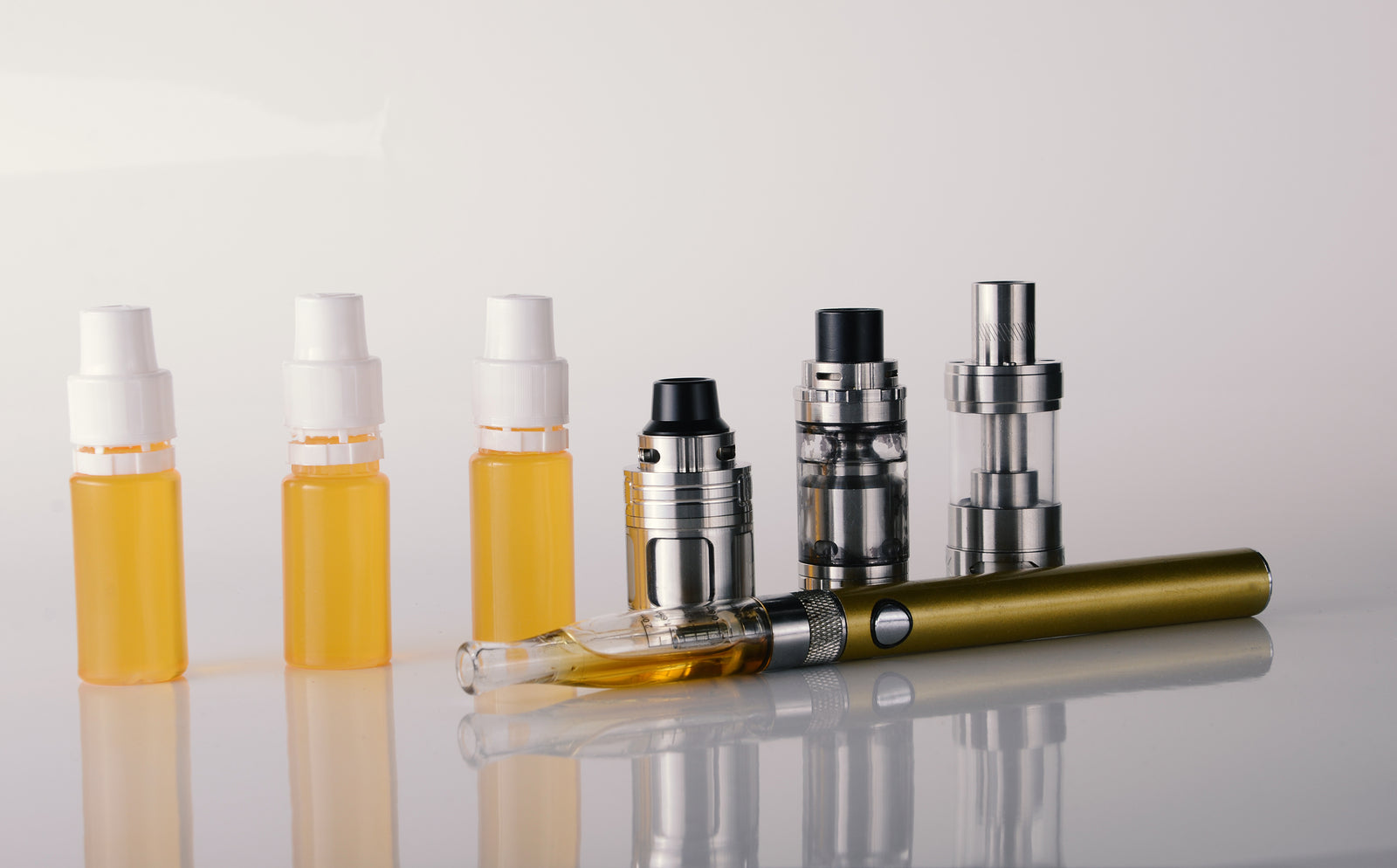 In the past few years, the popularity of vaping CBD has exploded. If you're ready to explore the benefits of vaping CBD for yourself, finding the best CBD e-liquids (aka CBD vape oil) is important. Vaping CBD is becoming a huge facet of the CBD industry and there is a plethora of products for the picking.
With so many CBD products available, how can you ensure you're getting the best CBD e-liquids available?
CBD or vaping barely even existed a decade ago. Vaping CBD is still in its infancy, meaning people are still working to figure things out. With that being said, there are new products hitting the market all the time and it's ultimately up to the consumer to figure out the way to go.
We're here to take away any of the confusion when it comes to choosing the best CBD e-liquids. If you've decided to start vaping CBD, you deserve to have the best experience possible. Below are our choices for the top 10 CBD e-liquids.
Things to Keep in Mind When Looking for a Quality CBD E-Liquid
Before we get into the top CBD e-liquids available for vaping CBD, here are some things to consider when choosing a CBD e-liquid of your own.
Make Sure E-Liquid Doesn't Separate — CBD e-liquid should be well mixed and uniform throughout. If the product separates into different layers, it's not the best quality product. This is one of the biggest issues facing CBD e-liquids — CBD doesn't mix well with most e-liquid bases. If you're looking for quality, your e-liquid should be the same throughout the entire bottle.
Avoid Cloudy CBD E-Liquids — The clearer your CBD e-liquid is, the better. Any high-quality CBD e-liquid is going to be completely clear (think translucent). If you notice your e-liquid is cloudy, dark or thick, it may be an inferior product.
Don't Purchase Products That Don't Offer Test Results —

 

Any CBD product you use should be sourced from hemp that is cultivated with the highest standards. When it comes to CBD, transparency is everything. Remember, the market is largely unregulated, and there are plenty of companies out there selling

 

CBD products that fall short of what they're intended to deliver. Make sure the company you are purchasing your CBD e-liquid from uses responsible cultivation practices AND offers lab test results for their products. You'll know you're getting a quality product when the company voluntarily provides third-party test results. Any company that doesn't should be avoided.
What Are the Best CBD E-Liquids?
Every brand of CBD that sells e-liquid is going to say it's the best. But don't forget that in this market there are plenty of salesmen passing off snake oil to the unsuspecting customer interested in CBD.
Interested in vaping CBD and looking for the best CBD e-liquid available on the market?
We've done the research so you don't have to. We know how overwhelming it can be to find the best CBD products to fit your needs. Rest assured, we're here to help you get the best experience from CBD that you possibly can. So, without further ado, here are the best CBD e-liquids currently available.
Top 10 CBD E-Liquids
CBDfx Vape Juice — CBDfx offers a CBD e-liquid made out of high-quality hemp oil in nine different flavors. Ready to go right out of the bottle, each 30ml size is available in 250mg, 500mg or 1000mg. CBDfx Vape Juice is made from broad spectrum CBD oil, and all their products are third-party tested for quality and transparency.
CBDfx Vape Additive — CBDfx is actually known for their vape additives, and theirs is specially formulated to be mixed with existing e-liquids for use as a tincture or applied topically to the skin. Kind of an all-in-one CBD product, if you will.
Koi CBD Vape Juice — Koi CBD Vape Juice is sourced from Colorado-grown hemp and is available in 100mg, 250mg, 500mg and 1000mg strengths. Each batch is tested for quality, potency and consistency, with test results readily available on their website. Koi CBD Vape Juice is available in six different flavors.
Hemp Bombs CBD E-Liquid — Looking for a high-quality CBD e-liquid in a wide array of flavors? Look no further than Hemp Bombs CBD E-Liquid. Their premium e-liquid is sourced from naturally grown hemp grown in the USA. Third-party lab results are readily available on their website, and their e-liquid is some of the most popular on the market.
Pure CBD Vapors CBD Vape Oil —

 

Pure CBD Vapors offers CBD e-liquid in four different flavors in four strengths ranging from 100mg–1000mg. As a company that's been in business since 2014, they've undoubtedly proven themselves in this highly competitive market. All products have been lab tested for purity
CBD Genesis E-Liquid — This broad spectrum CBD e-liquid is designed for vaping or oral use. CBD Genesis E-Liquid doesn't contain any added flavors and is available in six strengths ranging from 100mg–2000mg. Lab test results are available on the page of each product, offering a quick and easy way to make sure you're getting a quality product. If you're looking for something more flavorful, CBD Genesis E-Liquid can easily be mixed with other e-liquids.
Hemplucid CBD Vape/Drip — If you're interested in a CBD e-liquid with rich plant flavor, Hemplucid CBD Vape/Drip could be your best option. Because their vape oil has high viscosity (a thick, sticky consistency between a solid and a liquid), Hemplucid recommends thinning out this product with another e-liquid. It can also be taken under the tongue or added to any food or drink. Lab test results are also readily available on their website, ensuring you're getting a quality product you can trust.
CBD Drip CBD Vape Oil — CBD Drip has an extensive line of e-liquids and vape additives, all containing

 

broad spectrum CBD oil. This e-liquid is another that comes with a strong, natural taste and aroma, which some might prefer to add an additional flavored e-liquid to. The hemp used to produce CBD Drip's products is Clean Green Certified, meaning it was grown in a sustainable manner. Lab test results are available on their website.
Diamond CBD Vape Juice — Diamond CBD has a wide-variety of CBD vape juice options made with CBD harvested from Kentucky-grown hemp. Available in 3 different flavors (strawberry, watermelon and jungle juice) and all third-party tested for quality, Diamond CBD is a popular U.S.-based CBD brand that offers CBD e-liquid that is produced with all-natural ingredients in strengths ranging from 42mg–670mg. 
Final Thoughts on Buying the Best CBD E-Liquids
Vaping CBD certainly has its advantages and is becoming an increasingly popular method of CBD consumption. If you're interested in vaping CBD and are looking for the best e-liquid to meet your needs, the products on this list will do just that. All come highly recommended with rave reviews from real customers, and all offer test results to ensure you're getting what the label claims.
Still have questions about CBD e-liquids? We're always here to help!
Thanks for reading! To show how much we appreciate you, we're going to give you 16% off your next order. Just use code READER16 at checkout!
Joy Smith is Joy Organics Co-founder and visionary. After her own life-changing experience with CBD, Joy started Joy Organics to create a line of sustainable and premium CBD products consumers could trust. Before founding Joy Organics, Joy worked as an itinerant speaker, traveling to over four continents to empower women across the globe.