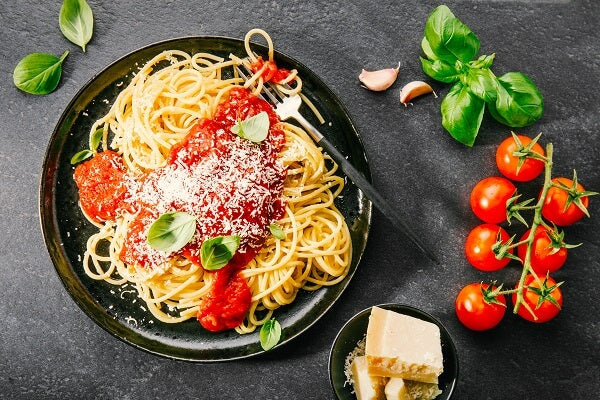 You're going to love learning about cooking with CBD oil if you like to get creative in the kitchen and enjoy the benefits of CBD. CBD-infused food is the biggest buzz to hit the food industry in decades. A recent National Restaurant Association survey found that one in three chefs named CBD and cannabis-infused foods as a hot food trend.
You don't need to go to a fancy restaurant to enjoy CBD dining. Cooking with CBD oil is a lot easier than you might think. Plus, adding CBD into your favorite dishes isn't just easy — it's fun! It's also a creative way to integrate CBD into your life.
As simple as cooking with CBD might be, doing anything new requires a bit of a learning curve. If you're ready to start cooking with CBD oil, the following are a few tips to get you started.
Getting Started: The Basics of Cooking with CBD Oil
Choose a High-Quality CBD Oil
Quality is of the utmost importance when it comes to CBD oil. Unfortunately, not all CBD oil is created equal. When choosing a CBD oil for cooking, only use CBD oils made by transparent companies that offer third-party lab test results.
A delicious meal calls for the best ingredients. If you're serious about cooking with CBD oil and want your recipes to taste good, choosing high-quality CBD oil is the first step.
Blend CBD with a Carrier that Contains Fat
CBD must be blended with some kind of carrier that contains fat before it can be used for cooking. This helps increase bioavailability and ensures the oil is distributed evenly throughout the entire dish.
Before adding CBD to your recipe, make sure it is infused in butter, ghee, coconut oil or another fat or oil-based carrier.
While temperature is important when cooking with any oil, it's especially important to keep in mind when cooking with CBD oil. This is because the active compounds in CBD oil burn off at high temperatures. Not only are you losing CBD but also other beneficial cannabinoids, terpenes and flavonoids.
What's the best temperature to cook CBD oil? Try not to exceed 325 degrees Fahrenheit. Higher temperatures will cause the active compounds in CBD oil to deteriorate. Overheating CBD oil can also result in a somewhat bitter taste, which likely isn't what you want when it comes to cooking.
Keep Your Serving Size in Mind
If you're new to cooking with CBD oil, you might be tempted to add more than you need. However, it's important to be mindful with how much CBD you add since it can affect the recipe and how your food tastes.
Especially when you first start cooking with CBD, less is more. Once you've picked up a bit of experience, you can add more if you feel it would be fitting for your recipe and offer the desired effects.
Remember to stir A LOT when incorporating CBD into your favorite dish. Doing so ensures that your CBD is incorporated well throughout the entire dish, offering a well-balanced serving of CBD in every bite.
5 Simple and Satisfying CBD-Infused Recipes
1. CBD Guacamole
CBD guacamole is one of the easiest (and most popular) CBD-infused recipes out there. Because avocados are loaded with healthy fats, there's no need to mix your CBD oil with a carrier. Simply stir it in (very well) with the following ingredients and you'll have the perfect CBD-infused side dish or snack.
Ingredients:
3-4 ripe avocados
½ onion, finely chopped
½ teaspoon sea salt
½ teaspoon garlic powder
¼ teaspoon cumin
Juice of one lime
Desired serving of CBD oil
Directions:
Cut avocados in half and scoop into a medium or large bowl. Mash with a fork. Add CBD oil and stir well to combine.
Add lime juice, onion and spices and mix well.
Serve with chips, tacos, nachos, in a burrito or on top of enchiladas.
2. CBD Mashed Potatoes
CBD-infused mashed potatoes are easy and make a great addition to any savory meal on any occasion. We know we'll be serving them all winter long, whether at the holiday table or along with a big bowl of soup.
Ingredients:
2 pounds baking potatoes, peeled and cut into quarters
1 stick CBD-infused butter
1 cup milk or half-and-half
Directions:
Add potatoes to a pot of salted boiling water. Cook for 15-20 minutes until tender. Drain water.
In a small saucepan, melt butter over low to medium heat. When completely melted, remove from heat and add desired serving size of CBD. Stir very well and combine with milk or half-and-half.
Using an electric mixer, blend the CBD-infused butter and milk mixture with cooked potatoes until smooth and creamy. Add salt and pepper to taste.
3. CBD Spaghetti Sauce
CBD blends seamlessly into sauces when it's mixed with the right carrier. CBD-infused spaghetti sauce adds a new twist to this timeless classic. It can be used to top pasta, ravioli, manicotti or any of your Italian-inspired favorites. 
Ingredients:
¼ cup CBD-infused olive oil or butter
1 onion, diced
2 cloves garlic, crushed
3-4 teaspoons salt
4 teaspoons dried basil
4 teaspoons dried oregano
4 teaspoons dried rosemary
4 teaspoons dried parsley
1 29-ounce can peeled and diced tomatoes
Directions:
Heat CBD-infused butter or olive oil in a saucepan over low to medium heat and add onion and garlic. Sauté until onions are translucent. Stir in tomatoes and add seasonings. Mix until all ingredients are well incorporated.
Continue cooking over medium heat for 20-30 minutes.
4. CBD Pesto Mozzarella Salad
Pesto and CBD oil make the perfect pair. The oil in pesto sauce serves as a natural carrier for the CBD oil and can be incorporated into a number of different dishes. Pesto mozzarella salad made with avocados and fresh veggies is one of our all time favorites. If you make a killer pesto, by all means, use your own for this recipe. If not, there are plenty of pre-made pestos that are widely available at most grocery stores.
Ingredients:
¼- ½ cup fresh basil pesto infused with CBD
½ pound cherry tomatoes, cut in half
1 cucumber, quartered and sliced
1 red bell pepper, chopped
1 yellow bell pepper, chopped
1 green bell pepper, chopped
1-2 medium avocados, diced
8 ounces mozzarella cheese balls or 8 ounces mozzarella, cubed
1 tablespoon fresh lemon juice
Directions:
To infuse the pesto with CBD, simply add your desired serving size to pesto sauce and stir well.
Combine veggies and mozzarella, add pesto sauce and lemon juice. Mix well until all ingredients are incorporated.
Serve alone or with your favorite pasta dish. This recipe would make a great side for your CBD-infused spaghetti.
5. Butternut Squash with CBD Brown Sugar Butter
Topping butternut squash with a CBD brown sugar butter adds a decadent twist on an already delicious dish.
Ingredients:
1 butternut squash, halved and seeded
½ cup melted CBD-infused butter
3-4 tablespoons brown sugar
Directions:
Preheat oven to 325 degrees Fahrenheit.
Place halved and seeded squash with the cut side facing up on a baking dish. Brush with CBD-infused butter, ensuring that the entire surface of the squash is covered.
Season lightly with sea salt and brown sugar.
Roast in the oven for approximately one hour, or until soft. Keeping the oven temperature low will make cooking time longer than usual, but will ensure that the CBD oil in the recipe stays intact.
Creating Dishes You'll Love When Cooking with CBD Oil
When it comes to creating delicious, CBD-infused dishes, the options are endless As soon as you know the basics, you'll be able to infuse pretty much anything with the wellness-promoting power of CBD.
Baking with CBD is already a popular way to get a tasty serving of CBD. We think the only way freshly baked cookies could get better is with some CBD infused into the batter.
Smoothies also offer an easy and effective way to incorporate CBD into the foods you already regularly consume. We love a good CBD superfood smoothie — it's a quick and  easy way to ensure we start the day by consuming foods that help us thrive.
Let us know your favorite CBD recipes in the comments!
Thanks for reading! To show how much we appreciate you, we're going to give you 16% off your next order. Just use code READER16 at checkout!
Joy Smith is Joy Organics Co-founder and visionary. After her own life-changing experience with CBD, Joy started Joy Organics to create a line of sustainable and premium CBD products consumers could trust. Before founding Joy Organics, Joy worked as an itinerant speaker, traveling to over four continents to empower women across the globe.