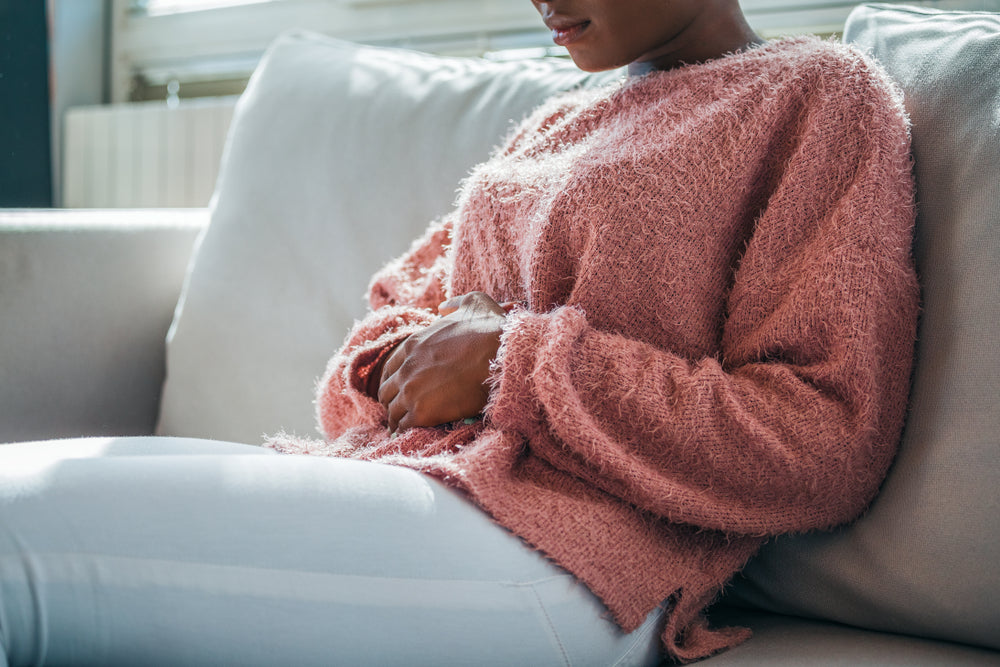 It's easy to assume that PMS is an inevitable part of being a woman. As we move through the phases of our menstrual cycle each month, PMS is something we've come to expect. While Premens doesn't affect every woman, it affects most women's health. Did you know that 75% of women experience PMS in one form or another? 
If you're one of them, you'll be pleased to know that there are certain natural supplements that can support your mental and physical wellbeing during "that time of the month." Following you'll find the top PMS dietary supplements, each of which can help support your reproductive health and ease the dread that often comes with your period. 
Top 10 Supplements for PMS

1. Calcium Supplements

Responsible for several basic functions in the body, calcium plays a major role in overall health. It helps circulate blood, supports muscle movement, releases hormones, sends messages from the brain to different parts of the body, and keeps bones and teeth strong and healthy. Calcium also happens to be one of the top Premenstrual Syndrome supplements. 
If you're particularly susceptible to PMS, your calcium levels could have something to do with it. Calcium levels fluctuate throughout the menstrual cycle, so supplementing with calcium supplements could help with PMS. In a 2017 study, researchers found that taking calcium daily for two months significantly reduced symptoms of PMS, including psychological symptoms such as anxiety, depression, and mood swings, as well as other symptoms like fluid retention, bloating and more. 
2. Vitamin D Supplements
Vitamin D plays a huge role in female reproduction, and it's suggested that a Vitamin D deficiency is strongly associated with increased symptoms of PMS. In a 2018 study, researchers aimed to determine whether high doses of vitamin D supplements could improve symptoms of PMS. They discovered that high vitamin D doses (50,000 IU/week for nine weeks) helped reduce several symptoms of PMS, including lower back pain and unstable emotions such as unprompted tears. It was also effective at reducing dysmenorrhea, the physical pain associated with menstruation. 
3. Magnesium Supplements

You've likely heard about magnesium's soothing properties. This essential nutrient helps the body relax and has infamous potential for relieving stress and anxiety. Did you know that magnesium is so important that it actually helps stabilize our DNA? It's found abundantly in leafy greens, nuts and seeds, but the majority of individuals have a bit of a magnesium deficiency. If you're one of them, it could exacerbate symptoms of PMS. Magnesium supplementation can help to reign in and relieve PMS symptoms.
Research shows that decreased magnesium levels may be one of the major causes of PMS symptoms. Essential for dopamine production, magnesium plays a huge role in our mental wellbeing. Low magnesium levels can lead to low dopamine levels, which can ultimately lead to serious anxiety. An early study found that decreased magnesium levels during the luteal phase of a women's monthly cycle could be a major factor in experiencing PMS. Another study discovered that women with a high intake of vitamin B and calcium showed a significantly decreased risk of developing PMS than women with a low intake of vitamin B. 
4. Vitamin B6 Supplements

B6 is an essential vitamin necessary for nervous system support and maintaining immune health. It turns food into energy and assists in the creation of neurotransmitters such as dopamine and serotonin. Vitamin B6 regulates hormones and plays a critical role in metabolism. It's also said to be seriously beneficial for PMS. 
It's believed that vitamin B6 works so well for PMS because it increases serotonin and dopamine levels. These are the body's "feel-good chemicals," and when we're deficient in B6 levels of these important neurotransmitters tend to be low. Ultimately, a vitamin B deficiency can cause these low levels of serotonin and dopamine, which can make the psychological symptoms and emotional symptoms of PMS worse. By supplementing with B6, we can maintain healthy levels of these "happy" chemicals and evade the intense the emotional highs and lows associated with Premenstrual Syndrome. 
5. Chasteberry
Full of beneficial phytochemicals, chasteberry is said to contain a number of influential health benefits. It's been used for hundreds of years as a natural treatment for menstrual cycle support, namely because of the efficacy it contains to support specific hormones in the body, specifically prolactin and progesterone. 
A large body of research supports the use of chasteberry for PMS. One study found women that used chasteberry over the course of three menstrual cycles saw a significant decrease in symptoms of PMS, including breast tenderness, irritability, depression and headaches. It's suggested that chasteberry's effectiveness for PMS support is because of its ability to regulate hormonal  balance by increasing prolactin and/or decreasing progesterone. 
6. Evening Primrose Oil
Evening primrose oil comes from the yellow-flowered evening primrose plant native to North America, where it was traditionally used by Native Americans as a treatment for wounds, skin inflammation, gastrointestinal discomfort and more. Its therapeutic potential is suggested to come from its gamma-linolenic acid (GLA) content, and it's one of the top supplements for PMS relief exists. 
Research on the effects of evening primrose oil for PMS have found that its high content of GLA can alleviate premenstrual symptoms. It's suggested that some women experience Premenstrual Syndrome more than others because they have increased sensitivity to normal prolactin levels, a hormone produced in the pituitary gland that strongly influences the reproductive system. In the body, GLA causes prostaglandin synthesis which prevents prolactin from causing PMS. 
Research also shows that evening primrose oil can help alleviate breast tenderness associated with Premenstrual Syndrome. One study found that taking a daily serving of evening primrose oil for six months significantly reduced breast tenderness in women with Premenstrual Syndrome. It's suggested the GLA content helps reduce inflammation and helps impede prostaglandins from causing Premenstrual Syndrome breast pain. 
7. Dong Quai
Used for thousands of years as an integral herb in Traditional Chinese Medicine (TCM), dong quai is still commonly used to assist in the alleviation of PMS symptoms naturally. Often referred to as the "female ginseng," dong quai is often used as part of a natural treatment for women's reproductive health. 
While few clinical trials have been conducted on donq quai for Premenstrual Syndrome, it is commonly prescribed in TCM with other herbs for supporting abnormal menstruation, repressed menstrual flow and dysmenorrhea (painful menstruation). It's also a popular supplement for menopause support, as it shows to relieve symptoms such as hot flashes. 
8. Omega-3 Fatty Acids
If you suffer from Premenstrual Syndrome, taking a daily supplement of essential fatty acids like omega-3 fatty acids can do wonders for the symptoms you experience. Research shows that omega-3 fatty acids can regulate both mental and physical symptoms of PMS. One study found these essential fatty acids effective for alleviating depression, nervousness, mood swings, anxiety, trouble concentrating, bloating, headache and breast tenderness. Researchers of the study noted that the longer the duration of treatment with the essential fatty acids like omega-3s, the more increased the effects. 
9. Ginkgo Biloba
Ginkgo biloba is commonly cited as one of the top PMS supplements. The supplement is made from the leaves of the ginkgo biloba tree, which is one of the oldest living tree species in the world. Containing a range of therapeutic benefits, it's one of the top-selling herbal supplements and is suggested to be fabulous for PMS support. 
Ginkgo is full of flavonoids, terpenes, antioxidants and other beneficial compounds that are said to lend to its efficacy for supporting both physical and emotional symptoms associated with one's Premenstrual Syndrome. One study found that ginkgo significantly reduced the severity of PMS symptoms including fatigue, bloating and insomnia. 
10. Zinc
Zinc is a favorite amongst women who prefer natural options for PMS support. This simple, yet essential mineral has been widely researched on its effects for incident Premenstrual Syndrome and shows to be an effective option for supporting several PMS symptoms. Many women find supplementing with zinc helps with both the physical and psychological symptoms of Premenstrual Syndrome.

One study, for example, discovered that zinc was effective for reducing period pain. A 2022 clinical trial found zinc to be a "simple and inexpensive treatment" at improving PMS symptoms, including anxiety, depression, anger, mood swings,  breast tenderness, bloating, headaches, muscle pain, food cravings, and weight gain. Zinc is also suggested to be beneficial for vaginal dryness, endometriosis, activating thyroid hormone and more. 
The Top PMS Supplement Blends
Many women interested in support for their premenstrual symptoms look for something specifically formulated to support Premenstrual Syndrome. Following are a few of the best PMS supplement blends, all specially formulated to help ease the invasion of unpleasant physical symptoms and emotional symptoms of your monthly cycle. 
Consistently rated as one of the top PMS supplement blends, FLO PMS Gummy Vitamins contain an array of all-natural ingredients to help curb both physical and mental PMS symptoms. These vegan-friendly, strawberry-flavored gummies contain a botanical blend of ingredients such as dong quai, chasteberry, lemon balm and vitamin B6 to help support cramps, fluid retention, mood swings, hormonal acne and more. If gummies aren't exactly your thing, FLO's PMS formula is also available in capsule form. With close to 5,000 5-star reviews, FLO Premenstrual Syndrome products are the most popular PMS support supplements on the market for women interested in naturally supporting their mental and physical wellbeing during their menstrual cycle. 
HUM Moody Bird capsules are formulated to support healthy hormone balance and ease PMS symptoms. Dong quai and chasteberry are the primary active ingredients in this all-natural, vegan blend, which are both known to promote physical and psychological wellbeing during your monthly cycle. Many women report HUM Moody Bird capsules are game-changing for mood swings support during their period, easing irritability, anger, anxiety and depression. Keep in mind that many women find it takes a few months to notice an improvement in their PMS symptoms; but when they do, the improvement is significant. 
Like many of the other top PMS supplements, Olly Miss Mellow contains dong quai and chasteberry. The addition of isoflavones in this herbal blend also helps assist in increased hormone support. This powerful Premenstrual Syndrome formula is designed to be taken daily to naturally support women's hormone cycles throughout the month. Women who have used Miss Mellow rave about the ability of these capsules to support mood swings, increase relaxation and boost focus and motivation. With a mission to break the barriers and the stigma around individuals struggling with mental health, Olly is dedicated to making meaningful change for those suffering with mental health issues. 
The De Lune Period Rescue Kit definitely lives up to its name. A combination of two popular De Lune period products, Cramp Aid and Steady Mood, this duo does exactly what it's designed to do by naturally relieving physical and psychological PMS symptoms. Cramp Aid contains a blend of ingredients known to support a less painful period, including: vitamins B1, B6 and B12, zinc, ginger, fenugreek, dong quai and marigold. Steady Mood combines several different all-natural ingredients widely studied for their benefits to support Pre menstrual Syndrome, regulate stress, enhance hormone health and elevate mood. With almost 300 5-star reviews, the De Lune Period Rescue Kit is one of the top rated PMS symptoms supplements on the market and even comes with a money-back guarantee. 
Final Thoughts on the Top PMS Supplements
As common as PMS might be, it doesn't mean you have to continue to suffer the uncomfortable, annoying PMS symptoms associated with it. Nature really does give us everything we need to thrive and live our best lives. Naturally supporting both body and mind during your period is possible when you know what herbs and supplements can help. 
By implementing some of the top PMS supplements into your regular wellness routine, you can begin to support your menstrual cycle naturally. Whether you experience major mood swings and debilitating period pain, or are simply looking for something to ease minor symptoms during your period, the supplements listed here should help tremendously
For more information regarding treating PMS symptoms, talk to your doctor.
FAQ
What are some ways to support physical symptoms of Premenstrual Syndrome?
The best way to support the predominant symptoms of PMS and other premenstrual disorders are using herbal remedies, certain vitamins, and supplements mentioned above. These supplements can reduce inflammation that causes bloating, can provide stress relief by supporting hormone balance, can curb your mood swings, and relieve pain resulting from your symptoms. Because these are natural ways to alleviate your symptoms, you are not obligated to talk to your doctor, but with any concerns regarding treating PMS symptoms it is always a good idea. Other ways to support the symptoms include oral contraceptives, anti-inflammatories, folic acid, fatty acids, pain relievers, vitamin c supplements, hormone like substances and other medications. For more information regarding how to treat PMS, talk to your doctor.
What is Premenstrual Dysphoric Disorder?
Premenstrual Dysphoric Disorder is a syndrome much like PMS, but a more severe form. Premenstrual Dysphoric Disorder causes severe PMS symptoms, and the symptoms tend to be affective symptoms like depression, anxiety, food cravings, and other mental and emotional symptoms. Symptoms of Premenstrual Dysphoric Disorder usually begin 2 weeks prior to the start of your period, and end a few days after it begins. Researchers believe PMDD and its severe PMS symptoms is caused by a sensitivity to hormone changes and hormone imbalance. PMDD can be supported with changes in diet like increasing healthy fats, regular exercise, stress management to keep stress hormones in balance, vitamin and nutritional supplements, anti-inflammatory medicines, selective serotonin reuptake inhibitors (SSRIs), and oral contraceptives (hormonal birth control). Before starting any treatment, dietary supplement, or other medications you should talk to your doctor.
How can PMS symptoms affect women's health?
PMS symptoms are the result of changing hormones in the woman's body, and each month PMS has an effect on women's health in the short term. The way women choose to support their symptoms can have an effect on women's health in the long run, however, as well. PMS results from estrogen dominance in a woman's body. Estrogen is one of the sex hormones in the body, and having too much estrogen is the reason women experience the PMS symptoms. PMS has been shown to possibly be linked to high blood pressure in women, and heightened breast cancer risks as well. Having imbalanced estrogen can also affect gut health in women. Having imbalanced hormones creates a problem for gut health, as it creates an imbalanced microbiome. Having gut health issues creates the symptoms of PMS that include bloating, mood swings, and heavier periods. It is always a good idea to talk to your doctor if you have questions regarding how to treat PMS.
.
Hannah Smith is Joy Organics Director of Communications. She is driven by her passion for providing clear and accessible wellness and CBD education. In 2015, she received her BA in Media, Culture and the Arts from The King's College in New York City and before Joy Organics, worked as writer and photographer in the Middle East and North Africa. Her work has been featured on Forbes, Vice, Vox, Denver Post, and the Coloradoan.
Medically Reviewed by:
Kimberly Langdon M.D. is a retired, board-certified obstetrician/gynecologist with 19-years of clinical experience. She completed her OB/GYN residency program at The Ohio State University Medical Center After clinical practice, she founded a medical device company where she invented six patented medical devices for both life-threatening and non-life-threatening conditions.