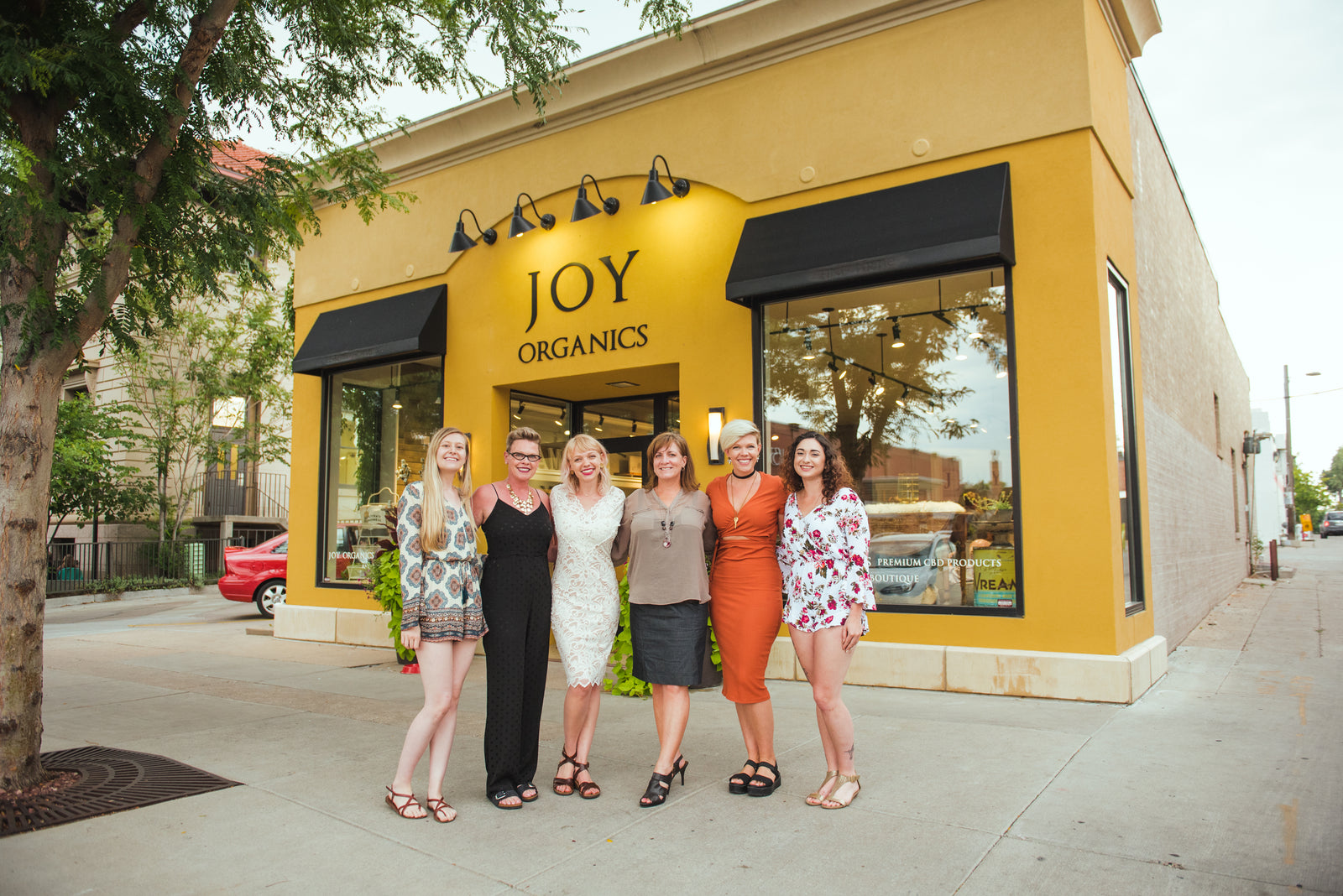 In just three years of business, Joy Organics has already witnessed a lifetime of milestone events. From Facebook bans to the legalization of hemp to USDA certification, Joy Organics has experienced so much growth over these past three years. Our story is ever-evolving, and we are delighted by the significant role you have played in this remarkable journey. Your support empowers our passion, which is to bring a little more joy into everybody's lives!
How Joy Organics Started   
Joy Smith had no intentions of starting a CBD brand. Like millions of other people, Joy heard about the potential benefits of CBD oil and was interested in using CBD to maintain healthy joints and support natural sleep patterns. 
Joy experimented with seven leading CBD brands but only one promoted the effects she desired. 
Disheartened, Joy tirelessly researched the reason for such inconsistency amongst CBD products. It became Joy's passion to create a line of high-quality CBD products that provide consistent benefits. 
Thus, Joy Organics was born in 2018.
Rooted in Quality
Joy immediately immersed herself in the cannabis community, and is a proud advocate for hemp legalization. 
Joy Organics started our journey with one storefront in Fort Collins, Colorado. We have now expanded into Austin, Texas and Wichita, Kansas. Plus, our online store ships all over the world, even providing free shipping domestically.
This family-owned and -operated business is committed to providing family-friendly products that everyone can enjoy. Our values haven't changed since 2018 and will continue to operate according to those values for years to come! 
From Startup to Mainstay
At the end of 2018, things started looking up for the CBD industry and Joy Organics. Congress enacted the Farm Bill. This legislation would declassify hemp as a schedule 1 controlled substance and allow CBD oil sales in all 50 states.
The Farm Bill helped open millions of Americans' eyes to the potential benefits of CBD and created an excellent opportunity for CBD businesses to flourish. 
Like many small businesses, Joy Organics has seen its shares of ups and downs. As we were gaining momentum, we witnessed a setback when Facebook shut down our social media page in 2019. 
This ban was not only a setback for our brand but the cannabis community as a whole. Facebook falsely accused Joy Organics of "promoting the sale of prescription pharmaceuticals." 
This distinction was dangerous, as it continued to cast hemp as a potentially hazardous substance. Adhering to this ban would only hurt the integrity of the Farm Bill. 
Joy Organics' Director of Communications, Hannah Smith, started a petition to reverse the Facebook shutdown. After procuring over 3,000 signatures, Hannah learned that other CBD companies had also experienced a social media ban.
The Joy Organics family rallied other members of the CBD community to get our pages restored. It's this type of group effort that unifies society. We will always champion for others as we continue to grow our platform. 
Standard-Bearing Innovation 
Joy Organics is dedicated to providing customers with the educational resources necessary to make decisions about their wellness. We formulate premium CBD products crafted with carefully curated ingredients to promote a happy and healthy lifestyle. 
We maintain the integrity of our products by using superior hemp grown in the nutrient-rich soil of USDA-certified organic farms. In 2020, we became one of the few CBD brands to offer 100% USDA-certified products that contain broad spectrum hemp extract. 
Our products are designed to promote optimal CBD potency. We use organic MCT and extra virgin olive oil to boost the efficacy of CBD in our tinctures. Meanwhile, our dog chews are formulated with water-soluble CBD to improve absorption. 
Additionally, we implement nanoemulsion technology to formulate our CBD softgels. Nano CBD particles allow for improved absorption and more effective benefits. 
Our brand is ever-evolving to best meet the needs of our customers. After becoming the #1 broad spectrum hemp extract brand, we were proud to announce our first full spectrum offering this year. 
We are proud to announce that our full spectrum Fresh Lime CBD Tincture has become a top seller. Our team is always working on new products to help you meet your wellness goals.
The Joy Organics Mission: Today and Forever
Our goal is to improve the quality of life for as many people as possible. The success of Joy Organics has allowed us to promote Joy all around the world. 
Each February, we celebrate an act of kindness during an annual event known as Joy Day. In the past, we partnered with the Greater Hope Project to provide over 200,000 meals to students at Hope Primary School in Uganda. This amazing resource center provides education and support for South Sudanese refugees. 
We've also worked with Barefoot College to help provide clean drinking water, electricity, and other necessities to impoverished rural areas in India.  
Our team proudly supports the Food Bank of the Rockies. It is our passion to help everyone to get the support they deserve. 
Joy Organics: A Global Partnership 
The success of our partners is also our success. We are so grateful to have created so many meaningful relationships over these past three years. 
Currently, Joy Organics has over 4,000 partners through our various affiliate, referral, and wholesale programs. Our state-of-the-art warehouse provides adequate space for inventory, allowing many of our partners to take advantage of our unique dropshipping opportunities. 
Our team is proud to provide a collaborative effort that celebrates brand individuality. We work closely with our partners through private label programs to help them launch successful CBD careers. 
Our humanitarian efforts and relationships extend far beyond the United States. We are so excited to start offering CBD products globally, too. Joy Organics is going to be one of the few CBD brands available in Hong Kong in 2021. 
While these three years have flown by, we've learned many lifelong lessons along the way. This journey has been a thrilling one so far. We can't wait to see what the next three weeks, years, and decades have to offer!