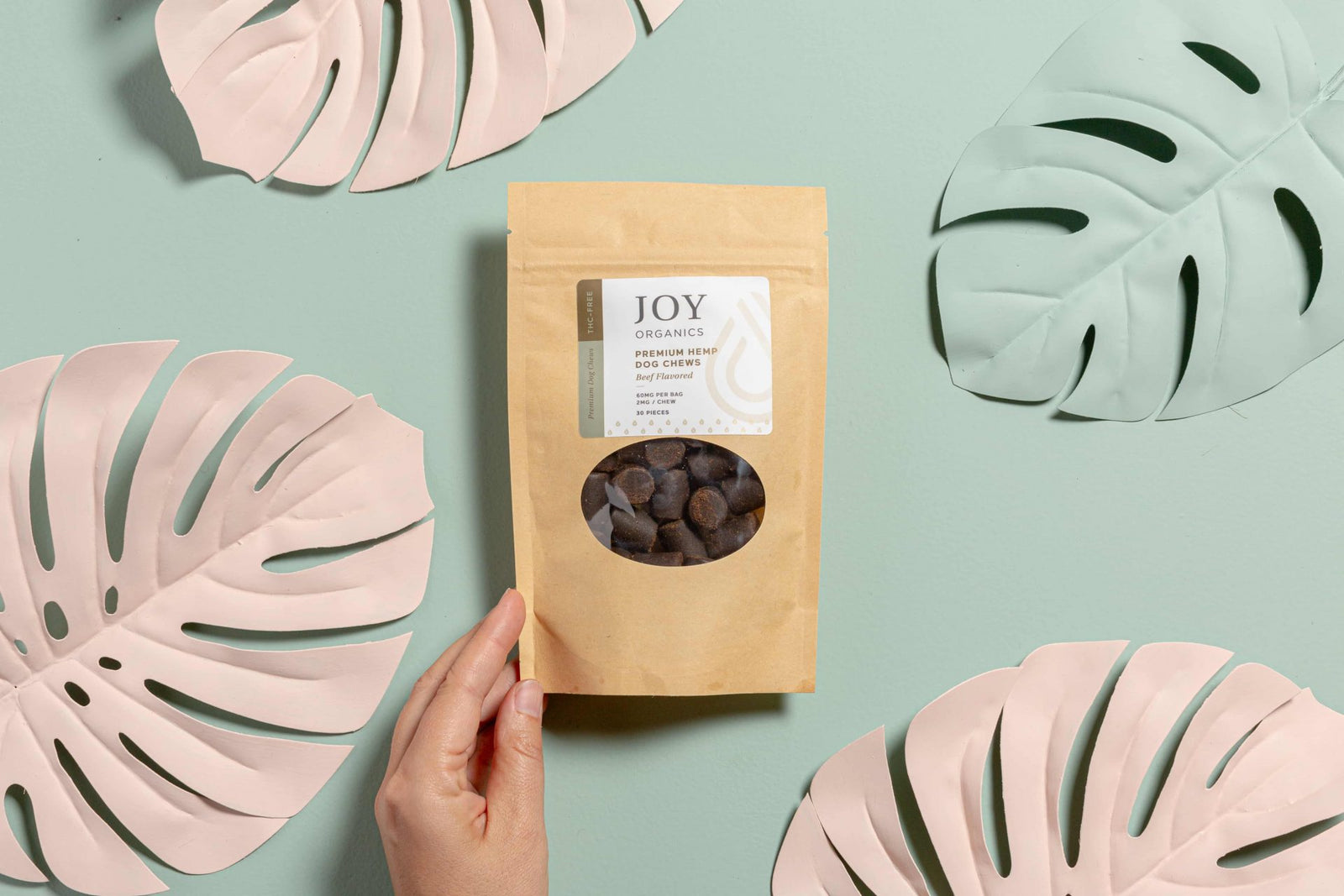 If you're a pet owner, you likely want to give your furry friend the very best. Whether you're a loyal dog lover or border on crazy cat lady, pets are more than just companions. They're our best friends.
You've probably heard by now that CBD can be extremely beneficial for pets. The non-psychoactive cannabinoid is reportedly doing wonders to improve the lives of pets all across the country.
When it comes to CBD for pets vs. humans, what's the difference?
Is there a "special" CBD oil that should be used for pets, or can you give your pets the CBD oil you use for yourself?
Let's take a look.
What's the Difference Between CBD for Pets vs. Humans?
In humans, the wellness-promoting properties of CBD are realized by the way the cannabinoid interacts with the endocannabinoid system (ECS). It is said to be one of the most important physiological systems involved in establishing and maintaining human health. Endocannabinoids and cannabinoid receptors are found throughout the entire body and are considered the "bridge between body and mind."
All animals, vertebrates and invertebrates (save for the sea sponge) are known to have an ECS. Mammals, fish, birds, reptiles — you name it!
Because of the presence of the ECS in pets, it's suggested that CBD affects our animals in much the same way us.
A Deeper Look at Your Pet's Endocannabinoid System
Within the ECS are two cannabinoid receptors known as CB1 and CB2. These receptors have two major functions. One is to regulate the behavioral effects of cannabis. The other is to govern the effects of the body's natural cannabinoids, known as anandamide and 2-AG.
CB1 receptors are found in the central nervous system and affect functions such as cognition, memory and motor movements. CB2 receptors are primarily found in the peripheral nervous system, as well as the immune system, gastrointestinal tract.
While CBD has little binding affinity for CB1 and CB2 receptors, its effects are caused by an indirect impact on these very important cannabinoid receptors. This indirect impact regulates your pet's natural endocannabinoid system to naturally enhance their well-being.
The ECS is responsible for the following functions in both humans and our pets:
Balance and coordination
Appetite
Digestive system function
Mood regulation
Memory
Muscle movement
When there is a disturbance in your pet's ECS (big or small), your pet can experience suppressed function in any of these processes.
How Does the Endocannabinoid System Work in Pets?
We don't typically pay much mind to the internal anatomy of our pets. They're great to cuddle, but we're usually not thinking about how their digestive or immune systems function.
Knowing that our pets all have an ECS just like we do, it makes sense that CBD would affect us both similarly. When our ECS is functioning properly, our bodies achieve ultimate balance and well-being. Same goes for our beloved fur babies. When there is any kind of imbalance in the ECS, various concerns can manifest. This is as true for us as it is for our pets.
Your Pet's Endocannabinoid System and CBD
Now that you're equipped with the knowledge of how your pet's ECS functions, you can have a better understanding of how CBD might work for them. When you give your pet CBD, it is first metabolized and then can go to work in the ECS.
There are countless stories online about how CBD has supported the lives of people's pets. The more research you do, the more you'll become aware that CBD can be just as beneficial for pets as it is for humans.
Is there a difference between CBD oil for pets and CBD oil for humans, though?
Yes and no.
What's the Difference Between CBD for Pets vs. Humans?
If you're curious about giving your canine (or feline) companion CBD to improve his or her life, we're with you. We love our pets and consider them a part of our family. When it comes to giving your pet CBD, can you just use any regular CBD oil?
There are several pet-specific CBD products that are available on the market, from CBD treats and chews to CBD tinctures designed for dogs and CBD sprays that can easily be added to your pet's food. But is there a difference between these products and the CBD oil you use for yourself?
Basically, the CBD oil used for pets is no different than the CBD oil used for humans. Serving recommendations are different, but there aren't typically any differences in the way the oils are manufactured.
When designed specifically for pets in mind, however, CBD companies will typically add some kind of appealing flavor (think peanut butter or bacon) to entice your cat or dog into trying it. CBD for pets is often made with a carrier such as cod liver oil or olive oil, which can also enhance the health of your pet.
Using CBD Oil for Pets
Can you use CBD oil intended for humans on your pets?
Sure. In fact, many people experimenting with CBD oil on their pets will start out by giving them some of their own. If you find out that CBD benefits your pet and you want to make it part of their regular diet, using CBD oil designed specifically for pets is recommended.
Why?
CBD pet oil tinctures have been specially formulated with pets in mind. The CBD oil you take is likely much stronger than pet CBD oil.
Giving your pets the exact serving size they need could be a bit more complicated than simply serving yourself. This is why giving your pets oil made specifically for them is always recommended. Human products may also have ingredients that could harm your pet, such as essential oils.
Something else to consider when giving your pet CBD are CBD pet treats. We all know our pets love their treats. Cats and dogs go crazy for them. CBD pet treats are made with your beloved companion in mind and are an easy way to give them a precise serving each and every time. Our CBD Dog Treats, for example, are made with a hearty beef flavor and contain 2mg of CBD per treat.
Is There Really a Difference Between CBD for Humans and Pets?
When it comes down to it, CBD seems to be as beneficial for our furry friends as it is for us. It's all about the way the cannabinoid works with the endocannabinoid system of our pets.
As far as CBD is concerned, what you give your pets is often the same thing you take yourself. The biggest differences between CBD for pets and humans is the CBD oil milligram content and any added pet-friendly flavor that will make CBD pet oil even more enticing.
When it comes to giving your pets CBD oil, giving them what was designed specifically for them is typically recommended. It has the perfect amount of CBD to fit their specific pet needs and a taste that will satisfy even the most finicky of palates.
Thanks for reading! To show how much we appreciate you, we're going to give you 16% off your next order. Just use code READER16 at checkout!
You already enjoy spending time with your pet, whether it's by taking them on walks or cuddling up with them on the couch. Now you can enjoy your wellness routine with them too!
Hannah Smith is Joy Organics Director of Communications. She is driven by her passion for providing clear and accessible wellness and CBD education. In 2015, she received her BA in Media, Culture and the Arts from The King's College in New York City and before Joy Organics, worked as writer and photographer in the Middle East and North Africa. Her work has been featured on Forbes, Vice, Vox, Denver Post, and the Coloradoan.