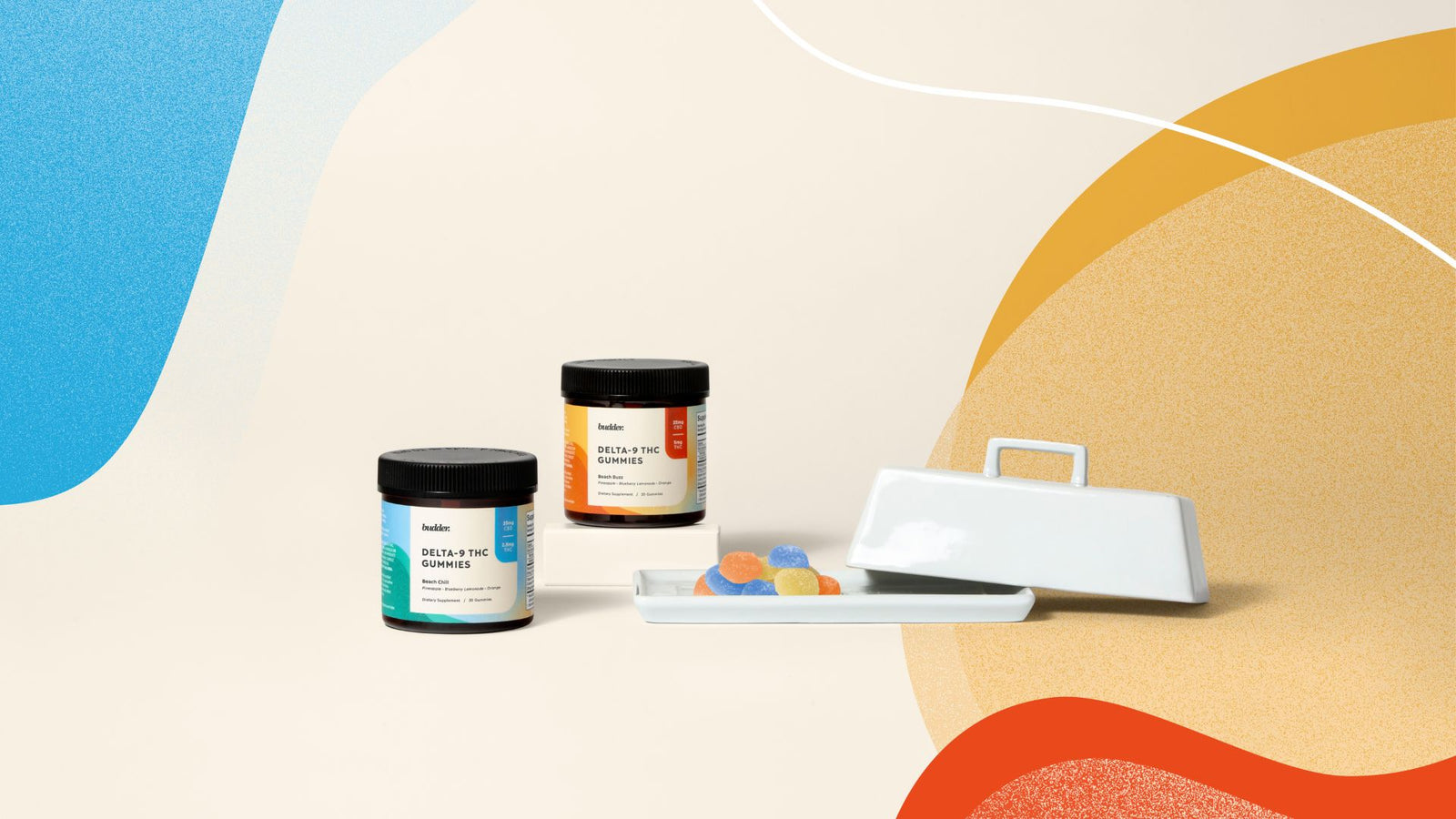 We've recently launched THC-enhanced gummies under our new sub-brand, Budder. With the option of either 2.5mg or 5mg of Delta-9 THC per serving, they've created quite the buzz. 
These two formulas have quickly become top sellers, and have caused many CBD consumers and business owners to wonder: how exactly are they allowed to do this? 
Before we dive in, let's first clarify one thing: Delta-9 THC is the compound responsible for cannabis' high; it's the most abundant cannabinoid found in marijuana but it can also be found in hemp. 
Now, here's the quick lowdown on how we got here:
Farm Bill
A bill was passed that legalized growing hemp on a federal level and removed it from the list of federally controlled substances. In this bill, hemp was defined as a cannabis plant with less than 0.3% Delta-9 THC on a dry weight basis.
Delta-8 THC
A couple years later, hemp manufacturers found a legal loophole: Delta-8 THC, which is a high-inducing cannabinoid. Unlike Delta-9 THC, there are no limitations on how much Delta-8 you could put in a product. The only issue: Delta-8 does not occur naturally in large quantities, so to make a Delta-8 product, you'd need to synthetically manipulate other cannabinoids with potentially harmful chemicals.
In addition, because Delta-8 was so new, there was very little known about the potential impact of long-term use. 
We quickly decided against introducing a Delta-8 product, or a Delta-9 product that was created with the same process—for these same safety concerns.
New Formulating Processes 
Prior to a few months ago, a hemp-derived gummy with 5mg of THC would have a great deal of CBD—probably around 125mg. Using traditional extraction methods, there simply was no way around this high ratio of CBD to THC. 
A gummy with that level of cannabinoid content would not taste good; consuming it would be like gnawing on raw hemp flowers. So we, along with other CBD companies, steered clear.
But due to innovations in the formulation process that allow us to remove excess CBD while keeping all naturally occurring cannabinoids in tact, we're now able to produce a fully legal and palatable hemp-derived gummy with 25mg of CBD and the option between 2.5mg and 5mg of Delta-9 THC.
The Legality Question
But that still leads us to the major question: how is a product actually legal?
The 0.3% THC limit does not only apply to the hemp plant as a whole; it also applies to the final hemp-derived product. So our gummies, which weigh around 3.5 grams, could contain up to 10.5mg of THC and still allowed under the Farm Bill.
The Benefits
Don't forget this major fact: naturally occurring extract from the hemp plant has benefits that far exceed isolated cannabinoids. So combining THC with CBD and having a richer minor cannabinoid profile including CBC, CBDa, CBG, and others (more than marijuana-derived gummies you'd find at a dispensary) creates a synergistic effect for enhanced results. Customers also have reported a more calming effect than that of gummies they've found at a dispensary.

Still have questions? Don't hesitate to reach out. Call or text us directly at (833) 569-7223 or email us at support@joyorganics.com.
Hannah Smith is Joy Organics Director of Communications. She is driven by her passion for providing clear and accessible wellness and CBD education. In 2015, she received her BA in Media, Culture and the Arts from The King's College in New York City and before Joy Organics, worked as writer and photographer in the Middle East and North Africa. Her work has been featured on Forbes, Vice, Vox, Denver Post, and the Coloradoan.