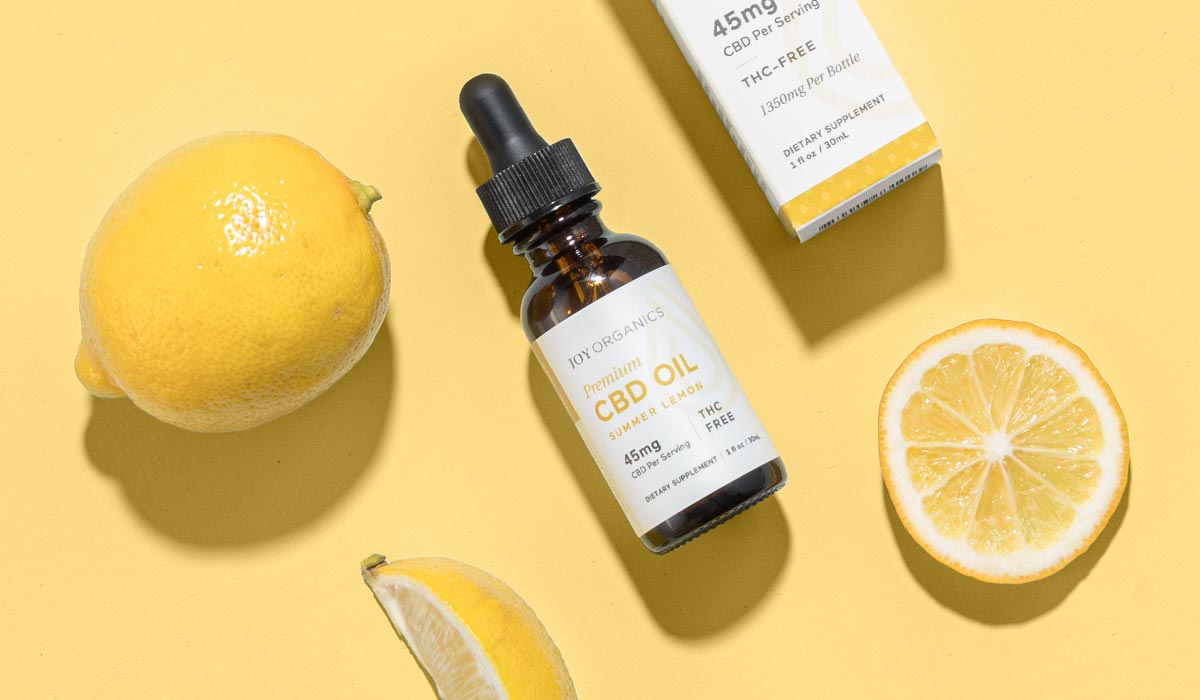 The zesty tang of lemon can accentuate the blandest of pound cakes, iced teas, and salad dressings. Now, you can also enjoy the delicious flavors of lemon with the benefits of CBD in every bite and sip of your favorites foods and drinks. Joy Organics' Summer Lemon CBD Tinctures is a natural way to add a citrusy kiss to any meal or beverage. 
What Is Joy Organics' Summer Lemon CBD Tinctures? 
Nothing transports us back to our childhood quicker than a fresh glass of lemonade in the summer sun. We capture the essence of this innocence in our bottle of Joy Organics' Summer Lemon CBD Tinctures. 
Unlike most other flavoring agents, our tinctures are formulated with three simple ingredients:
Organic Medium-Chain Triglycerides (MCT) Oil
Broad Spectrum Phytocannabinoid-Rich Hemp Extract
Organic Lemon Essential Oil
Our proprietary formula is rich in essential vitamins, minerals, and amino acids that support a healthy lifestyle. This simple-but-effective formula allows you peace of mind while going to town on a piece of a cake!
CBD Food Recipes with Joy Organics' Summer Lemon CBD Tinctures
Before you go all Gordon Ramsey in the kitchen, there are a few things you should know about baking with CBD. All phytocannabinoids degrade at extreme temperatures, and CBD potency tends to dissipate between 320° F and 356° F. That's why most recipes direct you to add CBD tinctures right at the end! 
CBD Nut Pound Cake 
We love pound cake, but the calories can add up. This recipe uses healthy alternatives to lessen the guilt. Don't worry; the flavor isn't compromised at all. Consider this a pound cake upgrade!
Pound Cake Ingredients:
1½ cups erythritol (stevia or sugar work too)
½ cup applesauce
2 tbsp coconut oil
3 eggs
1¾ cup steel-cut oats
1½ tsp flaxseed
¼ tsp baking powder
¼ cup full-fat coconut milk
¼ cup cashew milk
½ tsp vanilla extract
Icing:
½ tsp coconut oil
3 tbsp erythritol
2 tbsp cashew milk
¼ tsp vanilla extract
1 dropperful of Joy Organics' Summer Lemon CBD Tinctures
Pound Cake Directions:
Grease a 9×5 loaf pan and preheat oven to 325°F.
Use an electric mixer to combine erythritol, applesauce, and coconut oil.
Mix in one egg at a time until well combined.
Make flour by adding flaxseed and oats to a food processor.
Sift flour mixture with baking powder. 
Mix together vanilla extract, coconut and cashew milk in a bowl.
Add milk bowl and flour bowl to the coconut oil-applesauce mixture.
Bake for 1½ hours, until a toothpick comes clean from the middle.
Icing Directions:
Heat coconut oil to melting and allow to cool. 
Whisk erythritol and cashew milk together.
Add in coconut oil and stir.
Pour in extract and summer lemon drops.
Drizzle over semi-warm pound cake. 
Lemony CBD Vinaigrette 
Nothing ruins the health benefits of a fresh salad worse than a calorie-dense salad dressing. Stop buying the store brand salad dressings teeming with artificial ingredients. Opt for this one teeming with probiotic bacteria and CBD!
Ingredients:
½ cup avocado oil
⅛ cup fresh lemon juice
⅛ cup apple cider vinegar with mother
¼ tsp lemon zest
1 tsp minced garlic
1 tsp honey mustard
½ tsp pink Himalayan sea salt
½ tsp ground black pepper
1 dropperful of Joy Organics' Summer Lemon CBD Tinctures
Directions:
Put all the ingredients into a mason jar and shake.
Toss with your favorite healthy salad.
Refrigerate for up to two weeks. 
Lemon Honey Garlic CBD Chicken Thighs
Who doesn't love sucking a sweet glaze off their fingers after polishing off some chicken? You'll want to make this recipe by the bucketful. So, be prepared for requests at your next cookout!
Ingredients:
4 boneless chicken thighs
Salt and pepper
1½ tsp garlic powder
Peanut oil 
3 cloves of crushed garlic
½ cup honey
¼ cup chicken broth
1½ tbsp white wine vinegar
1 tbsp soy sauce
1 dropperful Joy Organics' Summer Lemon CBD Tinctures
Directions:
Season the chicken with salt, pepper, and garlic powder.
Heat peanut oil in skillet over medium-high heat and sear both sides of the chicken.
Once cooked, arrange chicken skin-side up, add garlic and fry for 1 minute.
Whisk the remaining ingredients together, except the tinctures. 
Pour most of the mixture over the chicken and cook on medium-high heat. 
Take the remaining sauce and add tincture, stirring to combine.
Allow sauce to simmer and reduce, then paint the chicken with the remaining CBD rub.
CBD Drink Recipes with Joy Organics' Summer Lemon CBD Tinctures 
We love eating foods flavored with CBD tinctures. However, your body needs to digest the food before you can get the benefits of CBD. CBD drinks expedite the process because you absorb the cannabinoids in your mouth. Here's what's brewing! 
Summer Peach and CBD Iced Tea
If there's any other fruit that rivals lemons for setting the tone for summer, it's peaches…especially if you're from the south! Why not enjoy both? This recipe infuses peaches, Summer Lemon CBD Tinctures and white tea. It's the perfect refreshment for rocking on a porch swing!
Ingredients:
4 peaches, sliced
1 zested lemon
3 mint sprigs
3 tsp organic cane sugar or honey
5 tea bags of white tea
4 cups of filtered water
1 dropperful of Joy Organics' Summer Lemon CBD Tinctures
Directions:
Muddle peaches in a pitcher.
Combine all the ingredients except the tinctures and stir.
Place lid on pitcher and refrigerate for at least eight hours.
Remove tea bags and pour into glass. 
Stir in tinctures. 
Summer Lemon Drop 'Tini
Nothing is more relaxing after a long day than a refreshing cocktail. Well, maybe adding CBD to the drink will up the relaxation game. If you're looking for a mocktail, substitute the liquor for ginger beer. You'll get a tart bite that will have you craving more.
Ingredients:
Granulated sugar (or cayenne pepper and salt)
Ice
4 oz vodka
1 oz triple sec
2 oz simple syrup
2 oz lemon juice
1 dropperful Joy Organics' Summer Lemon CBD Tinctures
Rosemary sprig
Lemon zest spiral
Directions:
Rim a martini glass with sugar or salt mixture
Put ice, vodka, triple sec, simple syrup, and lemon juice into a shaker, shaking well.
Strain into two glasses. 
Swirl in tinctures.
Garnish with rosemary in glass and lemon zest spiral on rim. 
Want to enjoy summer all year long? Celebrate CBD Day with Joy Organics' Summer Lemon CBD Tinctures.
Joy Smith is Joy Organics Co-founder and visionary. After her own life-changing experience with CBD, Joy started Joy Organics to create a line of sustainable and premium CBD products consumers could trust. Before founding Joy Organics, Joy worked as an itinerant speaker, traveling to over four continents to empower women across the globe.