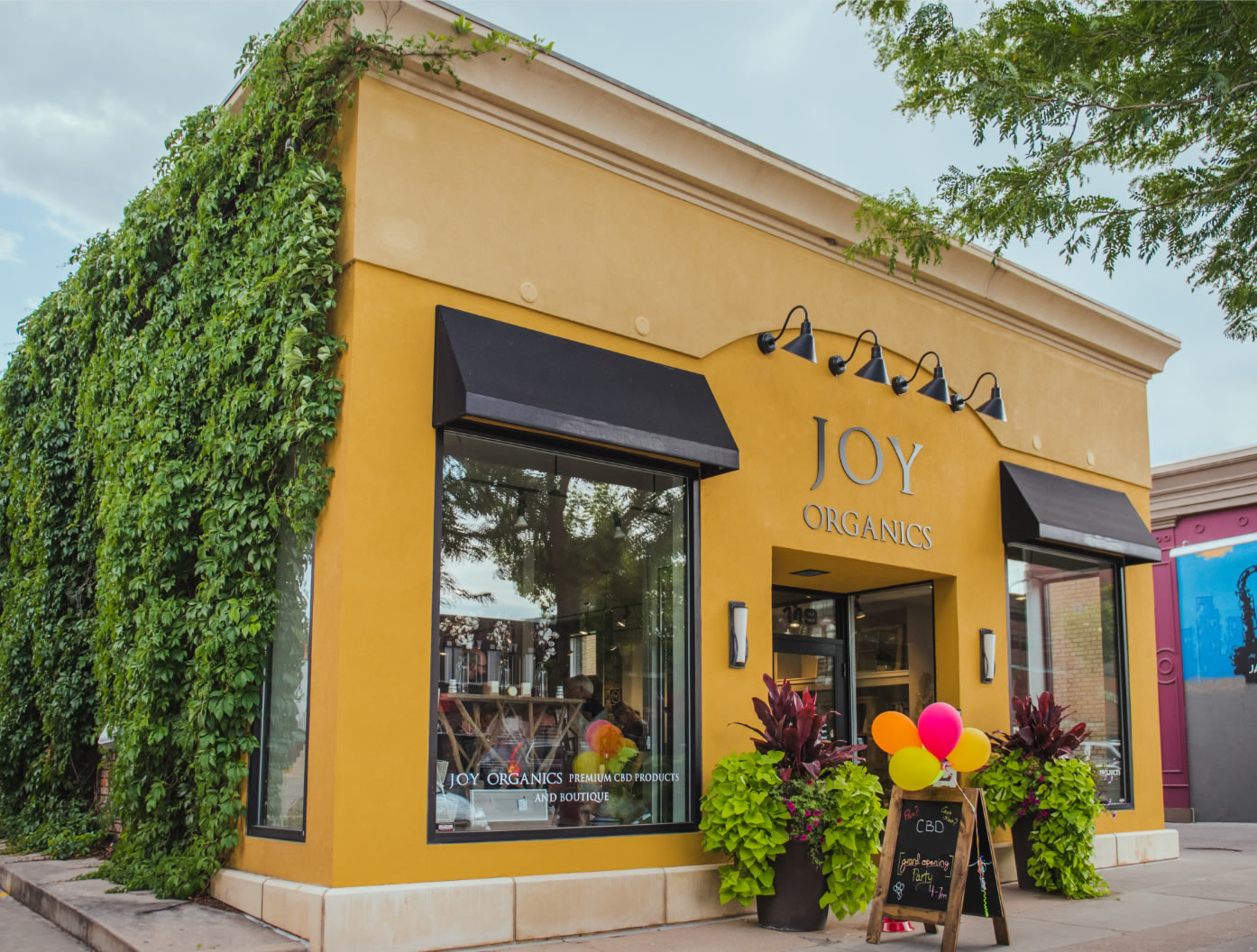 Before this year began, projections of CBD sales were high. With the world facing an unexpected pandemic, interest in natural health products skyrocketed. That's why now is a better time than ever to start a CBD business. Starting a CBD business can seem daunting, even overwhelming. You're talking to people who've done it themselves! That's why Todd Smith, co-founder of Joy Organics, is sharing these 10 steps to make the process less daunting and help you start a CBD business.
1. What's Your Why?
Every successful company needs to have a purpose. There's a reason you've decided to start a CBD business. Knowing "what's your why" will help you make many vital decisions about business operations.
Is this a hobby business to run with your family?

Are you looking to make a full-time career change?

Will this brand become a multi-million dollar business you intend to sell?
Each of these scenarios requires different resources, business strategies and human hours.
Knowing why you want to start a CBD business also helps you pinpoint your motivation. As Napoleon Hill said, "The starting point of all achievement is desire." 
Desire isn't a hope or a wish. It's what gets you out of bed and propels you to make tough and sometimes uncomfortable decisions. Without desire, we wouldn't do the little things that make for big successes. 
2. Who's Your Target Market?
As much as you'd like to reach every demographic, it's not feasible. You need to figure out who you're selling to, so you can design your brand around their preferences. Your target market dictates everything from packaging to blog content to marketing campaigns.
Consider these questions when determining your target market:
What do they do?

Where do they shop?

What do they care about?

What is your connection with them?

Does selling to them excite you?
You can't just be a one-size-fits-all company. 
Creating a connection is pivotal to reaching your demographic. You need to know how they think and what their needs are, so that your brand can provide unique solutions. 
We're lucky that our co-founder, Joy Smith, is our target demographic. She's a woman between the ages of 35 and 65, who cares about the environment and shops at Whole Foods. Joy knows what her peers find appealing and we cater to those needs.
Since Joy experiences the benefits of CBD, sharing them with others is a desire. Therefore, it excites all of us to be a part of the CBD industry. Does your target demographic spark that same passion? If not, reconsider your target market. 
3. How Will You Market Your Business?
To start a CBD business successfully, you must invest a lot of time, money, and energy into marketing. Marketing is where identifying your target market comes into play. You have this clear vision of your ideal customer…now how will you pitch it to them?
First, ask yourself where you're going to market:
Creating a marketing plan is where you peel back the layers of your customer. Are they eco-friendly people who shop at farmers markets? Then get a booth at local fairs in your area. 
Maybe they're retired people who need joint support? Your resources are better suited on flyers on retirement home bulletin boards and local circular advertisements. 
Perhaps they're millennials who are strictly online shoppers. Then you'll need to download funny GIFs and up your social media campaigns. 
4. Select Your Domain Name 
Before you name your brand, see if the domain name is available. If so, buy it before you start design production. You don't want to run into legal troubles or lose out on the domain after you've already invested money in packaging. 
Even if you plan to start a CBD business offline, your brand will still need an online presence. You will rely on Google location services for customers to find you. 
Here are a few tips for choosing a good domain name. Your domain name should be:
Appealing to your target market

Easy to spell

Easy to remember

Two words

Ending in a .com extension 
Pick a memorable name which people will associate with that particular item. For example, Burger King sells flame-broiled burgers to 16-35-year-old males. Forever 21 makes clothes for 17-24-year-old females. These brand names conjure immediate images of the brand and its customers.
Joy Organics' target demographic seeks products that support a healthy and happy lifestyle. Hence, "Joy." They're also environmentally conscious. So, "Organics" resonates with them.
Lastly, make sure you can procure the .com extension. There is far more internet credibility with .com than .co or .xyz, for instance. 
Research if the domain is available on GoDaddy.com. Click their free "WhoIs?" database and see who owns the name. 
We did this when we started Joy Organics. After finding the owner, we paid for the domain name, and were ready to start a CBD business! 
5. Create Your Brand
Creating your brand revolves around meeting your target market's needs, desires, and expectations. 
Consider things like
What are their favorite colors?

What photography do they find attractive?

Which design elements do they like?
Scroll through websites where your target market shops. See what design aesthetics resonate with your brand. 
Don't reinvent the wheel!
When you start a CBD business, you're not going to compete with the big guns right out of the gates. Learn from them instead. 
Once you have your brand identity in mind, it's time to bring your vision to life. Decide whether you're going to take photos and create designs on your own, or hire a professional. If you hire a professional, don't be afraid to get hands on, ask questions and collaborate to see your vision through.
6. Design Your Logo
Logos are almost more synonymous with a brand than their name. Everyone knows Nike from the swoosh. Therefore, designing your logo is one of the most important steps for starting a CBD business. 
Through the Joy Organics White Label Program, we've learned a lot about what looks good on tincture bottles, and what doesn't. 
Here are some tips for design a good logo:
Keep it simple

Avoid shadows

Make it large enough to stand out
You can try to find your own professional designer online. If you want a few options to choose from, you can sign up for the gig auction site, 99Designs.com. For a more collaborative effort, you can also work with Joy Organics. We have state-of-the-art design programming that makes unique and eye-catching logos. 
7. Build Your Website 
Your online presence depends on a high-functioning website. Thankfully, building a website yourself is easier than ever. Choose a template you'd like to download from ThemeForest and integrate it with WordPress, Shopify, GoDaddy, or another host. 
It's important your website is responsive, meaning it's optimized for viewing on:
Of course, you can always hire a professional. This is where your "why" comes into play. If you want to start a CBD business as a hobby, then don't use your resources to hire a professional. Build the site yourself.
Make sure you have high-quality product shots on your website with easy navigation. People shouldn't have to search for what you're selling.
Also, keep up with content. Content is an opportunity to inform, and ultimately, convert your customers. It allows people to connect with your brand. 
Plus, Google considers the amount of time people spend on your site. If you create engaging content that holds people's attention, Google is more apt to recommend your page to others. 
If your goal is to create a multi-million dollar company, hire a professional. They will optimize your site for functionality, searchability, and aesthetics. 
8. Apply for Your CBD Merchant Account 
You can't just go to your bank and get a merchant account that does CBD. Apply for a CBD merchant account in advance. It takes around four to six weeks.
In the United States, there are currently around seven banks that do CBD processing. If you apply for one that doesn't do CBD processing, they'll cut you off without advance notice. Email privatelabel@joyorganics.com, and we'll be happy to tell you which banks accept CBD merchant accounts. 
9. Select Your CBD Partner
There are two main questions you must ask yourself when you start a CBD business:
Do I want to partner with an existing brand?

Do I want to create my own brand?
Partnering with a reputable brand like Joy Organics is an excellent way to start a CBD business without incurring too many costs upfront. You can order products in bulk and don't need inventory on-hand. Plus, our tinctures and Jarred salves are now USDA certified organic, so you get an even better product when you partner with us. 
However, creating your own CBD brand offers you more autonomy. You have more control over creating brand loyalty. While the risk is greater, you might reap even greater rewards. 
10. Advertise Your Business
Even if you hire a professional, be sure to educate yourself on how to advertise your business. You're creating the brand that's fostering a connection with your target market. Research how to forge that bond, so you can make educated decisions about spending your resources on advertising.
Make sure you're specific and strategic. Hire marketers who specialize in your needs. Hire writers who are well-versed in search engine optimization (SEO). If you're looking at pay-per-click (PPC) campaigns, hire somebody with a record of success in that avenue. Your business' success lies in their hands. 
CBD is a different animal than other products. Don't hire an advertising agency that's not familiar with the legalities and nuances associated with the CBD industry. If you need references that our partners love, just ask. We'd love to help!
Connect with Joy Organics
If you are serious about starting your own business, reach out to one of our wholesale and private label specialists. Everyone on the team has helped hundreds of people start their own CBD businesses and would be happy to give you advice and guide you through the process. Fill out our contact form and someone will be in touch shortly.
Thanks for reading! To show how much we appreciate you, we're going to give you 16% off your next order. Just use code READER16 at checkout!
More info: 
Wholesale CBD Oil
Private Label CBD Oil
Todd Smith is Joy Organics Chief Operations Officer and Co-founder. Before Joy Organics, he worked in the wellness and nutritional industry for over three decades and helped generate over 1 billion dollars in supplement sales. He has applied that knowledge and experience to empower over 1000 businesses through Joy Organics' partnership programs. Todd is also the author of a book, podcast, and blog titled Little Things Matter.