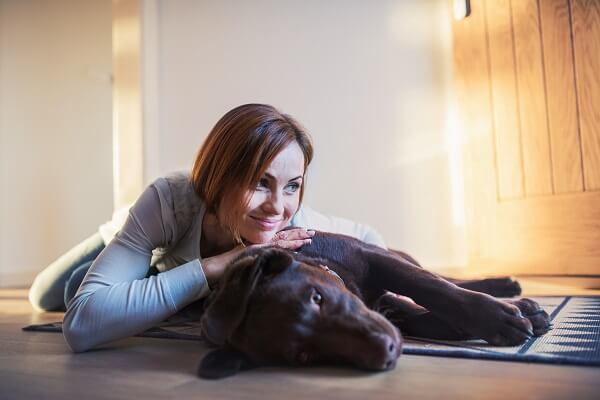 All pet owners want the best for their pets. Our pets are our family and providing what's best for them is a top priority.
As the market continues to expand, many pet owners are giving their four-legged loved ones CBD. It's suggested that the CBD pet market will be worth $125 million by 2022.
If you're interested in using CBD for your own pet, it's important to know how to safely and effectively incorporate it into your pet's regular routine.
What Is CBD for Pets?
You'll find several CBD products for pets that are incredibly similar to those made for humans. CBD products for pets can be applied in many different ways–– from CBD pet tinctures to pet treats infused with CBD oil to CBD topicals rubbed directly into the skin.
Why are so many pet owners so interested in giving their pets CBD?
Just like humans, CBD can be used to support animals' wellness. This is because all mammals have an endocannabinoid system.
While it's unclear precisely how CBD works within your pet's system, it's suggested that it's much like the process that occurs in humans.
Using CBD for Your Pets
Interested in joining other pet parents who are choosing to give their pets CBD? Here's how to do so as safely as possible:
3 Things to Keep in Mind Before Giving CBD to Your Pet
1. Choose CBD for Pets Wisely
First yyou must make sure you give your pet high-quality CBD. Historically, the CBD industry hasn't been highly regulated. This means that  not all CBD products are created equal. The American Kennel Club (AKC) offers the following recommendations when choosing a high-quality CBD oil for your pet.
Look for premium ingredients. These include ingredients that are free from pesticides, fungicides and other contaminants.
Don't price shop. The higher the quality and purity, the higher the cost. You don't want to go for a cheaper option that could have toxic substances such as pesticides, herbicides or heavy metals. Make sure your CBD oil is free of additives.
Get the analysis. The manufacturer should provide a certificate that tells you the amount of CBD that is in the product. Many CBD products contain only small amounts of CBD. You'll also want to make sure there is little or no THC in the product.
Buy CBD as a liquid. You can buy dog treats containing CBD, but the best form is an oil or tincture. This way, you can adjust your dog's serving drop by drop.
You want to choose CBD oil for your pets as you would for yourself. Look for third-party lab test results on all CBD pet products. If a company doesn't offer these lab results, you're better off looking for one that does.
2. Talk to Your Vet
Most experts agree it's a good idea to speak with your vet before giving CBD to your pet. According to Casara Andre, DVM and founder of Veterinary Cannabis Education & Consulting, vets can answer any questions you might have about giving your pet CBD to minimize any potential side effects.
3. Slowly Introduce Serving Sizes of CBD to Your Pet
When introducing CBD to your pet, Andre advises pet owners to "start low and go slow." Some vets recommend starting pets out with 1mg of CBD per 10 pounds of body weight twice a day.
It's best to s tart with a smaller serving size and monitor your pet's reaction over a period of three to four weeks. From there, you can scale up or down, depending on the results.
Incorporating CBD Into Your Pet's Regular Routine
Here are easy ways to incorporate CBD into your pet's routine:
Give Them a Tincture Twice a Day
You know your pet better than anyone. Some dogs will jump at the chance to take anything and giving a CBD tincture by mouth might be seen as a welcomed treat. If this is the case for your dog, simply drop the CBD oil pet formula right into their mouth. If your dog is a little more picky, the drops can be added to their food.
Cats tend to be a bit more finicky. Adding a tincture to their food twice a day may work better.
Turn CBD into Treat Time
CBD pet treats are another way to offer your pet the benefits of CBD. You can combine CBD and treat-time by giving your pet a CBD treat a few times a day.
CBD treats for pets are an alternative to taking a tincture, which not all animals will be a fan of. Most cats and dogs love treats, which can make giving them CBD in treat form much easier.
Remember, 1-5mg of CBD per 10 pounds of body weight is a basic rule of thumb when it comes to serving size recommendations for animals. Keep this in mind when providing your pets with CBD treats and always start off with a lower serving size.
Support Your Pet's Skin With a CBD Topical
CBD topicals for pets work just like the CBD topicals you would use yourself. This formula penetrates deep into the skin's tissues to target specific areas. CBD topicals for pets may be used to support healthy skin, joints and muscles.
Whether you have an aging pet that doesn't get as easily as they used to or one who doesn't stop itching and scratching, a CBD topical designed for pets could offer the support they need.
Patience is key when it comes to incorporating CBD to your pet's routine. Always start with the lowest serving possible and observe your pet to see exactly how it affects them. Once you have the CBD basics down for your pet, you can increase the serving size if you find they could use increased support.
Do you use CBD for your pets? How do you incorporate CBD into your pet's routine? We'd love to hear about your experience in the comments below!
Thanks for reading! To show how much we appreciate you, we're going to give you 16% off your next order. Just use code READER16 at checkout!
Todd Smith is Joy Organics Chief Operations Officer and Co-founder. Before Joy Organics, he worked in the wellness and nutritional industry for over three decades and helped generate over 1 billion dollars in supplement sales. He has applied that knowledge and experience to empower over 1000 businesses through Joy Organics' partnership programs. Todd is also the author of a book, podcast, and blog titled Little Things Matter.