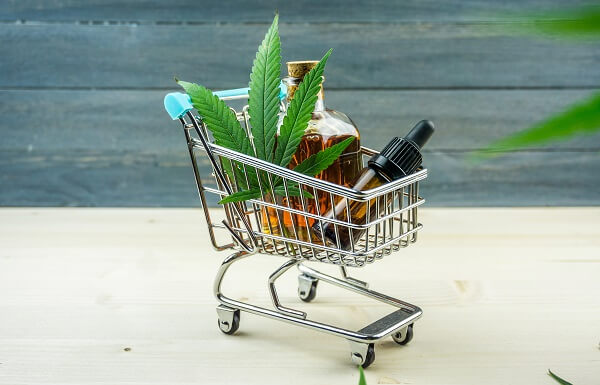 Have you been researching whether to buy CBD online or in stores? Just a few short years ago, it wasn't nearly as easy to find CBD as it is today. Now that the CBD market has basically exploded, there's certainly no shortage in the plethora of CBD products you can buy both online and at retail locations nationwide. While once upon a time you could only buy CBD oil online, nowadays you've got purchasing options aplenty.
With so many options, where is the best place to buy CBD? Online or in a store? Does it matter?
As it turns out, where you buy your CBD oil is very important. Let's take a deeper look at why.
CBD Oil: Buy Online or at a Store?
In case you haven't noticed, CBD is everywhere. We're not just talking at local health food stores and specialty retailers, either. Aside from your neighborhood health food store and larger health food store chains, there are plenty of other locations where CBD oil can be purchased with ease. These days, CBD specialty shops, dispensaries, convenience stores and even gas stations are just some of the places you can easily pick up CBD products.
CBD sales show no signs of slowing down, and with the passing of the Farm Bill there happen to be some very big names interested in selling CBD to the masses. Forbes recently let on that retail giants like Walgreens, Sprout, CVS, Ulta Beauty, GNC Holdings and Urban Outfitters are all either offering or interested in offering CBD products.
Now that CBD is becoming more available in stores nationwide, should you purchase it where you can readily take it home the same day or wait a few days and buy your CBD oil online?
Let's take a look at all the options available.
Buying CBD Oil in a Store
CBD-Specific Shops
When it comes to buying CBD in a store, a CBD-specific shop is one of your best bets. Keep in mind, however, that not all CBD products are created equal, and it's essential you know that the CBD oil is quality.
One of the best ways to guarantee that a CBD-specific shop is truly carrying a quality product? Ask questions! Following are some important questions to ask before purchasing a CBD product from a specialty shop:
Are third-party lab test results available?
Third-party lab test results are the best way to know if you're getting a quality product. Transparent companies in the industry that can be trusted are the ones that offer a Certificate of Analysis (COA) report from an independent testing lab. COAs contain the vital information you need to know, such as the presence of any contaminants, the date the test was completed and the cannabinoid content contained in the product itself.
Where is the hemp to make the product sourced from?
While the 2014 and Farm Bills have opened up hemp production in the U.S., not all CBD products are sourced from U.S.-grown hemp. Why does it matter where the hemp used to produce CBD is grown? It all comes down to a process known as phytoremediation, a bioremediation process that uses plants to clean up contaminated soil and groundwater.
Hemp is so successful in phytoremediation that hemp fields have been planted at the Chernobyl nuclear disaster site to help pull radioactive material out of the soil. While this is great for the earth, it's not so great for hemp grown to source CBD, as these contaminants can end up in the products themselves.
As a general rule, U.S.-grown hemp is typically safer than hemp grown overseas. If the retailer or producer of the CBD you're interested in can't tell you where the hemp was sourced, you might want to consider purchasing your CBD products elsewhere.
What method of extraction was used?
There are a few methods used for CBD extraction. Typically, CO2 extraction is the most widely preferred, as it tends to offer the cleanest product free of residual solvents. When done right, CO2 extraction results in one of the purest and most potent CBD products you can find.
Alcohol, or ethanol, extraction is another popular method of CBD extraction, but it tends to be less popular than CO2 extraction. Why? When a solvent such as alcohol is used to extract CBD from hemp, traces of the solvent can potentially remain in the end product. The result? An oil that doesn't always contain the pure consistency CO2 extraction offers.
When we first discovered CBD oil, we tried several products before finding those we knew were truly quality. Truth be told, we've tried more than one CBD oil that was created using ethanol extraction methods that tasted just like alcohol — not exactly what most people want in a product created for its therapeutic potential!
How much CBD does the product contain?
When purchasing CBD for the first time and becoming familiar with a new product, it's important to know the serving size you're taking. While you won't know how much CBD is optimal for your personal needs when starting out, knowing how much CBD is in each serving of the product you're interested in makes it much easier.
For example, all Joy Organics tinctures come in one-ounce (300 milliliter) bottles. Our 500-milligram tincture contains 16 milligrams of CBD per serving. While everyone is different when it comes to taking CBD, it's typically recommended to start with 10 to 15 milligrams per serving. After noting the effects for a week or two, you can then increase or decrease your serving size depending on your personal needs.
Is the product full spectrum or CBD isolate?
A full spectrum CBD oil is one in which other plant compounds are present, including other cannabinoids, terpenes and flavonoids. Full spectrum extracts also contain other beneficial ingredients, including all 20 essential amino acids, omega-3 fatty acids, iron, magnesium and B vitamins.
CBD isolate, on the other hand, is a CBD oil that only contains CBD. Most CBD aficionados agree that a full spectrum CBD oil contains more therapeutic potential than CBD in its isolated form. This is because the compounds in a full spectrum oil work synergistically, enhancing each other's properties to create what is commonly referred to as the entourage effect.
Another option is a broad spectrum CBD oil. This is simply a full spectrum oil that has gone through additional processing to remove all traces of THC. Broad spectrum CBD oil contains the same synergistic properties as a full spectrum oil and can be a more viable option for those who don't tolerate or can't have any THC in their systems.
Health Food Stores
If you frequent your local health food store, you've likely noticed an increase in the variety of CBD products they carry. Whether shopping at a small, locally owned health and wellness shop or a larger retailer, CBD has become a staple on many health food store shelves.
When buying CBD at a health food store, keep in mind that your sales clerk may or may not be knowledgeable about CBD. Make sure to ask the same questions you would if you were buying CBD in a specialty shop, and inquire about the most popular CBD products they sell. If they can't answer your questions, you might consider asking for a manager or associate who may be better able to.
If for any reason you're not completely sold on the CBD oil your local health food store carries, remember you've got other options. Can't find what you're looking for? It might be best to buy CBD oil online or at a CBD specialty shop instead.
Gas Stations/Convenience Stores
Stopped to get gas lately? While not every gas station across the country is selling CBD on display at the counter next to energy drinks and chewing gum, there are quite a few that are. In the very near future, the ability to buy CBD at major gas stations is projected to become a much more widespread reality.
Why not just pick up CBD when you stop to get gas? Isn't it far more convenient than searching through the overwhelming number of online CBD retailers, scrolling through all their products, finally making a purchasing decision and then waiting for it to arrive in the mail? Doesn't a one-stop shop make more sense? Especially when it's the only place in your area that carries CBD?
Not so much.
We've said it before, and we'll say it again. Not all CBD is created equal. Remember, the CBD market has been largely unregulated, meaning anyone can manufacture a CBD product and sell it to the masses. Unfortunately, this has resulted in quite a few products with questionable quality.
When CBD is purchased at retail locations like gas stations or convenience stores, there's really no way of gauging the quality of the product itself. You don't know where the hemp was grown to source the CBD, how it was extracted, where it was made, if it contains contaminants or if it even contains the CBD it says it does.
If you've come across CBD products at gas stations and convenience stores and feel a bit unconvinced about the quality of these products, you're probably onto something. While some of the CBD sold in gas stations is probably completely legit, we also realistically know that many companies aren't what they're cracked up to be. Until CBD is regulated, purchasing it from a transparent company you can trust is vitally important.
Buying CBD Oil Online
If you Google "buy CBD oil online," you'll find about 113 million search results to sort through. We understand that buying CBD oil can be overwhelming. When you know what to look for, however, deciding to buy CBD oil online makes purchasing CBD effortless, with most orders arriving at your door in a few short business days.
What exactly should you be looking for when you buy CBD oil online? Refer back to the questions you'd ask when buying it at a CBD-specific shop or health food store. Those are all elements that transparent, trustworthy companies will have readily available on their websites.
A quick overview of what you should be looking for when shopping for CBD oil online includes:
Where the hemp was grown to source the CBD, as well as the growing practices in which it was cultivated
What type of extraction method is used
Third-party lab test results
If the product is full spectrum, broad spectrum or CBD isolate
How much CBD the product contains, which can be confirmed by looking at the company's third-party lab test results (For an overview of how to read lab results, click

 

here).
Aside from these imperative points, what information does the company offer about themselves? What is their reason for selling CBD in the first place? Are they transparent in their business practices, as well as about who they are and why they got into the business of selling CBD?
Something else that's essential if you want to buy CBD oil online? Reading other customers' reviews! This can tell you a lot about both their products and the company itself. If the company doesn't have any reviews or they're not the most positive, you can easily find a company that other individuals believe in.
Finally, what is their shipping policy? Most companies offer free shipping and will get your products to you within a few business days. Some even offer a money-back guarantee.
When shopping online for CBD, do your research. You'll be able to distinguish legitimate companies from those that are simply out to make some quick cash.
When it comes to where you buy CBD oil, online or in a store, the most important factor is that you're getting a quality product you can trust. No matter where you decide to buy CBD oil, be sure to ask questions and do all the research you can before making that final decision. At Joy Organics, we want your CBD experience to be the best it can possibly be. If you still have questions about the best place to buy CBD oil, please contact us at any time. We're always here to help!
Thanks for reading! To show how much we appreciate you, we're going to give you 16% off your next order. Just use code READER16 at checkout!
Joy Smith is Joy Organics Co-founder and visionary. After her own life-changing experience with CBD, Joy started Joy Organics to create a line of sustainable and premium CBD products consumers could trust. Before founding Joy Organics, Joy worked as an itinerant speaker, traveling to over four continents to empower women across the globe.