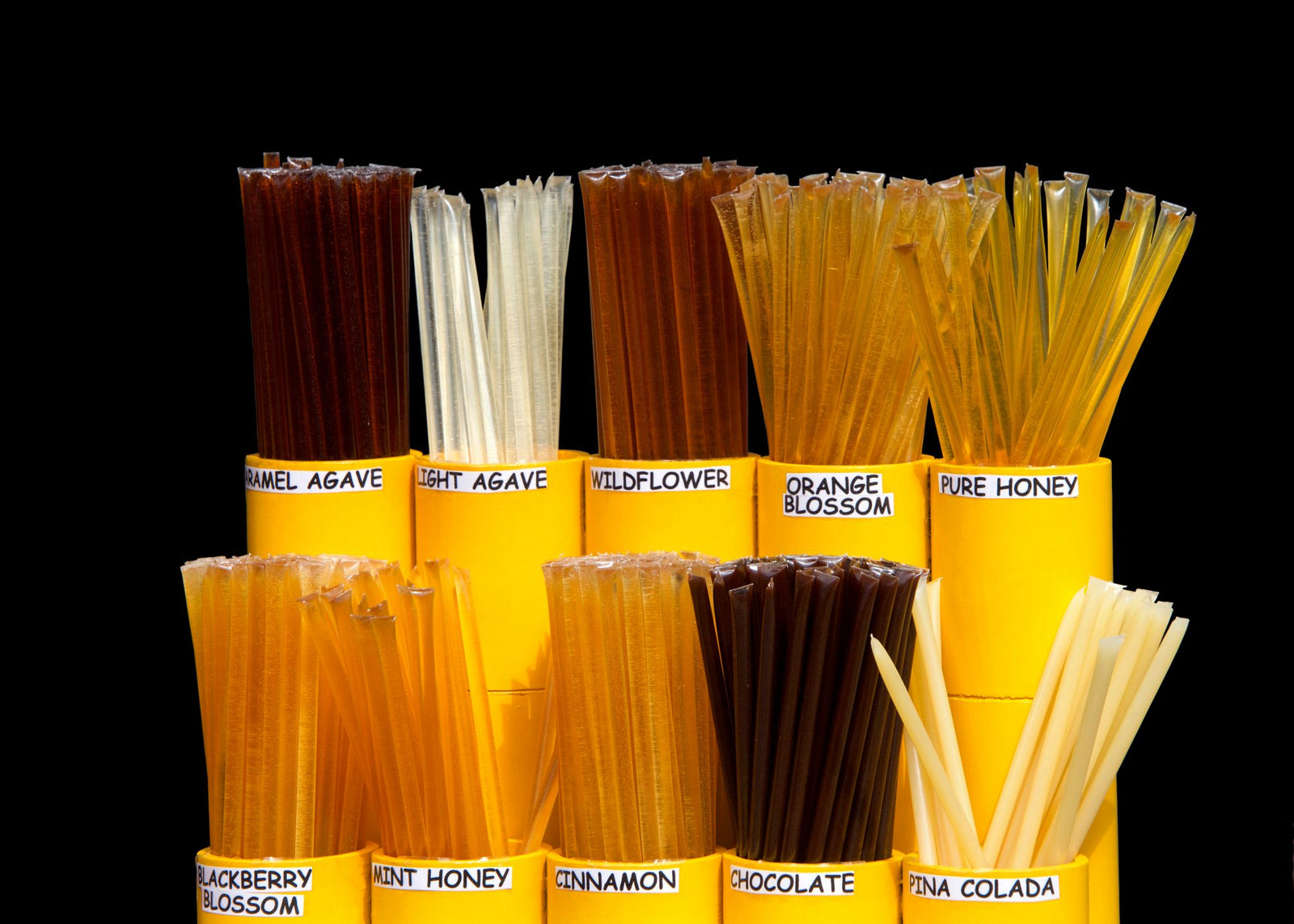 Honey is a natural sweetener. However, it's also a superfood that's been used in wellness circles dating back to the Egyptians! This nutrient-rich food is teeming with antioxidants that support a healthy immune system. Now, you can increase the benefits with CBD honey sticks. Also known as CBD honey straws, these tasty treats are an excellent way to introduce CBD to any wellness routines. Let's discuss what CBD honey sticks are, how to use honey straws, and what to look out for when buying CBD edibles!
What Are CBD Honey Sticks?
CBD honey sticks are just what they sound like. They contain honey infused with CBD in a stick-like form. 
There are two types of CBD honey sticks:
Solid – Like Hardy Candy
Liquid – Takes Shape of a Tube 
Each stick offers a precise serving of CBD. CBD honey makes monitoring your CBD intake that much sweeter!
How to Use CBD Honey Sticks 
CBD honey straws turn wellness routines into a real treat. They can be used as an alternative to sugar. Plus, these CBD edibles are extremely versatile. 
Solid CBD Honey Sticks
Solid CBD honey sticks can be used to stir your coffee or tea. The honey will melt into the brew while enhancing the beverage with CBD.
You can also bite into CBD honey straws like rock candy. Chop up the honey stick and use it to garnish the top of a baked good. CBD honey sticks give you the opportunity to get creative with your wellness!
Liquid CBD Honey Sticks
Liquid CBD honey sticks are more common. They are usually in a squeeze tube. You can just rip the top off and drink directly from the container. 
However, you can also use this straw to help drizzle your liquid CBD honey over cereal or a yogurt bowl. To enhance your absorption, consider pairing your liquid CBD honey sticks with healthy fats, like almond butter. 
CBD oil is fat-soluble, so combining it with other fats improves absorption. That's why we formulate Joy Organics' Organic CBD Tinctures with either organic extra virgin olive oil or organic medium-chain triglycerides (MCT) oil. 
How Long Do CBD Honey Sticks Take to Work?
CBD edibles must be digested before you feel the effects. Therefore, it can take around a half-hour to experience CBD benefits. 
You can expedite the process a bit by chewing or sucking on the honey longer. Honey naturally melts in the mouth. This method of ingestion is much like how you use CBD tinctures. 
CBD absorption will predominantly take place in the mouth, bypassing most of the digestion process. You might feel the effects as soon as 15 minutes.
What to Know about CBD Honey Sticks 
CBD honey sticks are consumables. They must go through processing to become a CBD honey straw. Many companies can add artificial ingredients, preservatives, and fillers during this process.  
You should be informed about anything you eat. Make sure you read the labels to verify phytocannabinoid content, ingredients, and purity. Here are a few tips for choosing high-quality CBD honey sticks. 
No Added Ingredients 
The best products are simple ones. Honey is sweet enough. Yet, companies will add "fruit flavors" or "natural ingredients" to add more flavor profiles. 
We love a good blueberry honey, too. Just make sure that it's real fruit pectin used in the process. 
Also, there don't need to be any preservatives. Honey has the longest shelf life of any food!
Potency
Each CBD honey straw should contain a precise serving of CBD oil. However, CBD servings don't always describe the potency of the CBD. There are a couple of things you must consider. 
First, how you consume CBD honey sticks will influence potency. Stirring your CBD honey straw in hot beverages causes honey particles to break down. That's great because the honey melts and creates a delicious drink. However, boiling water can also start to degrade phytocannabinoids. 
Also, what you're consuming with the honey makes a difference. Healthy fats like avocados and cashew butter are great for honey absorption. Meanwhile, sugary cereals and fried chicken can cause digestive problems, which can hinder CBD absorption. 
Lastly, the type of CBD oil used is vital for making an educated decision on buying honey straws. Check to see if the product is made with CBD isolate, broad spectrum CBD oil, or full spectrum CBD oil.
While there are benefits to CBD isolate, CBD works best in the presence of other phytocannabinoids. Broad spectrum and full spectrum products are backed by the entourage effect. An entourage effect is a synergistic act where other phytocannabinoids and terpenes maximize the benefits of CBD. 
Lab Testing
CBD edibles aren't as heavily regulated as other honey-related products. Manufacturers are not held accountable for CBD content claims. 
So, it is essential you only support brands that operate with complete transparency. Only buy CBD honey sticks that have been verified for purity and CBD content through an independent lab testing facility. 
Ethical Practices
Also, please consider only buying ethically-sourced honey. Some companies use honey that's been extracted from hives during the winter. 
These practices leave bees malnourished during the colder seasons where food sources are scarce. Buying unethically-sourced honey can be detrimental to bees and the environment. 
Best CBD Honey Sticks
CBD honey straws are a growing sector in the CBD edible market. People are falling in love with their versatility, wholesome ingredients, and benefits. Here are some of the best CBD honey stick brands. 
GoldLine Honey Sticks
GoldLine is one of the premier CBD honey straw brands. Each stick contains 20mg of full spectrum hemp extract and honey. Those are the only ingredients, and we love them for it! 
This honey was blended in a barrel. It will have a slight oaky taste that will make this CBD edible stand out against other honey sticks. 
CBD American Shaman Honey Sticks
For those who enjoy the benefits of CBD isolate, consider checking out CBD American Shaman Honey Sticks. Each stick contains 10mg of CBD isolate and raw honey.
American Shaman uses a slow heating process that activates enzymes in the honey. This stick will be the perfect addition to any CBD tea to ease your stomach. 
Hannah Smith is Joy Organics Director of Communications. She is driven by her passion for providing clear and accessible wellness and CBD education. In 2015, she received her BA in Media, Culture and the Arts from The King's College in New York City and before Joy Organics, worked as writer and photographer in the Middle East and North Africa. Her work has been featured on Forbes, Vice, Vox, Denver Post, and the Coloradoan.