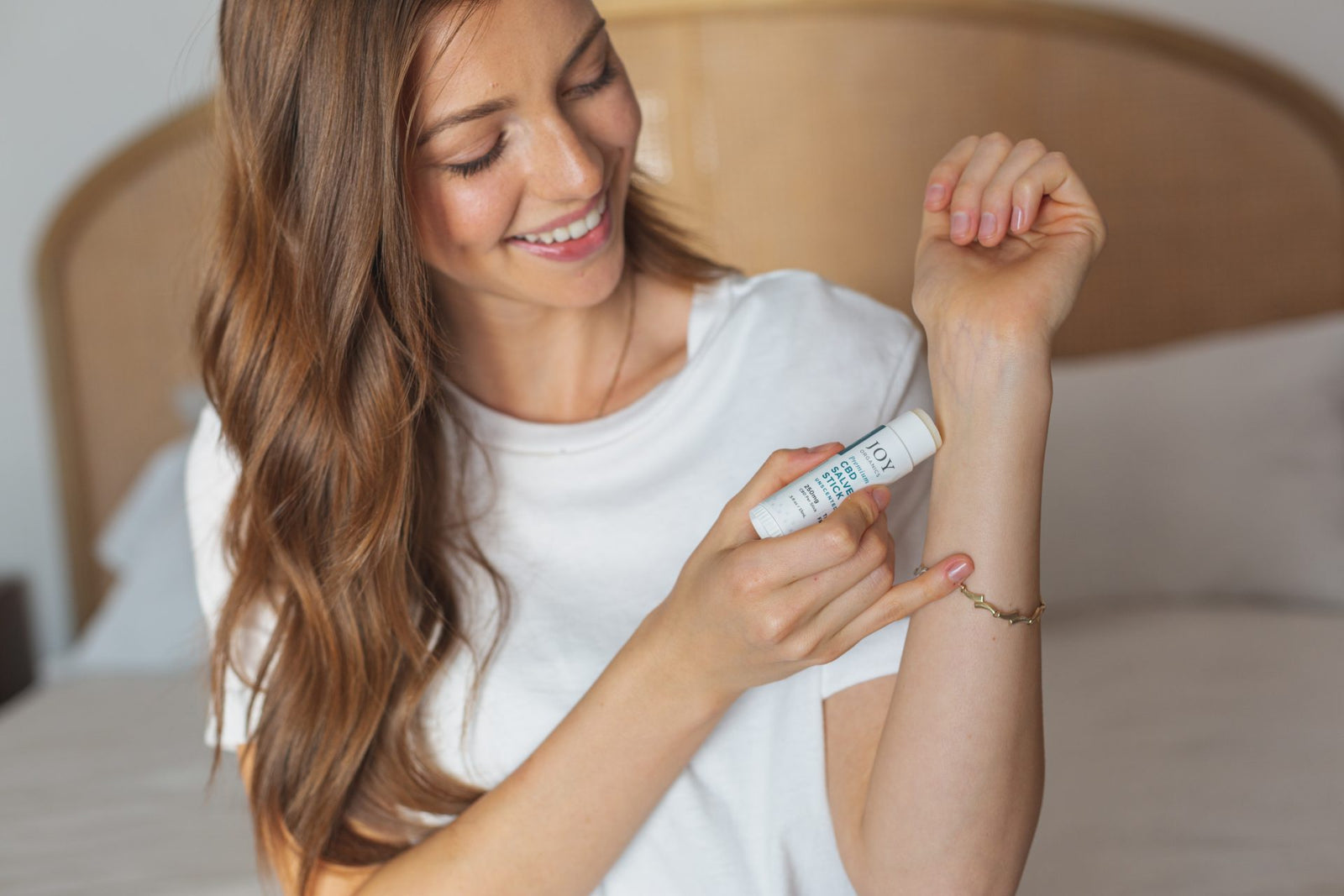 Skincare and Cosmetic Products Using Cannabidiol Oil
Let's play a game. Try to imagine the health and beauty section of a grocery store. Does your mind automatically go to a brightly lit wall littered with cover up for hiding your blemishes and expensive creams that will leave your pockets empty with not many benefits? These things don't sound like health. If that's their definition of beauty, then count us out.
Luckily, a cultural shift is coming to cosmetic and skincare products. We're talking about a product that celebrates our beauty for what it is, rather than shaming us to cover it up. That product is CBD. Currently, CBD products are a $1 billion industry. In less than four years, this industry is projected to hit upwards of $22 billion.
Over these next few years, you can be sure there will be an influx of CBD products hitting the health and beauty market. As a matter of fact, the field is already getting quite saturated. So, let's take a look at the top 10 CBD skincare and cosmetics products.
A Word of Caution on CBD Products
CBD can come from hemp or from marijuana, which is still illegal in many states. The CBD industry is only starting to grow as more states overturn the prohibition of medical marijuana.
While hemp-derived CBD products can't get you high, they are still considered an alternative form of wellness. Studies on the efficiency and long-term effects of CBD products are still in their infancy.
Since not much regulation has yet been established, there has been a vast amount of mislabeling on CBD products sold online. The Journal of American Medical Association found that out of 84 CBD products, 26% contained less CBD than the label stated.
Be sure to research the product before you make a purchase. Don't be afraid to contact a company and ask for accuracy and consistency reports on their product. Naturally grown CBD products that are third-party tested will be your safest bet — finding companies that go the extra mile will ensure you are getting a high-quality CBD product. In the meantime, we'll help you pick out the best 10!
These Are the Current Top 10 CBD Skincare and Cosmetic Products on the Market
Whether it's the hot summer sun drying them out or the harsh winter winds blistering them up, you need to protect your lips. One of the best ways to prevent chapped lips is with Im·Bue Em·Body 25 Mg CBD Lip Balm.
Im·Bue Em·Body also contains peppermint essential oils. While CBD works to support homeostasis in the lips, peppermint essential oil in Im·Bue Em·Body helps direct and circulate oxygenated blood to the affected area.
You've probably heard of coffee and CBD used for a morning kickstart. However, for a beauty regimen? Oh, it's true…and effective with the De La Beuh Coffee Scrub.
Coffee may seem like an odd component to add to your cosmetic and skincare routine, but hear us out. It checks three must-haves when it comes to leaving your skin radiant:
Exfoliates your skin.
Massages as you scrub.
Antioxidants rejuvenate cells.
The American Society for Dermatologic Surgery Association says using any facial scrub is a massage for your face. Moving around the skin cells on your face can help with lymphatic drainage and lessen the appearance of cellulite. By using CBD and coffee to scrub off dead cells and rejuvenate epidermal tissue, you are strengthening your beauty routine.
3. Joy Organics CBD Skincare Line
The Joy Organics line of CBD skincare includes a cream, salve, and salve stick. Each product is infused with phytocannabinoid-rich CBD oil along with other beneficial extracts such as milk thistle and black licorice.
Both together and separately, these products aim to leave your skin feeling refreshed, moisturized and glowing.
They are also 0.0% THC and shipping is completely free across the USA!
4. Sunday Goods Bath Bomb
A great way to relieve stress is to draw a nice bath. One way to take that destressing process up a notch is by adding CBD.
Now, how do you want to customize your bath experience? Do you need a burst of energy and a fresh start? Get the Sunday Good Bath Bomb – Invigorating. This bath bomb contains sweet orange essential oils.
Want to take a bath and shut off your mind, rather than wind it up? Then wind down with Sunday Good Bath Bomb – Tranquil. The essential oil de jour in this one is lavender, a good nighttime support.
Speaking of lavender, you get a 2-for-1 deal here with Kana CBD Lavender Sleep Mask. This product contains 28 all-natural botanicals that are shown to improve collagen production. Collagen is essential for our skin to retain its elasticity. It gives structure to our skin. This compound is what's responsible for the youthful glow we desire.
At the same time, your body needs to rest to carry out these functions optimally. During our waking hours, the body is constantly fighting off the germs and stress that others bring into our daily lives.
During sleep is when the real work happens. Your body is free to do its thing without outside forces interfering with the process. So, using a Kana CBD Lavender Sleep Mask will assist you in not only getting your sleep but making sure it's a beauty sleep!
CBD products have such a viable future in the world of cosmetics much in thanks to the high sustainability of the cannabis crop. That's what makes Milk Makeup KUSH High Volume Mascara the best choice for eye makeup.
Most mascaras are made up of beeswax. While beeswax is a much better source for cosmetics than synthetic ingredients, it's also not vegan friendly. By leaving the wax as food for the pollinators, Milk Makeup KUSH High Volume Mascara uses CBD oil to create high volume for the lashes.
CBD oil goes on with a creamy feel that doesn't goop. You can wear Milk Makeup KUSH High Volume Mascara all day long, feeling good about how your eyes look and how your cosmetics were sourced.
We know what you're thinking. Why is a hemp product on a list of the top 10 skincare and cosmetic products using CBD oil? Hear us out!
Gut health and skin have been studied over the last couple decades and results show a strong correlation that when one is on the downfall, so is the other.
One of the most reputable herbs in traditional Chinese medicine for supporting gut health is turmeric. This is due to the root's main chemical compound, curcumin.
By combining curcumin with CBD in Joy Organics softgels, the chemical compounds in this product creates an entourage effect that helps balance out an acidic microbiome. Thanks to cause and effect, your skin may rediscover the healthy glow you know and love.
CBD is a complete protein. Therefore it contains many of the essential amino acids that we can't produce on our own. Additionally, it's a valuable source of omega-3 fatty acids. All of these fatty acids are essential in creating protein.
Protein is what gives our hair follicles their strength. Without it, our hair would be brittle and break — or not grow at all! That's why CBD and hair products are a match made in hairdresser heaven.
By using Malin & Goetz Hair Pomade, you can style your hair while strengthening it at the same time. While this product has a strong hold on your hair, it has a lightweight feel on your head. So, work it in without piling it on!
Myaderm CBD Blemish Cream is a great choice for acne skincare. While sebocytes are essential for our skin to create moisture, they also can be harmful to our skin microbiota. That's because these compounds respond to stimuli from bad bacteria as well as the good.
CBD works by bringing balance to our systems and our skin is no exception. Other moisturizing agents in Myaderm CBD Blemish Cream such as organic coconut oil and organic aloe vera are used instead to hydrate the skin while applying CBD directly to the face promotes healthy skin.
One of the keys to keeping your skin hydrated is to nourish it when you dry it out the most — in the hot shower. Hot showers can lead to red, blotchy skin littered with dry patches. Try to repair the damage while you're doing it by using an ultra-moisturizing soap such as the CBD Skincare Company Shea Honey Oat Body Bar.
CBD Skincare Company's Shea Honey Oat Body Bar contains all-natural ingredients such as sunflower oil and rosemary extract that will leave your skin glowing. Most importantly, this is a broad spectrum CBD bar. Therefore, it contains all of the cannabinoids present in the cannabis plant, minus the THC. This will further the entourage effect of all these ingredients, making the CBD Skincare Company Shea Honey Oat Body Bar a truly hydrating experience.
Joy Organics Skincare and Cosmetic Products Using CBD Oil
Are you curious if CBD is right for you? Try any of our products for thirty days. If you're not pleased with what you see, we will gladly give you a refund. Head over to our shop to explore our broad and full spectrum products, or contact us if you have any questions! Experience the benefits of CBD today.
Thanks for reading! To show how much we appreciate you, we're going to give you 16% off your next order. Just use code READER16 at checkout!
Hannah Smith is Joy Organics Director of Communications. She is driven by her passion for providing clear and accessible wellness and CBD education. In 2015, she received her BA in Media, Culture and the Arts from The King's College in New York City and before Joy Organics, worked as writer and photographer in the Middle East and North Africa. Her work has been featured on Forbes, Vice, Vox, Denver Post, and the Coloradoan.