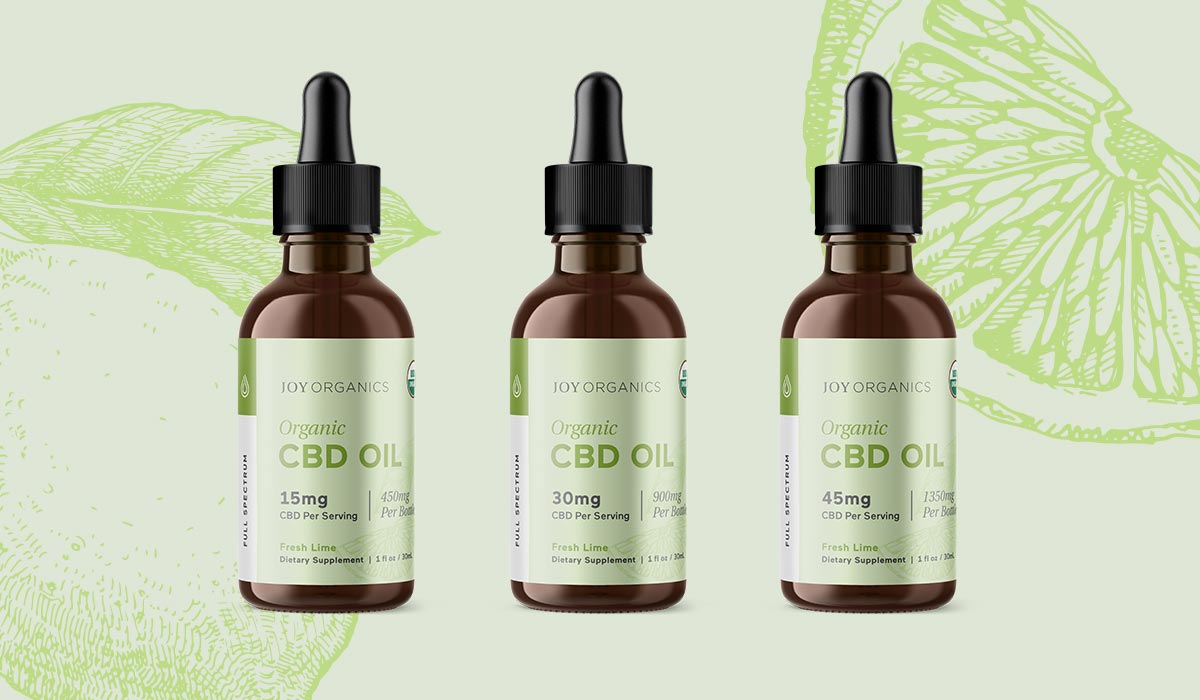 In a recent survey of Joy Organics customers, 41% of CBD users expressed interest in full spectrum products. Your wish is our command! We are proud to introduce you to Joy Organics' first-ever full spectrum tincture—Fresh Lime! Trust us; you'll feel just as good as it tastes!
Joy Organics' Fresh Lime Full Spectrum CBD Oil is certified organic by the United States Department of Agriculture (USDA). It is fortified with organic medium-chain triglycerides (MCT) oil and lime essential oils that support a healthy, active, and happy lifestyle. 
Why Is Joy Organics Making a Full Spectrum CBD Tincture?
Over the past couple of years, Joy Organics has earned the honor of becoming the #1 broad spectrum CBD oil brand. We take great pride in providing premium hemp extract to people all over the world.
So, when 41% of our loyal customers requested a full spectrum product, we felt an obligation to ensure the same potency and high-quality ingredients that we guarantee with our broad spectrum product.
If you want the job done right, sometimes you have to do it yourself!
What are the Benefits of a Full Spectrum Tincture?
There are over 100 phytocannabinoids present in hemp. Like a well-functioning society of humans, each phytocannabinoid has a role. Some have strengths, while others have weaknesses that actually improve the community as a whole. 
A prime example of the difference between phytocannabinoids is that high levels of THC can cause a psychoactive experience. Whereas, comparable amounts of CBD shouldn't cause the same effects. 
Because our full spectrum oil is extracted using a simpler process, more phytonutrients remain intact—which can be beneficial and promote harmony throughout the endocannabinoid system. All Joy Organics products are made with agriculture hemp that contains 0.3% THC or less. You can confirm THC content with the lab report associated with your Fresh Lime CBD Tincture.
Try Joy Organics' Fresh Lime Full Spectrum CBD Tinctures Today
If you love our broad spectrum products, don't fret! These products aren't going anywhere! We're simply providing a wider variety of products to meet our customers' needs. The more options, the merrier. 
All of our products come with free shipping and are backed with a 100% money-back satisfaction guarantee. You get the same quality you know and love with Joy Organics, now with even more phytocannabinoid support!
What Does This Tincture Taste Like?
Joy Organics' Fresh Lime Full Spectrum CBD Tinctures are made with four simple ingredients: phytocannabinoid-rich hemp extract, MCT oil, stevia, and lime essential oils. MCT oil is derived from organic fractionated coconut. Its smooth texture and nutty taste are accentuated by the citrus notes of lime essential oils. The lingering earthy undertones of organic hemp further complement the flavors of this delicious full spectrum tincture!
Will This Tincture Make Me High?
All Joy Organics products are made with hemp sourced from Farm Bill-compliant farmers. Agricultural hemp contains 0.3% THC or less. This negligible serving should not elicit a psychoactive effect. However, it may encourage the entourage effect benefits of full spectrum CBD oil.  
Will the Broad Spectrum Products Now Contain Some THC?
All Joy Organics products are third-party tested for THC, CBD potency, and an array of contaminants. Our broad spectrum products will continue to be produced with the same standards for quality and accuracy, and we as a company will never sell a broad spectrum product with detectable levels of THC (beyond 0.0%).
Hannah Smith is Joy Organics Director of Communications. She is driven by her passion for providing clear and accessible wellness and CBD education. In 2015, she received her BA in Media, Culture and the Arts from The King's College in New York City and before Joy Organics, worked as writer and photographer in the Middle East and North Africa. Her work has been featured on Forbes, Vice, Vox, Denver Post, and the Coloradoan.