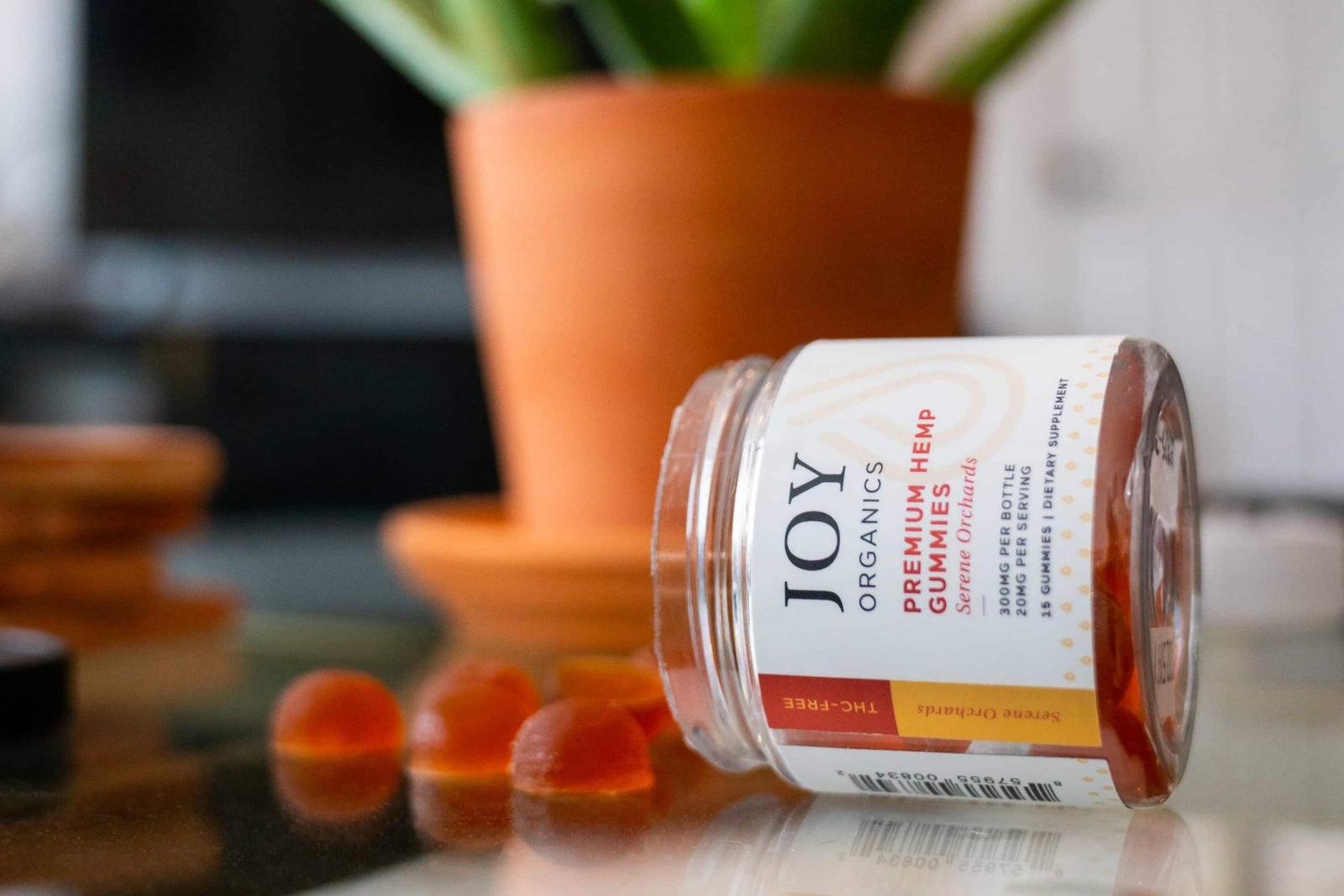 CBD has quickly become one of the hottest wellness products in the U.S. Just ten years ago, CBD was virtually unheard of, and now it's one of the fastest growing industries that has ever hit the mainstream. The CBD landscape has changed dramatically in just a few short years. By some estimates, CBD sales could exceed $20 billion by 2024 in the U.S. alone.
Some say CBD edibles will comprise the majority of the CBD market in the not-so-distant future. How much will edibles dominate the cannabis marketplace in the coming years? Somewhere over $4 billion. Let's take a look at why CBD edibles are becoming so popular.
Could CBD Edibles Be the Future of CBD?
Just how popular are CBD edibles?
In 2018, CBD gummies were the third most-searched food term on Google, right behind "unicorn cake" and "romaine lettuce." Cannabis experts say that the sale of CBD gummies grew 925% in just one year.
Why is there so much excitement around CBD gummies?
For starters, they're familiar. Practically everyone knows what gummy candies are and the supplement world is already full of gummy options. CBD gummies are similar as they offer a precise serving size in a familiar, easy-to-take option. Plus, CBD gummies usually taste great!
CBD gummies aren't the only edible option when it comes to CBD. Companies understand the market is growing rapidly, making it necessary to appeal to a wide range of consumers. For this reason, the market could potentially explode with various options for CBD edibles.
What Are CBD Edibles?
CBD edibles are food products that have been infused with CBD. Most often, CBD edibles come in the form of some type of gummy candy, but there are many other options.
Check out the following for an idea of some of the most popular foods currently infused with America's favorite cannabinoid.
CBD Chocolate
Much like CBD itself, chocolate infused with CBD has come far since its humble beginnings. CBD chocolate wasn't even a thing not too long ago. Now even Bon Appetit offers their readers information about the best CBD chocolate you can find.
When it comes to CBD edibles, CBD chocolate is a close runner-up to CBD gummies. Considering that 81% of people eat chocolate regularly, with one in six eating chocolate daily, it's no surprise that CBD chocolates are becoming more popular all the time.
Interested in trying out CBD chocolate for yourself? Click here to see just how easy making your own chocolate CBD edibles can be.
CBD Honey
What is CBD honey? This sweet sensation is exactly what it sounds like: honey infused with CBD.
The health benefits of honey have been well established. It's a known antibacterial and antimicrobial, full of antioxidants, extremely effective for burn and wound healing and is great for heart health. Combined with the potential benefits of CBD, it's easy to see why CBD honey is one of the most popular options when it comes to CBD edibles.
It can be added to anything you might use regular honey for. Stir CBD honey into your coffee or tea, use it in your favorite baked goods or spread it on peanut butter toast. It's also an edible option you don't have to necessarily eat to enjoy. Apply it to your face for a natural facial that results in a healthy glow or use it as a natural ointment on mild cuts, scrapes and burns.
CBD Gummies
Then, there's the most popular of all CBD edibles, the famous CBD gummy. Almost everyone selling CBD offers a CBD gummy. They're readily available in an array of different flavors, shapes,  sizes and strengths…and everyone seems to love them.
In Colorado, gummies have been the most popular edible since 2016. Between 2017 and 2018, sales of gummies increased by 53%. While this includes both CBD and THC infused gummies, CBD gummies are far more popular than their intoxicating counterpart.
Why do people love CBD gummies?
There's no denying that their taste is appealing to a wide demographic of potential consumers. There's no better way to get a precisely measured serving size of CBD that tastes good and is as familiar as a regular gummy supplement. Gummies also do a pretty great job of covering up the "earthy" taste of some other CBD products.
The "perfectly measured serving size" of CBD gummies is also an appealing quality to consumers. It can be tricky to get an exact serving every time you consume a CBD tincture, for example. Not so with CBD gummies. When a gummy contains 25mg CBD, you can be sure that 25mg is exactly what you're getting.
CBD Beverages
Although cannabidiol-infused beverages aren't  CBD edibles, they could be the next "big thing" when it comes to consuming CBD. There are already some major beverage brands that have their eye on the CBD beverage space.
The Alkaline Water Company is one. Constellation Brands, behind big names like Modelo and Corona, is another. Constellation Brands CEO Bruce Linton recently said, "We've been experimenting with hemp-derived CBD out in our hemp facility in Saskatchewan. We've developed a processing and extraction technique and we're going to take that to New York."
Will there be a day when CBD-infused beer is commonly found on store shelves across the country? Maybe. CBD cocktails are already the rage at trendy boutique bars in major cities across the country. Will sports drinks infused with CBD become as popular as Powerade? Maybe. After all, many people use CBD to support their post-workout recovery.
CBD Superfoods
It's likely that sweets won't be the only CBD edible option for long. Experts in the CBD space agree that the future of CBD edibles is promising — so promising that they may just become the future of CBD. 
A recent article regarding the future of cannabis noted that analysts at Haywood Capital Markets say, "As the market evolves towards consumer-packaged goods (CPGs) we view extraction services as a key aspect of the marketplace. We are of the view that extracted cannabis and value-add products will be in demand over the next couple of years."
There are already several companies that have jumped on the CBD edibles bandwagon. Velobar offers a vegan, high-protein snack bar with 20mg of CBD for just $5. Wise Bar is another company that's gotten into the CBD superfood sector, offering five different flavored bars, each containing 25mg CBD.
Kushie Bites has covered the entire CBD edible field, offering treats like CBD-infused Nutella, peanut butter and beef jerky, as well as chocolate chip cookies and gumballs. High-end brand Lord Jones even has CBD edible options, offering not just premium, small-batch gumdrops but also delights like chocolate espresso chews. 
The Future of CBD Edibles
The Farm Bill opened several doors for the CBD industry. When regulations are finally set in stone, will we see CBD edibles in the form of cookies, crackers, power bars and other packaged foods lining supermarket shelves? It's very possible.
Remember, CBD gummy sales grew an astonishing 925% in only one year. With numbers like that, experts believe that growth is expected to remain strong and that CBD edibles could just be the wave of a multi-billion dollar future.
What are your thoughts about the future of CBD edibles? Let us know in the comments!
Thanks for reading! To show how much we appreciate you, we're going to give you 16% off your next order. Just use code READER16 at checkout!
Hannah Smith is Joy Organics Director of Communications. She is driven by her passion for providing clear and accessible wellness and CBD education. In 2015, she received her BA in Media, Culture and the Arts from The King's College in New York City and before Joy Organics, worked as writer and photographer in the Middle East and North Africa. Her work has been featured on Forbes, Vice, Vox, Denver Post, and the Coloradoan.