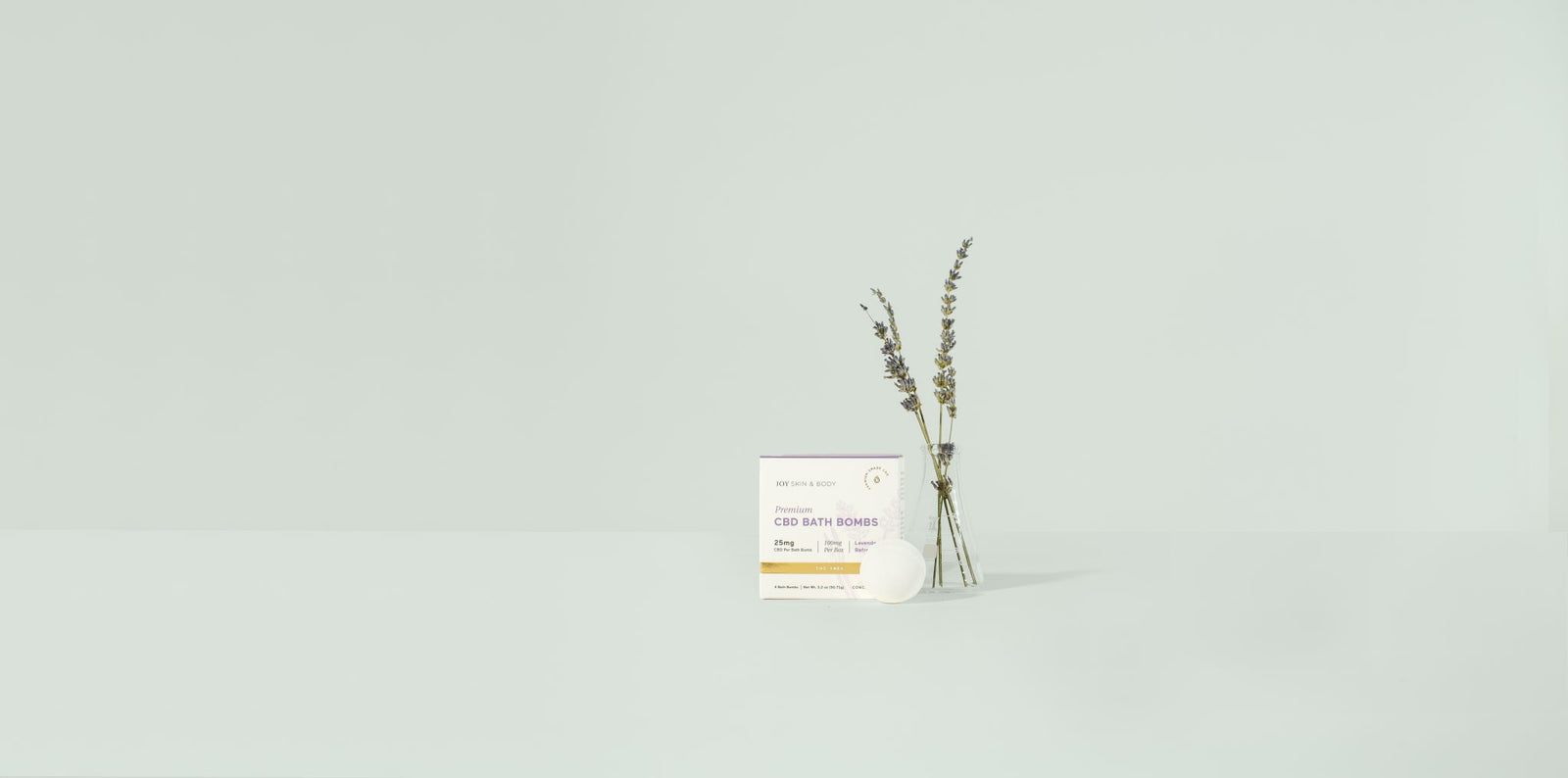 There's nothing quite like a relaxing bath to ease stress and soothe the senses at the end of a long day. What makes a great bath even better, though? A CBD bath bomb, of course! 
At Joy Organics, our CBD bath bombs are formulated specifically to support relaxation. Created with 25mg of broad spectrum CBD and other natural ingredients known for their soothing properties, these lavender-infused luxuries have become one of the top-selling CBD bath bombs on the market. 
Let's take a look at what makes our CBD bath bombs perfect for relaxing at the end of the day. 
Top-Selling CBD Bath Bombs
If you've used bath bombs before, you know how much they can improve an already wonderful warm bath. Keep in mind, however, not all bath bombs are created equal. Some bath bombs contain synthetic fragrances and other ingredients that can be especially irritating to the skin. While glitter bath bombs or those that turn your bath into a menagerie of various colors might be fun, they're not always so great for the skin. 
The same is true for CBD bath bombs. While there are certainly several options for CBD bath bombs, not all of them are formulated with the best ingredients. The top-selling CBD bath bombs on the market are those made with natural ingredients that not only soothe and benefit the skin, but also provide a sense of peace and relaxation. 
Take our Premium CBD Bath Bombs, for instance. At Joy Organics, we know the importance of self-care. The better we feel, the better we can do in our personal and professional lives. Based on our personal experience, we truly believe self-care is vital for overall wellness and soothing any stress we might experience. 
This is why we've formulated our Premium CBD Bath Bombs with natural ingredients known to soothe skin and promote relaxation. 
Check it out. 
Beneficial, Natural Ingredients
At Joy Organics, we like to keep things simple and source the most natural ingredients we can find to create our line of CBD products. 
Our CBD bath bombs are no different. 
Made with sodium bicarbonate, citric acid, organic coconut oil, organic shea butter, lavender oil, and broad spectrum hemp extract, our CBD bath bombs are about as pure as they come. 
When made with natural ingredients, bath bombs are known to be super beneficial to the skin and senses, which is exactly why we hand selected the above ingredients when creating this soothing formula. 
Sodium Bicarbonate and Citric Acid
Almost all bath bombs are made with two key ingredients: sodium bicarbonate (aka baking soda) and citric acid. 
When dropped into a warm bath, the ingredients react to create the fun, fizzy sensation bath bombs are famous for. As the bath bomb begins to break apart, all the other beneficial ingredients added to the bath bomb are released into the tub, quickly going to work on both the skin and senses. 
Sodium bicarbonate is said to be a boon to skin, responsible for potentially getting rid of dead skin cells, reducing body odor, and more. 
Citric acid is also said to be great for skin and is commonly used in various cosmetics and beauty products produced worldwide. Part of the family of alpha hydroxy acids (AHAs), citric acid is full of antioxidants, has shown to exfoliate skin, reduce the appearance of fine lines and wrinkles, and more. 
These two ingredients are the base of our top-selling CBD bath bombs, forming a solid foundation for other key skin-soothing ingredients to work their magic. 
Skin-Soothing Coconut Oil and Shea Butter
Other key ingredients in our bath bombs include organic coconut oil and shea butter—known for their skin-supporting potential. 
Coconut oil has been used for years as a popular addition to natural health and beauty products, and for good reason. It's amazing for dry skin, excellent for repairing and restoring the skin's barrier function, and keeps skin moisturized by slowing down evaporation. Coconut oil is also a known antioxidant that's shown to support stress management. 
Shea butter is also known for its skin-supporting benefits. It moisturizes, helps the skin protect against free radical damage,  restores skin elasticity, and more. 
We also included lavender oil—one of the most popular essential oils—in our CBD bath bombs. Not only does it smell heavenly, but it also contains a variety of benefits for the mind and body.
That's not all, though. Increasing research also suggests lavender could be beneficial for the nervous system, with human and animal studies alluding to its mood-supporting properties, to name a few. 
Broad Spectrum, THC-Free CBD
The addition of our broad spectrum hemp extract adds the proverbial cherry on top of these bath bombs, allowing you to enjoy all the benefits of CBD as you soak in a warm, relaxing bath. With 25mg of CBD per bath bomb, our Premium CBD Bath Bombs truly take self-care to another level indeed. 
What People Are Saying about Our Premium CBD Bath Bombs
Don't just take our word for it, though. 
Reviews from our customers have helped make our bath bombs top sellers.
They've been called a "lovely addition to a relaxing bath experience" and "really helpful for relaxing after a long stressful day." One person even claimed using our bath bombs made it the best bath they'd ever had. 
Our customers also mention Joy Organics' CBD Bath Bombs make really great gifts. We couldn't agree more. 
Made with premium, natural ingredients and broad spectrum, 0.0% THC CBD, our top-selling CBD bath bombs are perfect for anyone who could use a bit of pampering in the form of a blissful, relaxing bath as soothing to the skin as it is the senses. 
Hannah Smith is Joy Organics Director of Communications. She is driven by her passion for providing clear and accessible wellness and CBD education. In 2015, she received her BA in Media, Culture and the Arts from The King's College in New York City and before Joy Organics, worked as writer and photographer in the Middle East and North Africa. Her work has been featured on Forbes, Vice, Vox, Denver Post, and the Coloradoan.