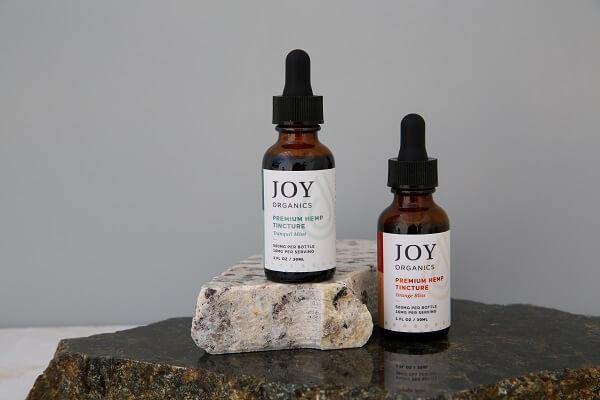 As a result of the CBD industry becoming so saturated, the gap between high-quality and inferior CBD products continues to widen. Picking out which CBD product is right for you is already a challenging process. As time goes on,  this decision will only get tougher. Now is the time to find which CBD hemp extract you like best. We might be a bit biased, but we think Joy Organics CBD products will do the trick for you. If you try our products, we think you will agree. Keep reading if you are curious about why, where, and how to buy Joy Organics CBD products? 
Why Should You Buy Joy Organics CBD?
Everything you keep hearing about CBD products on the news may seem too good to be true. It's important to note that the potential benefits that you hear about on TV, through social media and in magazines don't apply to all CBD products. Since so many companies are joining the CBD industry, it's quite possible that low-quality, ineffective products are lurking around the corner.
You should approach CBD products similar to how you would approach purchasing a car. The cheaper version might seem more attractive and it may even get you from point A to point B, but the discounted cars might be missing out on a functional air conditioner, the speaker system could be outdated or the coolant may leak. When it's all said and done, you may wish you just spent a little more to get the quality you deserve.
At first, Joy Organics' founder and CEO Joy Smith tried many inferior CBD brands and was unhappy with the results. After hearing about the benefits of CBD from others, Joy purchased a few bottles from different manufacturers to see which worked for her. She found the products that worked best for her were labeled "broad spectrum CBD."
How Buying Joy Organics CBD Can Save You Money
Joy initially decided to give hemp products a shot in the first place to help support her sleep patterns and to find comfort from the wear and tear of daily life. While Joy was being proactive with her health before the situation intensified, not everyone is able to do so. She wholeheartedly understands this sense of urgency, which is why our products come with fast, free shipping. You don't have to pay extra to get CBD when you need it.
Joy also knows that most people don't have the financial resources to try several products to find one that works for them, which is why she took the guesswork out of hemp-based products. When you buy Joy Organics CBD products, you will be provided with high quality, broad and full spectrum care. If you're not satisfied for any reason, simply return within 30 days for a complete refund.
Why is Broad Spectrum CBD Oil More Efficient?
Joy  noticed that most of the CBD products she tried were labeled "CBD isolate." While this is a highly concentrated serving of CBD, it's usually the only hemp-based ingredient in the formula. CBD isolate lacks the benefits that come from other plant-based compounds found in hemp.
CBD is one of over 100 unique compounds, known as cannabinoids, within the genetic makeup of hemp. Like CBD, these other cannabinoids have unique interactions with our endocannabinoid system, and these cannabinoids work together, they tend to fire on all cylinders.
Having a spectrum of cannabinoids in the formula improves the bioavailability of CBD. This act of synergy is known as the entourage effect. The entourage effect is the reason it's easier to reap the maximum potential benefits of hemp products with Joy Organics CBD.
Can Anyone Buy Joy Organics CBD?
Perhaps one of the best aspects of Joy Organics CBD is that all of our products are 0.0% THC. THC is one of the dominant cannabinoids found in marijuana. While levels of THC are already low in hemp, we opt to take any remaining traces of this psychoactive compound out of our formula.
The reason we opted to provide 100% THC-free options is that Joy wanted everyone in the household to benefit from using CBD products. She knew many of her customers would prefer to purchase products without THC.
While THC does play a role in the entourage effect, it's not an essential piece of the puzzle. The other cannabinoids work together to produce beneficial results. We found that removing THC from our products gives our customers peace of mind and doesn't sacrifice quality.
How to Buy Joy Organics CBD Products
Let's see where you can buy Joy Organics CBD products so you can start exploring which hemp-based items work best for your lifestyle.
Online Store
Our online store is the most method for customers who buy Joy Organics CBD. They love the ease of online shopping, and we offer free shipping for every order of $50 or greater! 
Our online shop is easy to navigate, full of helpful information and offers product testimonials. We believe in keeping things simple. You get all the necessary information about the item you're considering on every product page. There are plenty of opportunities to click and learn more information, including the ingredients, serving sizes, and FAQs.
Check out Lab Results
We have lab reports for every item we create. Currently, the CBD industry is not well regulated. This loophole allows companies who are simply seeking a profit to put artificial ingredients and other additives into their products. They're not always transparent and often take advantage of this transition period in the world of hemp-based care.
We have nothing to hide, which is why we exclusively operate with full transparency. Every batch of a product in our store undergoes rigorous third-party lab testing. Each batch has a lab analysis available for our customers' convenience.
Check for the lot number on the packaging of your Joy Organics product. You can find the corresponding number on our Lab Results page and view a detailed report on every active and inactive ingredient in your formula. When you buy Joy Organics CBD, we guarantee that it is the purest and highest quality every time!
Joy Organics Guarantee
We are confident that every time you buy Joy Organics CBD, it's going to be an excellent experience. If not, we'll do our best to do right by you Not satisfied? Send it back. We have a 30-day refund policy on all items in our online store.
Brick-and-Mortar Stores
While online shopping is convenient, some prefer a more intimate experience where they can ask questions and see the items in person. When it comes to a new niche like CBD products, you may want a more personal way to add hemp to your routine. Take the guesswork out by coming into one of the many shops that carry Joy Organics products.
Joy Organics Partners
As 2018 drew to a close, the hemp industry saw a significant political breakthrough. Under the new Farm Bill, hemp became legal to produce in all 50 states. This change opened the door for our business to expand and created more opportunities for you to buy Joy Organics CBD.
Currently, our products are represented in almost all 50 states. If you would like to speak to a CBD professional, check to see which stores in your state carry our products.
If you can't find a location near you, we can still help you get the CBD products you need from our online shop. No matter where you are, we can still answer any questions you may have Please give us a call at (833) 569-7223; our knowledgeable and helpful customer service team loves to help people learn about CBD!
Our customer service hours are:
Monday through Friday: 8:30 a.m. – 5 p.m. MT
Thanks for reading! To show how much we appreciate you, we're going to give you 16% off your next order. Just use code READER16 at checkout!
Joy Smith is Joy Organics Co-founder and visionary. After her own life-changing experience with CBD, Joy started Joy Organics to create a line of sustainable and premium CBD products consumers could trust. Before founding Joy Organics, Joy worked as an itinerant speaker, traveling to over four continents to empower women across the globe.