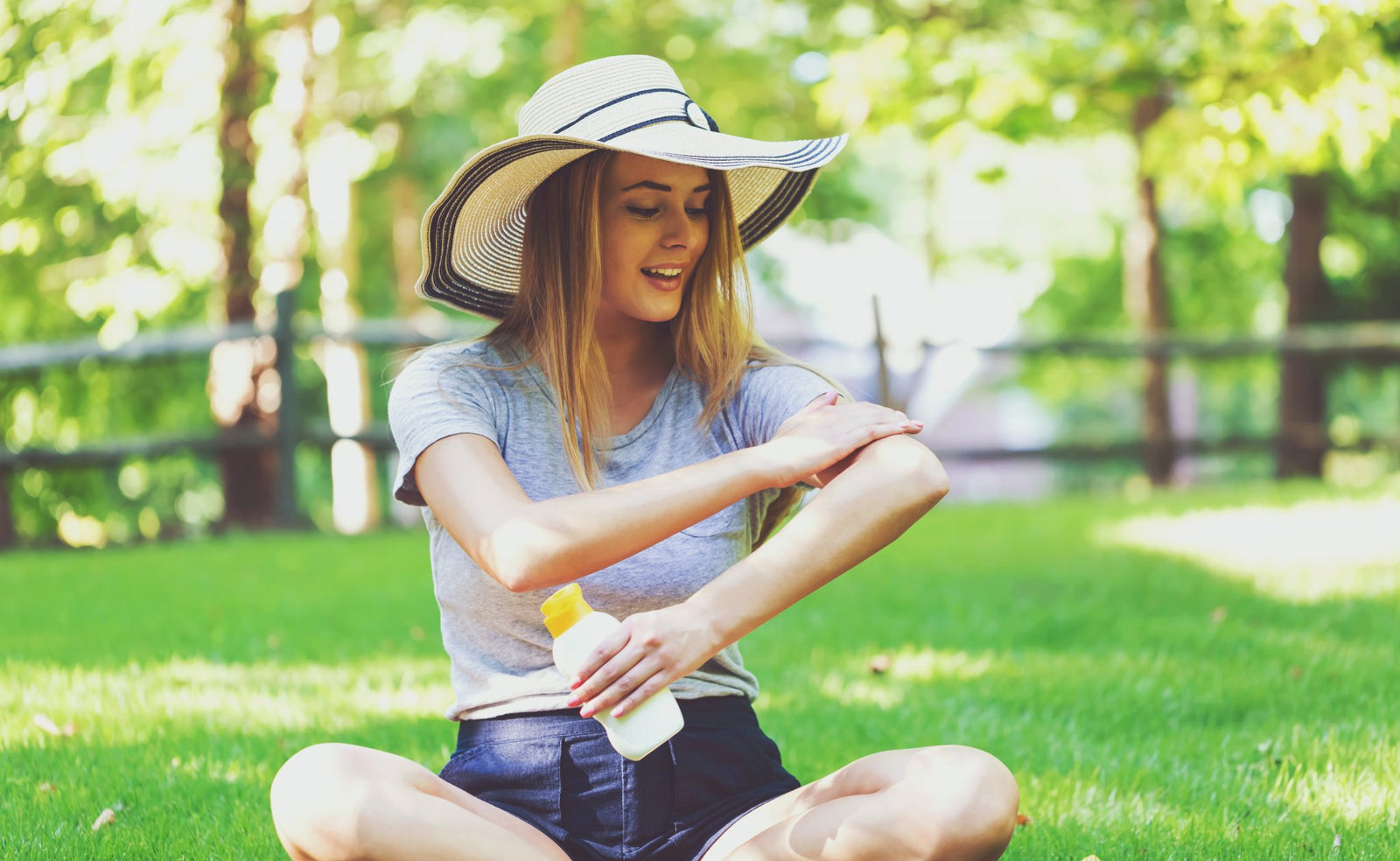 We love the long, warm, sunny days of summer and the opportunity to spend more time outdoors. While soaking up the sunshine's golden rays can be tempting, it's extremely important to be conscious of keeping skin protected when spending time out in the sun. 
Here we'll take a look at why protecting yourself from too much sun exposure is essential and what you can do to naturally protect your skin from the sun this summer. 
Why Protecting Your Skin from the Sun Is So Important
Did you know that the sun is responsible for 80% of premature skin aging and the development of skin cancer? Aside from a simple sunburn, which can actually cause serious damage to skin cells, prolonged sun exposure without protection is directly linked to premature aging, sun/age spots, and skin cancer. 
The sun's UV rays are responsible for damaging the skin. UVA rays are suggested to cause premature aging and are believed to play a role in the development of some skin cancers. UVB rays are responsible for causing a sunburn and are more closely linked to the occurrence of skin cancer. 
The good news is, there are plenty of ways to naturally protect your skin this summer from the sun's damaging rays. Following are a few easy ways to ensure your skin is protected while spending time outdoors throughout those desirable dog days of summer. 
Choose Your Sunscreen with Care
While sunscreen can help, there are a couple things to keep in mind before you lather up with the highest SPF sunscreen you can find. Most common sunscreens widely available on the market are made with chemical filters that protect the skin from harmful UVA and UVB rays. 
Sunscreen is made from up to 16 filters that were approved by the FDA in the 1970s without evaluating any potential hazards they might contain. In general, sunscreen today contains a blend of up to six active ingredients including oxybenzone, octisalate, octinoxate, octocrylene, homosalate, and avobenzone. In 2019, the FDA released a report deeming 12 of the 16 filters originally approved in sunscreen do not meet requirements to be "generally recognized as safe and effective" (GRASE). The problem is that these are some of the most common ingredients in sunscreen that is widely used by the general public. 
Many of these common filters are also associated with some very serious side effects. Oxybenzone, for example, has been linked to organ toxicity, possible endocrine disruption, contact allergies, and more. It's also extremely harmful to aquatic life, so much so that Hawaii banned oxybenzone in 2018 in efforts to protect coral reefs. 
The good news is, there are some less toxic sunscreen alternatives. Mineral sunscreens made with zinc oxide and titanium dioxide are a safer alternative to conventional sunscreens. They aren't absorbed into the skin, thus don't make their way into the bloodstream. Instead these key ingredients stay on the skin's surface and work as a sort of screen that protects the skin from the sun's harmful UV rays. 
While wearing sunscreen is highly recommended to protect from the sun's damaging UV rays, mineral sunscreens are generally considered a safe alternative to conventional sunscreen options. A few of our personal favs include: 
Lightweight and non-greasy, this mineral sunscreen is made with zinc oxide and titanium dioxide. It also contains natural skin protectants like black chokeberry and marigold extracts, which help protect the skin from environmental pollution and blue light emitted from our electronic devices. 
Mychelle is a Colorado-based company founded in 2000, committed to using sustainable, eco-friendly ingredients and manufacturing practices. Their unscented mineral-based sunscreen is made with zinc oxide and titanium dioxide, as well as other beneficial skin-soothing ingredients like aloe and vitamin E, which they claim can help reduce the signs of irritation caused by the sun's harmful rays. 
This 100% mineral-based formulation is designed to protect from UV damage, shield the skin from blue light, and prep the skin for makeup. Made with zinc oxide and a blend of other natural ingredients including blush clover (helps protect from free radicals and oxidative stress) and aloe leaf juice (helps moisturize and soothe skin). Supergood has been committed to creating safer sunscreen alternatives since 2007.  
Wear a Wide-Brimmed Hat 
Wearing a hat is one of the best things you can do to keep your face protected from the sun—the wider the brim, the better. While a ball cap and visor are both great options, a wide-brimmed hat is the best for protecting the face and the shoulders, which is especially important as these are the most prevalent places on the body to develop skin cancer. 
A wide-brimmed hat will help protect the face, ears, back of the neck and shoulders, ensuring these sun-sensitive areas stay safe from any potential sun damage. You might also consider using an umbrella while out in the sun, as they're perfect for protecting a large area of your body from the sun's damaging rays. Also be sure to always sport a pair of sunglasses when out in the sun to protect the delicate skin around the eyes. 
Keep Your Skin Covered with Protective Clothing
Wearing light, long-sleeved clothing while spending time in the sun can also help keep your skin protected. Long skirts and dresses are also another summertime outfit option that can help protect from the sun while keeping you cool and breezy. When wearing clothing to protect your skin in the summer months, opt for lighter colors which help reflect the sun's harmful rays. Ever notice how wearing black in the summer seems to attract heat? This is because darker colors attract the sun's rays. 
Avoid Peak Sun Hours
One of the best ways to protect your skin from the sun is to stay out of it during peak sun hours. Between 10am to 4pm, the sun's rays are their strongest and UV radiation is the most intense. Keep in mind that damaging UV radiation is most intense during the late spring and summer, in high altitudes, in areas closer to the equator, and when reflected off water, snow, or sand. 
If you like to exercise outdoors, head out in the early mornings or late afternoon during the summer. If you're planning on spending the entire day out in the sun on the beach, at the lake, or simply enjoying a day at the park, make sure to seek some shade, wear your wide-brimmed hat, and cover up with light protective clothing. 
Sun exposure can be a real boost to our mood, making many of us justify spending long hours in the sun during the summer. Doing what we can to protect our skin while out in the sun, however, is vital for skin health and staying protected from the sun's harmful UV rays.
Hannah Smith is Joy Organics Director of Communications. She is driven by her passion for providing clear and accessible wellness and CBD education. In 2015, she received her BA in Media, Culture and the Arts from The King's College in New York City and before Joy Organics, worked as writer and photographer in the Middle East and North Africa. Her work has been featured on Forbes, Vice, Vox, Denver Post, and the Coloradoan.