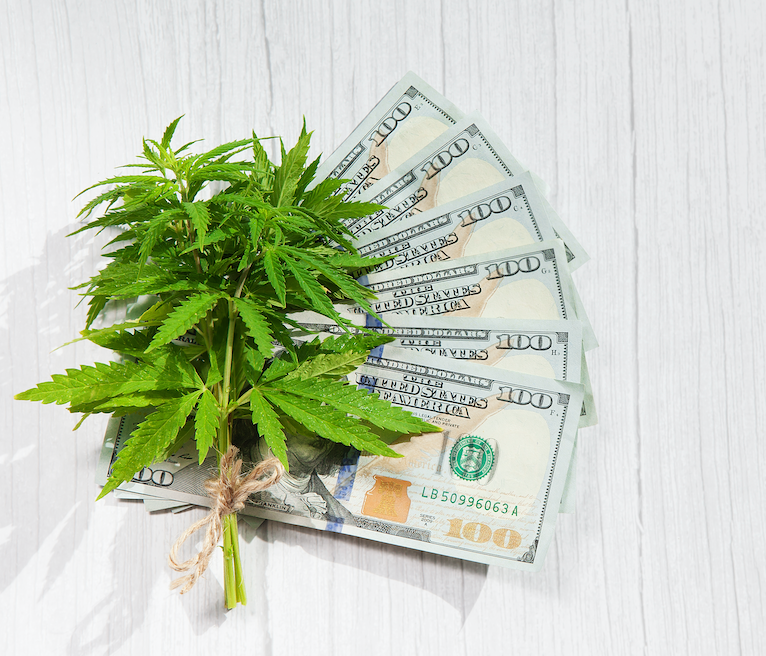 The passage of the Farm Bill did a lot more than change the legal status of hemp in America. Besides dramatically changing the current scope of CBD regulation across the country, experts unanimously agree it will spur a significant change in America's economic landscape as well.
As it turns out, there's a lot of money in hemp. Like, multi-billion dollar money. We've already seen the financial boom of the CBD industry rapidly sweep across the country. When it comes to hemp economics, however, CBD is merely the tip of the iceberg.
Hemp Money: The Economic Future of Legal Hemp
It was suggested in a recent report that the global industrial hemp market is expected to grow from $4.6 billion to $26.6 billion by 2025. This global growth is predicted to be driven across several different industries, with the increase in demand for hemp food production to drive the industry steadily forward.
The compound annual growth rate (CAGR) of the worldwide CBD market is suggested to grow approximately 32% in the five-year period between 2019-2024. According to New Frontier Data, the US hemp industry as a whole is looking to expand at an 18.4% CAGR between 2018-2022.
How Will the US Farm Bill Affect Hemp Economics?
The 2018 Farm Bill removed hemp from the Controlled Substances Act (CSA) and is expected to have an almost-immediate economic effect.
Experts indicate it will create a financial domino effect because banks will be able to safely offer accounts and financial commodities to hemp-based businesses. This means that credit card companies will have the ability to process hemp-based business accounts, ultimately establishing an economic freedom that current companies haven't yet seen.
The Farm Bill also opens the door to major mass-market retailers across the US to begin to carry products from leading hemp companies across the country. It won't be long before you see hemp products in stores like Walmart, Target, Costco and Whole Foods. How could the industry not experience exponential growth when the largest retailers in the US are now legally allowed to sell hemp-based products like CBD?
Of course, the regulations that the FDA and DEA will adopt are what's really needed to drive the industry forward. You can bet that hemp industry professionals are eagerly waiting for any public announcement from the FDA on exactly what regulations will be implemented.
The legalization of hemp in the US could also dramatically shift the global power as far as hemp is concerned. Since hemp has been illegal to cultivate in the country for the better part of a century, the US has traditionally imported hemp from countries like China, Europe and Canada. This is set to change; some suggest that the US could shift to lead the global hemp market as soon as 2020, controlling 32% of what is expected to be a $5.7 billion market.
Hemp-Derived CBD
Hemp has made a serious comeback in recent years, largely due to the ever-increasing demand for CBD. More and more people understand that there are serious wellness benefits where hemp-derived CBD is concerned, which is something experts unanimously believe will keep the hemp market moving steadily forward. The US CBD market alone is expected to increase from roughly $311 million to over $1.25 billion over the next five years.
Hemp-Derived Foods
Reuters reports that hemp-based foods like cooking oil, alternatives to dairy, flour and salad dressings are huge in the hemp industry. It's been suggested that the demand for hemp could be driven by increased demand for baked goods like breads, cookies and more.
Hemp-Derived Textiles
Hemp fiber is also expected to dominate the industrial hemp market in the coming years. Hemp can be used to make countless different products, including construction materials, car parts, clothes, furniture and more. Hemp can also be used to create bioplastics and biofuels, both of which are expected to increase in the near future as the demand for renewable resources continues to grow.
In North America, it's believed that hemp production will see impressive growth because of increased demand for hemp oils, sweets, and nutraceuticals like CBD. It's suggested that the impressive CAGR of hemp is vastly dependent on the demand for hemp products in the personal care and beauty, food and beverage, and textile industries.
The Economic Benefits of Hemp for the American Farmer
While there is no doubt that hemp production in the US will create an increase in the production of a wide range of hemp products, the hemp used to create these products needs to come from somewhere. One of the biggest beneficiaries in the industry may be the modern American hemp farmer.
The 2014 Farm Bill offered a small glimpse of what's to come for farmers in the US. The pilot programs that allowed farmers to cultivate hemp with state agricultural departments gave several farmers the opportunity to experiment with hemp.
Many farmers across the country that have grown traditional crops like soybeans and tobacco are set to face challenges in an evolving agricultural market.
China is the market for 60% of America's soybean production but is turning towards Brazil to meet their soybean import needs. The country has possible plans to phase out US soybean imports indefinitely, and soybean production in the US is already down 19% from 2018, a trend that is expected to steadily continue.
US tobacco farmers are also taking a hit. While the US continues to be one of the leading producers of tobacco leaves in the world, US tobacco production has seen a significant decline since the 1980s. According to Bloomberg, the growing use of e-cigs is a huge threat to American tobacco farms that are already at an all time low.
Kentucky tobacco farmer Brent Cornett joined a hemp growers' group shortly after the 2014 Farm Bill was passed. For the past three years, Cornett has been increasing hemp production on land that was once exclusively reserved for tobacco. He says there's been "plenty of challenges with a new crop, but as of today, a mediocre hemp crop is yielding a better return than an excellent tobacco crop."
Perhaps hemp could be the change soybean, tobacco, and other US farmers need. .
How Much Money is In Hemp Production?
It was reported that 23,343 acres of hemp were planted in the US in 2017. In 2018, this number increased to 77,000 acres. The passing of the 2018 Farm Bill will help see these numbers grow exponentially.
When it comes to hemp economics, farmers that have jumped at the opportunity to grow hemp have seen a significant economic return. In April 2019, MSN reported that Blue Forest Farms, a Colorado-based farm that previously grew "hundreds of acres of kale, squash and pumpkins" is now putting their focus towards hemp production.
Where they used to make $1 for a pound of kale, they're now making $40-$50 for a pound of hemp. McKenzie Mann, Blue Forest Farms production manager, says he now gets multiple calls a day from farmers around the country looking for advice in turning their corn and wheat farms into hemp farms.
VoteHemp is a non-profit agency that supports the commercial sale of hemp. Eric Steenstra, President of VoteHemp, notes that "There's a lot of excitement in the farming community because hemp is seen as a high-return crop. There are many farmers around the country who are struggling to make ends meet and they're looking for an alternative like hemp to boost revenue."
In 2018, hemp sales in the US totaled just over $1 billion. According to New Frontier Data, this number is expected to double by 2022. Although a lot of these sales are focused on the ever-growing CBD market, hemp can produce a ton of products in addition to CBD.
Steenstra says it's important to look at the long-term picture of the hemp market. "Right now," he says, "CBD is the hot commodity and is a significant driver of the market and profit for farmers. But as an agricultural crop, hemp has significant market potential for grain and fiber."
Hemp Depot, a Colorado company that manages its own farms and distributes CBD and hemp-based products, has already seen the potential that planting hemp holds. They sell hemp for CBD products at $35-$40 a pound and made $10 million last year selling approximately 25,000 pounds of hemp.
However, not every would-be hemp farmer has been so fortunate. Randy Wegner, a Colorado corn farmer said the hemp he tried growing for CBD production was "a total failure." He urges those interested in growing hemp for profit to learn as much as they can before planting their seeds.
Hemp Economics and the Future of Hemp Production
CBD is one of the hottest commodities on the market right now. There are many uses for hemp, however, which many speculate will increase the economics surrounding the new super crop.
Hemp cultivation will increase jobs and open up new, untouched markets. This is a huge opportunity for businesses and states across the country. Although it's still early days, the power of hemp economics has the potential to grow as abundantly as hemp itself.
Thanks for reading! To show how much we appreciate you, we're going to give you 16% off your next order. Just use code READER16 at checkout!
Hannah Smith is Joy Organics Director of Communications. She is driven by her passion for providing clear and accessible wellness and CBD education. In 2015, she received her BA in Media, Culture and the Arts from The King's College in New York City and before Joy Organics, worked as writer and photographer in the Middle East and North Africa. Her work has been featured on Forbes, Vice, Vox, Denver Post, and the Coloradoan.