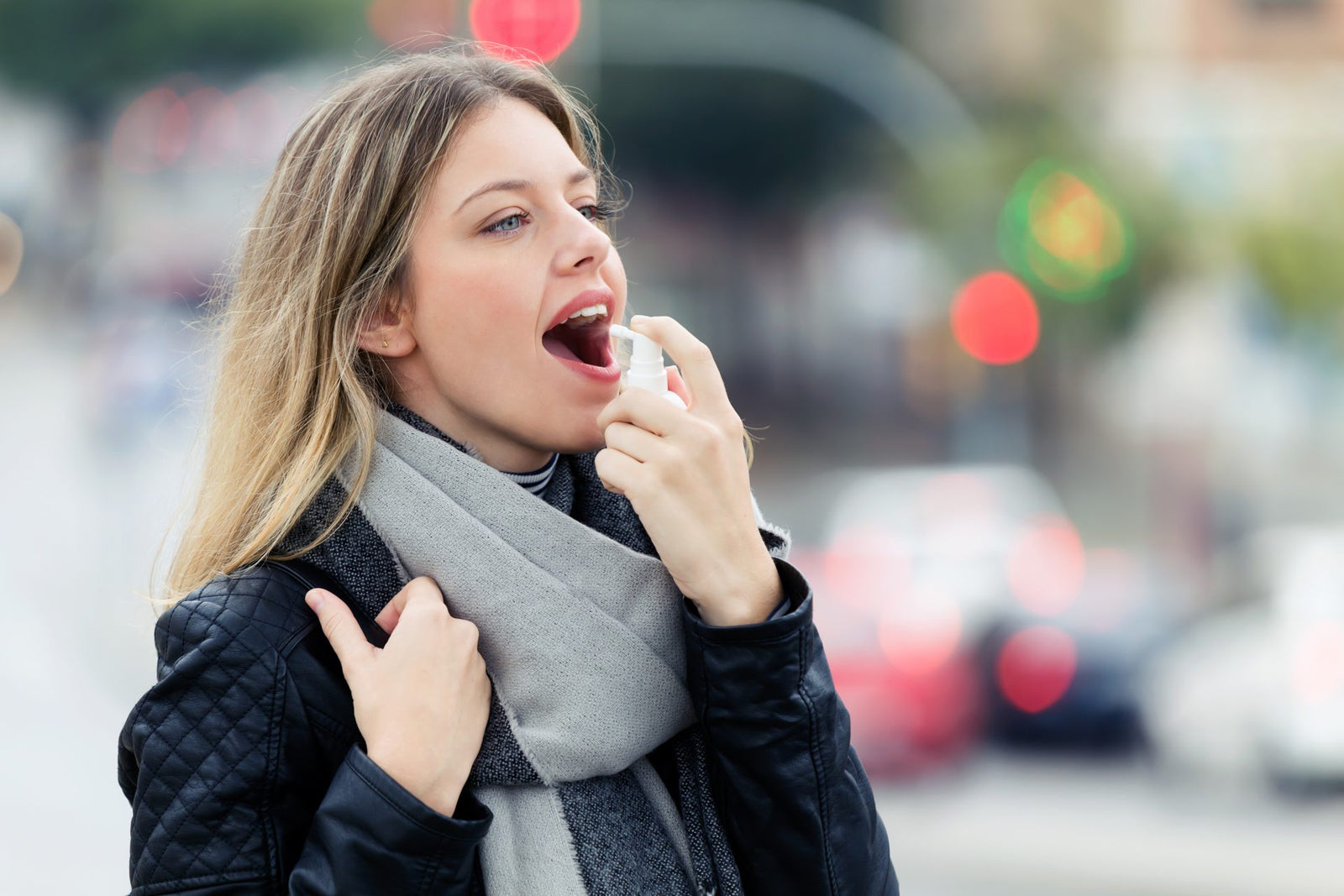 CBD oil spray is an effortless way to get your CBD on and go about your business. It's fast-acting and inconspicuous, so you can easily carry CBD spray in your purse, pocket or carrier bag. If you're feeling stressed, experience nagging physical issues, or need a little focus, just give your CBD oil spray a couple of pumps. You'll be ready to crush the day again in no time. So, what exactly is CBD spray and which brand is the best? Here's everything you need to know about CBD oil spray.
How is CBD Oil Spray Made?
CBD oil spray is one of the newest innovations in hemp care. It's essentially CBD oil put in a container with a pump. When you push the top (trigger) of the CBD oil spray, it releases a tiny pump that sucks up CBD oil from the bottom of the container. 
As you let go of the trigger, a piston pushes the CBD oil out of the barrel. This reaction causes a rush of CBD oil mist to leave the nozzle and directly into your mouth. Therefore, CBD oil spray works a lot like CBD tinctures; yet, they're completely unique experiences. 
Benefits of CBD Oil Spray vs CBD Tinctures 
CBD tinctures are one of the most popular ways to enjoy CBD. You can discreetly use them anywhere. Plus, absorbing them in your mouth means tinctures act quicker than other conventional methods, such as CBD Softgels. So, if you happily use CBD tinctures, you might not see a benefit in switching to CBD oil spray. However, here are some things to consider. There are three advantages that CBD oil sprays have over tinctures.
Less Mess 
For one, they're a lot less messy. CBD oil is thick and has a slick and sticky texture. Using the same oil dropper every day can cause a sticky mess on the bottle and your hands.
This mess is exacerbated if you take your CBD tinctures on the go. Some CBD brands don't have a tight suction between the topper and the bottle. In turn, some CBD oil can collect between the area where the topper/cap and dropper meet. So, if you unscrew the tinctures, you can get a sticky waterfall from the topper onto your hands. 
Precise Servings
A significant reason people might prefer products such as CBD Softgels with Curcumin over CBD tinctures is the accuracy of precise serving sizes. Tinctures allow you the freedom to microdose yourself throughout the day. They can also allow you to use more or less CBD oil than a predetermined item like a capsule. 
CBD oil spray is made with a precision pump. Therefore, each spray correlates to a specific serving of CBD. So, CBD oil spray gives you the specificity of a CBD softgel with the quick absorption rate of a tincture. 
Taste Fades Quick 
While we love the natural flavors in Joy Organics' CBD Tinctures, CBD oil is rather viscous. So, if you put tinctures in your mouth, the flavor lingers. Obviously, taste is a matter of preference. The slight herbal aftertaste of hemp products isn't for everybody. So, that might make CBD oil spray a more attractive option.
The velocity with which the pump pushes the CBD oil out of the nozzle causes CBD oil spray to diffuse like a water spray bottle. So, you get little droplets in different sections of your mouth. These smaller pellets absorb quicker, allowing the taste to disappear sooner, too. 
When to Use Tinctures Instead of CBD Oil Spray 
If you're a fan of both CBD tinctures and CBD oil spray, you shouldn't assume you need to choose one instead of the other. Use them to complement each other. CBD tinctures are ideal for making drinks, baking and DIY skin care recipes. Pumping a mist of CBD oil won't go very far in crafting icing for your brownies or making a CBD Spice-Cicle cocktail.
CBD tinctures are also ideal for people who need a little extra CBD boost, but not as much as the recommended serving on a CBD oil spray. The customization you get with CBD tinctures is unlike any other CBD product.
Best CBD Oil Spray Brands

 

 
CBD oil spray is an emerging market. There are only a handful of brands that are cracking into this sector of the CBD industry. Here are your top choices for CBD oil spray brands.
+PlusCBD Oil Spray
Perhaps the biggest CBD oil spray brand is +PlusCBD Oil. Their spray comes in 1oz and 2oz bottles that contain 500mg and 1,000mg of CBD respectively.
Flavors include:
Unflavored
Peppermint
Café Mocha
+PlusCBD formulates their CBD oil spray with extra virgin olive oil. We also use this carrier oil in Joy Organics' Natural CBD Tinctures and Joy Organics' Tranquil Mint CBD Tinctures. Extra virgin olive oil is rich in healthy fats that make it easier for our body to absorb CBD.
PureKana 
We appreciate PureKana Peppermint CBD Spray because it contains a liposome complex infused with Vitamin D. For one, liposomes make it easier for our bodies to absorb CBD oil because oil doesn't mix very well with our water-based blood.
However, Vitamin D is also an essential catalyst for many physiological functions. Unfortunately, over one billion people suffer from Vitamin D deficiency. So, this inclusion helps users get more of this essential vitamin.
Thanks for reading! To show how much we appreciate you, we're going to give you 16% off your next order. Just use code READER16 at checkout!
Joy Smith is Joy Organics Co-founder and visionary. After her own life-changing experience with CBD, Joy started Joy Organics to create a line of sustainable and premium CBD products consumers could trust. Before founding Joy Organics, Joy worked as an itinerant speaker, traveling to over four continents to empower women across the globe.