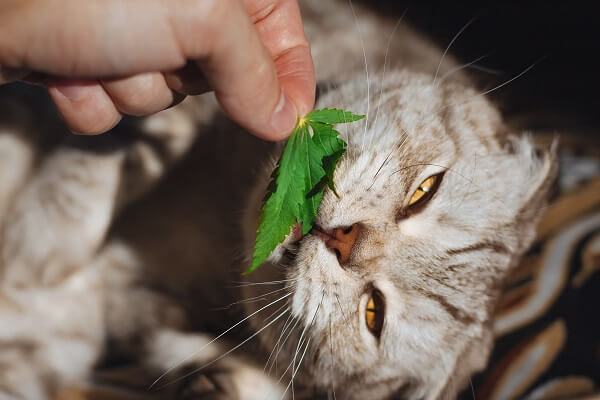 Did you know that CBD can be just as beneficial for pets as it is for their human companions? It's true! Your canine and feline friends possess the same endocannabinoid system you do, and CBD products for pets can offer the same balanced wellness it does for you.
Like some other areas of the CBD industry, research on the benefits of CBD for pets is still in its infancy. This isn't to say that countless pet parents across the country haven't found CBD to be of value to their furry friends. In fact, the CBD pet market is projected to be one of the fastest-growing CBD sectors.
In a 2019 report focused exclusively on the CBD pet market, it was suggested that "pet and animal product sales are estimated to reach $125 millionby 2022" and are "among the fastest-growing sectors in the CBD market."
It should come as no surprise that there are a plethora of CBD products made exclusively for people's pets. If you're a pet owner and interested in the benefits of CBD for your own best friend, you have a wide selection of available products to choose from.
CBD for Pets: Six Different Products for Your Furry Favorite
It's safe to say that all pet owners want the best for their pets. Whether your fur baby is a cat, dog or horse, there's a CBD product designed with them in mind. Following are six different products that can be safely used for your four-legged friend.
CBD Oil Tincture
CBD oil tinctures for pets are very similar to those created for humans and offer a simple way to provide them CBD. Just add the desired serving size of CBD tincture to your pet's food and let them nibble up all the great benefits CBD has to offer. You can also add drops of CBD tincture to their water, or you might find they prefer to just lick it straight from the dropper itself!
CBD oil for pets is made with animals in mind. Sometimes products are offered in pet-friendly flavors with bacon or salmon added to the formula, making them even more appealing to finicky eaters.
As with all CBD products, the CBD oil you give to your pets should be premium quality. CBD companies that offer products for your pets should provide the same third-party lab results you'd expect from CBD oil manufactured for humans.
When using CBD oil for pets in the form of a tincture, it's important to keep the right serving size in mind. While there's no standard serving size of CBD oil for pets (or humans), veterinarians with experience using CBD for pets recommend one milligram per ten pounds of body weight.
If you have a 30-pound dog, start off by giving your canine companion three milligrams of CBD. Our 30 milliliter bottle of 250 mg CBD pet tincture, for example, contains a dropper that holds about one milliliter of tincture. Four drops of this tincture equals about 1.1 milligram of CBD. In the case of a 30-pound dog, you would start by providing approximately 12 drops of oil.
CBD Pet Treats
What pet doesn't like a treat from time to time? CBD pet treats are another popular CBD pet product that makes giving your pet a regular serving of cannabidiol effortless and enjoyable.
While we treat ourselves to CBD gummies, pets get the chance to experience CBD edibles for themselves in the form of their very own pet treats. You'll find an array of CBD dog and cat treats that take treat time to an entirely new level.
Our own CBD dog treats are made with ingredients like liver powder and natural bacon flavor for a taste your dog is sure to love. You'll find CBD cat treats in flavors like salmon, tuna, catnip and chicken, making them irresistible for even the most finicky felines.
Most CBD pet treats come with a recommended serving size on the package. If you have a dog who's pushing 100 pounds, you can likely give them a few extra treats depending on how many milligrams each contains. Same goes for your cat. If you have a large cat, they'd likely benefit more from a higher serving size of CBD cat treats.
CBD Pet Capsules
You might be familiar with CBD capsules. They're a familiar, easy-to-take CBD product that's similar to a regular supplement. CBD pet capsules are similar to any other concentrated pills for pets.
Give your pet CBD capsules mixed in with their food and they may not even notice the difference. You can also hide CBD capsules for pets in a treat. Pill pockets for pets are a popular option. For our own dogs, we sometimes hide a capsule in a small piece of cheese. No matter how you incorporate a CBD capsule into their routine, they'll benefit from a pre-measured serving size of CBD.
CBD pet capsules often come in different milligram strengths to benefit small, medium and large-sized animals. This way, you can give them one pre-measured capsule based on their weight range. Rather than giving your 100-pound dog four five-milligram capsules, you can give them one capsule that contains 20 milligrams of CBD instead.
CBD pet capsules are beneficial for pet owners who prefer a perfectly measured serving size of CBD. With a CBD capsule, there's no second-guessing yourself as you measure out drops of tincture into your pet's food. They're also great for pet parents accustomed to giving their pet supplements or medication in pill form on a regular basis.
CBD Pet Topicals
If your pet needs support for their skin, muscles and joints, you might be interested in the various CBD-infused topicals designed specifically with pets in mind. CBD topicals for pets are typically made with all-natural ingredients such as CBD, shea butter, olive oil and beeswax to ensure your pet's safety.
Why use a CBD topical for your pet? With natural wellness support and skin-soothing benefits, many pet owners use CBD topicals on their pets for any skin concerns they might experience. Dogs and cats sometimes need joint and muscle support as well, and they might find soothing results with a CBD topical.
Using a CBD topical on pets is easy. Simply apply a small amount to the area that needs care and allow it to absorb into their skin.
CBD Horse Pellets
Cats and dogs aren't the only pets that can benefit from CBD. Many horse owners are discovering just how valuable CBD can be. While you can certainly offer your horse a CBD oil tincture, a far easier way to give them a serving of cannabidiol is in the form of CBD pellets.
There are quite a few companies that have designed CBD pellets for horses. They offer an easy-to-administer formulation that is similar to their everyday feed.
Horses aren't the only animals that can benefit from CBD pellets. Some manufacturers recommend their pellets for animals such as cattle, sheep, goats and pigs. All mammals have an endocannabinoid system and can likely benefit from the support CBD products offer.
Keep in mind that CBD oil is banned in some competitive arenas, such as the United States Equine Federation (USEF). If you keep a show animal, make sure to check with your association before using CBD.
CBD Pet Peanut Butter
If your dog loves peanut butter, you'll likely find they love CBD peanut butter for pets. Yes, it's a real thing, and there are quite a few companies that offer this option for pets.
With an entire line of products developed specifically with pets in mind, cbdMD has pet peanut butter in three different milligram sizes. This way, dogs of all shapes and sizes can enjoy a peanut butter treat infused with CBD. Made with three simple ingredients (dry roasted peanuts, CBD and MCT oil), it's something you can feel good about offering your canine friends whenever they could use a serving of CBD.
Choosing the Best CBD Products for Pets
When it comes to CBD products for pets, look for the same quality you would if you were choosing CBD for yourself or someone you love. As with CBD products designed for their owners, not all pet CBD products are created equal.
What exactly should you be looking for when choosing the best CBD products for your own pet? Insist on third-party lab test results and purchase pet products from a reputable CBD company that's fully transparent in their practices. Quality CBD products for pets will typically have reviews from other pet owners, which is something to look for when perusing the many CBD products for your pet you'll find online.
Using CBD for pets is considered safe, but keep in mind that there isn't much clinical evidence to back it up. It's recommended you talk with your vet before starting your pets on CBD.
Thanks for reading! To show how much we appreciate you, we're going to give you 16% off your next order. Just use code READER16 at checkout!
Joy Smith is Joy Organics Co-founder and visionary. After her own life-changing experience with CBD, Joy started Joy Organics to create a line of sustainable and premium CBD products consumers could trust. Before founding Joy Organics, Joy worked as an itinerant speaker, traveling to over four continents to empower women across the globe.