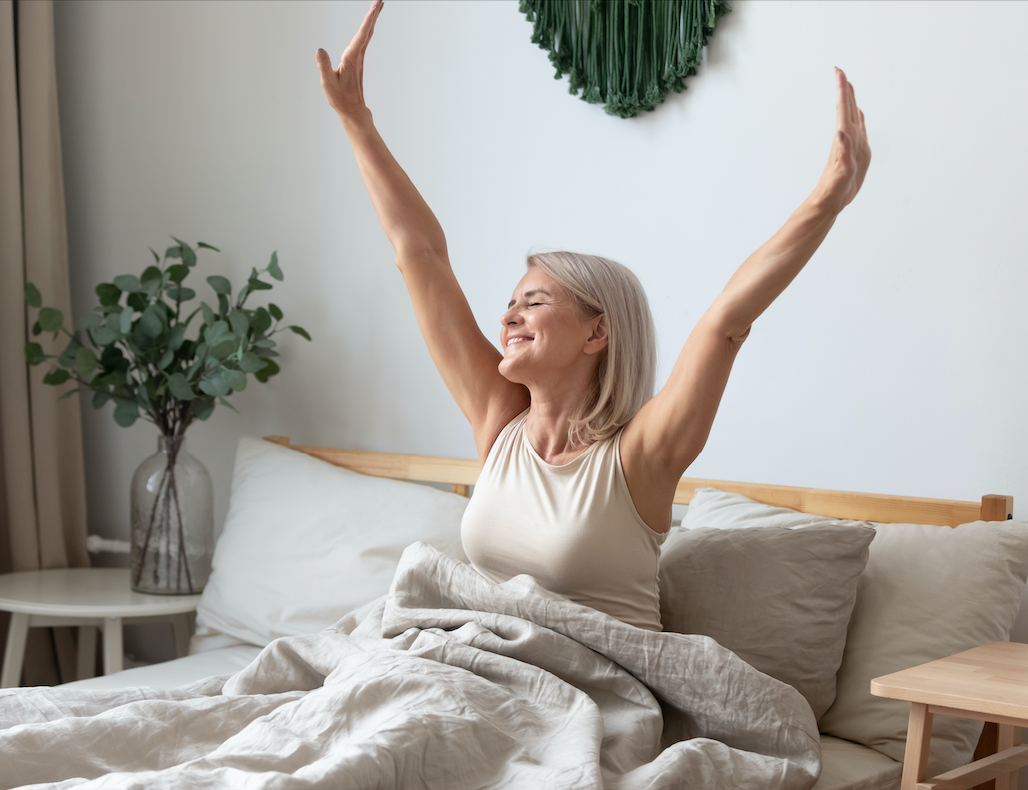 The way you start your morning sets the tone for the rest of your day. Set yourself up for success by following healthy habits daily. Establish a good morning routine with these five tips!
1. Journal
Get in the habit of leaving a journal on your nightstand and jot down your thoughts first thing in the morning. 
Write down anything you want to remember from your dreams the previous night, everything you'd like to accomplish that day, or things you are grateful for. 
Stick with one template or mix and match. Don't overthink it. Just open your journal and do what feels intuitive. 
2. Drink Water
Drinking water first thing in the morning gives your cells the wake-up call they need to get up and get going.
It's important to drink water before eating breakfast. Water has ions that kickstart our digestive enzymes, and drinking water about a half-hour before eating will improve your digestion and comfort all day.
Give your digestive tract an extra boost by drinking lemon water on an empty stomach. Freshly squeezed lemon juice has antioxidants and electrolytes that will energize the system. You can further amplify your digestive benefits by adding a dash of cayenne pepper, too!
3. Read a Book
Use the morning as an opportunity to collect your thoughts. It's easy to get consumed with your to-do list as soon as you wake up. Give your mind time to adjust by diverting your attention to a single focus. 
Reading a book is a relaxing way to start the day and it allows us to tap into our imagination, concentration, and empathy. This lets us  approach daytime stressors from a more grounded place. 
It's better to pick up a book than scroll through a variety of news articles on your smartphone. Staying on one topic will prevent information overload that can promote too much mental stimulation first too early in the morning.
Any type of book is great; some people choose to begin their morning by reading a devotion or other spiritual text. Others prefer a self-help book or other inspirational content. And still others may enjoy a lighthearted or comedic book to start their day with a smile. Read what makes you happy.
4. Quick Workout
After being sedentary all night, it's important to get in some movement. So, nourish your body with a light workout. 
Perform light cardio by taking a walk outdoors, jumping rope, or running on a treadmill. Switch things up a couple of times per week with weight training and resistance bands.
Of course, don't forget to heal your body, too. Add in some early yoga sessions––you'll leave the mat feeling rejuvenated and energized. 
5. CBD Oil
CBD oil is the perfect companion to support all day wellnness. There are many ways to incorporate CBD into your daily routine to suit your specific needs. CBD softgels are an easy way to incorporate CBD into your supplement routine. 
For those who experience stiff or achy joints, CBD topicals could be a great option. Apply CBD topicals to any problematic areas. Massaging directly into the soreness provides targeted support that your joints and bones deserve. 
CBD oil nurtures a sense of calm that complements stress management. Taking CBD tinctures is a fast-acting way to support healthy mental well-being!