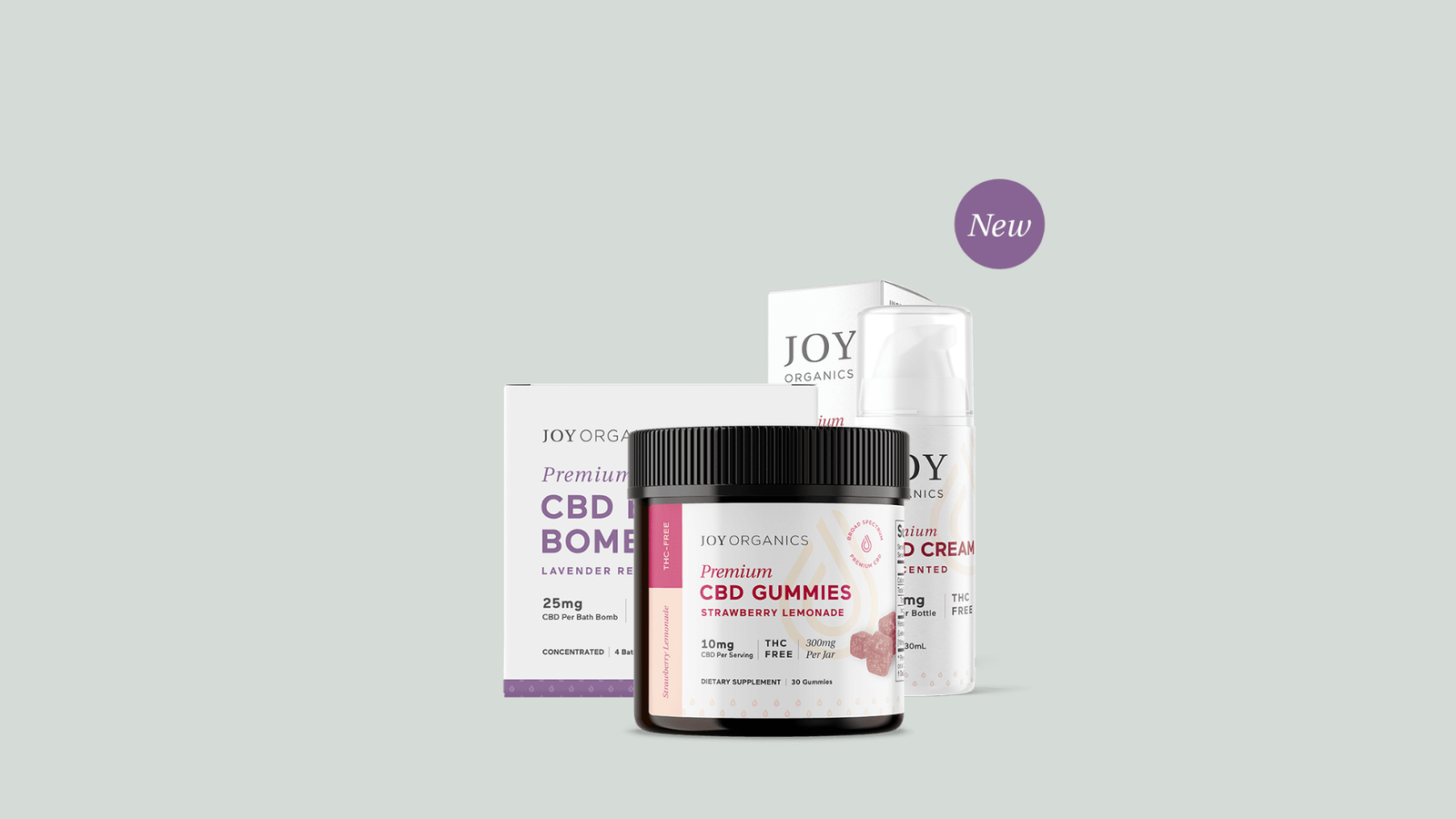 Being a mom has never been easy, and going through a global pandemic over the past few months has made it even more difficult. If you're a mom, you'll of course happily do anything for your kids, but it's getting harder and harder to carve out that "me time" that helps you refill your tank. At Joy Organics, we want to make it a little easier for you to take that extra time to relax with our Mommy Bundle CBD Pack. But, that begs the question, will CBD actually help you relax?
Will CBD Help You Relax? 
The short answer is yes! Being a mom is hard, whether you have a newborn or a teenager, so being able to take a little time to relax every day is essential. CBD has been proven to help people relax because of the way cannabinoids interact with the endocannabinoid system (ECS), and more studies are being done every day to help us understand why it is so effective. 
Part of what makes CBD so beneficial is the way it helps the ECS maintain homeostasis in the body. When the ECS is properly supported, it will help maintain balance throughout your body, allowing you to cultivate a less stressful, more comfortable lifestyle. 
We've created our Mommy Bundle specifically for busy moms who just need a little extra help relaxing, no matter the time of day. Keep reading to learn more about what's in this bundle and why it's a great option for moms like you. 
Why Joy Organics CBD? 
So, we know that CBD will help any stressed-out mom relax. But why should you choose Joy Organics? Simply put, we do everything we can to ensure that we provide you with the highest quality CBD on the market. All of our Joy Organics products are made with broad or full-spectrum, premium-grade CBD extracted from plants only grown in the United States. 
This attention to detail ensures that you get the safest, most effective CBD possible. Broad spectrum CBD is the easiest to absorb, allowing your body to take advantage of its maximum effects. It's important to only use CBD grown in the United States to ensure it wasn't grown in soil contaminated with heavy metals or pesticides. When you purchase Joy Organics CBD, you can be sure that you are getting the safest, best quality CBD on the market. 
What's in the Joy Organics Mommy Bundle? 
At Joy Organics, we know a little bit about what it means to be a mom. Our founder, Joy, is a mother herself, so when we created the bundle, we curated products with moms in mind. That's why we include our USDA-certified organic strawberry lemonade CBD gummies, CBD bath bombs, and CBD cream in our bundle—they allow moms to relax at any time of day, whether they are looking for topical or internal relief. 
Why Purchase the Bundle vs. Single Products? 
If you're a mom on a budget, you may wonder about the advantage of purchasing the bundle vs. single products. Well, the best answer to that is that it will save you money. Individually, our USDA-certified organic strawberry lemonade CBD gummies are $39.95, our CBD bath bombs are $19.95, and our CBD cream is $32.95. If you purchased each of these products individually, it would cost $92.95, but when you purchase them as a bundle, you automatically get a 25% bundling discount. That brings your grand total down to $69.72—a savings of $23.23. Of course, our products always come with fast and free shipping, making this a deal you can't pass up. 
What's Special About These Products? 
We didn't just go with our three bestselling products or our three most profitable products when we created the Joy Organics Mommy Bundle. No, we specifically curated this bundle with moms in mind. We know that your day can be hectic, which is why we picked the products we could most easily imagine you folding into your schedule. Keep reading to learn what each of these products will do for you!
Joy Organics USDA-Certified Organic Strawberry Lemonade CBD Gummies
Who doesn't love a good gummy bear treat? We know most moms would love to take the time to enjoy a sweet snack and not always have to share it with their kids. The Joy Organics USDA-Certified Organic Strawberry Lemonade CBD Gummy is the perfect answer to that problem. 
While you definitely shouldn't eat the whole jar at once, the summery strawberry lemonade flavor will definitely tempt you to. Each of these gummies contains 10mg of CBD, allowing you to tailor your serving size to your needs. At Joy Organics (as we hope you can already tell), we are really picky about what we put in our products, which is why our gummies are made with the simplest and best ingredients: Organic Tapioca Syrup, Organic Cane Sugar, Water, Pectin, Phytocannabinoid-Rich Hemp Extract, Citric Acid, Natural Flavors, Sodium Citrate, Malic Acid, Fruit & Vegetable Juice (color), Sunflower Oil and Carnauba Wax. There's nothing in there that is too difficult to pronounce or understand, making Joy Organics USDA-certified organic CBD gummies a treat you can feel good about.
There's no single best time to take these CBD gummies. However, they are the perfect addition to your morning supplement regimen if you want to feel relaxed as you tackle your day. You can even add them to your morning meditation routine. Or, treat yourself to a gummy as a great tasting dessert after you put the kids to bed. Whenever you take it, our gummies are sure to help you relax and handle whatever mom life throws at you.
Joy Organics CBD Bath Bombs
We hope you'll agree that warm, relaxing baths are some of the best ways for moms to get some much needed "me time." The best time to take advantage of our CBD Bath Bombs is after a long day of working and parenting, or any combination thereof. Put the kids to bed (or leave your partner in charge), draw some warm water, lock the door, and soak. Those 20 minutes to yourself can make all the difference in the midst of a busy week. 
Now you can enhance this coveted respite from family chaos with a Joy Organics Premium CBD Bath Bomb. Our bath bombs are infused with organic lavender essential oils that will enhance the unwinding effects of CBD. Lavender is also a great sleep aid, even if melatonin doesn't generally work for you. Running on a sleep deficit only makes being a mom more difficult, so add a CBD bath bomb to your nightly routine when you feel especially stressed and wired. 
Our Joy Organics CBD Bath Bombs are also made with a short, quality list of ingredients: Sodium Bicarbonate, Citric Acid, Organic Coconut Oil, Lavender Oil (Lavandula Angustifolia), Water/Aqua, Maltodextrin, Phytocannabinoid-Rich Hemp Extract and Organic Cocoa Seed Butter. This way, you can feel good about what you're soaking your skin in—your body, and your mind, will thank you. 
Joy Organics CBD Cream
When moms get stressed out, and spend their lives on the go, it's easy to try to ignore skin and muscle health. Whether you're looking for a moment of relaxation before you start your day or some topical relaxation at the end of your day, our CBD cream will help you, your skin, and muscles get some much-needed rejuvenation. 
Plus, like all Joy Organics products, our CBD cream is made with minimal, safe, natural ingredients. The cream includes Water/Aqua, Organic Olive Oil, Organic Glycerin, Cetearyl Glucoside, Cetyl Alcohol, Sorbitan Olivate, Phytocannabinoid-Rich Hemp Extract, Gluconolactone, Carthamus Tinctorius (Safflower) Oleosomes, Xanthan Gum, Sodium Benzoate, Potassium Sorbate, Sodium Stearoyl Glutamate, Tocopherol, Organic Aloe Barbadensis Leaf Juice, Sea Salt and Calcium Gluconate. With all of these skin-healthy ingredients, you know your face will benefit from adding this cream to your daily routine. 
The Ultimate Mommy Relaxation Evening
Of course, if you're in need of a serious self-care night, you can combine all three elements of the Mommy Bundle for a truly restorative evening. 
Start by letting your partner or a relative take the kids for the evening. Then, go into your bathroom and draw a bath. Before getting in with a CBD bath bomb, pop a CBD gummy in your mouth and enjoy the flavor profile. Soak in bliss for at least 20-30 minutes. 
When you get out of the tub, slather on some Joy Organics CBD Cream to any spots that need extra attention and slip into your favorite cozy pajamas. Finish the evening with your favorite book or movie, and you'll wake up the next day feeling refreshed and ready to tackle what life throws at you. At Joy Organics, we're dedicated to helping moms feel their best, and we hope our Mommy Bundle will bring you a much-needed opportunity for self-care. 
Hannah Smith is Joy Organics Director of Communications. She is driven by her passion for providing clear and accessible wellness and CBD education. In 2015, she received her BA in Media, Culture and the Arts from The King's College in New York City and before Joy Organics, worked as writer and photographer in the Middle East and North Africa. Her work has been featured on Forbes, Vice, Vox, Denver Post, and the Coloradoan.