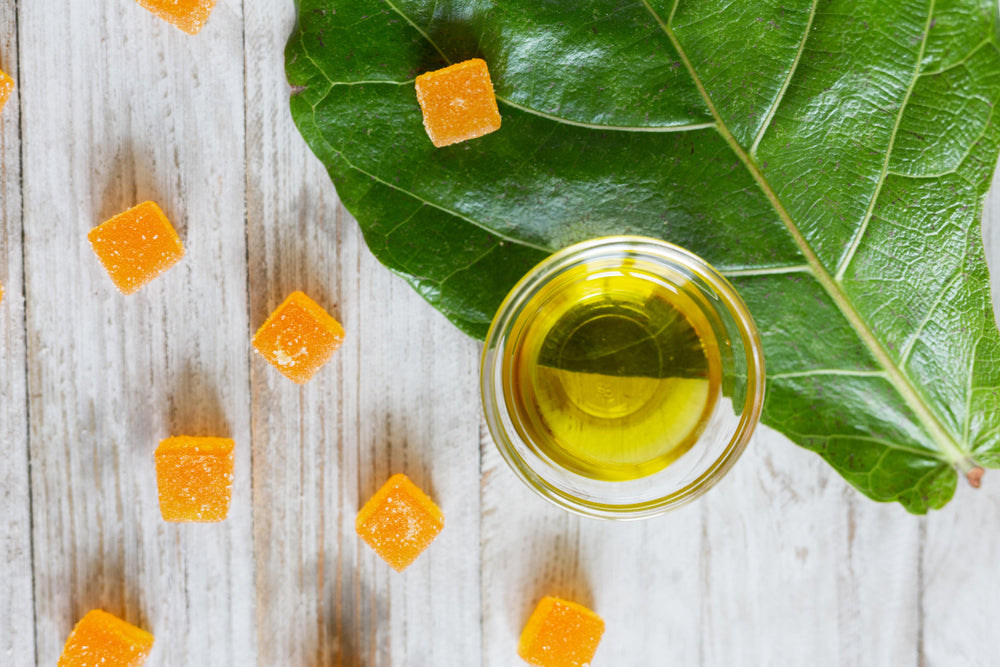 Are you looking for an easy way to experience the benefits of CBD and THC? CBD gummies with THC are the perfect choice for people who don't enjoy vaping or smoking. Each gummy provides a precise serving of cannabinoids so that you can monitor your intake for optimal results. With so many different options available, it can be hard to choose the best CBD plus THC gummies for you. Here's everything you need to know about picking the right gummy for your needs and some of our favorite CBD and THC gummies.
What Are CBD and THC?
CBD and THC are two of the most well-known cannabinoids found in the cannabis plant. While they both can be found in marijuana and hemp, CBD and THC have completely different interactions with the body.
CBD, or cannabidiol, is one of the most abundant cannabinoids in hemp. It is non-intoxicating, meaning using CBD products won't get you high.
Instead, CBD supports balance throughout the endocannabinoid system by interacting with and influencing receptors throughout the body. As a result, using CBD may promote a calm mind or support healthy joints and muscles.
THC, or tetrahydrocannabinol, is the primary psychoactive cannabinoid in marijuana. When consumed, THC binds to receptors in the brain.
Many people turn to hemp-derived THC products for recreational purposes, but they can also support mood, creativity, and overall wellness.
These benefits are enhanced when THC and CBD are in the presence of other cannabinoids. That's why CBD and THC gummies are such an excellent addition to your daily routine.
Benefits of CBD Gummies with THC
On their own, CBD and THC can support a healthy and active lifestyle. Together? They're a dynamic duo!
There are over 100 cannabinoids in cannabis plants, with each playing a unique role in aiding the endocannabinoid system. Both CBD and THC work in unison with other cannabinoids in what is known as the entourage effect.
The entourage effect involves the presence of major and minor cannabinoids working together to produce a synergistic effect. This means that multiple cannabinoids can have a much greater impact than just one alone. 
Having CBD and THC in your gummies covers more ground within the endocannabinoid system.  
For example, CBD mainly interacts with CB2 receptors, which are predominantly in the immune system and digestive tract. Meanwhile, THC binds to CB1 receptors, which are abundant in the brain. 
When THC and CBD work together, they can support a balanced inflammatory response, restful sleep, good mood, and more. 
How to Choose CBD and THC Gummies
Reading labels and researching brands are the most effective ways for picking reputable CBD and THC gummies. First, make sure you are choosing a product that has CBD and THC in it. 
If the label says "CBD isolate" or "broad spectrum," there is no detectable THC in the product. Only select products with labels that state "CBD and THC" or "full spectrum."
Full Spectrum CBD products contain the full range of compounds found in the hemp plant, including trace amounts of THC. This means that users receive the maximum amount of potential benefits from the hemp plant.
Next, read the ingredients list. Many gummies could be made with inferior ingredients, like high-fructose corn syrup, artificial colors, and other additives. These ingredients may give gummies their look and flavor, but they can also be detrimental to our wellness. 
Inferior ingredients can also negatively impact the overall potency of cannabinoids. Therefore, it's important that you choose CBD gummies with THC that have been crafted using the highest quality ingredients. 
Lastly, verify that the company performs third-party lab testing. Third-party lab testing ensures that the product is free from contaminants and contains the stated amount of cannabinoids on the packaging. 
The Top 5 CBD and THC Gummies
Not sure which CBD with THC gummies are right for you? Let us help you narrow down the field. Here are our top 5 picks for the best full spectrum CBD THC gummies on the market: 
1. Budder
Support your wellness and promote a sense of bliss with Delta 9 THC Gummies by Budder. 
We're a Colorado-based company that works closely with farmers and extractors to craft the highest-quality CBD gummies with THC. 
Our CBD THC gummies come in three flavors: Cherry Lime, Beach Buzz, and Beach Chill. Plus, we have CBD Gummies for Sleep. In addition to CBD and THC, these vegan gummies are enhanced with CBN, or cannabinol. 
CBN isn't as well-studied as CBD and THC. However, existing research that CBN could enhance relaxation conducive to a good night's sleep is promising!
2. Cornbread Hemp
What we love about Cornbread Hemp is that they use natural ingredients to make their line of CBD and THC gummies. 
This Kentucky-based company uses organic cane sugar, organic tapioca syrup, and organic blue agave instead of refined sugars. They even use beetroot to give their Red Berry Gummies and organic ginger to give their Peach Gummies their distinct colors.
These high-quality gummies come in three strengths—350mg, 750mg, and 1500mg. This variety of potencies helps you find the best serving to meet your needs. 
3. Charlotte's Web
Charlotte's Web is a trailblazer in cannabis reform. They are one of the brands that helped spearhead grassroots movements that led to the Farm Bill of 2018, which legalized agricultural hemp. 
This Colorado-based company was founded by the Stanley Brothers in 2012 and has evolved into a reputable brand that offers some of the most effective CBD and THC gummies on the market.
What makes Charlotte's Web's CBD and THC gummies so unique is that they use other botanical extracts to create unique formulas tailored to specific needs. 
Their popular CBD Muscle Recovery Gummies contain ginger and turmeric to aid with muscle comfort daily. Meanwhile, Charlotte's Web's CBD: Calm Gummies are fortified with lemon balm. 
If you are looking for a less-targeted blend, Charlotte's Web also has a full spectrum gummy without added botanicals. While the ones with botanicals contain 10mg of CBD, this particular blend has 25mg. 
No matter which gummy you choose, you can feel good about your selection. You're going with one of the most trusted brands in CBD!
4. Kiva Confections
Kiva Confections is a family-owned and operated business that opened their doors in 2010. 
They were the first company to bring chocolate-covered cannabis-infused confections to the market in California after recreational weed became legal in the state in 2016. Since then, they've expanded to various targeted CBD THC gummies under their burgeoning Camino line.
To set itself apart from others, Kiva has leaned into the CBD sleep niche, offering many flavors at varying potencies that are enhanced with CBN.
However, Kiva also offers other unique blends, including gummies that promote balance, uplift the mind, and support social interactions, among other wellness goals. 
5. CBDfx
Founded in 2014, CBDfx is a company that specializes in providing high-quality CBD products. Today, they are the second largest privately-owned CBD company.
Many celebrities and professional athletes have also been known to use CBDfx's products as well, including UFC fighter Elias Theodorou, NBA player Al Harrington, and singer Miley Cyrus. 
While their gummy line continues to grow, CBDfx's most popular item is Delta-9 THC Gummies + CBD: Magic Melon Sativa. This uplifting edible has a 3:1 CBD to THC ratio, providing 10mg of THC per serving.
Other popular formulas include Delta-9 THC Gummies + CBD: Berry Buzz Sativa to support an uplifting mood and Delta-9 THC Gummies + CBD: Lemon Dream Indica to aid with unwinding after a long day. With CBDfx, there's something for everyone! 
Pick the Best CBD Gummy with THC for You
CBD gummies with THC offer a variety of benefits, including support with occasional stress, restful sleep, and focus. Just remember, not all cannabis products are created equally.
Make sure you read labels carefully to ensure there is both CBD and THC in the gummy. If it has other cannabinoids, that's just a bonus!
Read the ingredients to make sure there are no artificial additives or coloring. Lastly, verify that the product is third-party lab tested for purity and cannabinoid concentrations.
Gummies come in many flavors and potencies. You will find something you enjoy with any of these top five CBD and THC gummy brands!