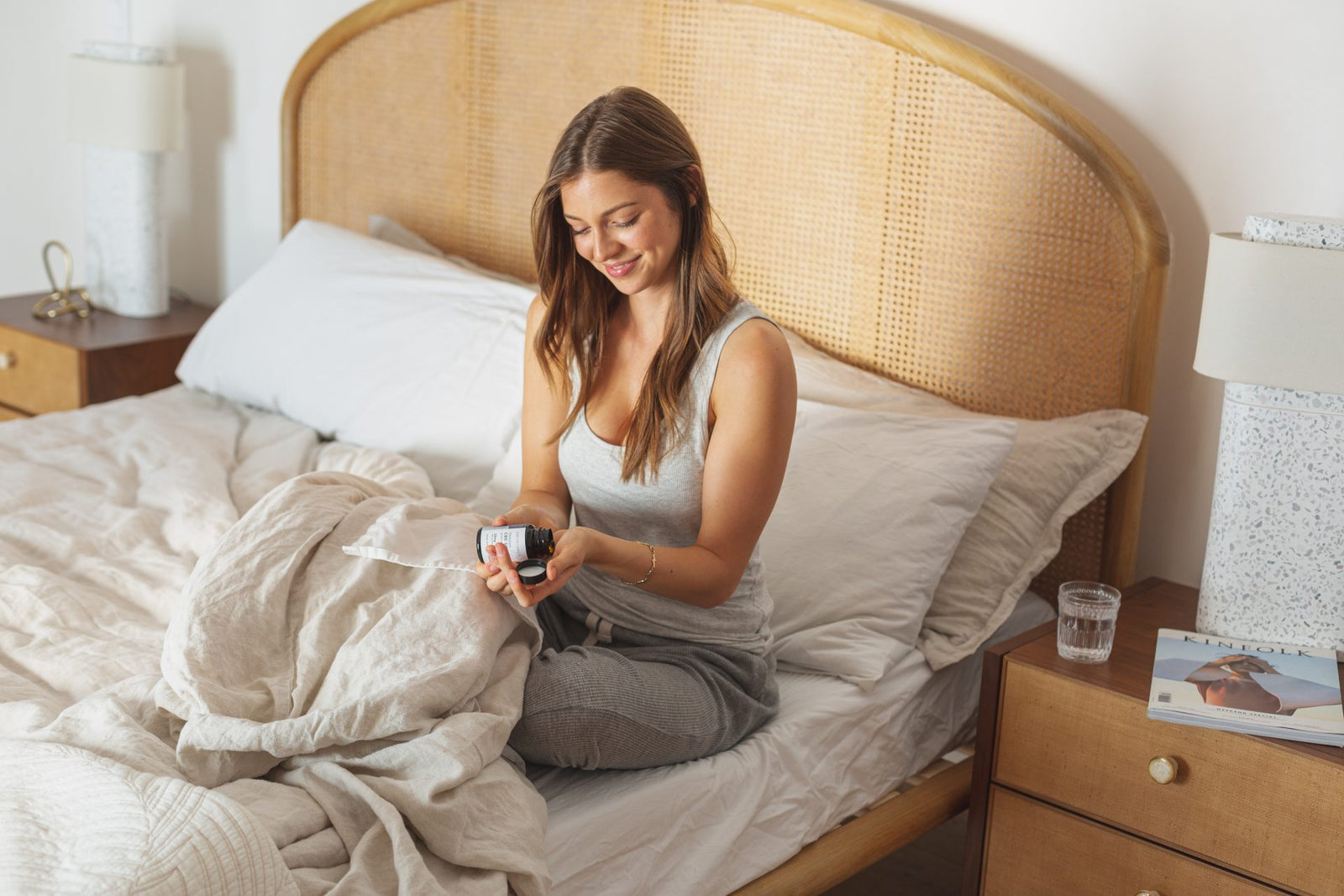 One reason Joy Smith started Joy Organics was the way broad-spectrum hemp extract helped in her quest for quality sleep. Unfortunately, Joy used a few inferior products on her journey that didn't live up to her expectations. That's why we will save you some of that hassle. There are many products out there that use CBD oil for enhanced sleep. Here are some of the best ones.
What Makes the Best CBD Oil for Sleep?
People looking for the best CBD oil for sleep are probably interested in using natural sleep remedies. Experts believe that long-term use of over-the-counter sleep aids can actually promote the opposite effect. Furthermore, some prescriptions can become habit-forming. These are all side effects you will likely not experience with CBD.
When using CBD to help with sleep, you must vet the manufacturers. The federal government doesn't regulate the CBD industry, so you should only purchase CBD products from reputable sources. 
The best CBD oil products for sleep are manufactured by companies that perform third-party lab testing. Read the lab reports of any brand you're considering. Make an educated decision. Doing a little research instead of making an impulsive buy will save you a lot of money and sleepless nights in the long run! 
What Are the Best CBD Oil for Sleep Products?
When you search for the best CBD oil for sleep, a lot of brands will pop up. We've vetted these brands and will let you know if they live up to the hype. Here are some of the best hemp-based brands for all your sleep-related needs.
Joy Organics
Our favorite CBD oil for sleep is our very own Joy Organics' CBD Softgels with Melatonin for Sleep. These softgels combine two powerful ingredients to maximize CBD's rest-promoting benefits. However, these softgels don't come with the calories or sugars. 
We use broad-spectrum hemp extract, which promotes the entourage effect. It's encapsulated with MCT oil and organic bovine-derived gelatin. Gelatin easily integrates with our gut, even helping to give the lining structure. Therefore, using gelatin with MCT oil helps improve the bioavailability of the CBD and melatonin in our formula.
Our softgels are further enhanced by microemulsion technology. The proprietary extraction method we use allows us to make the smallest CBD particles in the market. Therefore, our particles are easier to absorb and cover more regions of the body! 
Charlotte's Web 
Charlotte's Web is one of the world's premier high-CBD hemp strains. This company helped put CBD oil on the map, so it's not shocking that they have some of the best CBD oil for sleep. 
Charlotte's Web CBD Gummies for Sleep get their raspberry flavor from natural fruit and vegetable juices. The sweetness of these tasty drops is enhanced with beet sugar. Meanwhile, Charlotte's Web uses MCT oil to help with gummy consistency, and it also aids in the absorption of CBD.
We also appreciate the inclusion of melatonin in their formula. Melatonin is the hormone our body naturally produces to help maintain a healthy sleep pattern. Unfortunately, many of us throw off our natural melatonin production through exposure to LED lights, stress, and poor sleeping habits. These gummies introduce a crucial sleeping mechanism in melatonin to our system, while calming the thinking mind via CBD oil. 
cbdMD 
Gummies are the best CBD oil for sleep when you're looking for a gradual decline to La-La Land. They're ideal for popping about a half hour before you want to fall asleep, as you're gearing up for bed. 
That's because your body must digest all the physical matter that makes up the gummy shell. Then, the edible releases its phytocannabinoids into the system.
If you forgot to pop a gummy, no worries. Get a quick fix with cbdMD CBD PM for Sleep Mint Tinctures. Placing drops into your mouth allows you to absorb their broad spectrum hemp extract quicker.
cbdMD also incorporates a proprietary blend of botanicals that help calm the system, including:
Valerian root extract
Hops flower extract
Lemon balm extract
Chamomile flower extract
Passionflower extract
These are also combined with melatonin and MCT oil to make for a completely relaxing experience. Plus, we love the natural mint flavor, as proven by carrying Joy Organics' Tranquil Mint CBD Tinctures in our catalog!
Calm by Wellness 
Calm by Wellness Hemp CBD Sleep Oil Tinctures have a distinct flavor from cbdMD. This tincture has a much more floral palate that leaves you feeling as relaxed as lying in a lavender field.
This brand uses natural terpenes to create a distinct blueberry lavender flavor that we love. The experience is further enhanced by the use of actual lavender in their proprietary formula!
In addition to lavender, Calm by Wellness includes:
Orange peel extract
Chamomile flower
Lemongrass leaf
Ho wood flowers
Pine leaf
Jasmine leaf
These drops come with a larger serving of CBD. A dropperful contains around 17mg of CBD. So, new users of CBD oil for sleep should start out with a third of a dropper and work their way up to find the right serving.
Also, this blend doesn't have melatonin. If you are using over-the-counter melatonin, these tinctures can be an excellent addition to your nighttime routine. 
Kana Skin Care 
One of the best CBD oils for sleep isn't something you consume. It's something you wear. Give your skin a hydrating boost while capturing a good night's rest. Be sure to check out the Kana Skin Care Lavender Sleeping Mask. 
This beauty mask contains a Who's Who in skin and sleep health:
Lavender oil
a-Bisabolol (Terpene derived from chamomile)
Hyaluronic acid
Broad spectrum hemp extract
Hemp seed extract
Beta-glucan
Kana Skin Care hooks you up with the omega-fatty acids necessary to bring protein and collagen back to your skin. Meanwhile, hyaluronic acid helps maintain pH balance that fights off pathogenic bacteria that may cause flare-ups. Lastly, beta-glucan is used in holistic skincare circles for calming irritated skin. 
All of these benefits transpire while you doze off to the pleasant smell of lavender. Terpenes found in lavender help promote relaxation in the central nervous system. That way, you count fewer sheep and get more Zs.
Terra Vita 
Want to get a lot of CBD per bottle? Then the Terra Vita CBD Sleep Tinctures might be for you. They contain a whopping 1,000mg of full spectrum CBD in their jar.
Full spectrum CBD means that there is a wide range of phytocannabinoids in the formula. Most notably, it contains tetrahydrocannabinol (THC). THC is responsible for causing the mind-altering effects associated with smoking marijuana. 
With that said, Terra Vita are hemp-based products. Under the Farm Bill, any agriculture hemp must have 0.3% THC in its genetic makeup. This negligible number shouldn't be enough to cause a psychoactive effect. However, it's enough to trigger the entourage effect.
The entourage effect happens when there is a spectrum of phytocannabinoids in the formula. They work together to achieve synergy. This beneficial process makes the overall formula more potent, which should result in better sleep. 
Terra Vita CBD Sleep Tinctures are enhanced with melatonin to promote regular sleep patterns. They get their all-natural grapefruit flavor from the citrus terpene, terpinolene. This terpene has shown promise in calming anxious behavior. 
Rounding out this tropical explosion of sleep is myrcene. This potent antioxidant is abundant in mango. Not only does it calm you like a soft swaying of a hammock in the breeze, but myrcene also assists with relaxing muscles. That makes these drops perfect for sleeping after a late-night workout!
Populum
For many of us, getting ready for bed is an entire ordeal! If slumber-time self-care is your thing, then you want to look into the Populum Evening CBD Routine Set. 
This CBD bundle comes with:
500mg Full Spectrum Hemp CBD Oil
250mg Lavender + CBD Face Oil
100mg Cold Therapy Hemp Rub
You can begin your initial nighttime unwind with the cold therapy rub that soothes your joints. This balm is ideal for athletes, employees who sit all day, and aging family members. 
Next, apply your Lavender + CBD Face Oil. This treat helps hydrate your face and provides your skin with antioxidants necessary for waking up with a glow as bright as the morning sun. 
While the cold therapy and face oil work overnight, you can then kick-start the sleep process by ending your routine with the full spectrum hemp oil. This fast-acting tincture will help you calm your mind and get in the headspace for a good night's rest. 
Pure Hemp Botanicals 
Who doesn't like to relax on the couch with a hot cup of tea before bed? Sure, this next item doesn't have CBD oil in it. However, it contains many beneficial terpenes found in hemp that will promote some pre-bed relaxation.
Pure Hemp Chamomile Lavender Tea is made with 30% agriculture hemp. The rest of the formula contains caffeine-free herbal teas ideal for relaxing at the end of a stressful day.
It's easy to up this anTEA with CBD oil. CBD tea is an excellent way to address some of the nuisances that keep you up at night. Just add a couple of drops of your favorite Joy Organics' CBD Tinctures. 
Be sure to allow the tea to cool down a bit. You don't want to expose your phytocannabinoids to too much heat. Otherwise, you run the risk of burning some of these valuable compounds off!
Choosing the Best CBD Oil for Sleep for You
From skin products to gummies to softgels, the options for CBD sleep products are seemingly endless. So, find the right fit for your particular tastes and routine. Just make sure you talk to your physician before making any changes to your routine. They might be able to help recommend the best CBD oil for sleep for you!
Hannah Smith is Joy Organics Director of Communications. She is driven by her passion for providing clear and accessible wellness and CBD education. In 2015, she received her BA in Media, Culture and the Arts from The King's College in New York City and before Joy Organics, worked as writer and photographer in the Middle East and North Africa. Her work has been featured on Forbes, Vice, Vox, Denver Post, and the Coloradoan.